theinkwell newsletter September 2020 | Big Changes, This Week's Challenge and Vacancies at The Ink Well!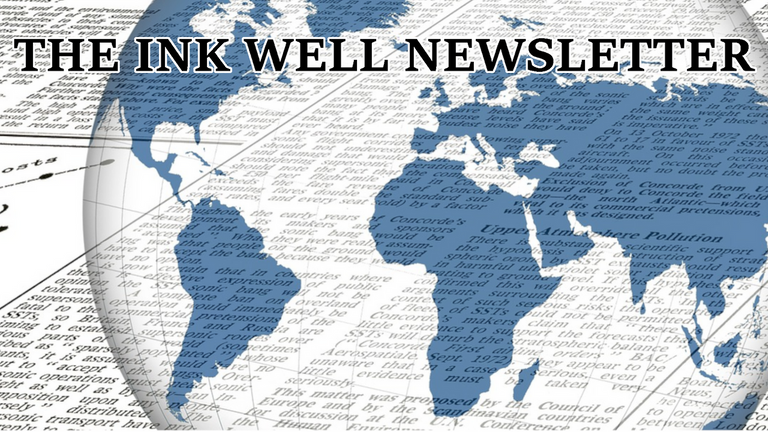 Now, I really really love @theinkwell community. I don't know if a lot of people know it already but I just have to mention it. I love the writing challenges and tips. I like that my stories are read and I get commendations and constructive criticism. It makes me write better and has helped me even in my writing jobs. I get to read amazing firsthand stories too all for free. I always show my writer friends not on hive posts from this community to encourage them to come on hive.
My favourite hive communities, @wolfofnostreet
Welcome Subscribers, Members and Supporters!
There is a lot in the newsletter this time:
Big Changes and Future Plans for The Ink Well
Membership of The Ink Well and our first Membership Challenge
Vacancies at The Ink Well - Community Builders
Big Changes in The Ink Well
Yesterday we announced the winners of The Ink Well Writing Prize. We had a huge response (twenty-eight unique entrants) and the quality of the stories submitted was much higher than we have had previously in The Ink Well.
The curation team was impressed by the way that short story writers have developed their skills through The Ink Well since it started earlier this year and have decided to make some changes to the community.
For the moment, The Ink Well is going to concentrate on short stories only: we will not accept poetry or chapters of serials. The curation team will review this in March 2021.
There are several reasons for this decision.
The curation team is small and has limited capacity to support poetry as well as short stories and longer forms of creative writing. Everyone in the team lives in the northern hemisphere which is going into winter now and we know this going to be tough. In addition, two members of the team have jobs in COVID-19 frontline response sectors, so may become unavailable at short notice.
We have seen great progress in the quality of short stories, and we believe that we can best support writers by concentrating on one creative writing form for the time being. This is especially important as we are going to apply for £90,000 (USD 115,000) of investment funding to help build an audience and income for writers in The Ink Well. We want to have a feed of high quality, curated stories to attract the funding.
We know that this is disappointing for poets. We will review this decision in March 2021 and, if we have enough capacity to support poets, we shall open the community to poetry posts again. Thank you to everyone who has contributed poetry and participated in the poetry challenge. We look forward to being able to work with you again very soon.

Future Plans for The Ink Well
1. Keep Earning from Your Posts Forever
The Ink Well has the potential to become a go-to destination on the Internet for stunning stories, attracting people who will come to read and reward good writing.
PeakD has a facility to tip a post forever, long past the seven day pay-out period for Hive rewards. You can find this feature at the bottom of posts – the icon looks like a little wrapped gift.

When a reader clicks on the icon, they have the option to tip in Hive, HBD, SWAP.BTC, SWAP.LTC and SWAP.DOGE (available from Hive-Engine). To use Hive-Engine tokens you need to enable the feature in your Wallet and have some tokens available.
PeakD is constantly introducing new things that make opening and using an account, and rewarding posts, easier and easier – which is great news for writers. These features mean that writers will have the potential to earn an income from their posts forever.
This provides The Ink Well with a huge opportunity to elevate the community and encourage well-crafted, beautifully presented stories that are good enough to publish in external publications and that will earn an income forever. We shall be working towards this over the coming months and this is another reason why we are going to focus on short stories for now.
2. Investment Funding
As well as working with writers inside Hive, we also plan to bring in £90,000 investment funding to help develop an audience for our short story writers. We plan to bring 10,000 new readers and writers to Hive and The Ink Well over three years (that is active readers and writers and tippers, not passive subscribers)!
Imagine - 10,000 new readers who want to read your stories!
You can read more about this in the June 2020 newsletter, and this post about the publishing industry.
3. Sustainability
To make all of this work, we have to be able to sustain The Ink Well and to compensate the curation team for their time. Every member of the curation team is rewarded for the work they do for the community.
At the moment, these are nominal sums that hardly cover the amount of time given to The Ink Well. We would like to move to a position over the next three years where the curation team can work here for their living – instead of supporting The Ink Well on top of working for their living!
Having a stable curation team in place and the resources to pay for them will be essential if we are truly going to create alternative long-term incomes for writers.
We are delighted that The Ink Well is part of the OCD Communities Incubation Programme, an exciting initiative to empower and build communities through rewards, upvotes and delegation. This really helps us on our journey – we are able to submit excellent posts for higher rewards, @ocd-witness delegates to the community account (@theinkwell) and @ocd provides some rewards to help compensate the curation team for their work.
However, this is an Incubation Programme to help The Ink Well on its way to becoming independent and sustainable in its own right. To do this, we need to build the community account - @theinkwell – initially through delegations to increase its voting power.
The Ink Well has over 900 subscribers which, between them, have over 3 million Hive Power! If every subscriber delegated 2% of their Hive Power, @theinkwell account would be able to distribute and earn significant Hive Power and would grow very quickly.
How you can help The Ink Well become sustainable
Follow @theinkwell and vote on every post (even better, set up an auto vote for @theinkwell using hive.vote).
Reblog the Writing Prize Winners post and this Newsletter.
Delegate Hive Power to @theinkwell.

The Ink Well Membership
Anyone can post in The Ink Well as a guest, providing they meet the Community Rules.
Now we are going to introduce two new levels of Membership:
Member
Members will have demonstrated that they produce well-crafted stories that meet a minimum standard in the curation criteria listed below.

Member | Pro
Members | Pro will have demonstrated that they consistently produce well-crafted stories to an excellent standard in the curation criteria listed below and will have either a dedicated personal blog to showcase their writing or a Hive Book Store pinned in their blog. (This BLOGmap is another version of a Book Store).
We are able to add other titles to each category of membership e.g.
Member | Writing Prize Winner
Member | Pro | Writing Prize Winner
The Ink Well Membership Challenge
If you would like to apply to become a member of The Ink Well, write a post showcasing three of your stories that meet the curation criteria. Presentation will be important, so include pictures and explain a little about why you have chosen to submit each of the stories. Remember to put the sources of any pictures you include unless they are your own.
Rules of Entry – What you have to do.
Select three of your best stories and showcase them in a post with a minimum of 350 words (in total) explaining why you chose them.
Post it in The Ink Well community with a title of your choosing.
Include the tags: #theinkwell #membership #showcase
Submit a link to your post in the comments below (do not forget this important detail)!
Vote on this post.
Deadline for the first round of membership applications: Thursday 15 October 2020 at 10am UTC.
25 OCTOBER 2020 UPDATE: The Ink Well accepts new membership applications at any time. We are not accepting applications for Pro Membership at present.
Curation Criteria
| Category | Explanation |
| --- | --- |
| Setting | Time and place the story is set and whether this affects the story. Has the writer created a world that is believable? |
| Plot and structure | What is the story arc? Does the story incorporate conflict, climax and resolution? Is it linear, chronological or does it move around? |
| Characters | How are characters drawn in the story? What is their role in the story? Do they change or remain the same? Are they fresh and original or stereotypical? Are they believable? |
| Style | The writer's use of language, imagery and tone. Is the writer engaging? Are they showing not telling? |
| Presentation | Does the presentation and formating enhance the writing? Has the writer developed their story and corrected mistakes? |
It will take the curation team a little while to curate each membership application – especially if we get a lot of applications! Thank you for your patience and we will get to everyone as soon as we can.

The Ink Well Vacancies – Community Builders
The curation team is looking for some Community Builders to join us. This is a new role which is about supporting and engaging with posters and encouraging them to engage with each other.
The main tasks will be to:
Meet and greet posters (a friendly comment welcoming a new poster, for example).
Encourage participation by reading and leaving positive comments on posts.
Resolve routine queries – e.g. where to find writing tips, explaining how something works.
Ideally, we would like to arrange it so that at least one Community Builder is available every day.
Each Community Builder would receive an initial delegation of 1,000 HP so they can vote on posts and earn curation rewards, rising to 2,000 HP. Community Builders would also receive benefits from the (usually) weekly post by @theinkwell and a daily vote from the @theinkwell account. We will also provide support for Community Builders to help you settle into your role.
We are looking for Community Builders who are:
Chatty and friendly and enjoy interacting in the community.
Knowledgeable about the community (and love writing)!
Interested in building the community and increasing participation.
This will be a six-month commitment to start, then there will be a review. If you are interested in applying, please write a post in The Ink Well explaining why you would like to be a Community Builder and what you feel you would gain from the experience. Tag @shanibeer in your post.
Deadline for applications: Thursday 15 October 2020 at 8.00pm UTC.
25 October 2020 UPDATE: THE INK WELL HAS ONE MORE VACANCY FOR A COMMUNITY BUILDER. PLEASE POST APPLICATIONS BY SATURDAY 21 NOVEMBER 2020.
That is it for this Newsletter! There is more to come – watch out for the next set of writing challenges and news about the Writing School, not to mention Discord! Thank you for reading!

We would like to invite lovers of poetry and short stories to visit The Ink Well, a Hive community started by @raj808 and run by @shanibeer and @stormlight24 with support from moderators @carolkean and @jayna.
It is now possible to follow The Ink Well curation trail on Hive blockchain with Hive.Vote. Simply navigate to the curation trail section and search for theinkwell and our trail will pop up as an option.
If you wish to delegate to @theinkwell and support creative writing on Hive, you can do this from the wallet section in PeakD.

Click banner to visit our community page

Find us on twitter by clicking the banner above.
---
---