Charlie's Machine Shop
My grandfather worked for the railroad much of his life, Southern Railway (now Norfolk Southern Railway). He performed many different jobs for the railroad company, working as a Station Agent, Telegraph Operator, and many other duties. So, even though he wasn't a mechanic, he was around machinery very often. He slowly accumulated his own wood working tools and built his own shop to house them. It was very much like an old barn and was a wonderful building! I wish I had a photo of it today, but have not yet found a relative that has one from that long ago.
So, my father grew up around that machinery. After my father graduated from High School (secondary education), he worked for a year or so driving an ambulance. When the Korean War began, Dad joined the Army and spent a couple of years doing his required military service duty with the Headquarters Company of the 315th Signal Corps Construction Battalion.
When he returned home, he began looking for a job. He found a company nearby that manufactured parts for automotive engines and apprenticed as a Tool & Die Maker. He worked his way up the ranks of that company, transferred to another company, and eventually became a Master Tool & Die Maker.
One of Dad's coworkers launched his own business at some point. That business grew and my father worked a second job there in the evenings for a while to earn some extra money. Although Dad has long retired and passed-away now, that business which his coworker started is still going strong.
While my father was alive, I frequently took him to medical appointments at the nearest Veterans' Administration (VA) Medical Clinic. En route, we passed that machine shop along the way. The following photo was taken one day after returning with my father from one of his doctor appointments at the VA a few years ago. And no, I didn't take the shot while driving — I carefully timed our passing so there was no traffic behind us, and briefly stopped the car for the photo! Safety first!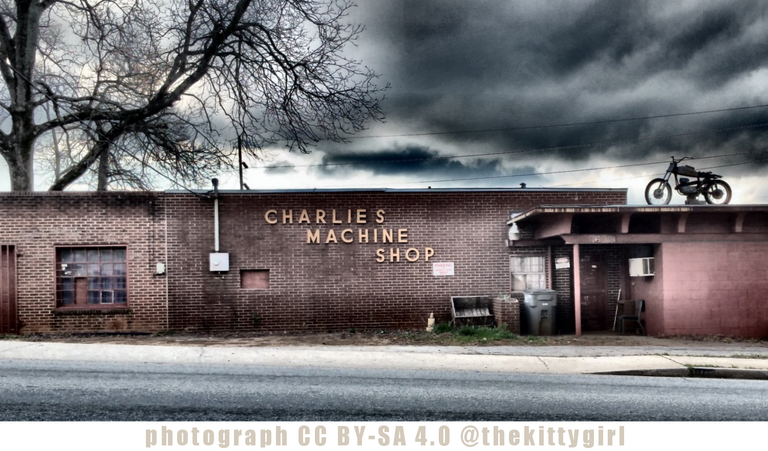 It was always fun to drive past and see the motorcycle on the roof! What a way to catch people's attention as they pass by the business!

 😊
TL;DR: OMG, there's a motorcycle on that building!
The tag #whatisee is dedicated to my late-husband, as it was his favorite tag and one that he created. 💜










07-Oct-2021
---
---