The People's Guild: February Schedule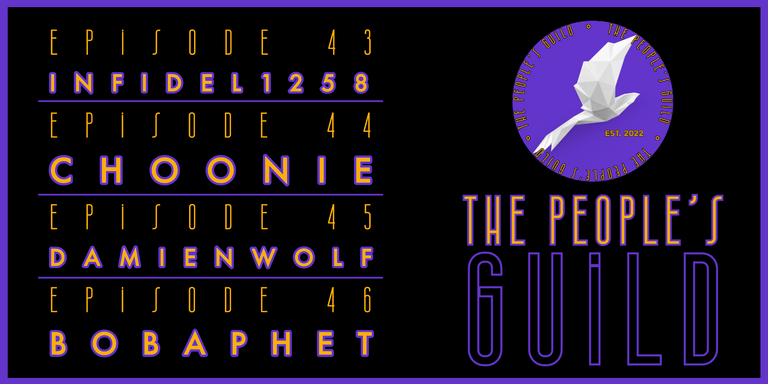 ---
Greetings, Splinterlands!
---
Welcome to February!
Coming in on the heels of some huge in-game developments, including 43 new soulbound reward cards, the announcement and release of the latest Chaos Legion legendary Death summoner, Astral Entity, and several contentious player proposals, there's an absolute ton we hope to talk through in the next few episodes and we've got a slew of great guests we hope to do just that with.
We've got an exciting month coming up here at the People's Guild and we hope you'll join us in welcoming each of our guests throughout the coming month of episodes.
Head here to make sure you don't miss these conversations and more from the People's Guild.
---
Episode 43: An Infidel1258 Conversation
---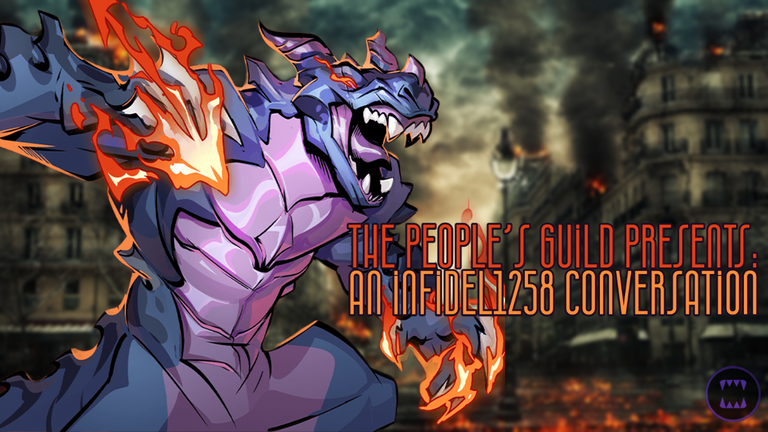 ---
Kicking off the month, we've got someone that is sure to be one of the first faces to greet them in anyone's Splinterlands' journey. He's one of the biggest YouTube creators in our world and he's one of the greatest advocates we've got for the game's longterm potential.
We proudly welcome @infidel1258 to the show as our first guest of February.
If you've somehow managed to not come across Dwayne's YouTube channel, we strongly encourage you to do so, as he covers Splinterlands all day, everyday, but his other interests include family, finance and faith, so you will find posts about the broader economic situation, gold, silver, his lovely family, or his journey with Jesus.
Coming aboard Splinterlands way back in January 2019, Dwayne has earned the unique perspective of an OG - one that we don't often get the chance to hear and speak to on the show - and for as long as either of us at TPG have been around, Twelve has been telling us to dedicate our time & attention to the game and we'd be rewarded.
Well, that time has come. The only rewards cards we've ever known have been slowly falling out of print before the whole lot of them suddenly vanishes from production in the days ahead. We've already begun to see these deflationary assets show their value appreciation and we've a sneaky suspicion that its just the beginning.
Infidel's words of wisdom time & attention echo throughout the content creator space within our game and have become something of a mantra for those of us that believe in the game's potential while we bide our time waiting for the next bull. In the meantime, we will continue to provide our time & attention to this special blockchain video game and do our part to drive the game and its ecosystem forward.
As Twelve played an integral piece in the introduction of the game to both of us here at the People's Guild, we are very much looking forward to this episode.
---
Episode 44: A Choonie Conversation
---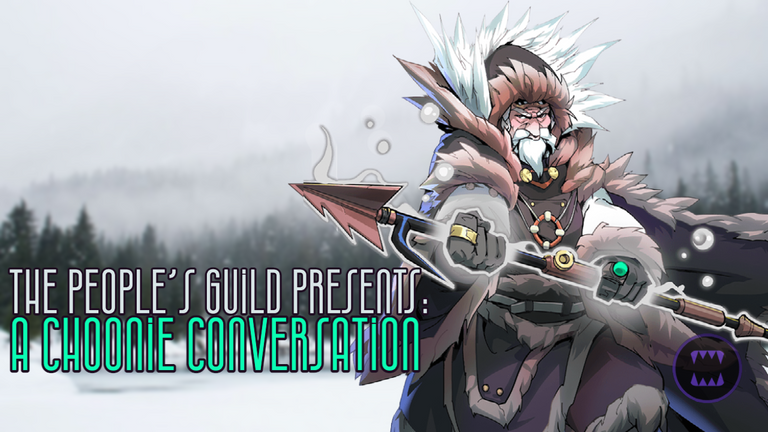 ---
Our next guest is one that's been making headlines in the tournament circuit as of late, as he's created & hosted tourneys for some of the biggest names in our space. He was very recently a featured guest with our friends over at Splinterlands 101 in this episode where they proceeded to have a fantastic conversation covering, among other things, his history with video games, cryptocurrency and his philosophy towards tournaments.
Please join us in welcoming @choonie to the People's Guild!
Choonie has quite the history with cryptocurrencies, one that runs laps around the combined experience here at the People's Guild. His journey began long ago collecting coins before later discovering BTC as a digital coin back in 2013. As he had studied computer networking, he took an interest in & began mining BTC back in 2013 off CEX.io. From there, Choonie opted to mine other coins, too, focusing mostly on LTC with ASIC miners.
Our guest brings some unique real-world experience to the People's Guild, having worked in Capital Markets for over 30 years. Through his networks, he found a coin dealer who would trade BTC for American Silver Eagles. Choonie felt that he had discovered digital alchemy!
His journey through crypto was a natural fit for Splinterlands, but where the synergy that struck Choonie's fancy really came into play was the fact that he has always been a huge video game player. His gaming experience runs deep, from the first Atari (bought at Sears Roebuck) to the Commodore 64 & Colecovision through to every Nintendo platform (including a Switch) & Xbox platform.
Choonie began researching GameFi and discovered Splinterlands, and though he looked at other games like Axie, Crabadda, etc..., he followed DappRadar and saw that SPL had the most players and quickly dove into watching the likes of @infidel1258, @luke-wtp and @bulldog1205 to help with my due diligence. It wasn't long before our guest made the decision to take the plunge into the game, in November 2021.
The rest, as they say, is history.
Having just run a very successful tournament of our own with Choonie, we look forward to sitting down with him to hear his vision for the future of these tournaments he runs & leveraging his knowledge of the space to talk all things crypto, Hive and Splinterlands.
---
Episode 45: A Damienwolf Conversation
---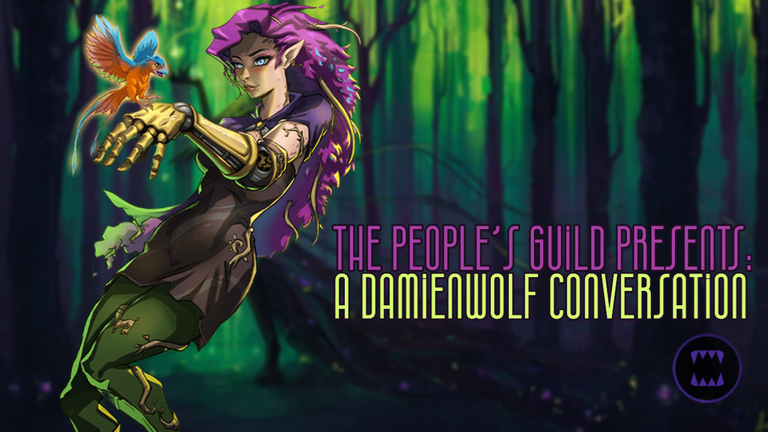 ---
Our third guest for the month is a SplinterlandsTV superstar. Armed with one of the greatest attitudes in the community, amazing sound effects and other bells & whistles alongside a knack for creating must-see TV, he also happens to be a formidable foe on the Splinterlands battlefield, routinely competing at the highest levels of our game. He represents one of the huge emerging markets in the Web3 gaming space and our potential next Splinterfest destination in the Philippines.
@damienwolf is stopping by the People's Guild!
Damien started playing Splinterlands back in July 2021, but he's a long history with gaming that's led him to our corner of the Hive blockchain.
Boasting a well-rounded resume of achievements in Web2 gaming, including his holding of world records in Initial D Arcade games, finishing in the Top 20 in Gran Turismo Academy Philippines, he remains present in local tournament scenes for fighting games like King of Fighters and Street Fighter.
With his history of being a gamer since age of 3, people have been pushing him to livestream or make content and, fortunate for us, he did just that, starting with streaming MMORPG games like Ragnarok Mobile.
It was during the most recent bull run, however, that Splinterlands caught Damien's eye. He began looking at P2E games at the time, but being a longtime Magic: The Gathering vet, it was Splinterlands that made the most sense for him to get in to.
At the time, Filipinos were more concerned with Axie but when they finally found out how fun Splinterlands could be (not to mention the comparatively smaller investment needed to get into the game vs. Axie), they started to look around for local sources of information about the game and Damienwolf was the only one streaming.
Thus, his followers grew and he was known as the first Filipino streamer of the game. It helped that Damien was different from the majority of other local streamers of other games as he spoke English on his streams and could hold a conversation with other OG's of Splinterlands like Bulldog, Dwayne Cunningham, and LukePlays2Earn, all of which he interviewed on his channel much to the delight of the Filipino community.
Wolf gradually became more involved in the game and community being part of Splinterlands PH and although he is now streaming more of other games on his personal channel, he still has a regular time slot in SplinterlandsTV (available Sunday evenings Asia time) in which he was part of the first batch of hires for this epic team of streamers.
Be sure to catch his streams over on SPLTV. You can connect with Damien on Facebook or Twitter. Damien's also got a Twitch and YouTube channel where he posts some fantastic guides and techniques he uses in his own Diamond/Champion league ladder climbs.
We look forward to sitting down for a chat with our second OG of the month and picking Damien's brain on all things Splinterlands!
---
Episode 46: A Bobaphet Conversation
---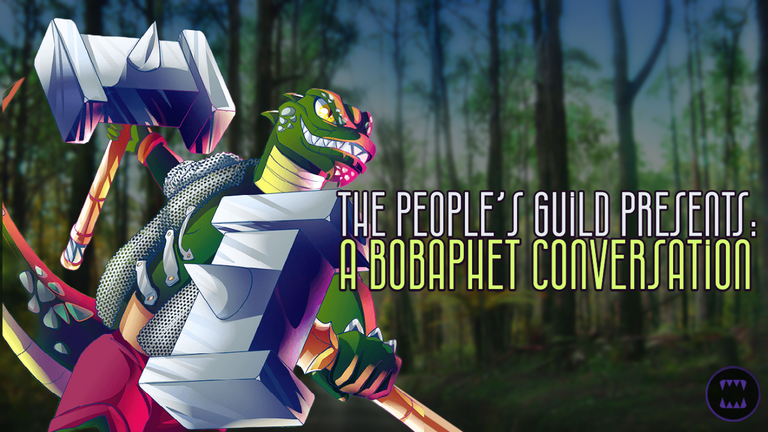 ---
Yo yo, my sovereigns, what up?!
Finishing off a strong month with yet another fantastic guest, we are set to sit down with yet another wonderful content creator. He's one part of the top-notch podcasting team that is Splinterlands 101 alongside his co-hosts, @mattclarke and @giotrix. The crew was kind enough to welcome us aboard their show a few months back and we've been itching to get them each on the People's Guild since - and the time has come to mark off the second of the bunch!
We are pleased to introduce to you @bobaphet.
Bobaphet has had a fun journey to Splinterlands, one that is unique amongst the stories of guests we've played host to throughout the history of TPG. He found his way first to Steemit, which also served as an introduction to the crypto space for our guest.
He started blogging various articles trying to find his niche before he found DTube and proceeded to vlog, mostly of a philosophical nature. Bob was earning Steem without even knowing what it was and what could be done with it. Having no accounts with any exchanges to his name, our guest was totally clueless about all that, which is, funnily enough, what ultimately led to his discovery of Splinterlands.
Splinterlands cards became Bobaphet's default resting place for any Steem with no outside account way back when Steemmonsters' cards held no stats, no abilities and was just a shadow of its current self.
We're glad it worked out the way it did for Boba, and that he's stuck around long enough for us to get the opportunity to sit down for a chat with this seasoned vet of our game.
---
Check Out Our Other Episodes
---
We are available anywhere you get your podcasts, but here are some quick links:
For the unitiated, @Aureal is a crypto-enabled decentralized podcast platform built on the Hive blockchain that rewards you for your content
(Unsupported https://open.spotify.com/embed/show/1FwT0BtYLGnqKBFwyrRzL5?utm_source=generator)
---
---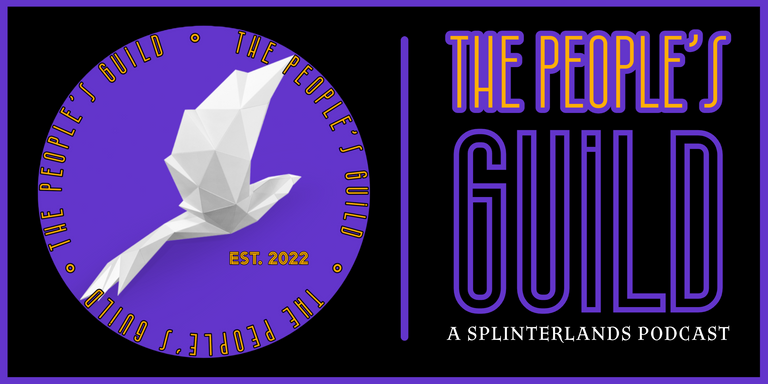 Welcome to the People's Guild
We are @thewascalwabbits & @bjangles and we're pleased to present to you another episode of the People's Guild: A Splinterlands Podcast
We are always looking to hear personal journeys through Splinterlands. If you'd be keen to hop on the show and share yours with us, drop us a line and we'd love to have you on! Leave us a comment below or reach out to us via Twitter.
---
We drop new episodes every Thursday UTC, so don't forget to subscribe to the show wherever you get your podcasts!
---
Join us in our Splinterlands journey by creating your own battle mage!
---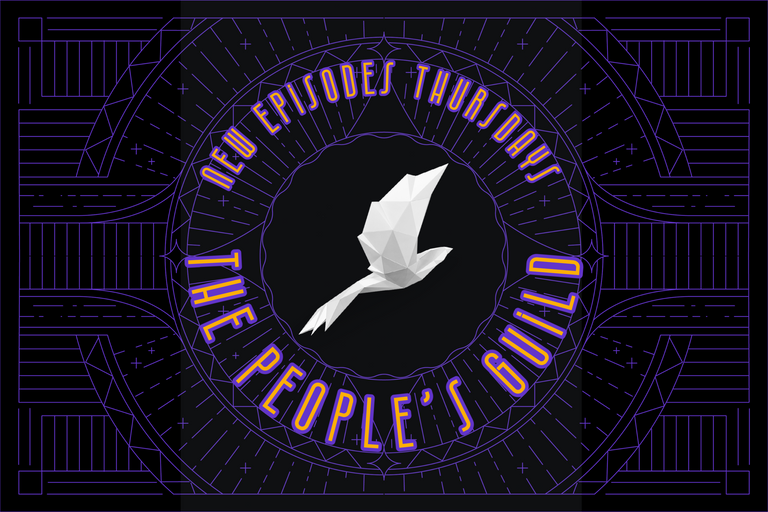 ---
---
---