The Market - A Picture is Worth A Thousand Words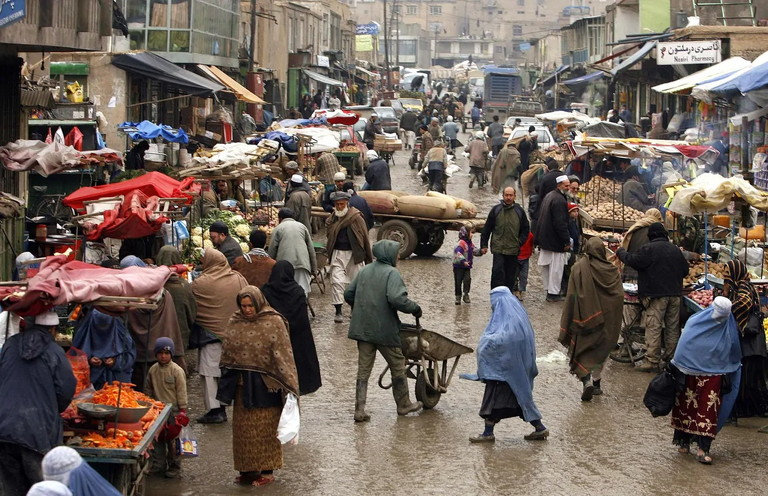 source
The Market
Do you see my stall in the back? I run a small business selling hot peppers at the local market.
I spend my days thinking, growing and preparing hot peppers. This isn't an easy life. I'm a farmer and I'm up at the crack of dawn to begin my day. The rooster on my property is my natural alarm clock and he's a light sleeper. Good for me as I'm tired as heck after a long day and I'll never have to set that bird.
My day begins with an earful from my feathered friend. I'll slink out of bed and do my best impression of a zombie while making my way to the kitchen. Cooooooofffffffffffeeeeeeeeeeeeeee, this is the only word that exits my mouth. Once I put on a fresh pot and those lovely aromas waft through the place I know my day is starting off well.
Black as night. That's how I like my coffee. Hold the sugar and cream, I like a bold taste. Enough about the coffee already I need to start my day.
Once I'm full of caffeine I'll hop in the shower and throw on some work clothes. Now it's time to tend the fields. I have to wear gloves as picking peppers for most of my day is tiresome and spicy. I don't want my hands to be a fiery inferno either so protection is certainly required. I even use goggles as some of these peppers can be very hot.
People tell me I should automate the process but I say no. An artisanal pepper store has always been my idea since I began growing my own. People are willing to pay a little extra based on my experiences. Granted I can't compete with the industrial farms but that was never my intention.
The days are long and hard. I love peppers but don't eat them as often as I used to before I started growing them myself. There's a saying about too much of a good thing and I live by that. When I make a big batch of chili those peppers come out of hiding. Otherwise, I'm content with using them sparingly.
The market on this day was bustling.
I saw Pete the potato farmer selling his carrots. I'm not sure why he's called Pete the potato farmer as he rarely sells potatoes these days.
Charlene the cauliflower lady was there selling cauliflower of all things. She has a crazy sense of humor so we always get along.
Last but not least was Karl. He was selling hammers. As usual we struck up a conversation about the latest in hammer technology. Truly fascinating stuff, he always says everything looks like a nail to him. I never understood this.
As I said before, you can't really see me in this photo but I'm there. I sold all my peppers on this great day and had fun walking and talking with everyone. This is one of the many benefits to selling out of your stock early in the day. Not to worry, I always have a fresh supply of peppers growing for another day at the market.
Thanks for asking about my day I appreciate it.
---
What do you see or feel when looking at this image? You might be interested in coming up with something creative to write about. Be sure to have a look, it's very fun!
https://ecency.com/hive-161155/@freewritehouse/a-picture-is-worth-a-thousand-words-6112022
---
---