Playing ARK: Survival Evolved | The Center is mine
English version below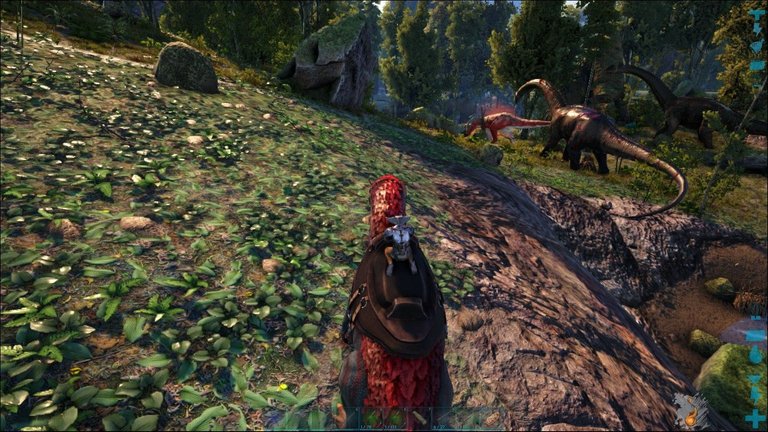 ¡Hola a todos!
Algo que dejé un poco olvidado desde que tengo conexión a internet fue ARK: Survival Evolved. Como ya muchos sabrán, ARK es uno de mis juegos favoritos y desde que tengo memoria y desde que el juego fue lanzado soñé con jugarlo porque siempre me apasionaba la idea de un juego de supervivencia en un mundo lleno de dinosaurios.
Incluso teniendo una computadora superior a la que solía tener hace muchos años, este juego aún es bastante pesado como para jugarlo sin problema alguno. Quiero decir, ARK tiene un gran mundo abierto con un montón de diferentes biomas (dependiendo del mapa que estés jugando) y animales, los cuales pueden spawnear en grandes cantidades, lo que esto hace que sea demasiado pesado (obviando el tema de su mala optimización).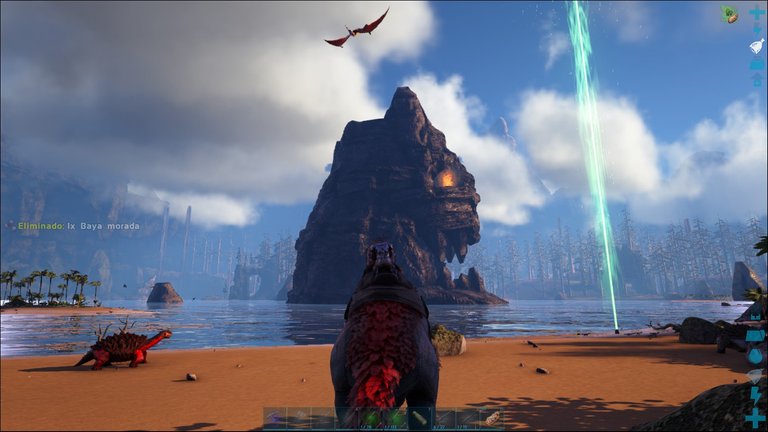 El mapa The Center como tal es un mapa gratuito que fácilmente puedes descargar desde Steam. Este mapa es muchísimo más grande que el mapa original (The Island) y tiene una inmensa cantidad de biomas y cosas que puedes descubrir, incluyendo montañas, selvas, islas y cuevas, mientras que en The Island la mayoría de biomas están bastante cercanos y no cubren tanto terreno como The Center.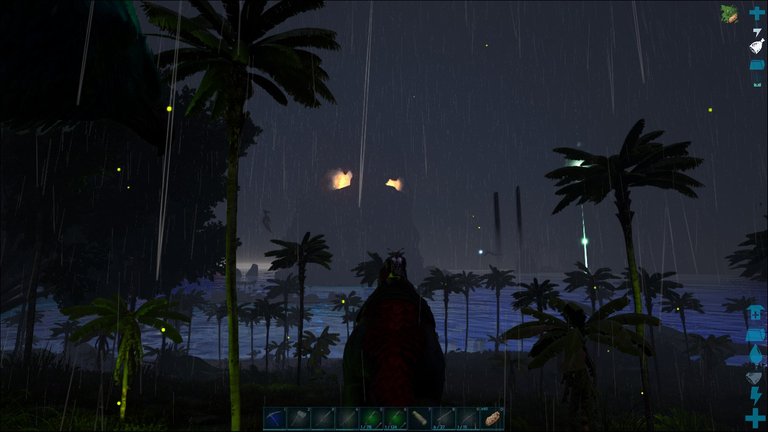 Si vieron mi post anterior, sabrán que en todo este tiempo estuve buscando un lugar donde mudarme ya que la isla donde estaba viviendo estaba ubicada en un extremo del mapa, un lugar totalmente remoto donde solamente habían unos cuantos dinos y realmente era aburrido vivir allí. Fue en ese lugar donde domé un Bronto, un Cetirizino y uno que otro dino.
Lastimosamente no tomé muchas fotos del proceso para mudarme porque fue un total martirio, perdí un T-rex, casi pierdo mi Tericino y casi muero en el intento por la inmensa cantidad de animales acuáticos que nos estaban persiguiendo.
Luego de establecer mi casa procedí a hacer algo que llevaba bastante tiempo viendo en videos de YouTube: Crear un super Argentavis.
Y el resto fue historia.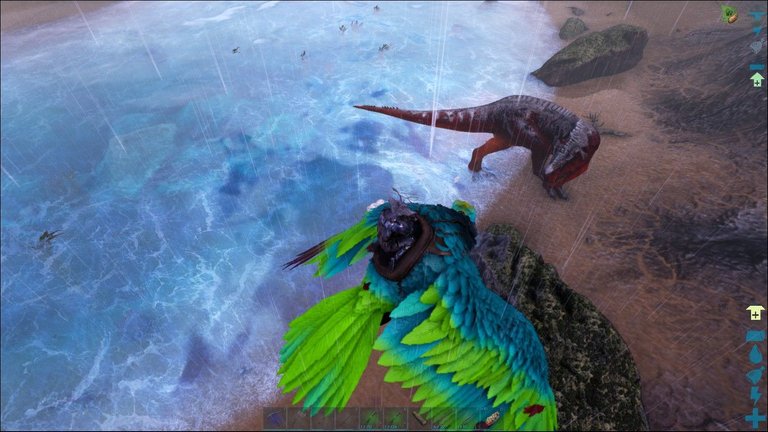 Acabé con mi primer T-rex Alfa.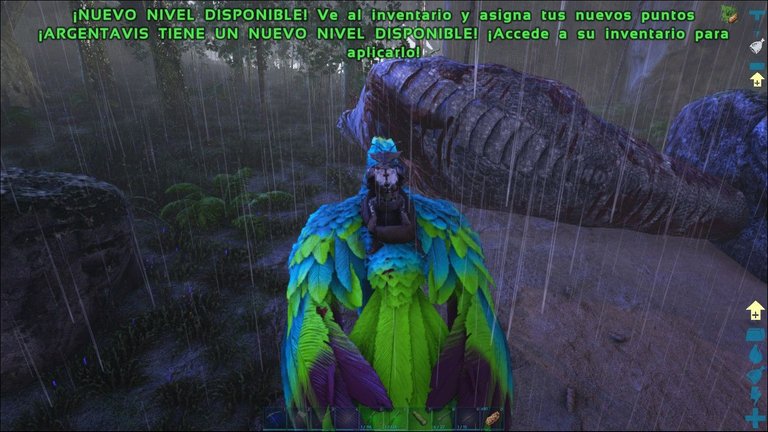 Exploré el lugar más hostil de The Center.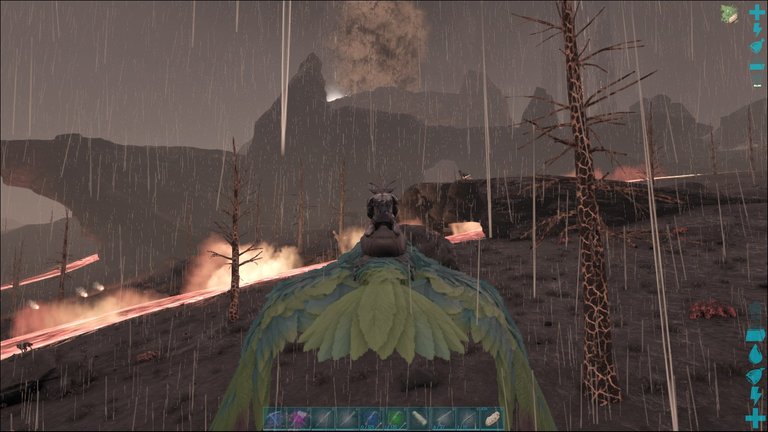 Seguí matando Alfas y muchos animales fuertes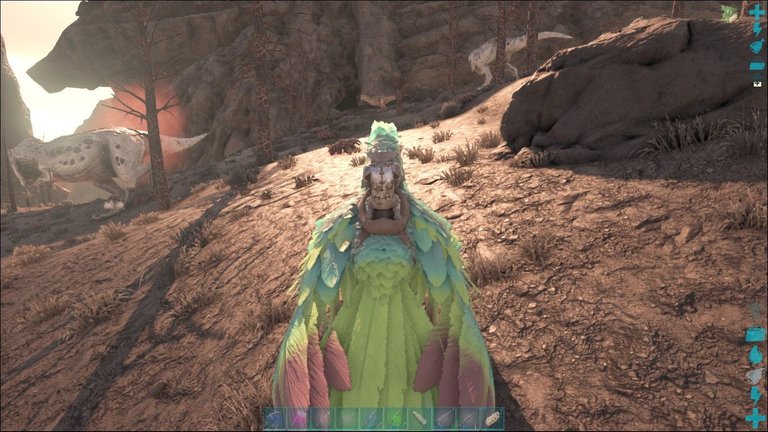 Y me convertí en un Dios (no literalmente, pero nada podía contra mí)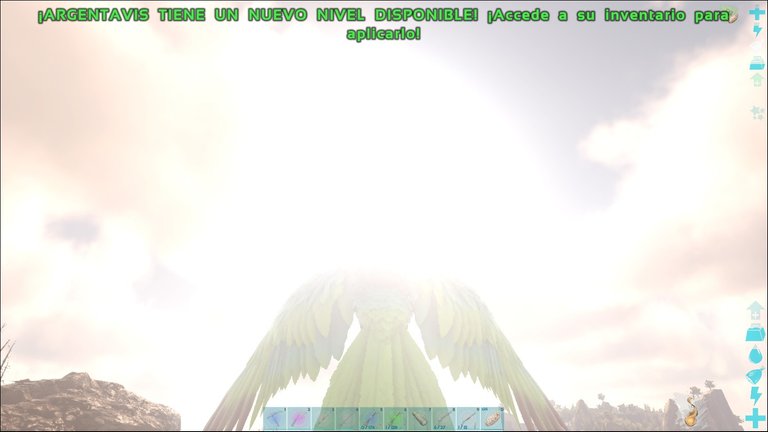 Hace bastante tiempo había leído acerca de las estadísticas de los Argentavis y lo fácil que eran para crear unas máquinas de matar con más de 1000% de daño. Mi Argentavis Big Soto no tiene tanta vida como la podría tener un T-rex o un Giga, pues solo tiene unos 3000-4000 de mi vida, pero fácilmente puede acabar con cualquier ser vivo que tenga en frente. Mi Argentavis tiene más de 1000% de daño y puede oneshotear a una gran cantidad de dinos, ni siquiera dando tiempo a que puedan hacer algo.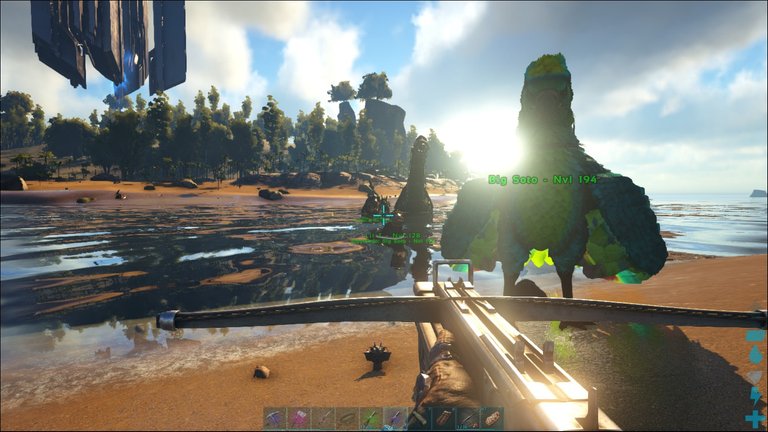 Desde que lo domé, ha sido el mejor dinosaurio que he tenido en todas mis partidas de ARK. Ya solamente es cosa de dejarlo en neutral y cualquier cosa que me ataque o se me acerque, él la exterminará en cuestión de segundos (espero que también sea así cuando vea por primera vez un Giganotosaurus o un Carcharodontosaurus). Ya que no quería farmear ni mejorar mi casa, la mayor parte de mi tiempo la invertí explorando todo The Center y el vasto mundo que me rodeaba.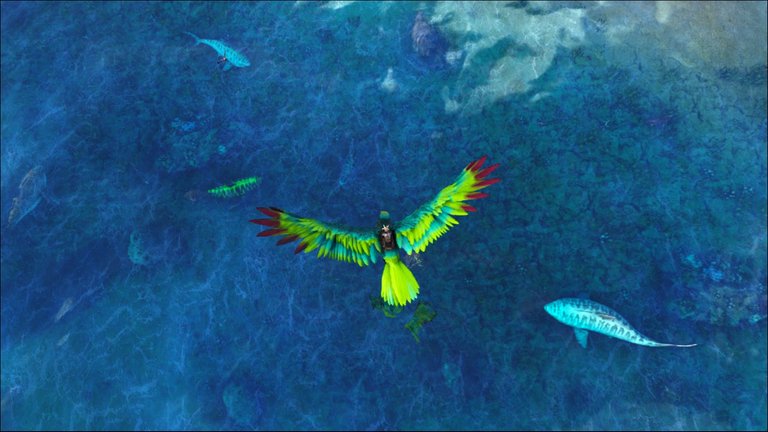 Es increíble porque en este mapa hay ríos demasiado profundos donde también hay animales marinos gigantes, siendo gracioso en cierto modo porque eso significa que los Megalodones también pueden sobrevivir en agua dulce, algo imposible en la vida real a menos que seas un pez eurihalino (y puedas vivir en ambos ambientes).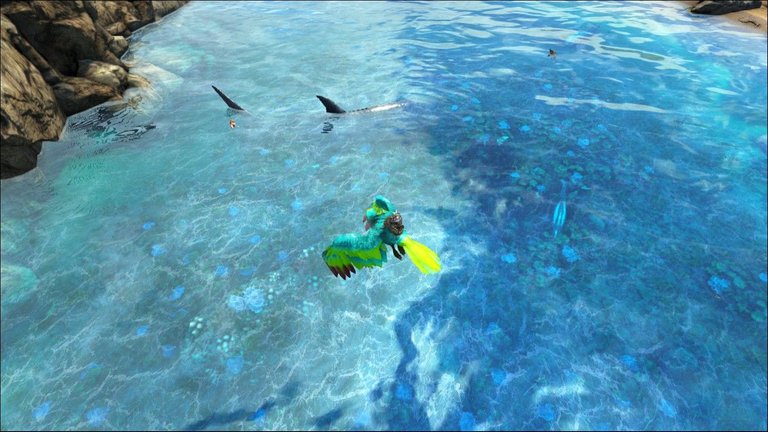 Insisto, el ambiente marítimo en ARK es una cosa demasiado hostil y al mismo tiempo impresionante. Lastimosamente es totalmente injugable debido a la gran cantidad de peces que pueden desmontarte (en caso de ir en montura), y estar sin montura en el mar es simplemente una sentencia de muerte porque no puedes defenderte de ninguna forma, ni siquiera con pistolas ya que no se pueden usar bajo el agua.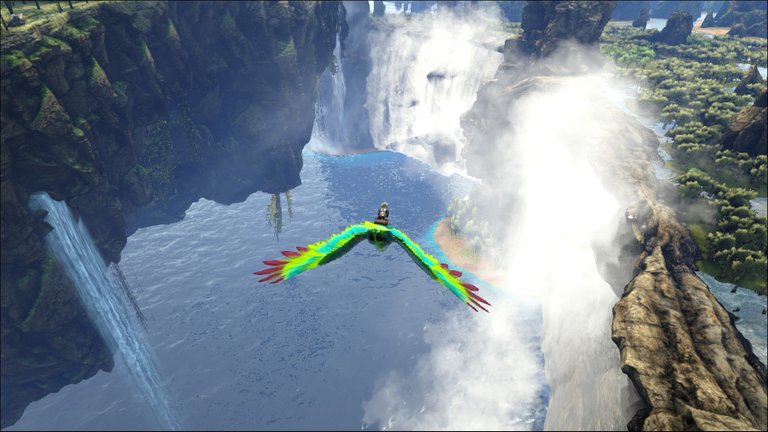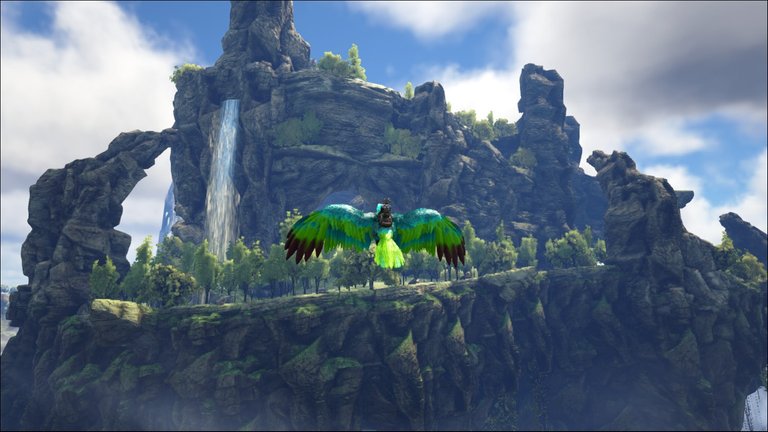 Este mapa tiene muchísimas localizaciones increíbles en donde admito que me encantaría tener un hogar, pero prácticamente es imposible debido a lo difícil que sería transportar cosas, e imposible de llevar a los dinosaurios terrestres (hasta ahora no he visto ninguna forma de llegar a esta isla por tierra).
Otra cosa que quería experimentar era el cómo funcionaba el sistema de apareamiento en ARK, pero me di cuenta de que requiero un montón de cosas de metal y me dio flojera farmear para construirlas, así que simplemente dejé eso a un lado.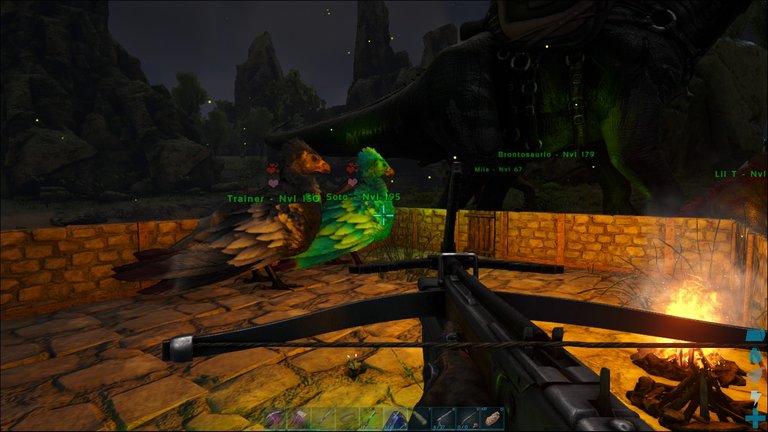 Intenté domar un Quetzal, pero lastimosamente no tuve la suficiente destreza mental como para lograrlo por lo que solamente estuve persiguiéndolo como estúpido. En todos los mapas que he jugado he intentado tamear uno de estos debido a que es una de las monturas voladoras más útiles para transportar cosas, pero hasta ahora no lo he logrado.
En cambio, @jotaunive sí logró hacerlo en un mapa que también tiene creado en mi computadora (The Island). Es increíble lo inútil que puedo llegar a ser para tareas que otras personas pueden llegar a ser bastante sencillas.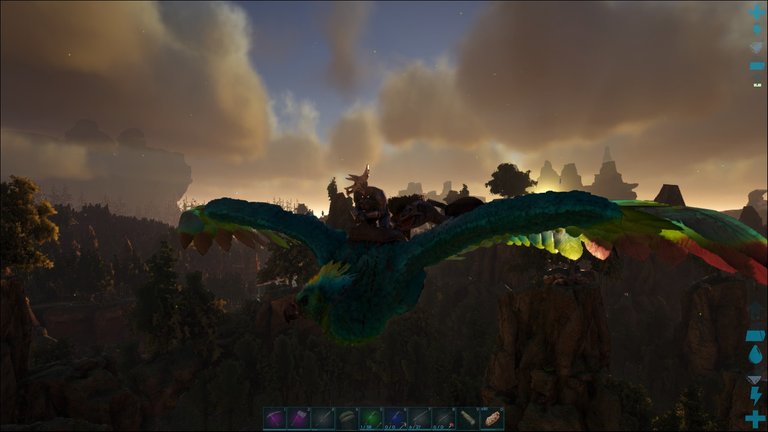 No sabía que los cielos de ARK podían tornarse tan bonitos como en esta oportunidad. No sé si era por el bioma en el que me encontraba o exactamente el por qué sucedía, pero los cielos se tornaron de colores bien llamativos.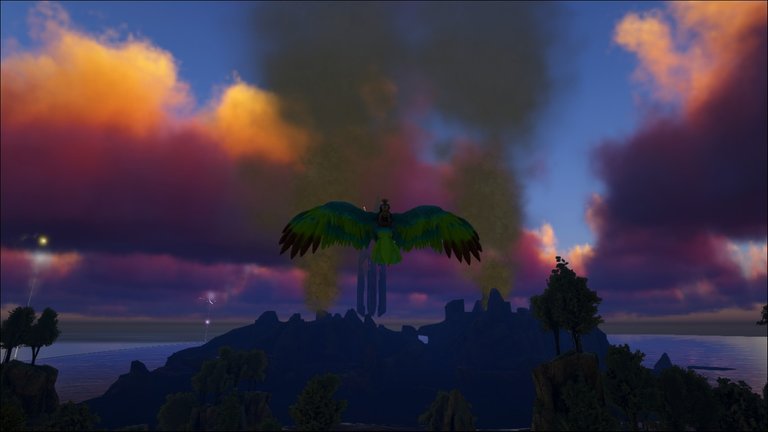 No podía parar de apreciar lo hermoso que se ve este juego, y también lo hermoso que es mi Argentavis.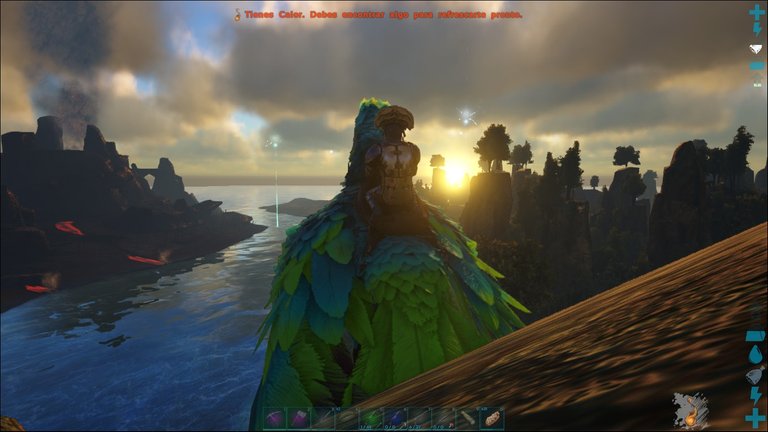 Ya que soy alguien caprichoso decidí domar una montura terrestre que me permitiera ir a toda velocidad sin necesidad de sacar al Argentavis. Tengo que admitir que jugar con el Argentavis hace que el juego pierda un poco de sentido ya que literalmente no hay ningún dinosaurio que pueda matarlo, así que la mayoría de cosas que hice antes de dejar de jugar fueron sin el Argentavis para evitar aburrirme.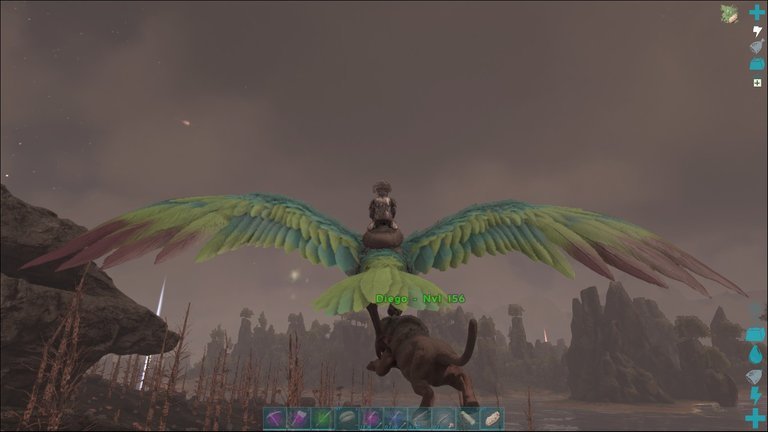 Algo que me decepcionó bastante fue no lograr ver al Raptor Claus en ARK. Este Raptor aparece nada más en las festividades de navidad y lo único que hace en ARK es dejar regalos a lo largo del mapa (regalos que nunca recogí tampoco ya que nunca los conseguí). Lastimosamente en The Center era bastante complicado conseguir este Raptor debido a lo grande que es este mapa, pero hey, al menos logré ver su silueta con un catalejo (la emoción que sentí en ese momento me hizo parecer un niño jaja).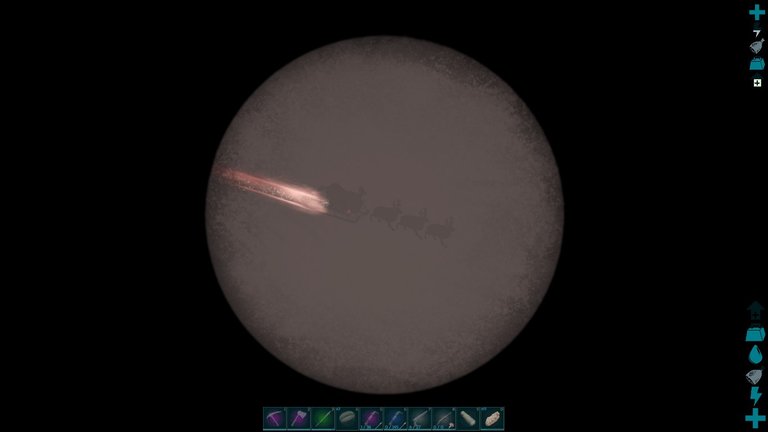 En mis últimas horas de juego solo me dediqué a explorar y a conocer más de The Center usando a Diego (mi dientes de sable)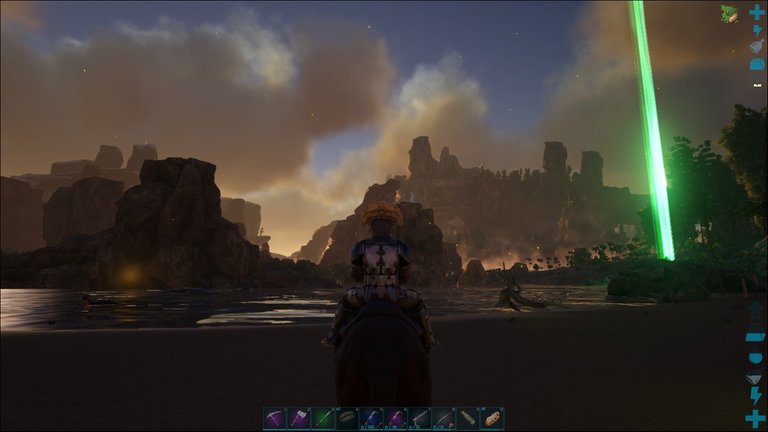 Vine al bioma de nieve para capturar a uno de los dinosaurios más hermosos y útiles que existen en el juego: El Yutyrannus.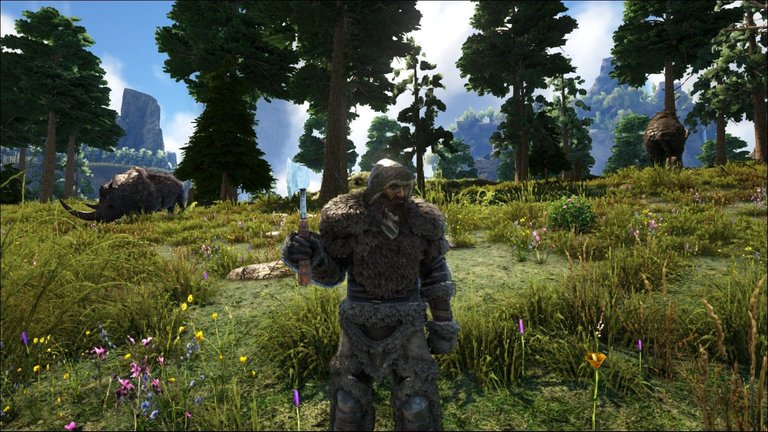 Para esto sí tuve que traer a mi Argentavis ya que el bioma de nieve es bastante hostil también y el Argentavis me permitía craftear cosas de herrería encima de él, por lo que no me hacía falta regresarme a casa si necesitaba hacer algo en específico (como la armadura de piel para el frío).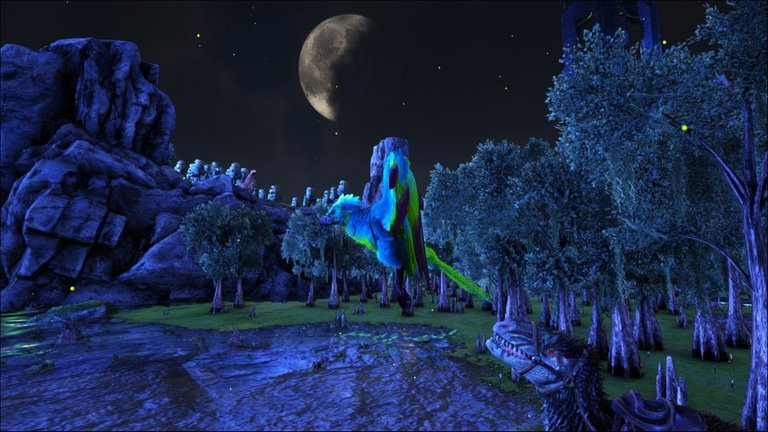 ¡Y eso es todo! Lastimosamente no he jugado tanto como he querido debido a que volví a mis aventuras con Albion (preparense para el spam de posts de Albion) y también tuve la oportunidad de jugar SCP junto a amigos de HiveGC. Esta comunidad sigue siendo bastante importante para mí, y en realidad jamás me cansaré de venir aquí y compartir con ustedes tanto en Discord como en Hive :)
PD: Gracias por el torneo de TFT @incublus. Perdón por no poder usar Discord, pero me gustó compartir tiempo con ustedes <3
English version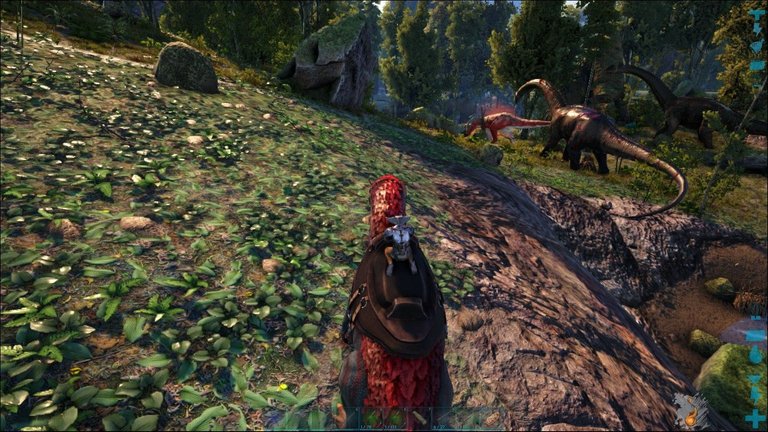 Hello everyone!
Something that I left a little bit forgotten since I have internet connection was ARK: Survival Evolved. As many of you may already know, ARK is one of my favorite games and since I can remember and since the game was released I dreamed of playing it because I was always passionate about the idea of a survival game in a world full of dinosaurs.
Even having a superior computer than the one I used to have many years ago, this game is still heavy enough to play it without any problem. I mean, ARK has a big open world with a lot of different biomes (depending on the map you're playing) and animals, which can spawn in large numbers, which makes it too heavy (apart from the bad optimization issue).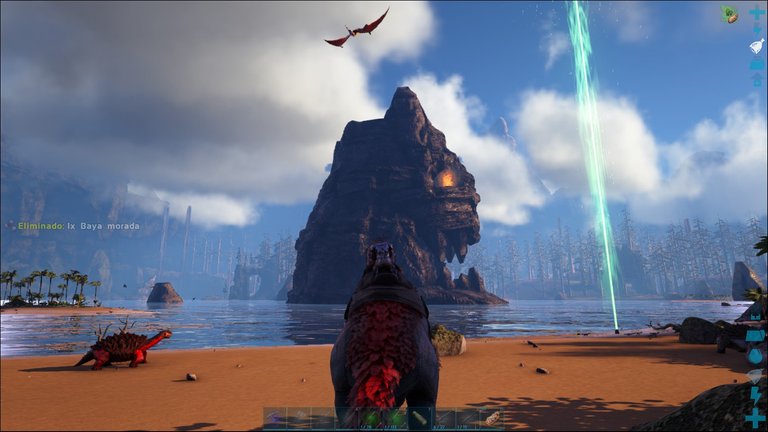 The Center map as such is a free map that you can easily download from Steam. This map is much larger than the original map (The Island) and has a huge amount of biomes and things you can discover, including mountains, jungles, islands and caves, while in The Island most of the biomes are quite close and do not cover as much ground as The Center.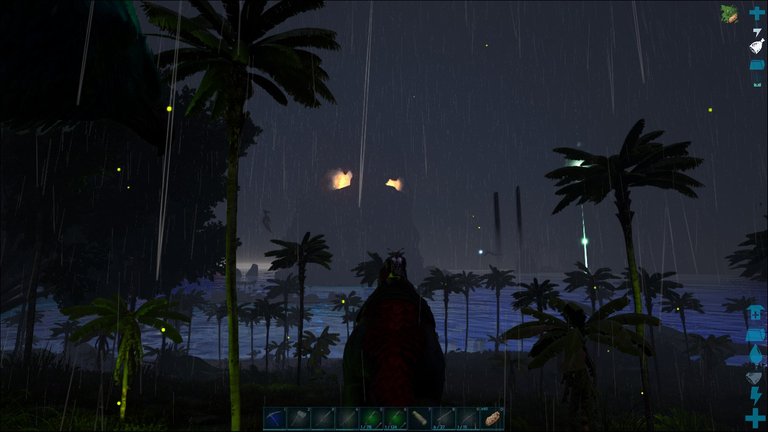 If you saw my previous post, you will know that all this time I was looking for a place to move to because the island where I was living was located at one end of the map, a totally remote place where there were only a few dinos and it was really boring to live there. It was there that I tamed a Bronto, a Cetirizino and one or two other dino.
Unfortunately I didn't take many pictures of the process of moving because it was a total martyrdom, I lost a T-rex, almost lost my Tericino and almost died in the attempt because of the huge amount of aquatic animals that were chasing us.
After setting up my house I proceeded to do something I had been watching YouTube videos for quite some time: create a super Argentavis.
And the rest was history.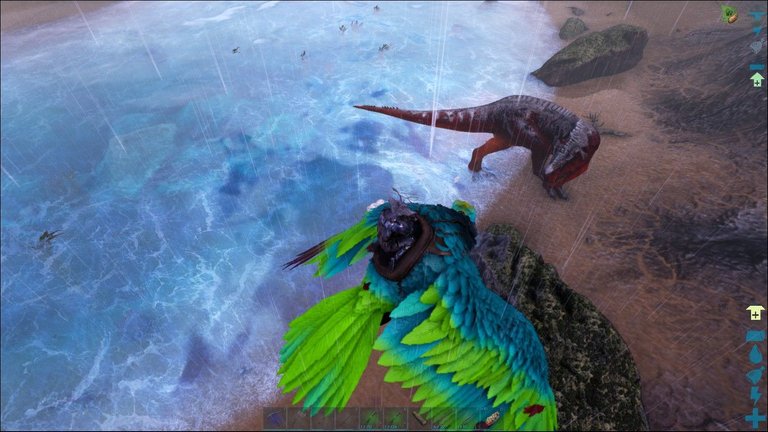 I ended up with my first T-rex Alpha.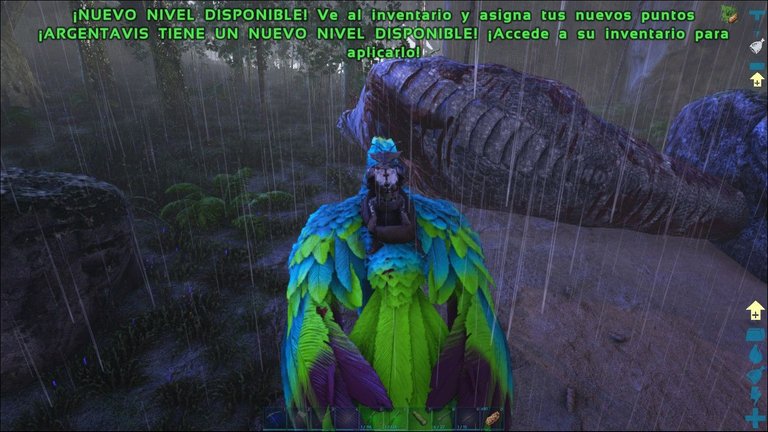 I explored the most hostile place in The Center.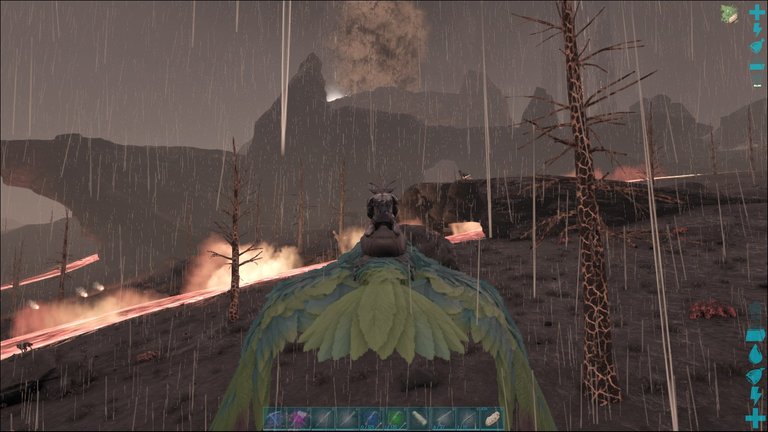 I kept killing Alphas and many strong animals.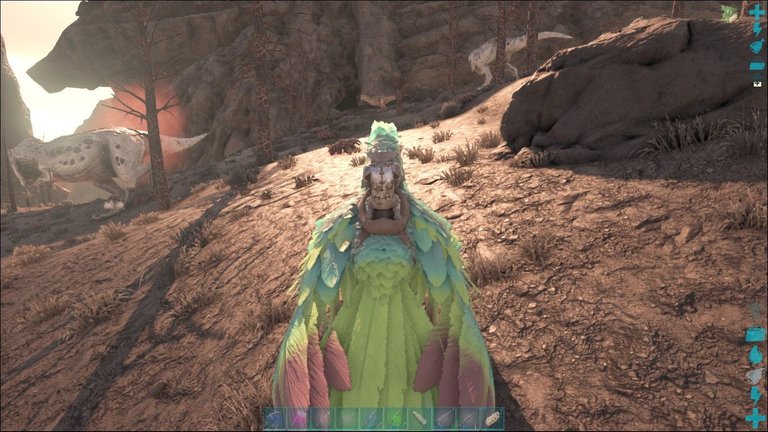 And I became a God (not literally, but nothing could stand against me).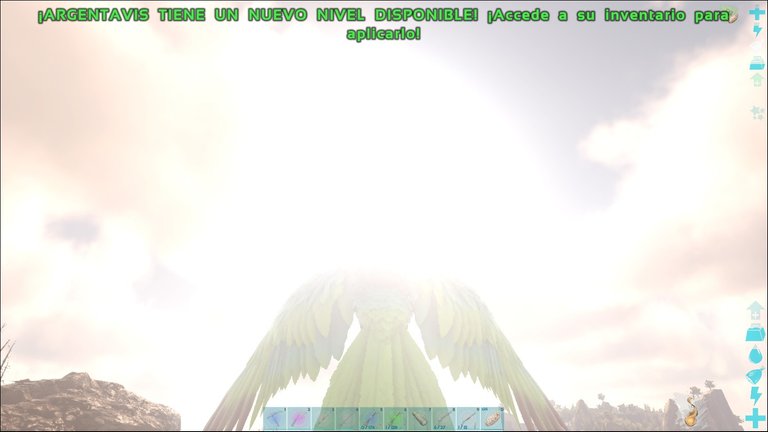 Quite some time ago I had read about the stats of Argentavis and how easy they were to create killing machines with over 1000% damage. My Argentavis Big Soto doesn't have as much life as a T-rex or a Giga might have, as it only has about 3000-4000 of my life, but it can easily take out any living thing in front of it. My Argentavis has over 1000% damage and can one-shot a lot of dinos, not even giving them time to do anything.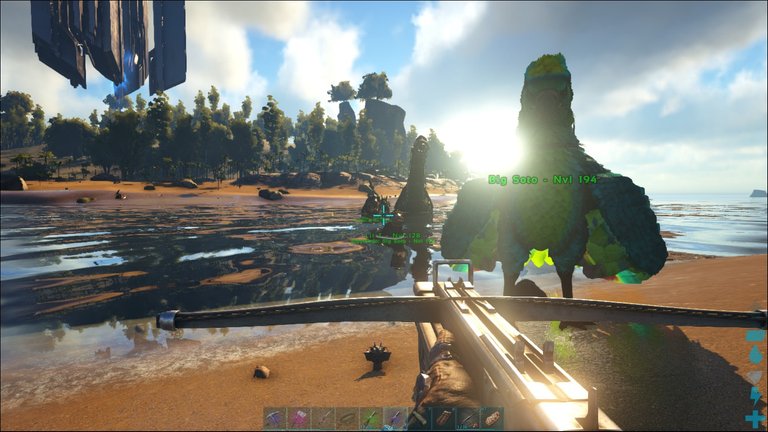 Since I tamed him, he's been the best dinosaur I've had in all my ARK games. It's just a matter of leaving him in neutral and anything that attacks me or approaches me, he will exterminate it in a matter of seconds (I hope it will also be like that when I see a Giganotosaurus or a Carcharodontosaurus for the first time). Since I didn't want to farm or upgrade my house, most of my time was spent exploring all of The Center and the vast world around me.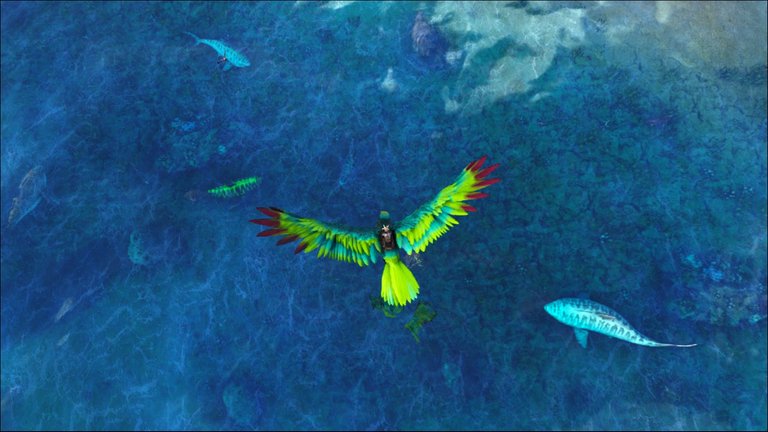 It's amazing because in this map there are too deep rivers where there are also giant marine animals, being funny in a way because that means that Megalodons can also survive in fresh water, something impossible in real life unless you are a euryhaline fish (and you can live in both environments).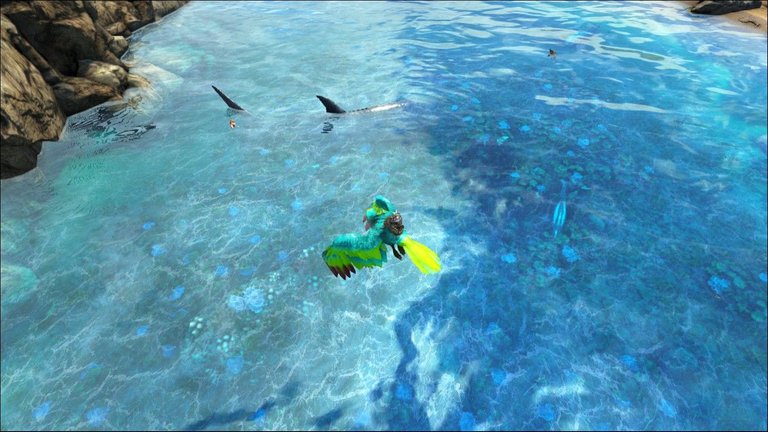 I insist, the sea environment in ARK is too hostile and at the same time impressive. Unfortunately it is totally unplayable due to the large amount of fish that can dismount you (in case you are mounted), and being unmounted at sea is simply a death sentence because you can't defend yourself in any way, not even with guns since they can't be used underwater.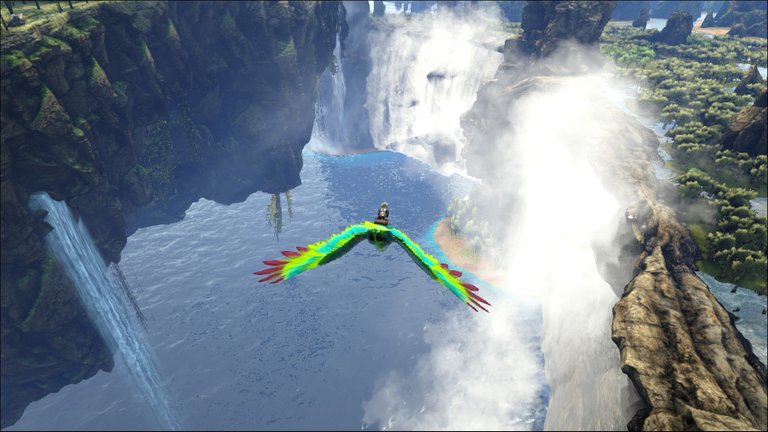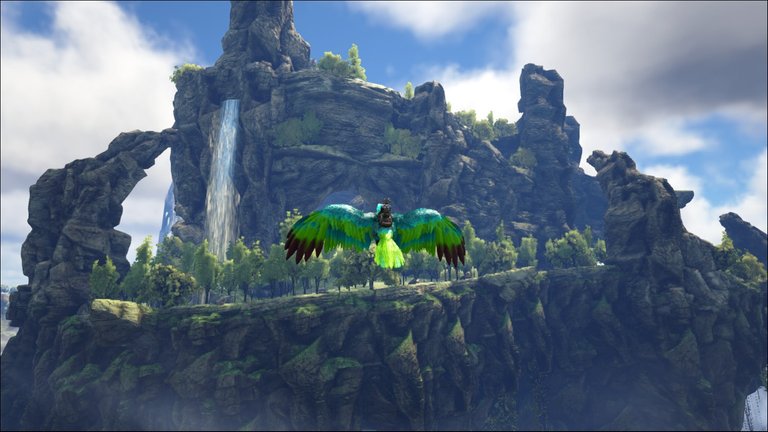 This map has so many amazing locations where I admit I would love to have a home, but it's practically impossible due to how hard it would be to transport stuff, and impossible to take land dinosaurs (so far I haven't seen any way to get to this island by land).
Another thing I wanted to experiment with was how the mating system worked in ARK, but I realized that it requires a lot of metal stuff and I was lazy to farm to build it, so I just put that aside.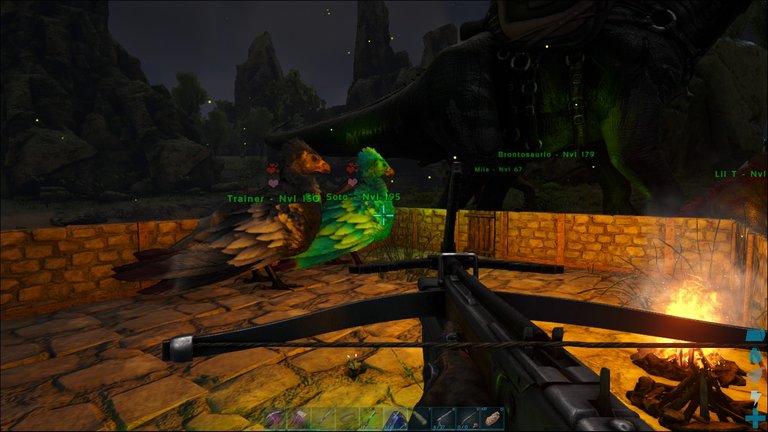 I tried to tame a Quetzal, but unfortunately I didn't have enough mental dexterity to do it, so I was just chasing it like stupid. In all the maps I've played I've tried to tame one of these because it's one of the most useful flying mounts for transporting stuff, but so far I haven't managed to do it.
On the other hand, @jotaunive did manage to do it on a map he also has created on my computer (The Island). It's amazing how useless I can be for tasks that other people can make quite simple.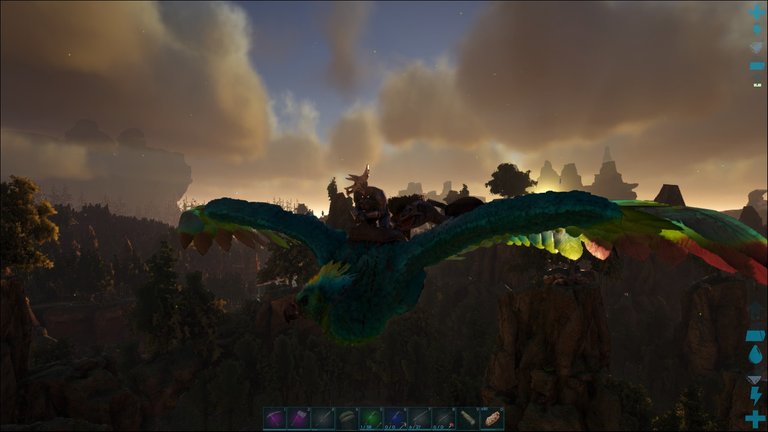 I didn't know that the skies of ARK could become as beautiful as this time. I don't know if it was because of the biome I was in or exactly why it was happening, but the skies became very brightly colored.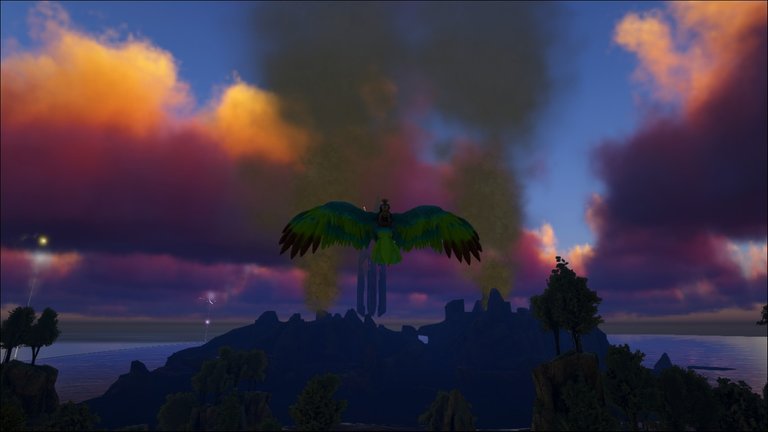 I couldn't stop appreciating how beautiful this game looks, and also how beautiful my Argentavis is.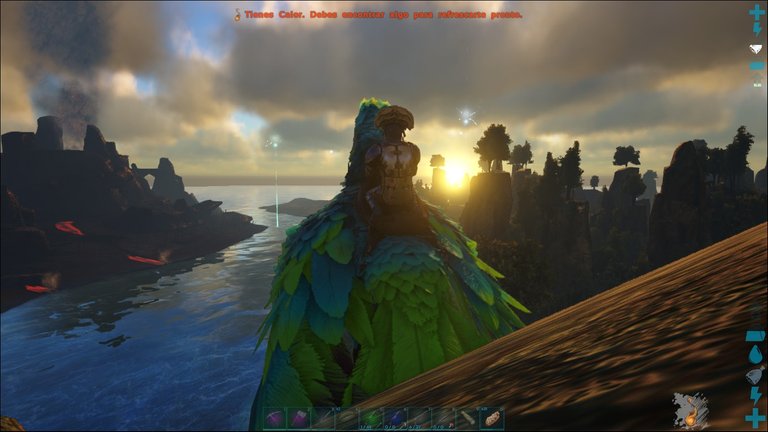 Since I'm someone whimsical I decided to tame a land mount that would allow me to go full speed without taking out the Argentavis. I have to admit that playing with the Argentavis makes the game a bit pointless as there is literally no dinosaur that can kill it, so most of the things I did before I stopped playing were without the Argentavis to avoid getting bored.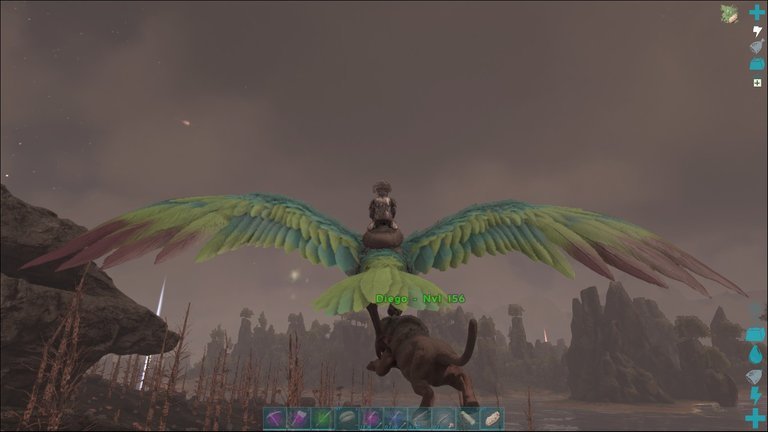 Something that disappointed me a lot was not getting to see Raptor Claus in ARK. This Raptor only appears during the Christmas festivities and the only thing he does in ARK is to leave gifts along the map (gifts that I never collected either since I never got them). Unfortunately in The Center it was quite complicated to get this Raptor due to how big this map is, but hey, at least I managed to see his silhouette with a spyglass (the excitement I felt at that moment made me look like a kid haha).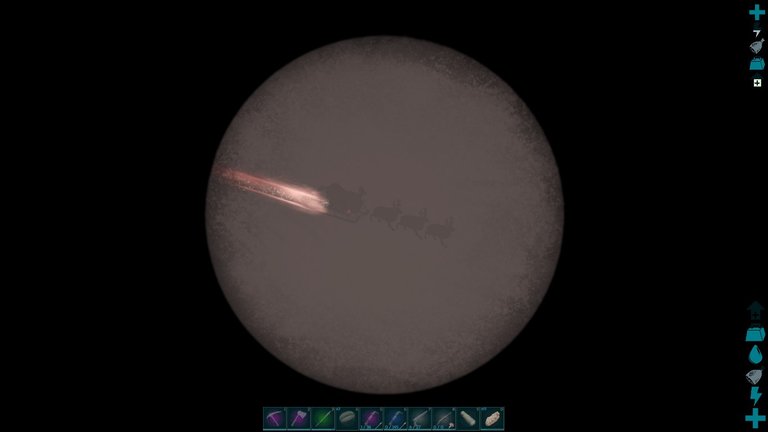 In my last hours of play I just explored and got to know more about The Center using Diego (my sabertooth).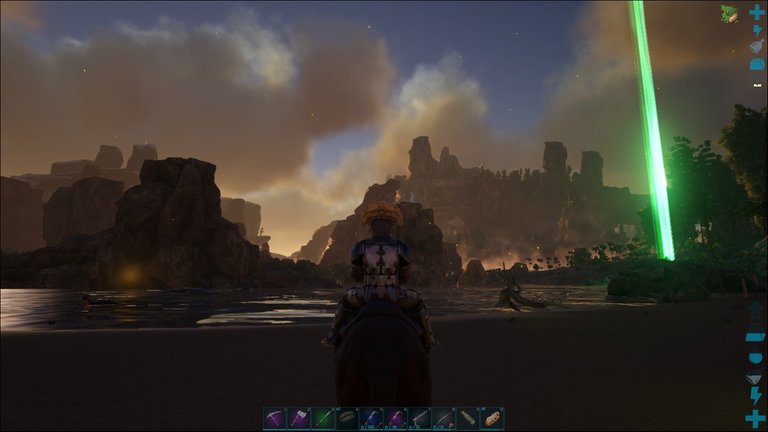 I came to the snow biome to capture one of the most beautiful and useful dinosaurs in the game: the Yutyrannus.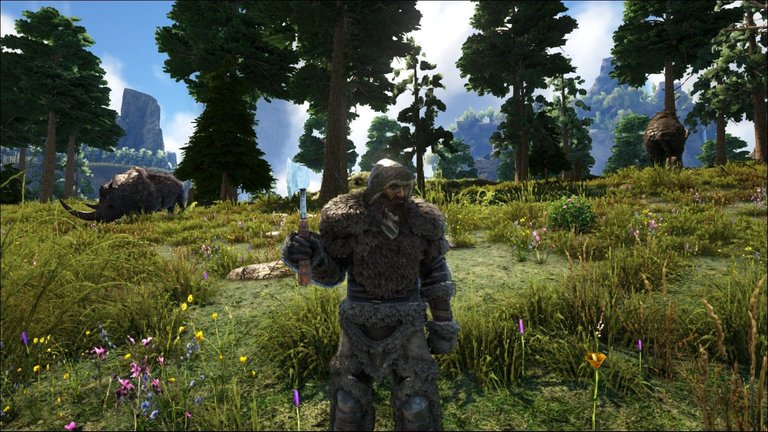 For this I did have to bring my Argentavis since the snow biome is pretty hostile too and the Argentavis allowed me to craft blacksmith stuff on top of it, so I didn't need to go back home if I needed to make something specific (like skin armor for the cold).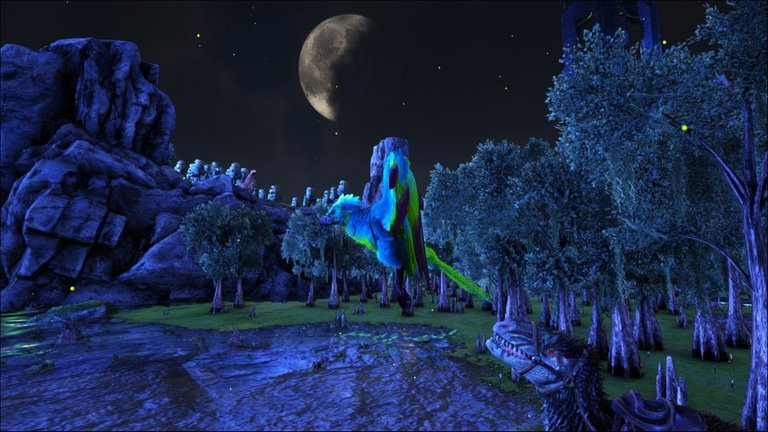 And that's it! Unfortunately I haven't played as much as I wanted to because I went back to my adventures with Albion (get ready for Albion post spamming) and I also had the chance to play SCP together with friends from HiveGC. This community is still quite important to me, and I'll never really get tired of coming here and sharing with you both on Discord and Hive :)
PS: Thanks for the TFT tournament @incublus. Sorry for not being able to use Discord, but I enjoyed sharing time with you guys <3.
---
---