Playing Teamfight Tactics | 544 AD Draven? I'll take it
Hello everyone!
And indeed, more TFT. It's quite curious because I've played a lot of ARK and I've told very little about the stories we're living, so I'm hoping that the next post will be about it and not playing another game of TFT (which curiously enough I'm already quite close to plat 2 XD).
In this game I have to admit that I did feel like I played with a very good mindset and ended up playing a pretty random composition that turned out to be incredibly optimal. This gave me a lot of practice as I also feel that I learned a lot about how the actual meta works and how to take advantage of what the game gives us.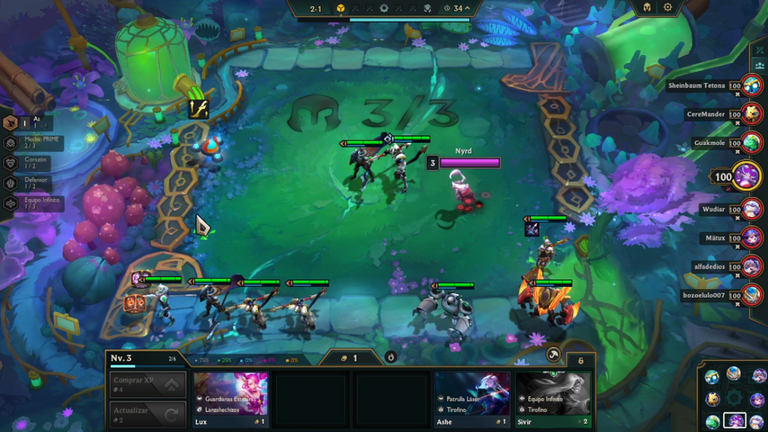 The beginning of this game was pretty cool for me as I got a Draven and the "combat training" augmentation, and something inside me said "Well, Draven is a unit that is pure AD, so with this augmentation from the beginning of the game he will slowly transform into a killing machine."
Spoiler: he did.
And not only that, but also the game was giving me quite a few Wukongs so this meant that I had to play Mecha Prime yes or yes, and since all the base stats of the characters add up, this would also help Draven a hell of a lot more.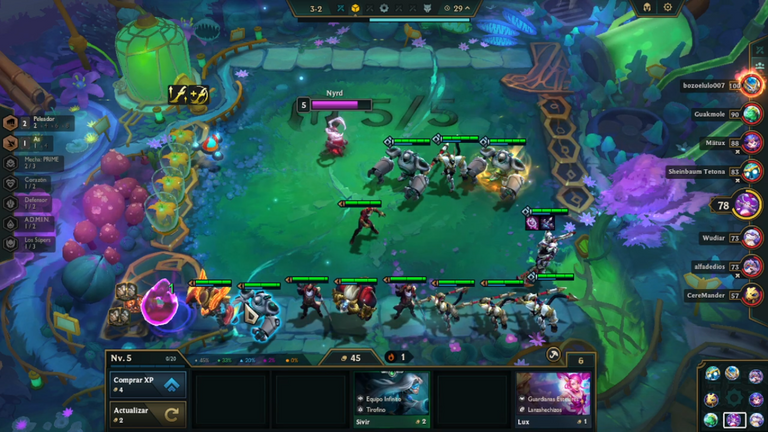 The more the game progressed the more I realized that I would have no choice but to play Mecha Prime. This is a composition that while it's true that it's not that strong currently, I find it quite fun and I faithfully believe that if you play it at the right time it could guarantee you a victory.
I was also quite lucky as I had noticed that the game was giving me an absurd amount of Blitzcrank XD. It's not a unit that in the long run would work for my composition, but hey, I'm not complaining about having a unit at level 3, and since I'd also have Supers as synergy, having a unit at level 3 would give me a bit more damage.
As the game progressed I noticed that Draven had a huge potential. Only halfway through the composition Draven was easily 1v4 and also the augmentations helped him a lot with healing, so he could stand for a long time.
It was here when I decided to play Mecha Prime 100% and my plan in the late game was to take out Mecha: Prime 5 so I could increase the AD damage of my Draven.
And the game wanted it that way too.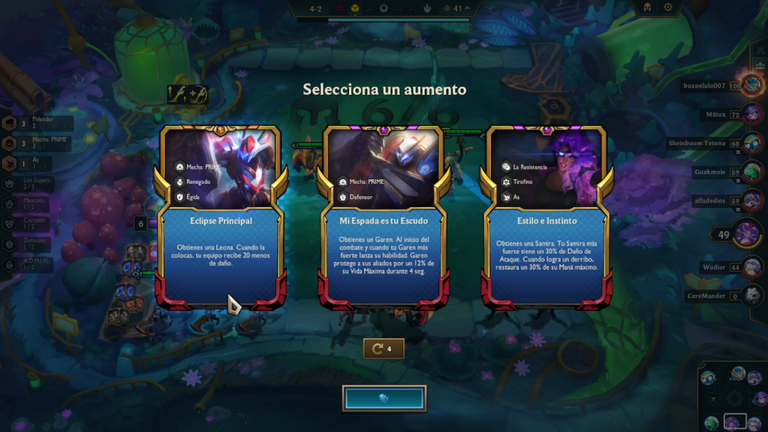 It was a bit of a tough decision as Leona's boost didn't seem like a big deal to me, it was just a bit of reduced damage, but still having the champion at level 7 was already a huge advantage in itself. I ended up grabbing Leona and tried to keep my life to reach level 8, but luckily I got lucky and was also able to keep a good economy management to reach level 9.
And the rest was history.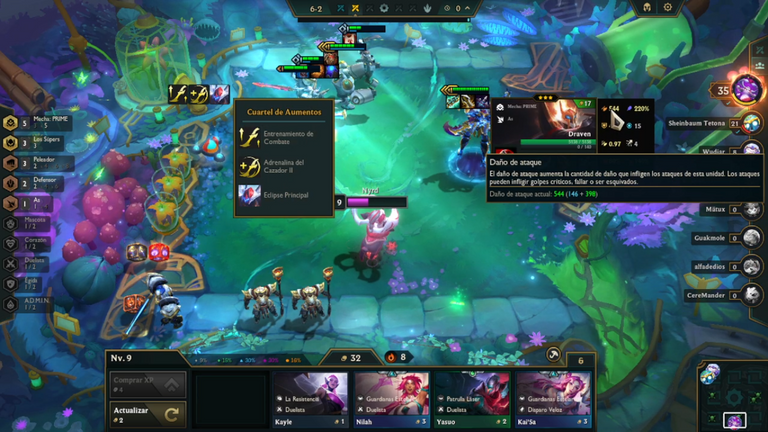 Draven easily did over 500 damage to ANY other champion every time he hit a basic regardless of the items he was carrying. Not only that, I also decided to experiment a bit and put a few items on Leona which ended up turning her into a tank melter... literally, since every character I cast her ability on, regardless of her health or what items she has, ended up melting her, which made Draven's job easier to get to the carrys :P
And that was it! Due to an oversight I ended up putting my personal Spotify playlist, so the songs in this gameplay are a bit random XD. I hope that doesn't bother you guys, fortunately I didn't have many copyright issues on YouTube as well.
Thank you very much for reading all this and for watching the video.
Versión en español
¡Hola a todos!
Y efectivamente, más TFT. Es bastante curioso porque he jugado muchísimo ARK y he contado muy poco acerca de las historias que estamos viviendo, así que tengo la esperanza de que el próximo post sí sea referente a ello y no jugando otra partida de TFT (que curiosamente ya estoy bastante cerca de plat 2 XD).
En esta partida tengo que admitir que sí sentí que jugué con un muy buen mindset y terminé jugando una composición bastante random que resultó ser increíblemente óptima. Esto me sirvió mucho de práctica ya que también siento que aprendí bastante el cómo funciona el meta actual y el sacarle provecho a lo que el juego nos da.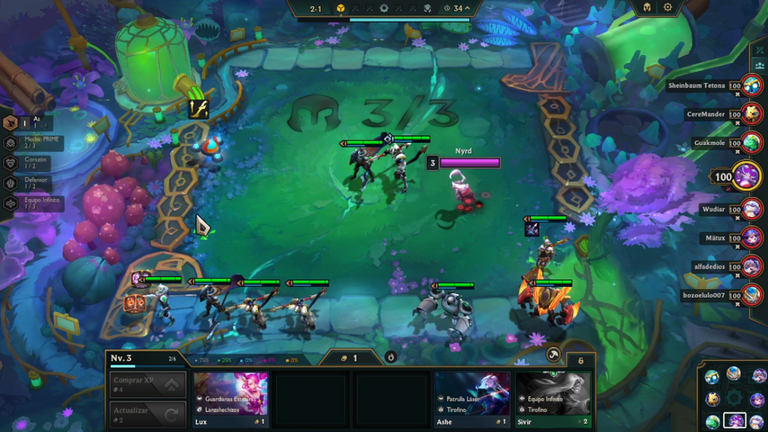 El comienzo de esta partida fue bastante genial para mí ya que obtuve un Draven y el aumento "entrenamiento de combate", y algo dentro de mí me dijo "Bueno, Draven es una unidad que es puro AD, así que con este aumento desde el principio de la partida se transformará lentamente en una máquina de matar"
Spoiler: Así fue.
Y no solo eso, sino que también el juego me estaba dando bastantes Wukongs por lo que esto significaba que debía jugar sí o sí Mecha Prime, y ya que todas las estadísticas base de los personajes se suman, esto también ayudaría muchísimo más a Draven.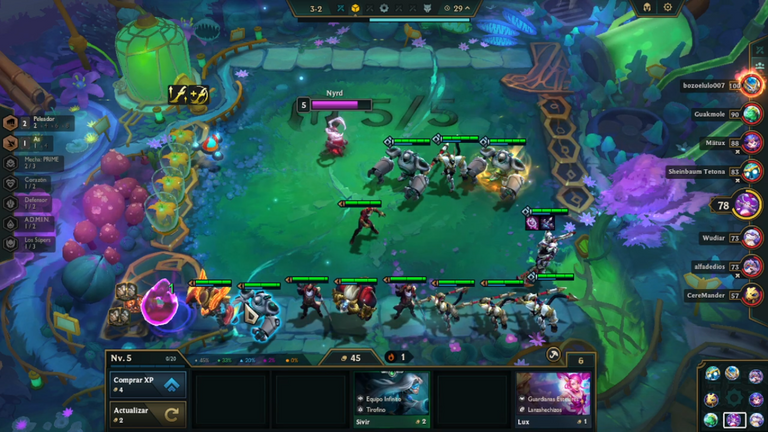 Mientras más avanzaba la partida más me daba cuenta de que no tendría más opción de jugar Mecha Prime. Esta es una composición que si bien es cierto que no está tan fuerte actualmente, me parece bastante divertida y creo fielmente en que si la juegas en el momento adecuado podría garantizarte una victoria.
También tuve bastante suerte ya que había notado que el juego me estaba dando una cantidad absurda de Blitzcrank XD. No es una unidad que en el largo plazo me serviría para mi composición, pero hey, no me quejo por tener una unidad al nivel 3, y ya que también tendría Supers como sinergia, tener una unidad al nivel 3 me daría un poco más de daño.
Mientras más avanzaba la partida noté que Draven tenía un potencial enorme. A solo mitad de la composición fácilmente Draven se hacía 1v4 y también los aumentos lo ayudaban muchísimo con la curación, por lo que podía mantenerse de pie por mucho tiempo.
Fue aquí cuando me decidí por jugar Mecha Prime 100% y mi plan en el late game era sacar Mecha: Prime 5 para que pudiera aumentar el daño AD de mi Draven.
Y el juego así lo quiso también.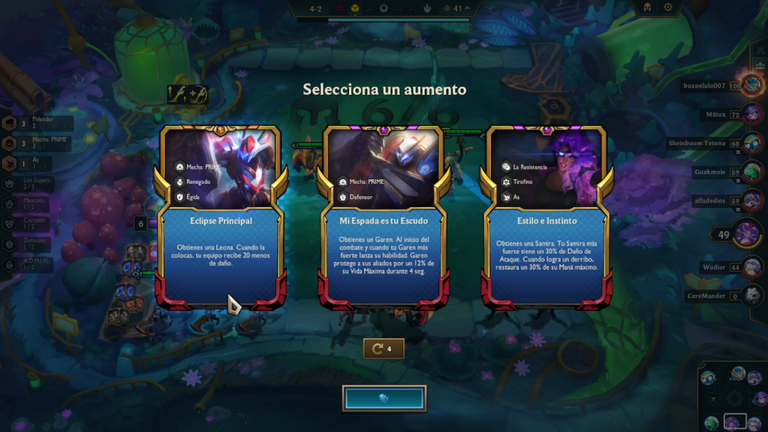 Fue una decisión un poco difícil ya que el aumento de Leona no me parecía la gran cosa, solamente era un poco de daño reducido, pero aún así tener el campeón en el nivel 7 ya de por sí era una ventaja enorme. Terminé agarrando a Leona e intenté mantener mi vida para llegar al nivel 8, pero afortunadamente tuve suerte y también pude mantener un buen manejo de economía para alcanzar el nivel 9.
Y el resto fue historia.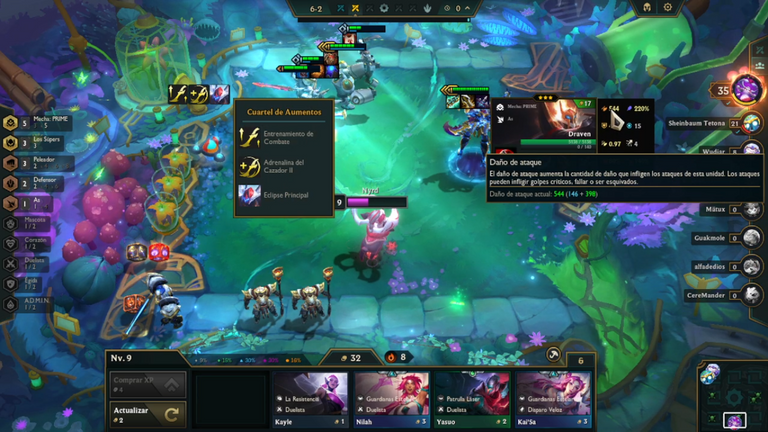 Draven fácilmente cada vez que pegaba un básico hacía más de 500 de daño a CUALQUIER otro campeón independientemente de los items que llevara. No solo eso, también decidí experimentar un poco y puse unos cuantos items en Leona lo que terminó convirtiéndola en un derrite tanques.. literalmente, ya que cada personaje al que le casteaba su habilidad, independientemente de su vida o de qué items tenga, terminaba derritiéndolo, lo que facilitaba el trabajo de Draven para llegar hasta los carrys :P
¡Y eso fue todo! Por un descuido terminé colocando mi playlist personal de Spotify, así que las canciones de este gameplay son un poco random XD. Espero que eso no les moleste, afortunadamente no tuve muchos problemas con el copyright en YouTube también.
Muchas gracias por leer todo esto y por ver el video.
---
---