Playing Teamfight Tactics | Aurelion Sol vs all the lobby
Hello everyone!
Yes, I know. 6 Days without posting, and this has to do enormously with the creative block I've been having haha, it just seems that my neurons decided to block entirely to create content, so I've decided not to force myself and let the ideas flow little by little.
Not long ago I played a game of TFT since I usually play it sporadically at some point of the day, and for this occasion I decided to play a game with the legendary Aurelion Sol: A unit, which in my opinion, is incredibly strong and even more so when you have augmentations that turn it into a real nightmare with the right items.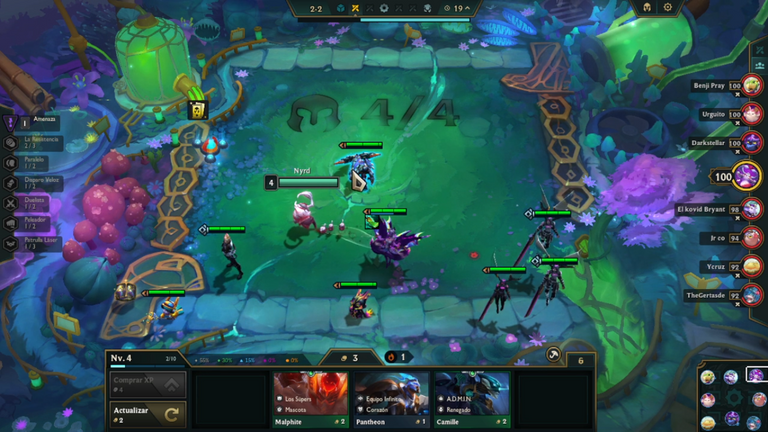 The game started off pretty well for me since I was given a Morgana and also a Shojin sword. My idea was to go for a somewhat sturdy front-lane to give Morgana time to slowly finish off the enemies, but somehow I felt incredibly weak and wasn't very confident in how this would perform in the later rounds.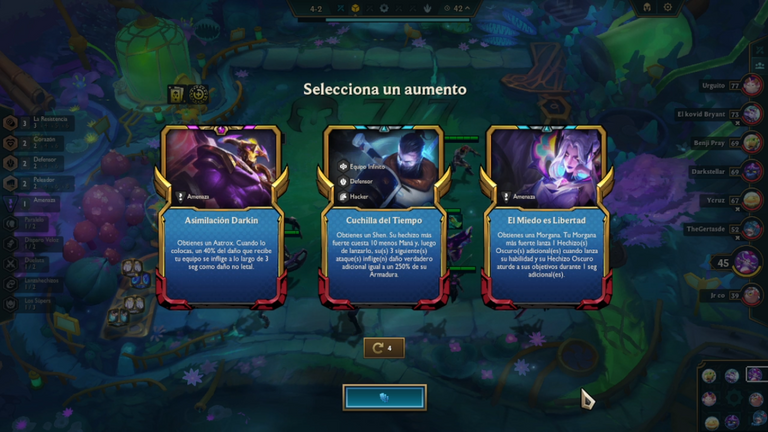 At one point of the game I had a quite difficult decision since I could choose between a quite strong Morgana augmentation since it was a stun plus, but at the same time I was quite doubtful because I was missing a core item for Morgana (Morello). I decided to play my luck and kept on roleing until I got an Aurelion Sol with, at least what is for me, the strongest augmentation you can have from him: Meteorites are bigger and he has 15 more AP.
Well, actually I'm exaggerating since it's not the strongest, but hey, after all it's an augmentation for Aurelion Sol and this made it have a hell of a lot more impact on the game.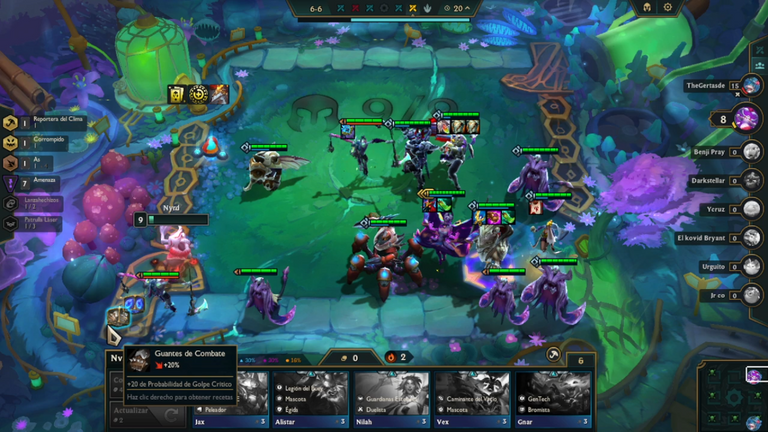 Then I was able to work on having a much healthier economy and so I managed to reach level 9. Having the tier 5 champions at level 2 was a very important complement since Mordekaiser, Fiddle and Urgot are tier 5 units with an individual performance that can totally change a TFT round. It was amazing to see how in the first round I lost, but after having an item for Fiddlesticks the rest of the rounds were completely easy.
I'll try to slowly get back to recounting my TFT games. I miss Hive a bit and it's only been a week, but definitely losing a cool habit like this is something I don't want to happen:(
Thanks so much for reading all this.
Versión en español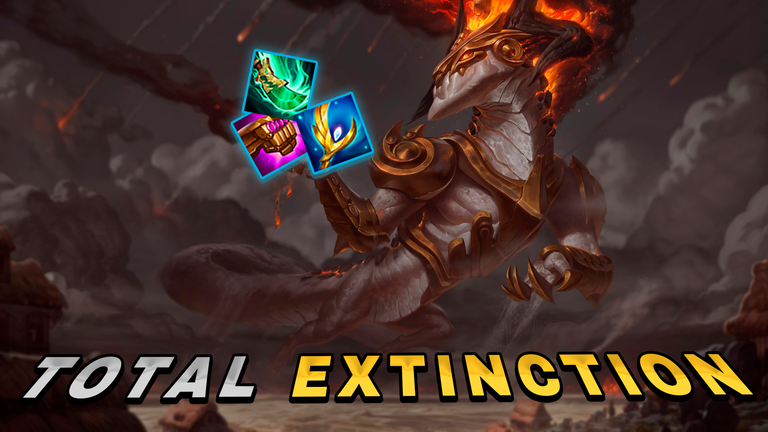 ¡Hola a todos!
Sí, lo sé. 6 Días sin publicar, y esto tiene que ver enormemente con el bloqueo creativo que he estado teniendo haha, simplemente parece que mis neuronas decidieron bloquearse enteramente para crear contenido, por lo que he decidido no forzarme y dejar que poco a poco fluyan las ideas.
No hace mucho jugué una partida de TFT ya que suelo jugarlo esporádicamente en algún momento del día, y para esta ocasión decidí jugar una partida con el legendario Aurelion Sol: Una unidad, que en mi opinión, es increíblemente fuerte y aún más cuando tienes aumentos que lo convierten en una auténtica pesadilla con los items adecuados.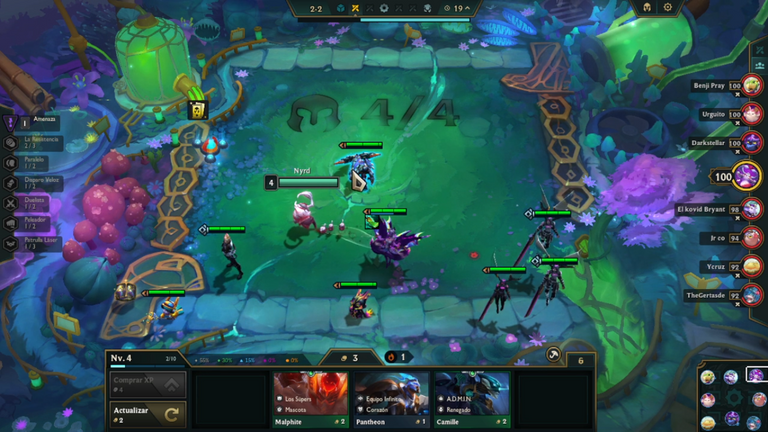 La partida comenzó bastante bien para mí puesto que me dieron una Morgana y también una espada de Shojin. Mi idea era buscar una front-lane algo robusta para darle tiempo a Morgana para que lentamente acabara con los enemigos, pero de algún modo me sentía increíblemente débil y no confiaba mucho en cómo se desempeñaría esto en las rondas posteriores.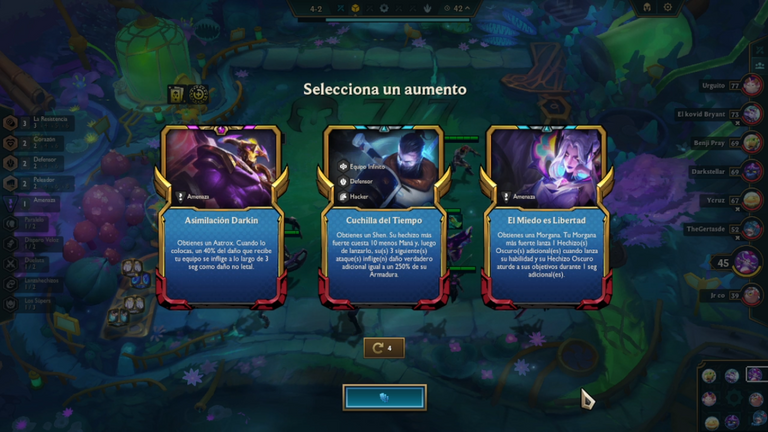 En un punto de la partida tuve una decisión bastante difícil ya que podía elegir entre un aumento de Morgana bastante fuerte ya que era un stun más, pero al mismo tiempo estuve bastante dudoso porque me faltaba un item core para Morgana (Morello). Decidí jugar a la suerte y seguí roleando hasta que conseguí un Aurelion Sol con, al menos lo que es para mí, el aumento más fuerte que puedes tener de él: Los meteóritos son más grandes y tiene 15 de AP más.
Bueno, en realidad estoy exagerando ya que no es el más fuerte, pero hey, después de todo es un aumento para Aurelion Sol y esto hizo que tuviera muchísimo más impacto en la partida.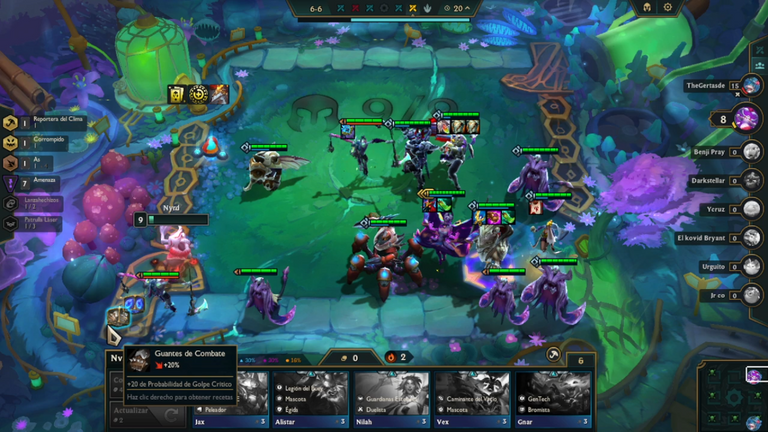 Luego pude trabajar en tener una economía muchísimo más sana y así logré llegar al nivel 9. Tener los campeones tier 5 en nivel 2 fue un complemento muy importante ya que Mordekaiser, Fiddle y Urgot son unidades tier 5 con un desempeño individual que puede cambiar totalmente una ronda de TFT. Fue increíble ver cómo en la primera ronda perdí, pero luego de tener un item para Fiddlesticks el resto de rondas fueron completamente fáciles.
Intentaré volver poco a poco a relatar mis partidas de TFT. Extraño un poco Hive y eso que solo ha pasado una semana, pero definitivamente perder una costumbre tan genial como esta es algo que no quiero que suceda:(
Muchísimas gracias por leer todo esto.
---
---