Playing Teamfight Tactics | Hearts? Miss Fortune? Nah, let's ace
Hello everyone!
I'm slowly getting my time better organized, and fortunately, I'm able to play the occasional game of TFT every now and then. I must admit that lately I've had a bad run playing as I usually play a few games for fun, and ironically I manage to win, and this is when I say "Hey, I should record a game to upload to Hive".. and magically I start losing every game I play XD.
I feel like it's a psychological thing since, all kidding aside, whenever I know I'm recording a video I start to feel off base like I don't know what I'm doing. I'm starting to think it's because of the music XD, so for this video I decided to record the audio of the game flat without including music (which, to be honest, after being so repetitive starts to be annoying in a way T_T).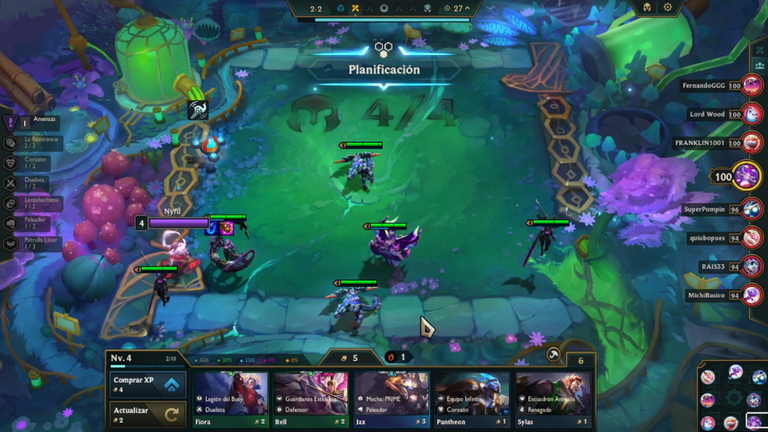 The early game of this game for me was spectacular. I got a Sona at the beginning of the game and I said "Bruh, this is definitely an Undergrounds or Hearts game", but I have to admit that I was so blinded by Undergrounds that I started to ignore any Hearts I saw except for Lee Sin XD.
And I wasn't wrong, the whole early game I felt really comfortable and I was never in trouble. I tried to keep a balance between a good economy and at the same time keeping my board strong so as not to lose the winning streak.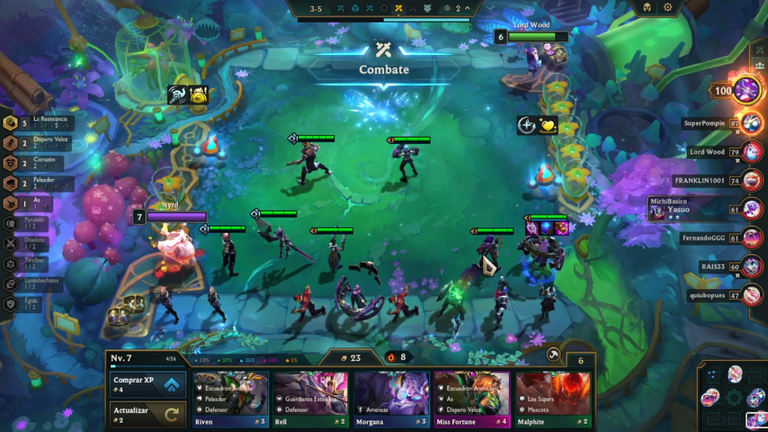 At one point in the game, I had an 8 round winning streak, and although it wasn't that long per se, it made me gain a lot more advantage compared to the rest as I was able to maintain a good economy and at the same time have a pretty strong board by that time. Not only that, but it was also here that I could feel relieved as I had managed to get the 5 Underground (I got Samira at level 6, so that was pretty lucky) so in a way, I had already secured my future haha.
I had seen @incublus playing this composition and at least the idea I got from this composition from watching his video is that you have to stay relatively strong but at the same time see defeats as beneficial. It doesn't matter if you don't win the rounds, losing and not having too much life taken from us is also just as beneficial.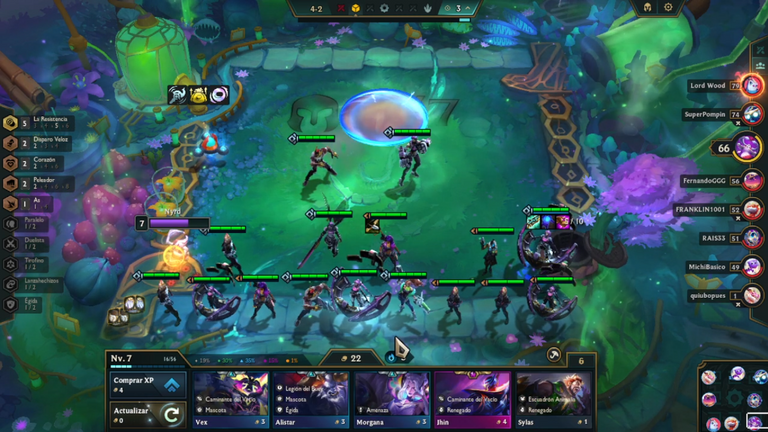 There was one point in the game where I got the "think fast" augmentation and it was here that I think I could have done much better as I wasted a lot of time trying to figure out what to do with a Vi I saw in the store. It was basically a waste of time as I didn't even have Vi on the bench, and I got extremely confused so I couldn't keep doing roll to get Sona at level 3.
I still think this was the best augment I could have chosen as the other 2 didn't seem like a big deal and wouldn't lead to much. Unfortunately, I couldn't get 100%, but well, as they say, it's the thought that counts :)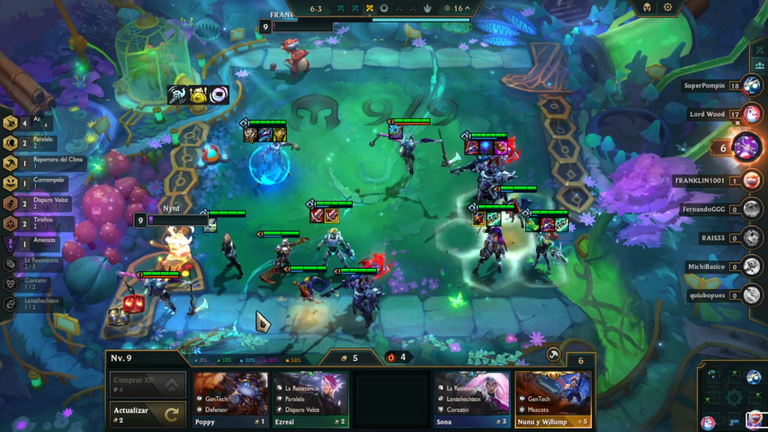 I won't spoil anything, but after so much fighting and a few stumbles, I ended up changing the whole composition after getting the Underground reward. I had never played ACE, but the truth is that it was amazing to see all the damage they managed to do in a matter of seconds.
The ending was pretty cool, it wasn't the result I expected but I still had a lot of fun playing this composition.
As always, thank you very much for watching the video and for reading all this.
Versión en español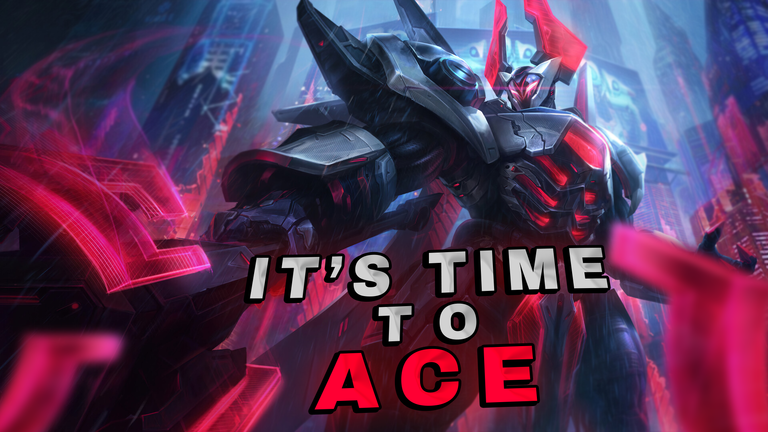 ¡Hola a todos!
Poco a poco estoy organizando mejor mi tiempo, y afortunadamente puedo jugar una que otra partida de TFT cada cierto tiempo. Debo admitir que últimamente he tenido mala racha jugando ya que suelo jugar unas cuantas partidas por diversión, e irónicamente logro ganar, y es aquí cuando digo "Hey, debería grabar una partida para subirla a Hive".. y mágicamente comienzo a perder todas las partidas que juego XD.
Siento que es algo psicológico ya que, fuera de bromas, siempre que sé que estoy grabando un video me comienzo a sentir fuera de base, como si no supiera qué estoy haciendo. Comienzo a creer que es debido a la música XD, así que para este video decidí grabar el audio del juego plano sin incluir música (que, siendo sincero, luego de ser tan repetitiva comienza a ser molesta en cierto modo T_T).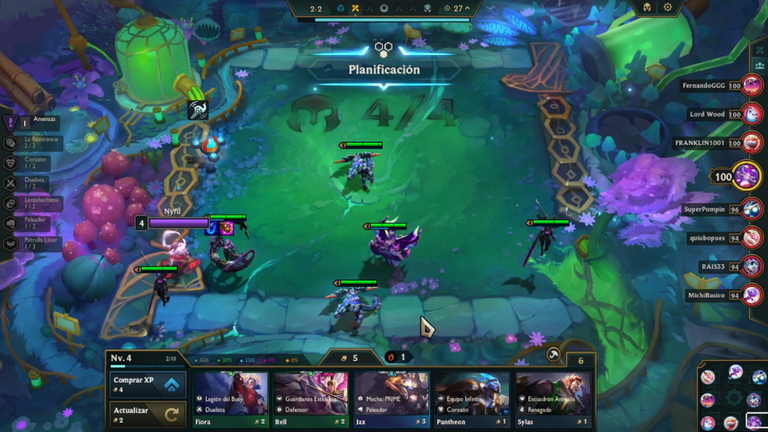 El early game de esta partida para mí fue espectácular. Obtuve una Sona al comienzo del juego y dije "Bruh, esto es definitivamente una partida de Undergrounds o Hearts", pero tengo que admitir que estaba tan cegado por Undergrounds que comencé a ignorar cualquier Hearts que veía a excepción de Lee Sin XD.
Y no me equivoqué, todo el early game me sentí realmente cómodo y jamás estuve en problemas. Intenté mantener un balance entre buena economía y al mismo tiempo mantener mi tablero fuerte para no perder la racha de victorias.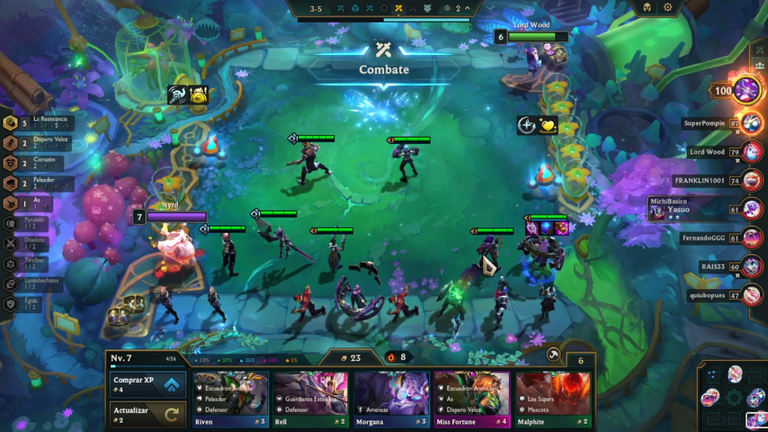 En un punto de la partida tuve una racha de 8 victorias, y aunque no fue tan larga en sí, me hizo ganar muchísima más ventaja en comparación al resto ya que pude mantener una buena economía y al mismo tiempo tener un tablero bastante fuerte para ese momento. No solo eso, también fue aquí donde pude sentirme aliviado ya que había logrado conseguir los 5 Underground (obtuve a Samira en el nivel 6, así que eso fue bastante suerte) así que en cierto modo ya había asegurado mi futuro haha.
Había visto a @incublus jugando esta composición y, al menos la idea que obtuve de esta composición al ver su video es que hay que mantenerse relativamente fuerte pero al mismo tiempo ver las derrotas como algo beneficioso. No importa si no ganas las rondas, perder y que no nos quiten mucha vida también es igual de beneficioso.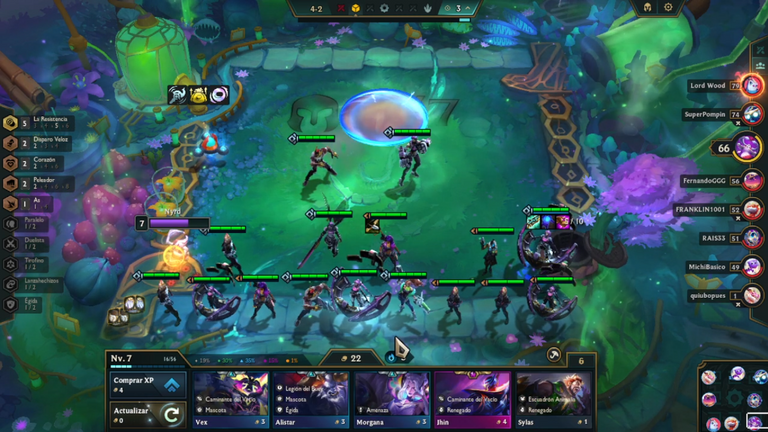 Hubo un punto de la partida donde obtuve el aumento "piensa rápido" y fue aquí donde creo que pude haberlo hecho mucho mejor ya que perdí mucho tiempo intentando pensar qué hacer con una Vi que vi en la tienda. Fue básicamente una pérdida de tiempo ya que ni siquiera tenía Vi en la banca, y me confundí enormemente por lo que no pude seguir haciendo roll para obtener a Sona al nivel 3.
Aún sigo pensando en que esta fue el mejor aumento que pude elegir ya que los otros 2 no me parecían la gran cosa y no me llevarían a mucho. Lastimosamente no le pude sacar el 100%, pero bueno, como dicen por ahí, la intención es lo que cuenta :)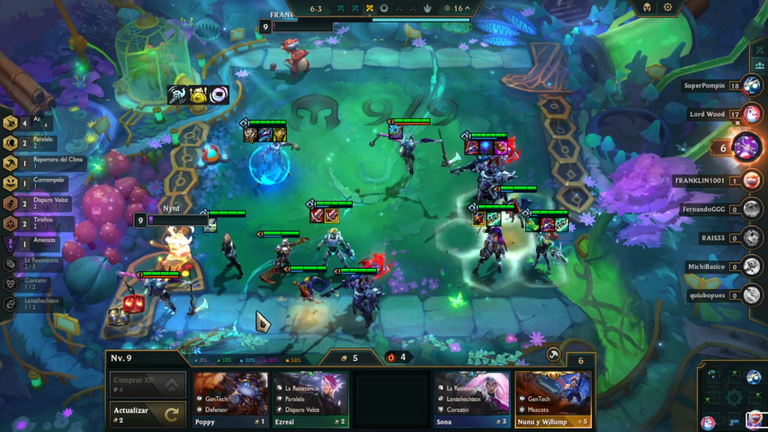 No spoilearé nada, pero luego de tanto luchar y de unos cuantos tropiezos, terminé cambiando toda la composición luego de obtener la recompensa de los Underground. Nunca había jugado ACE, pero la verdad es que fue increíble ver todo el daño que lograban hacer en cuestión de segundos.
El final estuvo bastante genial, no fue el resultado que esperaba pero aún así me divertí bastante jugando esta composición.
Como siempre, muchas gracias por ver el video y por leer todo esto.
---
---