Playing Teamfight Tactics | Threats was the best comp ever made
Hello, everyone!
I know, I know. I've been pretty MIA, but usually I'm always giving a peek here and there as soon as I have free time, and I think to this point it's hard for me to stop posting. I can't help but make an article nor can I imagine 1 month without posting.
I think up until these last few moments, TFT has been really fun and I've enjoyed it to no end. Patch 8.5 was pretty cool and the amount of laughs and epic moments I had were a ton. I have to mention that I personally felt that many units were really strong compared to others, but despite all these little imbalances it managed to be really fun.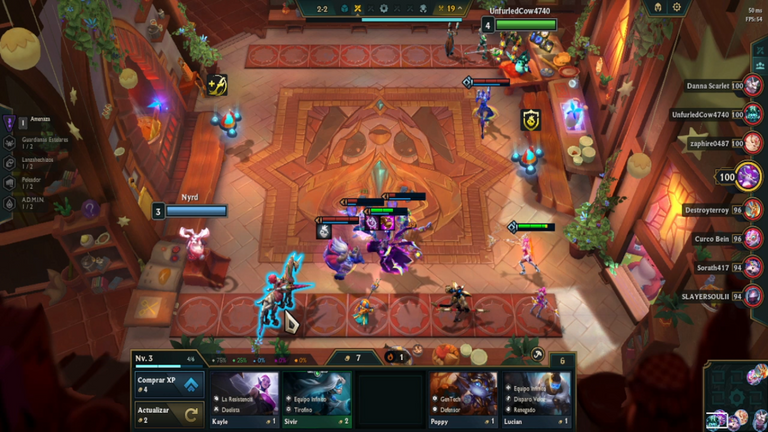 Originally this video was going to have audio, but it's amazing how many things I managed to talk in Discord with the guys that were unrelated to the gameplay, so I decided not to include the audio and just let the music do its thing. At the beginning of the game I was COMPLETELY lost because I stopped concentrating on the gameplay because of the things we were talking about, and slowly that mistake was taking its toll on me since in the whole early-mid game I was destroyed haha.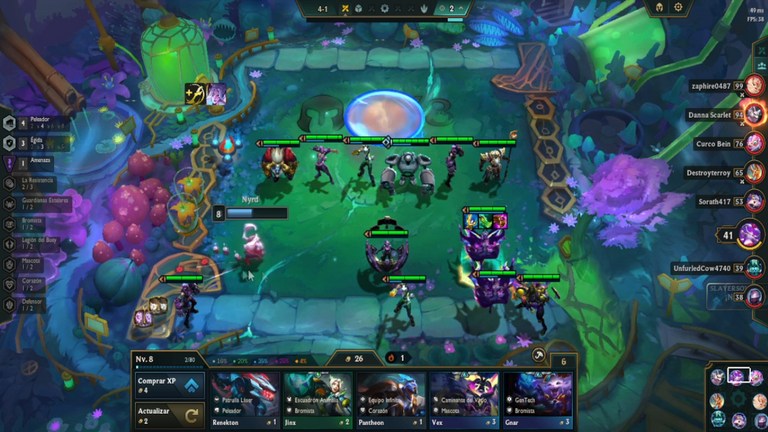 When I got Morgana's augment and also managed to place those 3 items I knew that this game was about Aurelion Sol. I am a fan of playing Threats, I have ALWAYS considered it the most dynamic and fun composition that this game had next to Underground. Threats has the ability to be played the way you prefer and it's also a composition you can play 100% if you really have no idea what else you could play XD.
When I put Aurelion Sol on the board, along with several threats, I knew that nothing could stop me :P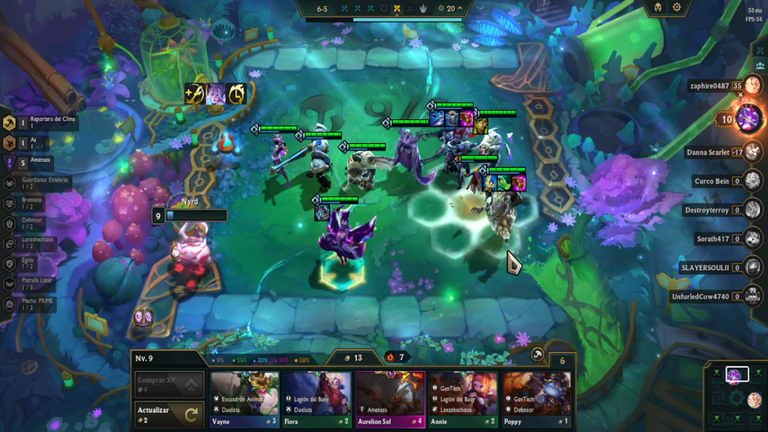 Mordekaiser is, for me, the best tier 5 unit that existed in this patch. The ability he had with the right items made the damage he had explosive, and he could easily eliminate 70% of the enemy board. Not only that, but his ability also passively had reduced magic resistance and armor, so it contributed a lot in doing an absurd amount of damage.
But hey, this new set looks incredibly fun too: so I'm pretty excited to find out how high I can rank up. In 8.5 I managed to hit d4 before the end of the season, so I'm hopeful that I'll be able to hit Masters in this new set.
Very soon we will have set 10, so I'm also pretty excited to see what Riot has planned for the near future :)
Versión en español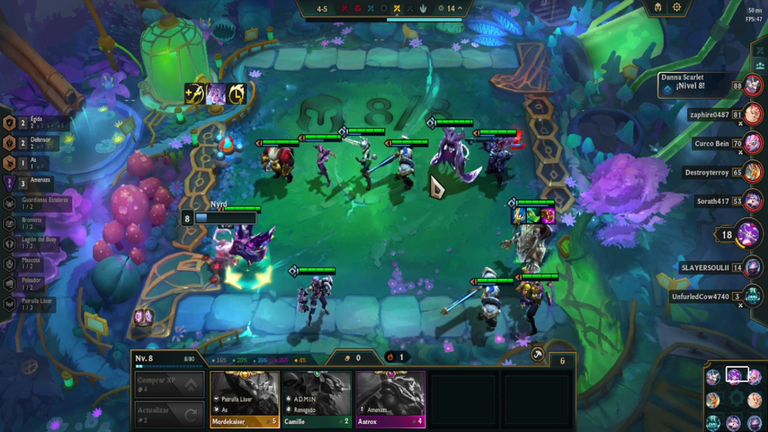 ¡Hola a todos!
Lo sé, lo sé. He estado muy desaparecido, pero usualmente siempre estoy dando una ojeada por aquí y por allá apenas tengo tiempo libre, y creo que hasta este punto es difícil para mí dejar de postear. No puedo evitar hacer un artículo ni me imagino 1 mes sin publicar.
Creo que hasta estos últimos momentos, TFT ha sido realmente divertido y lo he disfrutado hasta más no poder. El parche 8.5 fue bastante genial y la cantidad de risas y momentos épicos que tuve fueron muchísimos. Tengo que mencionar que personalmente considero que muchas unidades eran realmente fuertes en comparación a otras, pero a pesar de todos estos pequeños desbalances logró ser realmente divertido.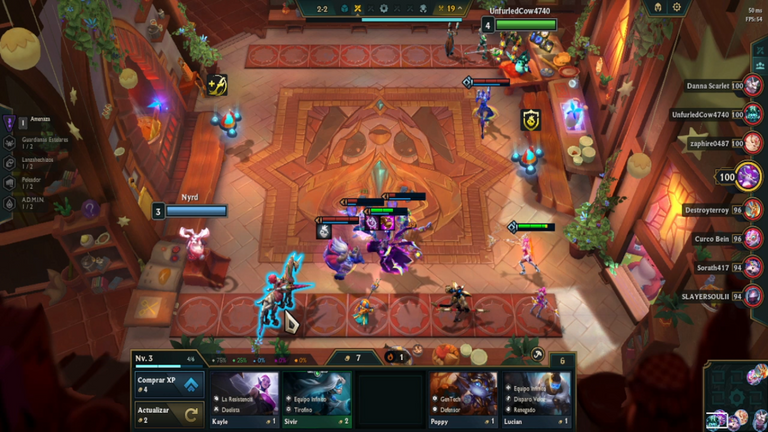 Originalmente este video iba a tener audio, pero es increíble la cantidad de cosas que logré hablar en Discord con los muchachos que eran ajenas al gameplay, por lo que tomé la decisión de no incluir el audio y simplemente dejé que la música hiciera lo suyo. Al comienzo de la partida estuve COMPLETAMENTE perdido porque dejé de concentrarme en el gameplay por las cosas que estábamos hablando, y lentamente ese error me estaba pasando factura ya que en todo el early-mid game estuve destruido haha.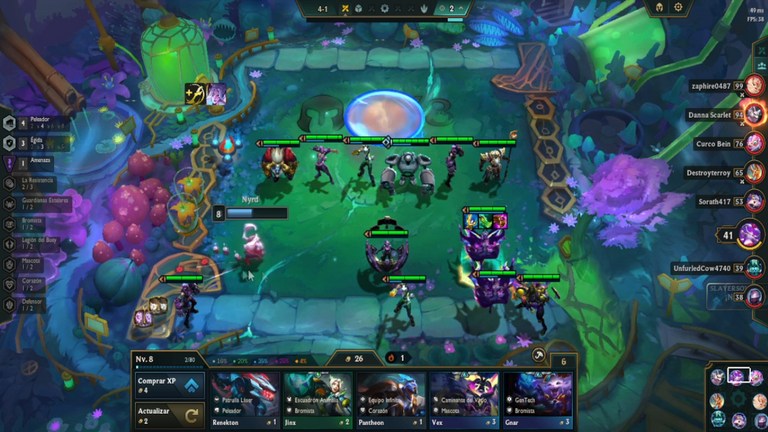 Cuando obtuve el aumento de Morgana y también logré colocarle esos 3 items supe que esta partida se trataba de Aurelion Sol. Soy un fanático de jugar Threats, SIEMPRE la he considerado la composición más dinámica y divertida que tuvo este juego junto a Underground. Threats tiene la capacidad de jugarse de la forma en la que prefieras y también es una composición que puedes jugar 100% si realmente no tienes idea de qué otra cosa podrías jugar XD.
Cuando puse a Aurelion Sol en el tablero, junto a varias amenazas, supe que ya nada podía pararme :P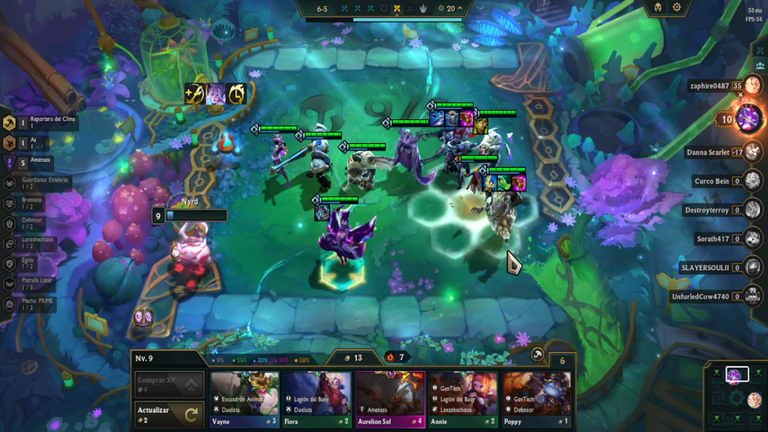 Mordekaiser es, para mí, la mejor unidad tier 5 que existió en este parche. La habilidad que tenía con los items correctos hacían que el daño que tuviera fuera explosivo, y muy fácilmente podía eliminar al 70% del tablero enemigo. No solamente eso, también su habilidad pasivamente tenía reducción de resistencia mágica y armadura, por lo que contribuía muchísimo en hacer una cantidad absurda de daño.
Pero hey, este nuevo set se ve increíblemente divertido también: Así que estoy bastante emocionado por averiguar hasta qué rango podré llegar. En el 8.5 logré alcanzar d4 antes de que acabara la season, así que tengo esperanzas en que podré alcanzar Masters en este nuevo set.
Muy próximamente tendremos el set 10, así que también estoy bastante emocionado por ver las cosas que Riot tendrá planeadas para el futuro cercano :)
---
---