HivePowerBday | Join us live on VIMM.tv to Pick the Winners! - Friday 14th, 6:00 PM UTC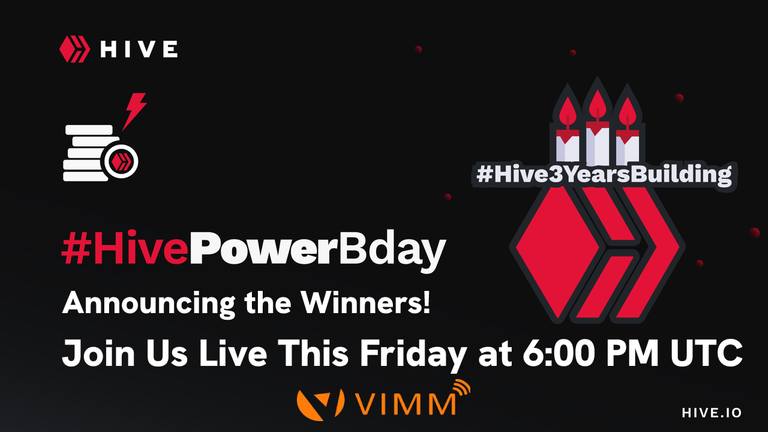 ---
Hello everyone! It's been 20 days since Hive's anniversary, and we've been diligently reviewing the results of the #hivepowerbday initiative. We now have the final list of eligible participants, which includes over 169 accounts that completed a power-up and posted on March 20th.
As I mentioned in the last post, we will be...
...Picking the winners Live on @Vimm!
Vimm is Hive's very own streaming platform, and what better place to do the live stream to pick the winners transparently than there?
Final list of valid participants:
We have thoroughly reviewed all accounts participating, following the rules outlined in the announcement post. However, we noticed that some accounts did not meet the requirements.
This includes accounts that:
Submitted their posts after the deadline (March 20th)
Did not power up at least 10 HIVE.
Exceeded the Hive Power limit (25K HP)
Used multiple alt accounts for double participation
Or were blacklisted and not in good standing with the Hive community
Therefore, these accounts have been excluded from the final list that will be part of the draft this Friday.
You can see the final list below:
---
Reminder of the rules to be eligible for any of the prizes:
Make a power-up of 10 HIVE or more on March 20th. Check out the time in UTC so you don't miss the date.
Make a "Happy Bday Hive" post and add the #HivePowerBday tag.
Share your post on Twitter and other social media.
Accounts must be older than one month of creation & have a reputation of 39 or more.
Your account should have less than 25K Hive Power to qualify for the prizes.
Be in good standing with the Hive community.
Extra: Alt or multiple accounts can't participate.
THE PRIZES!
100,000 HP in Delegations!
I'm sponsoring 50K Hive Power in delegations for a month, and along with me, @blocktrades has also agreed to sponsor another 50K in delegations for a month.
These delegations will be split between the winners as follow:
Two delegations of 25K HP each for one month.
Three delegations of 10K HP each for one month.
Four delegations of 5K HP each for one month.
---
Special thanks to @victoriabsb for helping with the idea, rules, gathering of the data, and drafts of the posts.
Big thanks to @enrique89 for helping gather the data with HiveSQL.
Also, thanks to @eddiespino for helping coordinate and set up the live stream.
And last but not least, BIG thanks to everyone that participated.
---
---