Bondly Finance | Compromised or Exit Scam?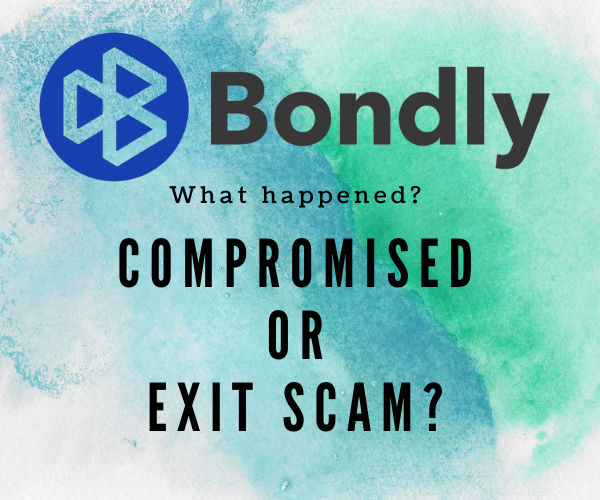 Earlier this year
Bondly Finance was one of the first things that we bought after receiving the Uni airdrop. We had been following the advice of someone we met in a crypto Discord years ago, who now has a big following at Twitter, but still also shares some gems with his followers. We had seen him hit the sweet spots for quite some time, but never had the funds available to join in on the fun. Now we did, and we decided Bondly Finance was one of the bags we'd buy. It was a good call at first, but after a while we FOMO'd in on the pump, ending up buying at the top and from that moment it went down to never recover to that point again. When we were in the profits from our first buy round, I decided to sell those for profits, and leave the rest in the wallet to forget, or maybe in some time it would still go up in value.
Today I read a Tweet by Bondly finance
Bondly lost my interest quite a while ago, IMO there are much better NFT projects around that will do much better. I didn't have the feeling that the price would recover any time soon. Today I was browing my Twitter feed when I noticed a Bondly finance Tweet. It said they had been compromised.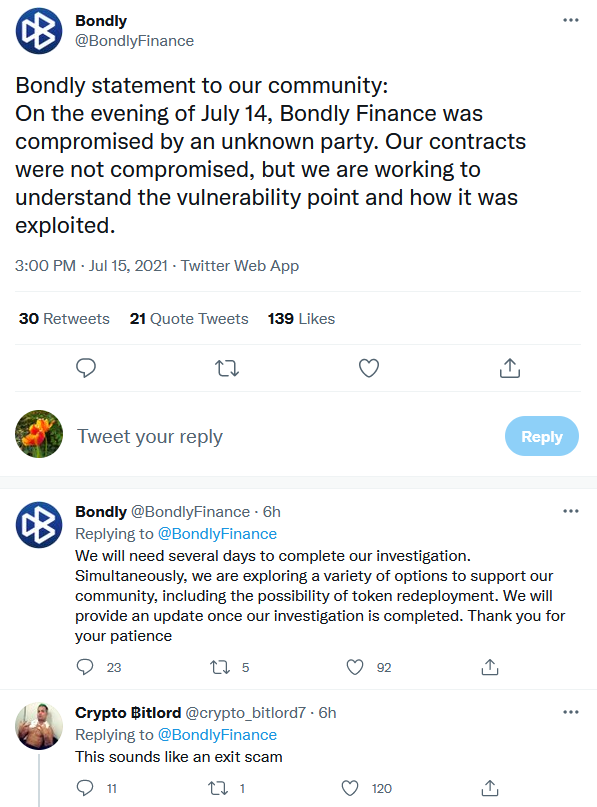 Source
Although I didn't have any info yet, I didn't even check the price yet, I instantly noticed the "Typical exit scam comment". I have to admit, I didn't know what to think at this point and decided to check their other tweets for more info (hopefully).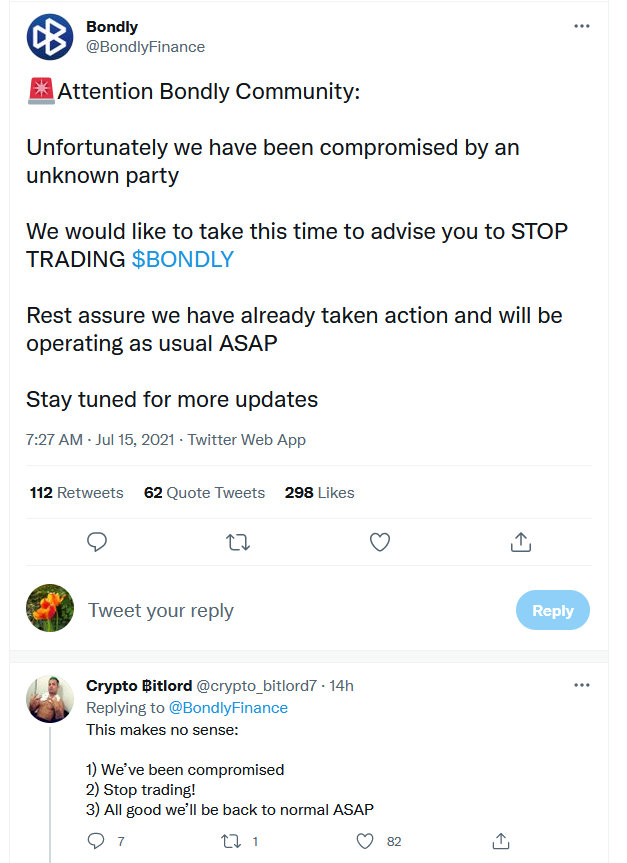 Source
I don't know who this guy commenting is, but what I do know is that I think he has a point there. Still, it's guessing and I already consider the coins I have left lost. Some hours ago, another Tweet appeared: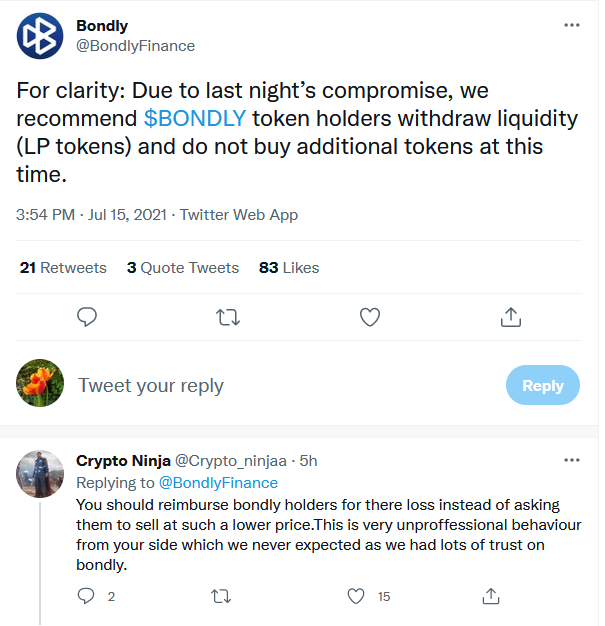 Source
This time I was like, they didn't even mention selling them for a low price, they said withdraw liquidity, that's not the same, right? I mean you can withdraw and still hold them. But ok. I browsed through the comments of this thread...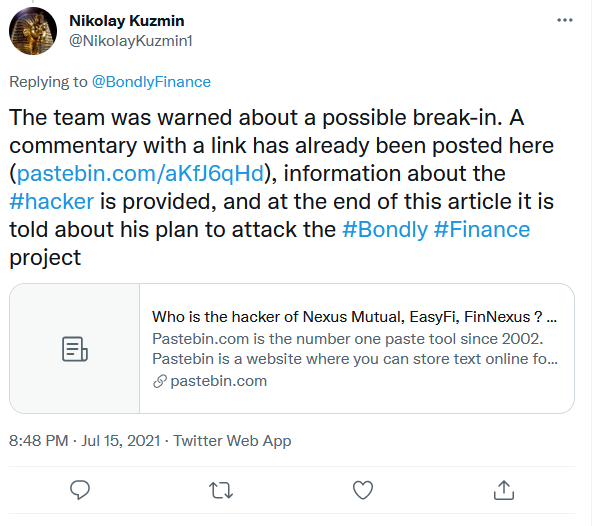 Source
Interesting.. and I also found this one: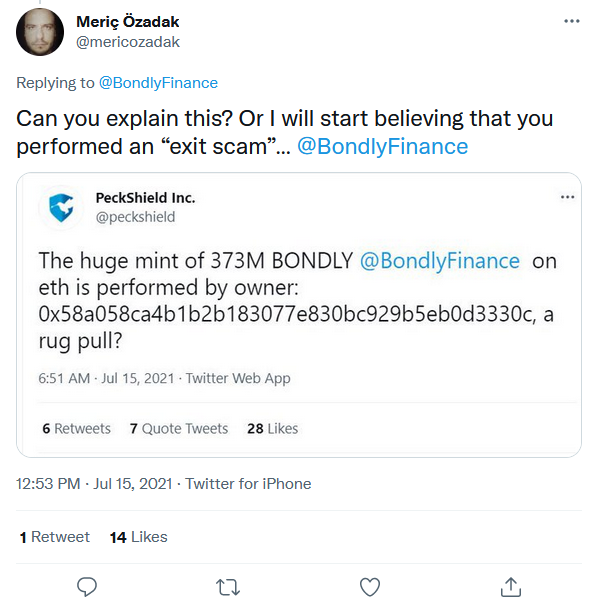 Source
The internet brought some more news
Now, I'm not an expert on rug pulls, but reading this: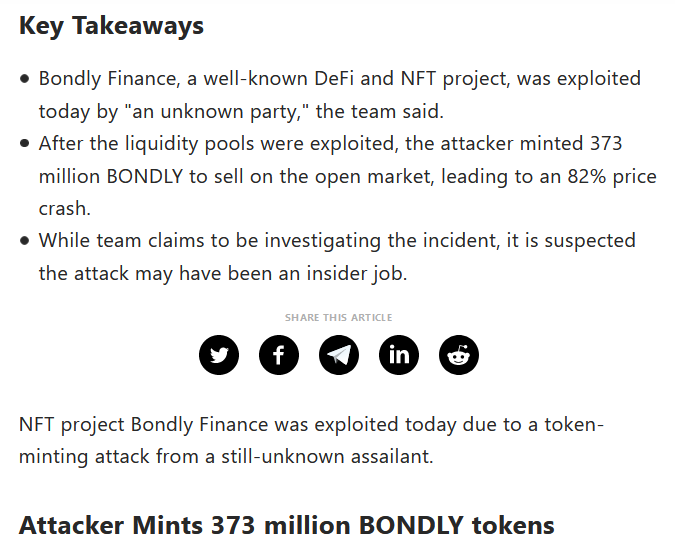 Source
Doesn't sound very good to me, what do you think?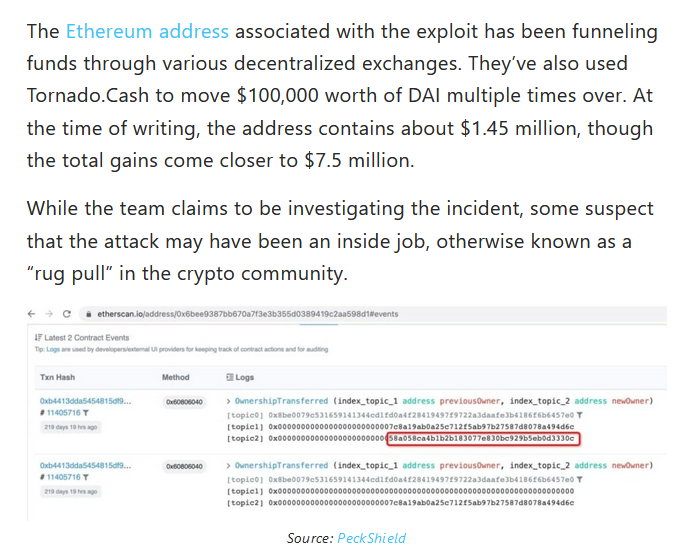 Source
Another possibility:

Source
You can read the rest of the article in the link to the source.
I'm curious what truly happened
For now, little info is provided by Bondly, which I can imagine if they are trying to figure out what happened, so I'm going to wait and see when there's news again. I only have a small bag of Bondly left, and not going to buy more like some in the comments are suggesting to DCA their coins. I'm not sure what to believe at this point.
I do hope that those that are heavily invested will gain back their losses, no idea if they would refund anything like this, so not sure if that's even possible after what happened. Let's wait and see.
Do you have any news/updates? Feel free to leave a comment below!
Posted Using LeoFinance Beta
---
---