From Walk-In-Closet To Home Office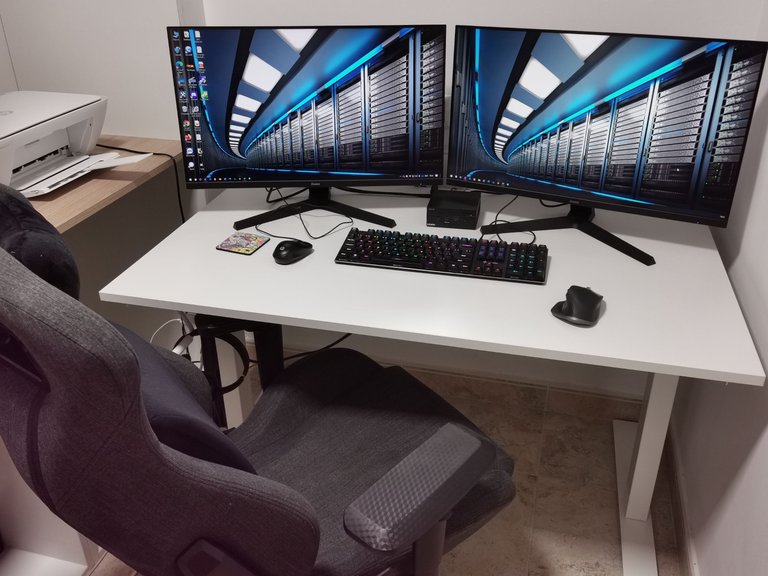 Limited budget
After paying off the full debts in Hungary just a few months before the actual emigration, I made sure that our accommodations and flights to and in Spain were paid for the first month before we departed. On top of that, I started saving up money for our budget after arrival. With both our incomes, I could not have a bag of tens of thousands of dollars after we paid of and paid for the other things I just mentioned. Therefore, we had to be creative at times. I was convinced we would be fine so I had no worries.
All crypto outside of Hive had to go
With the exception of a few crypto bags that went down 90% and were worth pennies, I sold most of our crypto holdings outside of Hive to contribute to our emigration plan. Not only because I thought the money would be used better towards the emigration costs but also because I had 0 interest to pay attention to the market because that would only be a distraction from my actual focus: getting us to Spain before the deadline I set.
Office to go
Although we sent 2 boxes of our belongings to a friend in Spain, we could not afford to send over the office items (screens, keyboard, computer, mousse) as there was just 1 week of holiday including the traveling days. Especially without a car we knew picking up our stuff (which includes more than we sent over this time due to the previous emigration) was not realistic, especially while staying in temporary accommodations. So we took the 2 big screens, keyboard, computer and mouse with us while traveling. We literally had an "office-to-go". The traveling was not as bad as it sounds because the screens and computer actually don't weigh that much but of course, we were very pleased when we could unpack the office for the last time!
Limited space
Although we aimed for a 2/3 bedroom apartment, this was not realistic, especially not during the summer kick-off while temporary rentals were asking premium fees. Therefore we were excited when our first host told us upon departure that she had a 1 bedroom apartment with a walk-in closet for us. But very spacious. This is true, our living room is much bigger than the previous one we lived in and so are the bedroom and bathroom. The only thing that's smaller is the kitchen but it's very convenient honestly.
When we checked this place, the first thing my boyfriend said was this walk-in closet will be the office. We will remove the small closet (they said it was for shoes) and then place a desk. Easier said than done, let me tell you! Especially with my (very very) picky boyfriend that has a list of demands, imho not all of them are realistic when you just moved countries and have to buy most things again.
The hunt for the right furniture
I can't even stress how annoying this was going from A to B and back to A, discussing tons of options, him watching reviews, everything was about the stupid office supplies and I was already done by the time we went to check 3 office chairs at some guy's place and I hated the expensive one. It's just not comfortable and I wanted the cheapest simply because for me that was the best seat of the 3 options. I didn't even take into account the 80 euros it cost less. But it's his office and I thought if you are so happy with it, then do it. I can tell you now, that he's not that happy with this one after all.
The transformation from walk-in-closet to office
First, we dumped literally EVERYTHING into this closet simply because it was the only unused room until we had the desk and chair for the office. Although most things were removed before the transformation, you still see some leftover "I don't know where it belongs" items in the closet on the left until the right place was found.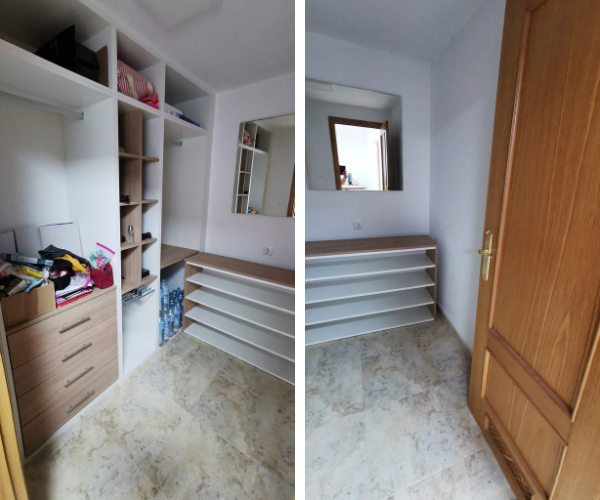 Before the transformation
The End Result"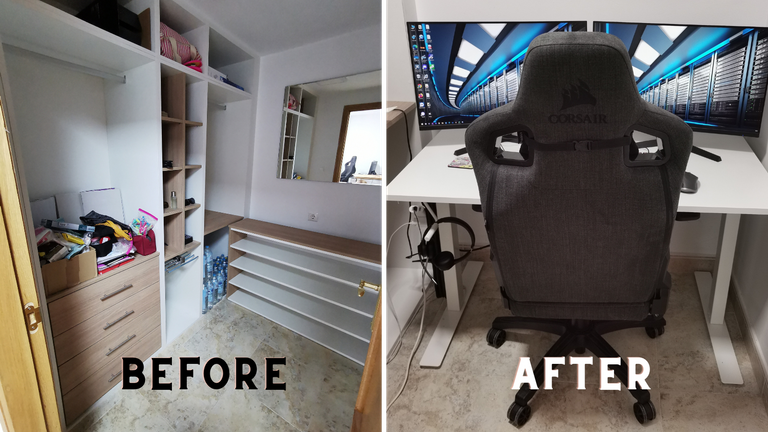 First, check out the standing desk, as this was the demand my boyfriend had: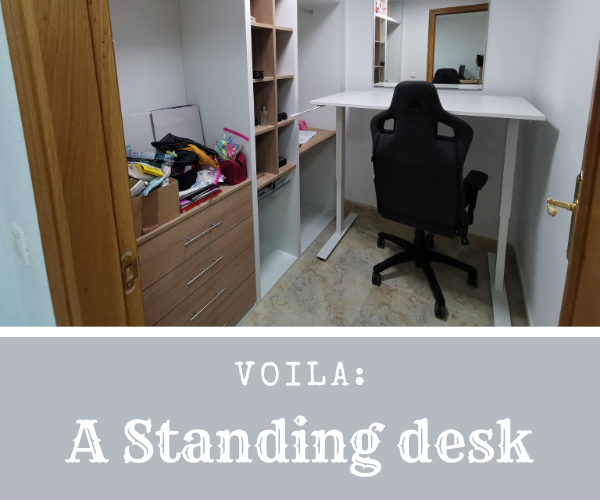 We didn't place the screens here yet but you can see it in the pictures below: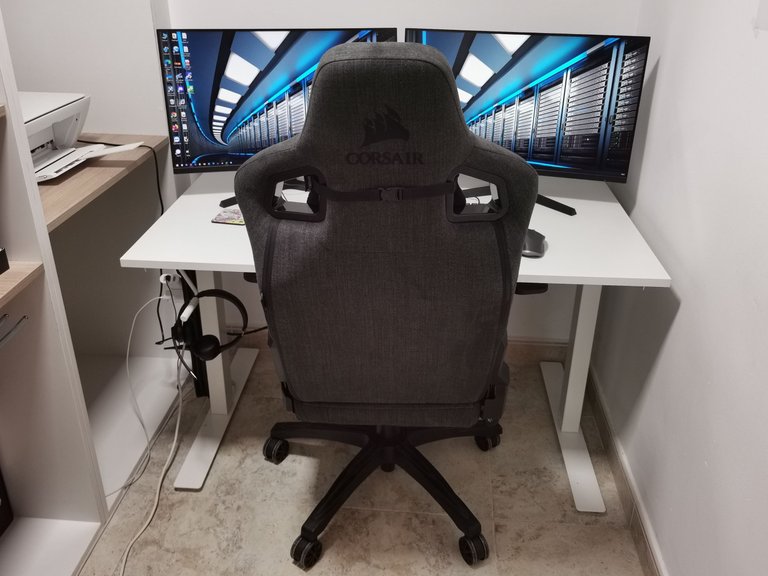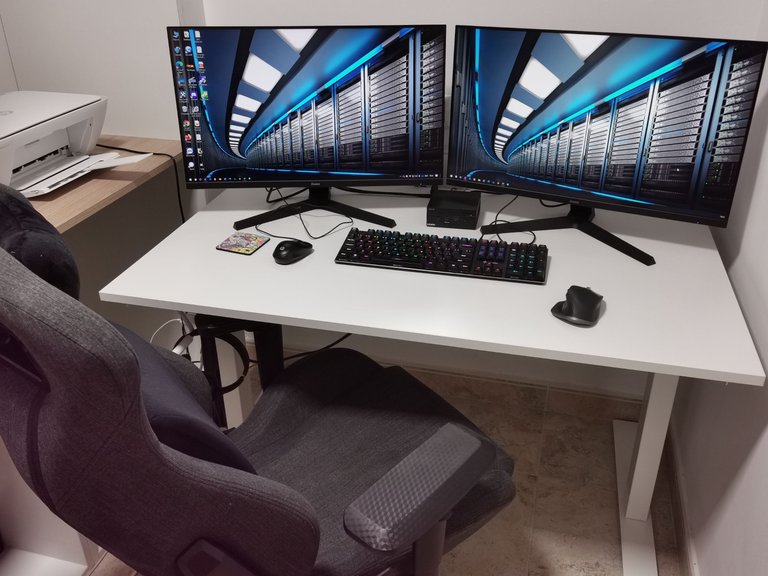 The closet on the left of the desk is still half filled with our items that we can't really place elsewhere and while we still don't have the items that are stored at our friend for maybe a few more weeks, it's fine by me to keep looking for a new place just a little longer. Currently, we keep all the boxes of our newly bought household items, which will probably change as soon as we have our old stuff back and need the space.
The office doesn't have an air conditioner unlike our living room and bedroom so we bought a fan. It's quite powerful and noisy so best placed behind the chair on the floor. As you can see, we bought a new printer quite early in the process of moving here because where we live vs where we can find print shops is a real pain. We choose comfort over hassle with all this ongoing paperwork that comes with moving countries.
We had to share office space
While boyfriend sits there to work quite long hours during the week as well as some hours on Saturday, I could only work there once he was finished or during the rest of the weekend. In reality it came down to the fact that I was sitting there a little while after he finished working, then we'd leave the house for some hours in the evening for me to end up there doing my work until often 2 AM. Thankfully, this changed yesterday when my own two screens as well as keyboard arrived. Tomorrow I will have my own office space in the bedroom where we have loads of space left, currently I'm sitting at the dinner table until the other desk arrives tomorrow.
I can't complain as this was all arranged much faster than I expected. And I made a few very good deals for my new office setting, which I will share in another post.
Thanks for reading and have a lovely weekend!
---
---