Sierra Nevada's covered with snow - Almost there!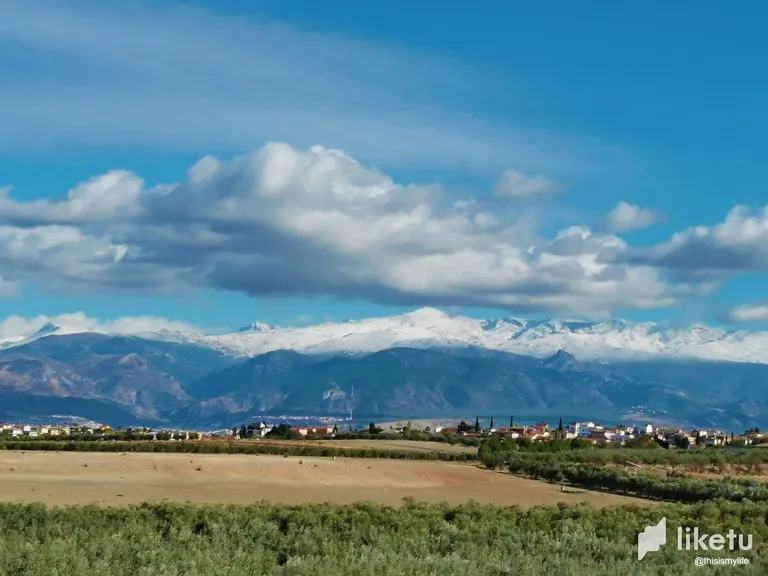 Looking at a snowy mountain
While it's absolutely fabulous weather, this is not something unknown to us since we moved to Spain in 2016. We lived close to Granada where it was super cold in the winter. But the most funny thing was to be enjoying absolutely stunning weather and not needing a coat outside at all, while looking at the snowy Sierra Nevada mountain top from our balcony at the same time. We lived on a municipality square and there usually was buzz going on, unless it was Sunday, then the streets were truly abandoned. The good thing about living there was that we never missed any festivity because the music would start and we'd see it from our tiny balcony and know it was time to head out.
It was strange at first
To see the snow this close to us while we had stunning weather and you could get sunburned while others were having fun in the snow a bit further. I know it's probably normal to a lot of Spanish people or people in other countries with these mountains but coming from Holland, this is something strange if you never experienced it before. Our apartment at the time didn't have any heaters and the company arranging the rent for the owner only bought a tiny heater which was not even enough to heat the living room, so we were super cold there and it was horrible to get through the winter with my back injury that got worse and worse due to the cold. When the spring arrived, things got better and I felt reloaded and the pain faded, thankfully.
Back to the road trip
We had a tiny setback upon departure where a road was closed and the navigation kept sending us in circles lol, so we arrived maybe 30minutes later than expected. The good thing was the drive was long but the weather was clear and I got to take a ton of pictures at the passenger seat. I love capturing clouds, especially with clear skies, which is something unique over here where the sky seems to be filled with sand mostly. We were all very excited to get to our destination and when I finally saw the Sierra Nevada mountain top filled with snow, I knew we were close!
Felt like coming home somehow
Our journey in 2016 didn't start in Granada but more towards Seville at first, we ended up sticking around in Granada after a cool workaway experience. We first ended up in this tiny town in a villa with swimming pool, woohoo! And then moved to another town where we stayed until we found our own apartment. We drove on a few of the roads close to Granada quite some times as we helped @bitcoinbaby move to a new place. Closer to Granada, the points of recognition kept popping up. Remember when we arrived with the bus from Seville? And sat there waiting for the bus to his place? And when we walked to my work the first time all through the city center.. I saw many things that I recognized and I was more excited than I thought I would be. It did help that we got to have lunch at our friend's house and the kids got along well so those we bonuses on top of getting our stuff back.
To be continued..
---
For the best experience view this post on Liketu
---
---