The 30 Pictures 30 Stories Challenge - Day 5 - Escúchate (Listen to yourself)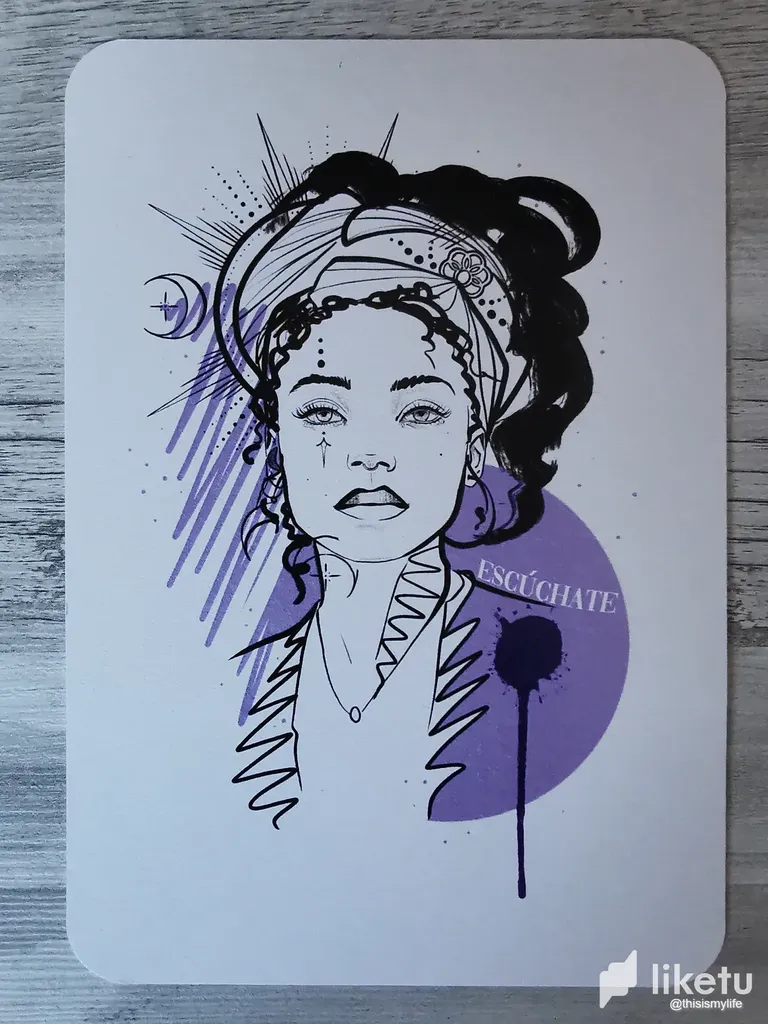 Postcard made by @llunasoul, please visit her website!
Day 5 - Escúchate (Listen to yourself)

I got inspired by the "30 day not-so ordinary ordinary items challenge" but as I love giving things a personal twist, I decided to change the format a bit for myself so it suits me better. I've adjusted it to the 30 pictures - 30 stories challenge. But some days you will see that I also use not-so ordinary ordinary objects.
Feel free to join the challenge at any time if you like.

Publish one picture a day during 30 days and write a story about that picture. This can be anything, any object in the home, a person, scenery or a pet. I'm going to share a diversity of pictures and challenge myself to step outside of the box.

Today I will share a picture in color as I think this card needs to be shown as is and not without the cool purple color. First I want to explain this is one of the cards that fell into my mailbox today after I made a deal with @llunasoul to support her by buying a set of cards with her art on it using LGN as a payment. Legion is a token from Brofund, and goes up by 0.1 Hive the first of every month for the first year. Therefore I knew I could offer @llunasoul a payment in a token that goes up in Hive value-wise every month for the next 11 months.
I had the pleasure of being introduced to both @llunasoul & @growandbow when they were part of my second level downline in the Listnerds team. It was clear to me from the first moment these people are creative, inspiring and valuable to know in many ways. I get inspired seeing Llunasoul's art, reading her words and watching her personal journey on her Instagram. I have not met her in person yet, but I know we will meet in the future now that we are living in the same country, although it's a long travel at this moment.
Back to the card I picked for today. As the rest of Lluna's art, this one is one I can relate to. She drew female who reminds me of Rihanna, do you see it too? She looks powerful and the the writing says "Escúchate" which translates to "Listen to yourself". I have learned to listen to my gut feeling, always. Even when I don't understand some signs given to me, I listen as I know one day it will be clear why I got warned for someone/be careful for something etc. Listening to your inner voice is so important and many women have to learn to do this simply because they have been sucked into this way of life where everything needs to go fast and there's no time to think things through, let alone listen to your inner voice and really taking the time to do so.
I'm really happy with this postcard, as I am with the others. Again, thank you @llunasoul for this deal and I will use them all for a post and probably frame a few soon. If you loved this card and are curious to the rest of her art and ritual tattoos? Make sure to check out her website and get connected with her.
And don't forget: "Escúchate"!
---
For the best experience view this post on Liketu
---
---