The 30 Pictures 30 Stories Challenge - Day 6 - Surinamese Roti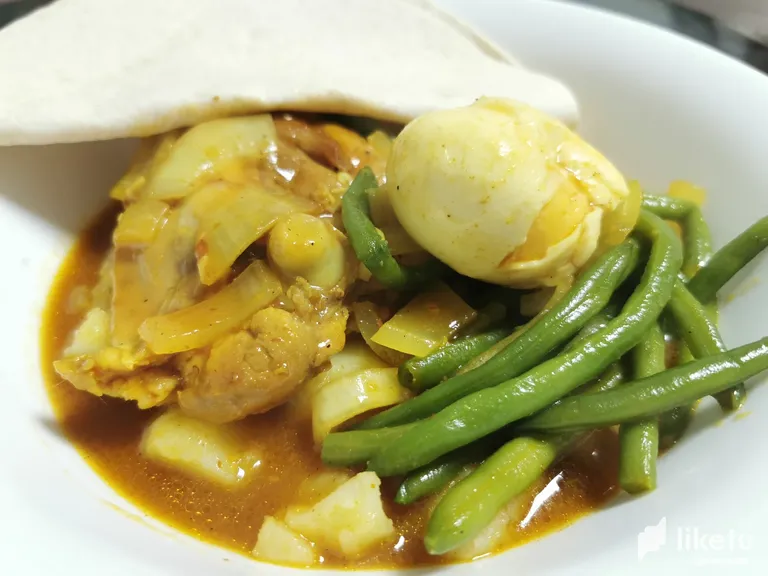 Day 6 - Surinamese Roti

I got inspired by the "30 day not-so ordinary ordinary items challenge" but as I love giving things a personal twist, I decided to change the format a bit for myself so it suits me better. I've adjusted it to the 30 pictures - 30 stories challenge. But some days you will see that I also use not-so ordinary ordinary objects.
Feel free to join the challenge at any time if you like.

Publish one picture a day during 30 days and write a story about that picture. This can be anything, any object in the home, a person, scenery or a pet. I'm going to share a diversity of pictures and challenge myself to step outside of the box.

I took a day off from creating content yesterday so today I continue at day 6. Too bad I just broke my streak before I completed the week, but I will try again from today to keep it up daily. Let's talk about the picture I share with you today: Surinamese roti.
First of all, I have to admit that I'm not even 100% sure if this is called Surinamese in English or falls under another area, I just know we call it "Surinaamse Roti" in Holland and this is how I know it. For foreigners, it may be known different, but you will recognize it then probably.
I was never an easy eater as a child when it comes to foreign food, unless it was Chinese food (different in Holland so I learned later on in life) or Surinaamse roti. I always loved it. Probably because it doesn't have these extreme herbs that I don't fancy, unless you want to add sambal to it yourself. I always loved potatoes, chicken and green beans as a child so Roti was an acceptable dish for me growing up. Too bad we had to order it and it was not cheap. Later in life I had a friend who had an aunt that made it every few weeks and we could order it from here.
My boyfriend also loved Roti all his life and when we moved from Holland, it was one of the most mentioned dishes by him that he missed. We tried hard to find it abroad, but no luck. In Budapest one of his colleagues brought us Masala herbs whenever he'd take the bus to Holland for a trip to his family, so we could manage to make it every now and then. When we moved back to Spain, I found loads of groceries I missed from Holland but not masala herbs, only the Indian version of it is available in bulk.
Until a few weeks ago, I noticed they sell "Faja Lobi Roti Sauce" in jar. I ordered it and we tested it last week. It wasn't as I expected and way too sweet (even for me) but it may have been like this because I had sweet onions only and I have not eaten them processed in food yet, only raw. Raw I didn't feel they were very sweet, but I can imagine they become this way when you cook them. I can do another test as we have one more jar left, I will use the regular onions then.
It was a nice taste of home though! I'm considering to ask someone in Holland to send me the masala herbs instead though, lol. Nothing beats making your own version of a dish, right? You only need potatoes, chicken (most use legs, I prefer filet lol), green beans, eggs, onion and masala herbs for it. Although in Holland they use "Kousenband" instead of green beans, I think many DIY dishes at home are made with green beans as this is not available everywhere. Very important is to have a "Plate of bread" with it (Roti plaat) but I think (like us) many use a tortilla when they lack time to make a fresh one. I will try to make it myself in the future though..
Do you know Roti? Do you like it? Let me know in a comment...
---
For the best experience view this post on Liketu
---
---