Unexpected Quality Time - Coffee & Breakfast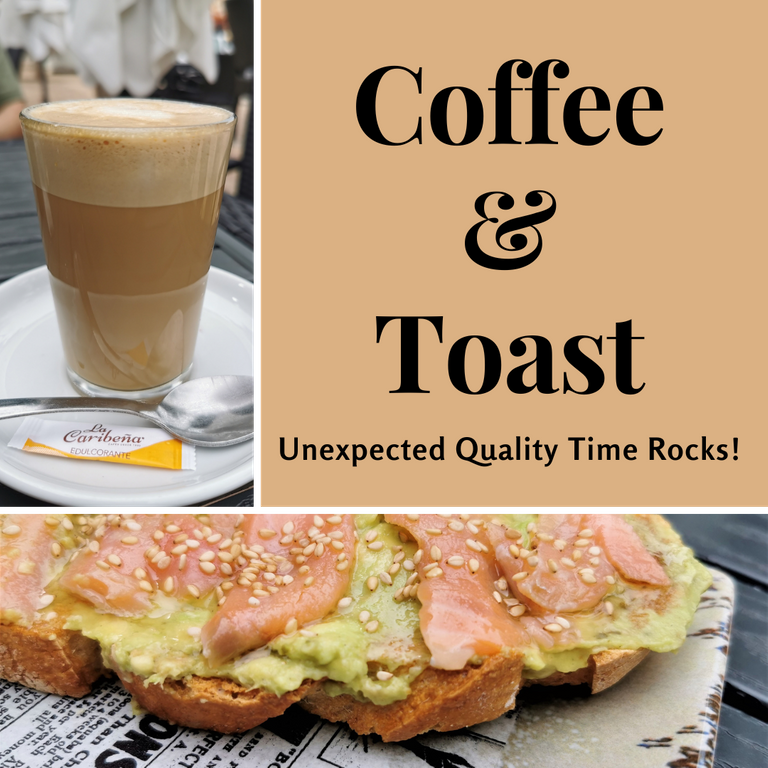 Unexpected time off
My boyfriend doesn't really take days off unless it's sort of expected because everyone takes a bit of time off. Last year he was very flexible because we also had the emigration period which took some extra time during work days simply because we had to move from place to place, pack everything, and set up the office again, which is not a simple task. On top of that, we have different holidays here in Spain than the clients he works for in another country, making it somewhat difficult sometimes to take time off during these days. We don't mind though, because the other side of this is that sometimes you are suddenly surprised by some unexpected time off, which means we get to enjoy a bit of quality time together.
First, finishing up taxes
I had to go to the government office downhill to connect our accountant's system with theirs to declare taxes for me. I was postponing this for some weeks due to my stupid knee and not really wanting to drive myself. Lucky me, my boyfriend brought the kid to school and said he could go with me after he dropped her at school. I won't say no to that! It didn't take more than 30 minutes and once again I walked out feeling a bit proud that I could take care of this task fully in Spanish without any problems or questions that were unanswered, this always makes me so happy!
What's for breakfast?
The next question was do we need groceries and if yes, where? We went to Lidl so my boyfriend could check the promos. We didn't buy anything special, only some needed items. While shopping the question was "What do we bring home for breakfast?" This often happens and is exactly why you should not go grocery shopping hungry, lol. We could not find anything we wanted to eat right away so I proposed to drive back uphill and check out the breakfast menu at one of the restaurants there. We have been there several times but never for breakfast and last time I noticed a menu with some slightly more luxury toasts on it so I thought we could check those today. He agreed and so we finished up the groceries and drove there.
Tostadas!
Tostada is what they call toast here, and honestly, I never ate toast for breakfast until I started to learn about Spanish culture, which doesn't only include the tapa culture. Whenever you visit a bar and ask for the breakfast menu, you will find toast options. Many people go for a simple toast with olive oil and tomatoes, others prefer tuna and avocado and others prefer it sweet such as a jam topping.
Usually, we order the same thing, depending on our mood it's either a toast with avocado and tuna or with peach jam. This is again something I never ate, I never liked jam, simply because I'm one of these people who doesn't like pieces of jam with big chunks of fruit in there. I never knew that peach jam was a thing or that it was something I'd love to eat. Until I moved to Spain for the first time, that is. It's such a simple and cheap breakfast to have a coffee and a toast, usually, you can even eat 2 toast and a coffee (or two) each for about 7 euros total. Add to that the Spanish sun and some quality chat with your partner and it was a few euros well spent!
Coffee in a glass, not a cup!
I still don't know when they decide to serve coffee in a glass as you see in the picture, or decided they serve it in a coffee cup. I learned when we were in Granada that I prefer it in a glass as then the coffee-to-milk ratio is closest to our liking and therefore I always try to ask them to serve it in a glass. I'm a very picky person when it comes to coffee and I'm rarely fully satisfied, to be honest, I usually enjoy my own creation at home best, no matter what type of coffee I use.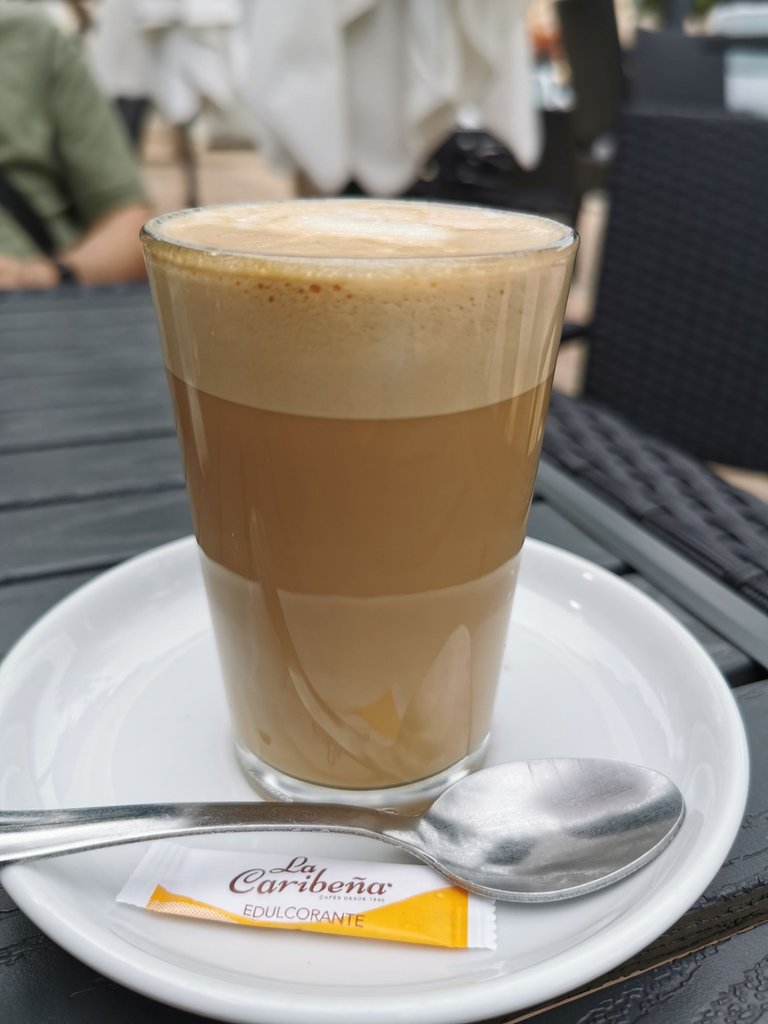 But when being out for breakfast, one needs to order coffee, simple as that! I didn't drink it at home either before we left so a coffee was a must, as every coffee lover will understand, haha.
Which toast?
They had several toasts that I felt were appealing but one stood out, as we both love smoked salmon but actually rarely buy it anymore because it's so expensive nowadays and usually doesn't even make it to a toast or salad but gets eaten as is before we can add it to something. But whenever we find a salad or in this case, toast with smoked salmon, we lean towards eating that as it's simply delicious.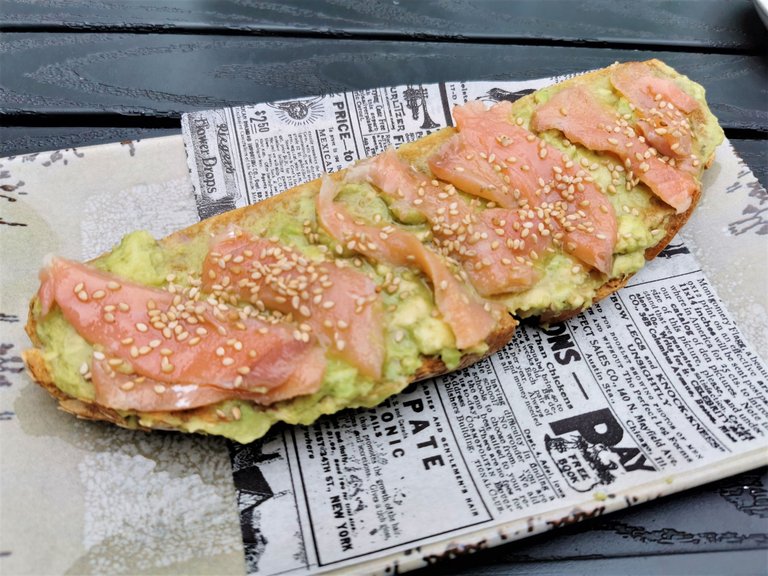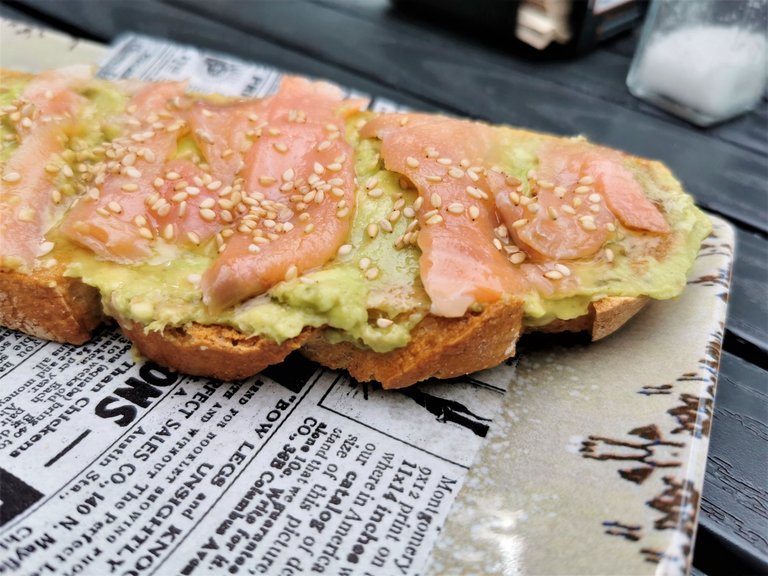 Avocado with smoked salmon toast and sesame seeds, that's it, simple to prep, but it was very nice! Of course, it needed some salt and pepper though because neither salmon nor avocado is that great without these two added (if you ask me!).
We enjoyed the sun
It was nice weather that morning and we probably sat there for 1,5 hours or so before we decided maybe it was time to get things moving and decide if we want to do something else before school ends. We believed nothing was really going to work without having to stress to get back in time to pick up our daughter so we drove home and decided to head out with her later that afternoon instead. With the clients enjoying a holiday, we thought it was a good day to not sit inside and sniff some more vitamin D ourselves.
Thanks for stopping by!
---
---