A deeper look at Novelty Seeking // Um aprofundamento sobre Novelty Seeking
A while ago I have already approached the subject of Novelty Seeking, but I decided to deepen and improve my study on the subject, first to improve my self-knowledge and understanding of something I experience daily, but also to be able to guarantee a more robust article here at blockchain about this topic that is one of the ones that interests me most in Psychology. I will try to write it in a multifaceted way and dense enough to not be just an empty article with the face of a digital magazine of curiosities about health. I hope this immersion will be positive for you, the reader.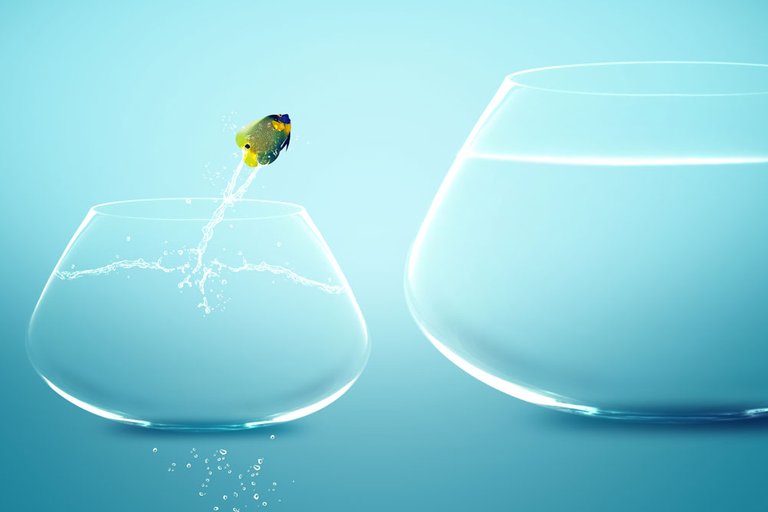 Source
In a very practical and synthetic way, it can be said that "Novelty Seeking" is a behavioral trait that consists of the constant search for novelty, more specifically for the pleasure and freshness of novelty. As far as is known, the carriers of this trait do not seek bad or uncomfortable new experiences. In variable levels it is observed people who do not understand that they are carriers of this trait and just consider themselves as tireless seekers, other people are diagnosed in a simplistic way with some disorder without refining the analysis to the point of finding this trait (an example of this is to reduce a complex archetype full of sinuosities as simply bipolar type I or II), there is also a deep connection between great inventors, investors, social and political adventurers, artists and "Novelty Seeking" behavior, which in no way serves to glamorize such a trait, I only add this detail to form throughout the content a more solid view on this "problem";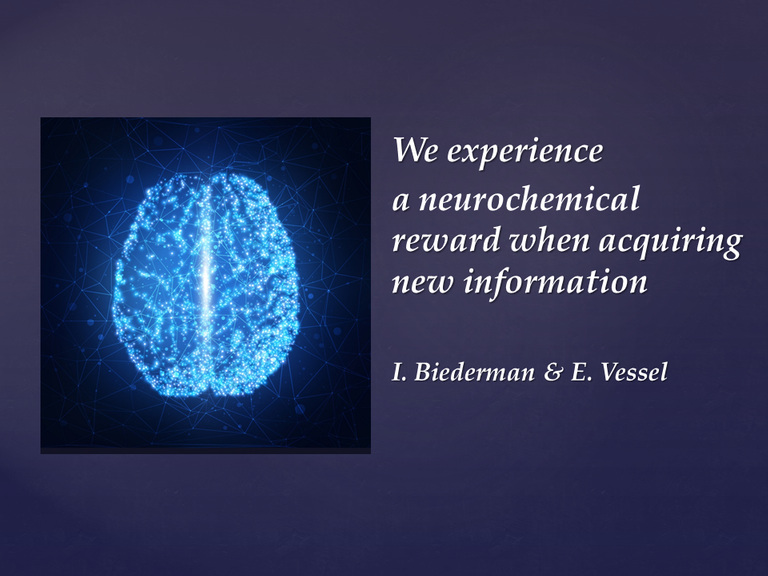 Source
Some researchers have dedicated themselves to understanding and listing many of the behaviors of "NS" (the abbreviation I will use from here on out to describe Novelty Seekers). First it is important to understand that we are talking about a spectrum (with each passing year it becomes clearer that everything in psychology works in gradual spectrums and never in extremes), the extreme NS will have as common behaviors exploratory activity (whether of environments, of objects, of behaviors, of habits), a greater need in basal stimuli (need to feel more), impulsive decisions, extravagant approaches, internal/external disorder, rapid temperament change, low frustration tolerance, and a high propensity to dependency. By this point (January 2023) it is understood that the NS trait is most likely hereditary and could be observed in the behavior of family members. Note that besides the obvious (a genetic dopamine deficit, which automatically puts the individual on the ADHD spectrum), the traits that make up a high state of Novelty Seeking closely resemble a rapidly cycling mixed state of an unclassified variation of bipolar disorder. The question then remains: Does the unspecified fast-cycling (or even ultra-fast-cycling) bipolar have Novelty Seeking (and therefore ADHD) as a common trait, or is it the NS that mimics very similar symptoms of unspecified Fast Cycling Bipolarity?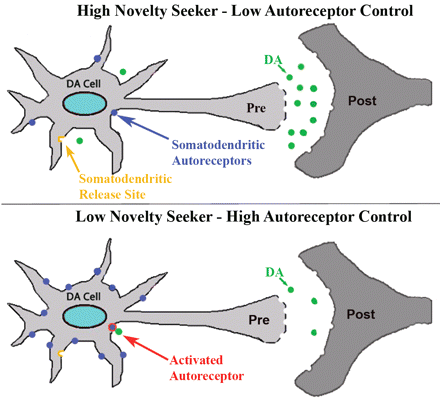 Source
The more advanced studies on the subject have found a connection with certain patterns involving other personality traits. Mainly a distortion regarding self avoidance, self-direction and self-transcedence. Very often the NS will be very likely to end up seeking expansion of consciousness through a variety of practices, from beneficial and risk-free habits such as meditation (in its multiple approaches), yoga, natural therapies, and gradually through higher risk habits such as extreme sports, deprivation of senses or desires, until arriving at risky and little studied behaviors such as the use of substances little understood by science, like Research Chemicals in general, or even pseudo-natural psychoactive experiences like the infamous use of smoked frog resin, which is currently considered to be the strongest psychoactive substance known to man.
It would perhaps be simplistic or reductionist to consider that all NS behavior stems from a low natural dopamine reserve, yet this is commonplace that provides clues about such behaviors. What is known is that the brain's unbridled and thirsty search to fill its missing dopamine leads to risky behaviors, such as (in the most classic example) the use of drugs, like cigarettes, cocaine, or even various stimulants, when not psychedelics in general. The impulsive behaviors resulting from the search for dopamine tend to be alleviated through correct and careful treatment with psychiatric drugs, but many times such treatments miss the target exactly because they generalize the patient with a simplistic diagnosis of anxiety, depression or ADHD. Most probably a more correct approach would be to observe to what extent this patient has clear traces of an often camouflaged bipolar disorder or even whether the therapy for depression and anxiety could be eased with more intelligent combinations than just methylphenidate and some selective inhibitor (which rarely delivers what it promises). Many of the older drugs (tricyclics and iMAOS) have the ability to work (albeit unclearly) on more unusual receptors such as Glutamatergic, Muscarinergic, Cholinergic and so on. Not infrequently one sees much more significant responses when such drugs come into play. Perhaps even an antipsychotic can curb the patient's instability and compulsiveness, but each case needs to be checked carefully. Unfortunately, this topic is far from being common sense for 90% of psychiatrists or even psychologists; not infrequently they have not even heard of Novelty Seeking. Following the dopaminergic premise, it seems that the dopaminergic receptor DRD4 is the main receptor involved in NS traits, also targeted to cause ADHD, so an adequate treatment targeting this receptor may bring good results to those with this trait. Possibly the NS behavior decreases over the years, especially after the maturation of the young-adult brain. Not only by the accommodation of the body with this deficit (if it is not treated), but also because the adult who lives continuous experiences of ups and downs caused by himself, when he gets some lucidity will gradually condition himself to avoid behaviors that harm him more than satisfy him, but not infrequently he will end up creating standards and criteria to live with his NS behavior in a friendly way. Unfortunately, this behavior is not the standard, and what we see is a high rate of adults addicted to chemicals or acting in risky behavior in the most varied ways.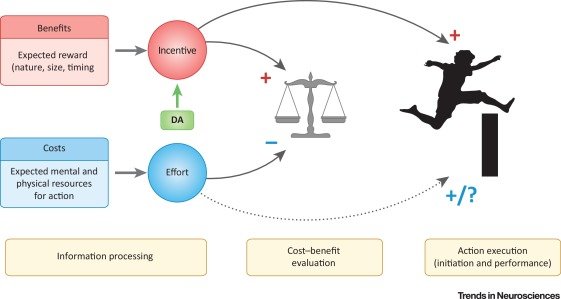 Source
To finalize this analysis on the subject it is fitting here some philosophical and sociological insights on the subject. Although the NS has a proven root in heredity, we are living in an extremely complicated human period, where if on the one hand society imposes rules and protocols to be followed to the letter and that govern the internal mechanism, on the other hand the growing demand for pleasure and novelty that works subliminally in the collective unconscious of our society constantly puts us to the test, giving us a range of options to sink deeper and deeper into immediate pleasures and thus reinforcing an absolute dichotomy between pleasure and suffering. Such mechanisms are less directly linked to drugs of abuse for example, like cocaine, and more to the pursuit of these pleasures (which the drug may provide for a short period of time before completely becoming a nightmare), the pursuit of pleasure (whatever it is) is what governs the behavior of the NS, and his future post-pleasure hangover/reboot is the next driver of the pursuit and so on add nauseam. There is a constant and growing challenge for the Novelty Seeker in understanding such behaviors and consecutive risks and transmuting them into non-harmful or problematic habits, probably cognitive behavioral therapy is the best bet to work on such behaviors, mainly through building supportive listings, avoidance methodologies and safety systems. The person may become an addict to psychological self-improvement for example, or to coping with their own problems. There is not much of a ready solution and no perfect medicine to treat a novelty addict, but the more one understands this trait, the better the person will deal with his or her hindrances to self-education and understanding.
Source
Articles used in the construction of this text: 1, 2, 3, 4 and 5
Thomas Blum

Português
Há um tempo atrás eu já abordei o tema Novelty Seeking, mas resolvi aprofundar e aprimorar meu estudo sobre o tema, primeiramente para melhorar meu auto-conhecimento e compreensão de algo que vivencio diariamente, mas também para poder garantir um artigo mais robusto aqui na blockchain sobre esse que é um dos temas que mais me interessa na Psicologia. Buscarei escrevê-lo de forma multifacetada e densa o suficiente para não ser só um artigo vazio com cara de revista digital de curiosidades à respeito da saúde. Espero que essa imersão seja positiva para você leitor.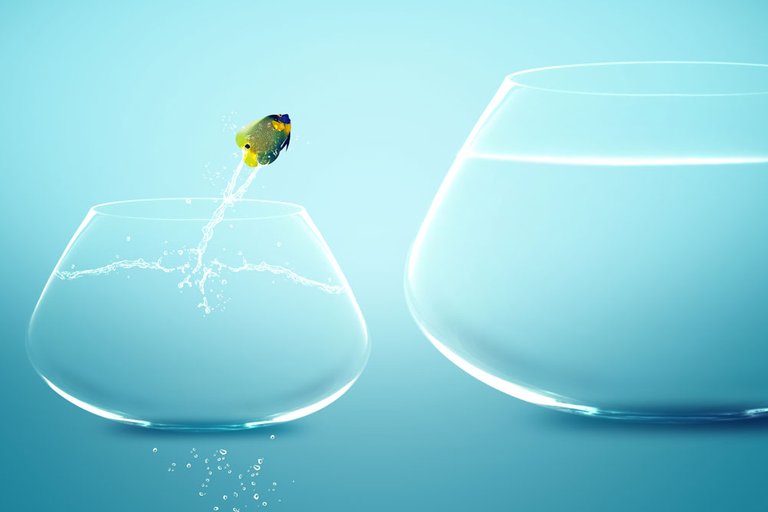 Source
De uma forma bastante prática e sintética, pode se dizer que o "Novelty Seeking" é um traço comportamental que consiste na busca constante pela novidade, mais especificamente pelo prazer e frescor da novidade. Até onde se sabe, os portadores desse traço não buscam experiências novas ruins ou desconfortáveis. Em níveis variáveis observa-se pessoas que não compreendem ser portadoras desse traço e apenas consideram-se buscadoras incansáveis, outras pessoas são diagnosticadas de forma simplista com algum transtorno sem afunilar a análise a ponto de encontrar este traço (como exemplo disso é reduzir um arquétipo complexo e cheio de sinuosidades como simplesmente bipolar tipo I ou II), existe ainda uma conexão profunda entre os grandes inventores, investidores, aventureiros sociais e políticos, artistas e o comportamento "Novelty Seeking", o que de forma alguma serve para glamourizar tal traço, apenas acrescento este detalhe para formarmos ao longo do conteúdo uma visão mais sólida sobre esse "problema";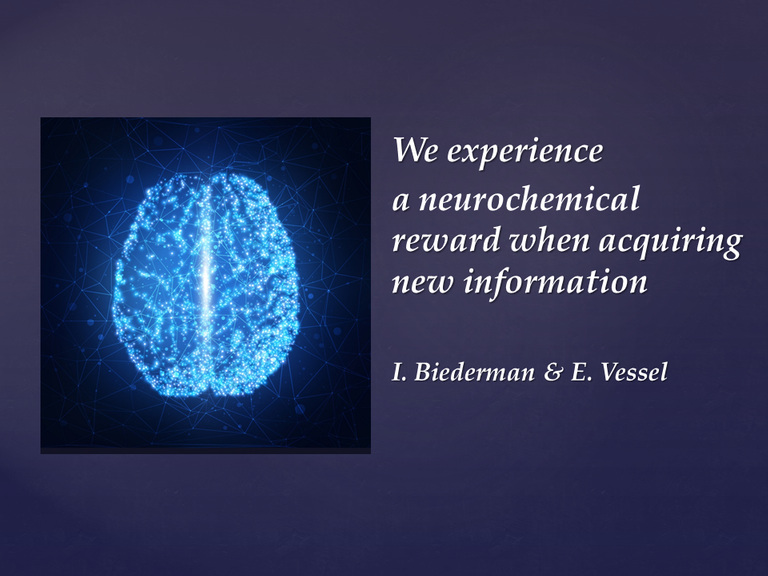 Source
Alguns pesquisadores dedicaram-se em compreender e listar muitos dos comportamentos dos "NS" (abreviação que usarei daqui pra frente para descrever os Novelty Seekers). Primeiro é importante compreender que estamos falando de um espectro (cada ano que passa fica mais claro que tudo na psicologia funciona em espectros graduais e jamais em extremos), o extremo do NS terá como comportamentos comuns a atividade exploratória (seja de ambientes, de objetos, de comportamentos, de hábitos), uma maior necessidade em estímulos basais (precisa sentir mais), decisões impulsivas, abordagens extravagantes, desordem interna/externa, mudança rápida de temperamento, baixa tolerância à frustração e grande propensão à dependência. Até este momento (Janeiro de 2023) compreende-se que o traço NS é muito provavelmente hereditário e poderia ser observado no comportamento de familiares. Note que, além do óbvio (um déficit genético de dopamina, que automaticamente coloca o indivíduo no espectro TDAH), os traços que compõe um estado alto de Novelty Seeking assemelham-se em muito a um estado misto de ciclagem rápida de uma variação não classificada de bipolaridade. Fica então o questionamento: O bipolar não especificado de ciclagem rápida (ou até mesmo ultra-rápida) tem como traço comum o "Novelty Seeking" (e por consequência, TDAH), ou é o NS que mimetiza sintomas muito semelhantes de Bipolaridade não especificada de Ciclagem Rápida?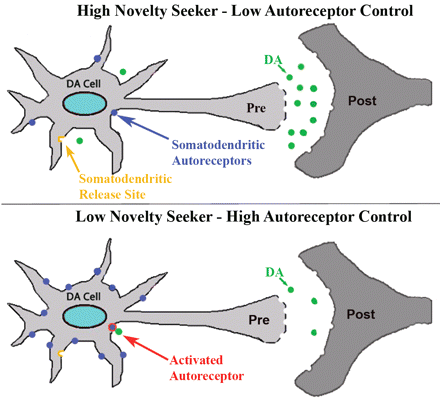 Source
Os estudos mais avançados sobre o tema encontraram uma conexão com determinados padrões que envolvem outros traços de personalidade. Principalmente uma distorção à respeito da auto-evitação, a auto-direção e a auto-transcedência. Muito comumente o NS terá grandes chances de acabar por buscar expansão da sua consciência através das mais variadas práticas, desde hábitos benéficos e sem risco como a meditação (em suas múltiplas abordagens), yoga, terapias naturais e gradualmente passando por hábitos de maior risco como esportes radicais, privações de sentidos ou de desejos até chegar em comportamentos arriscados e pouco estudados como o uso de substâncias pouco compreendidas pela ciência como Research Chemicals em geral ou mesmo experiências psicoativas pseudo-naturais como o infame uso da resina de sapo fumada que é considerada atualmente como a substância psicoativa mais forte conhecida pelo homem.
Seria talvez simplista ou reducionista considerar que todo o comportamento de NS advém de uma baixa reserva natural de dopamina, ainda que este seja lugar comum que fornece pistas sobre tais comportamentos. O que se sabe é que a busca desenfreada e sedenta do cérebro para preencher sua dopamina faltante leva a comportamentos de risco, tal qual (no exemplo mais clássico) o uso de drogas, como cigarro, cocaína ou mesmo estimulantes variados, quando não psicodélicos de forma geral. Os comportamentos impulsivos advindos da busca por dopamina tendem a ser amenizados através do tratamento correto e cuidadoso com medicamentos psiquiátricos, mas muitas vezes tais tratamentos erram o alvo exatamente por generalizarem o paciente com um diagnóstico simplista de ansiedade, depressão ou TDAH. Muito provavelmente uma abordagem mais correta seria observar até que ponto este paciente tem traços claros de um transtorno bipolar muitas vezes camuflado ou mesmo se a terapia para a depressão e ansiedade poderia ser amenizada com combinações mais inteligentes além de apenas metilfenidato e algum inibidor seletivo (que raramente cumpre o que promete). Muitos dos fármacos mais antigos (triciclicos e iMAOS) tem a capacidade de trabalhar (ainda que de forma não clara) em receptores mais incomuns como os Glutamatérgicos, Muscarinérgicos, Colinérgicos e assim por diante. Não raro vê-se respostas muito mais significativas quando tais medicamentos entram em ação. Quem sabe ainda um antipsicótico possa calçar a instabilidade e compulsividade do paciente, mas cada caso precisa ser verificado criteriosamente. Infelizmente tal tema está longe de ser senso comum para 90% dos psiquiatras ou mesmo psicólogos, não raro estes nem mesmo ouviram falar sobre Novelty Seeking. Seguindo a premissa dopaminérgica, ao que tudo indica, o receptor DRD4 dopaminérgico é o principal envolvido nos traços de NS, também alvo da causa do TDAH, logo, um tratamento adequado visando este receptor pode trazer bons resultados para os portadores desse traço. Possivelmente o comportamento NS diminui com o passar dos anos, principalmente após a maturação do cérebro do jovem-adulto. Não só pela acomodação do corpo com esse déficit (caso não seja tratado), mas também por que o adulto que vivencia experiências contínuas de altos e baixos causados por si mesmo, quando toma certa lucidez irá pouco a pouco condicionar-se a evitar comportamentos que o prejudiquem mais do que o satisfaçam, mas não raro acabará por criar padrões e critérios para conviver com seu comportamento NS de forma amistosa. Infelizmente essa conduta não é o padrão e o que vemos é um alto índice de adultos dependentes químicos ou agindo em comportamento de risco das mais variadas formas.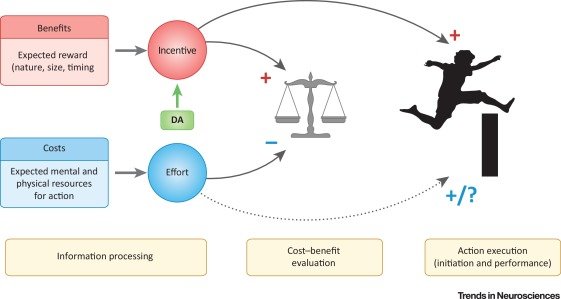 Source
Para finalizar essa análise sobre o tema cabe aqui algumas percepções filosóficas e sociológicas sobre o assunto. Ainda que o NS tenha uma raiz comprovada na hereditariedade, estamos vivendo um período humano extremamente complicado, onde se por um lado a sociedade impõe regras e protocolos para serem seguidos à risca e que regem o mecanismo interno, por outro lado a própria demanda crescente pelo prazer e pela novidade que trabalha subliminarmente no inconsciente coletivo de nossa sociedade nos põe constantemente à prova, dando um leque de opções para afundarmos cada vez mais e mais nos prazeres imediatistas e reforçando assim uma dicotomia absoluta entre o prazer e o sofrimento. Tais mecanismos são menos vinculados diretamente a drogas de abuso por exemplo, como a cocaína e mais à busca desses prazeres (que a droga pode providenciar por um curto período de tempo antes de tornar-se completamente um pesadelo), a busca do prazer (seja qual for ele) é o que rege o comportamento do NS, e sua futura ressaca/rebote pós prazer é o próximo propulsor da busca e assim seguirá add nauseam. Existe um desafio constante e crescente do Novelty Seeker em compreender tais comportamentos e consecutivos riscos e transmutá-los em hábitos não nocivos ou problemáticos, provavelmente a terapia cognitivo comportamental é a melhor aposta para trabalhar tais comportamentos, principalmente através da construção de listagens de apoio, metodologias de evitamento e sistemas de segurança. A pessoa pode tornar-se uma viciada em auto-aperfeiçoamento psicológico por exemplo, ou em enfrentamento dos próprios problemas. Não existe muita solução pronta e nem medicamento perfeito para tratar um dependente de novidades, mas quanto mais compreender este traço, melhor a pessoa lidará com seus atravancadores da auto-educação e compreensão.
---
---