CineTV Contest: 38 - Favorite Movie Vehicle - ECTO-1
When this week's contest for Favorite Movie Vehicle popped up, I thought I would write about a truly iconic vehicle from the movies. The problem is, there are so many to choose from. So, I asked my Bonnie Bride her thought, and she said "How about an RV?" to which I responded "The EM-50 Urban Assault Vehicle?". At that point, our daughter, Little Miss chimed in "Ghostbusters!". Yep, we have a winner. ECTO-1 from the Ghostbusters movies.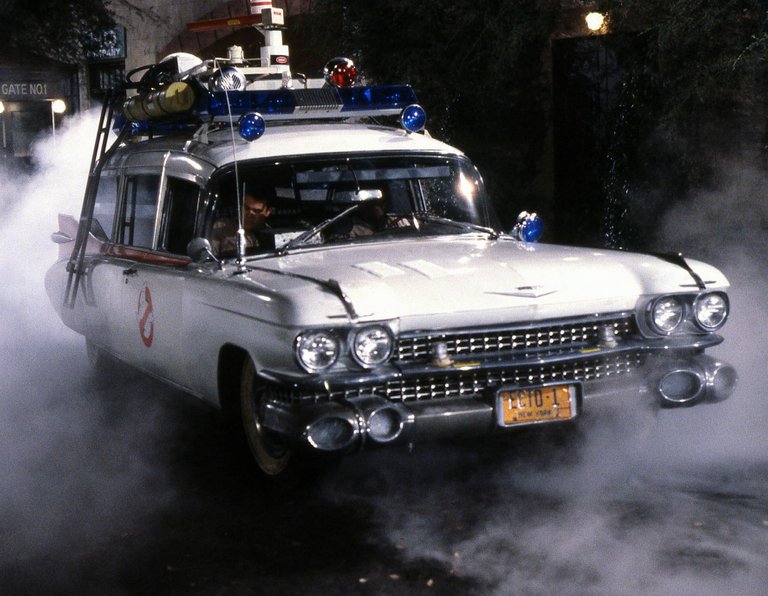 ECTO-1 from Ghostbusters (1984) IMDB
ECTO-1 is a vintage ambulance of some sort, but not being a vintage car expert (except going "hey, cool, that's vintage!") I turned to the IMDB trivia section to learn more about the vehicle:
The Ecto-1 was a 1959 Cadillac chassis Miller-Meteor ambulance/hearse, rear-loading variety. Two vehicles were used in the movie, one for the pre-transformation car and one for the post-transformation version.
That's a nice bit of car history right there. On the trivia page, you can find out some of the other fun facts about the Ectomobile, as it is also known as, that is very interesting. Check it out if you have the time and interest.
When Ghostbusters was released way back in 1984, some of you may realize I was in Spain at the time, and when the film finally arrived at the base theater, it was already known to be a great film. Why? Because a lot of the Discos in Madrid were running the Ghostbusters theme with video in the background (alternating frequently with a lot of Michael Jackson songs as he was quite popular at the time), I already had a good idea of how cool a film it was going to be.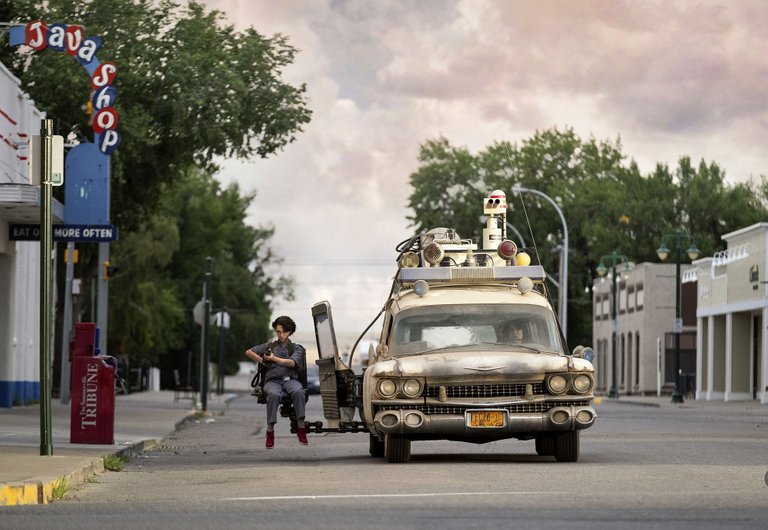 ECTO-1 Ghostbusters: Afterlife (2021) IMDB
Fast forward a few decades and then we get Ghostbusters: Afterlife, and we see that ECTO-1 has gained a Gunner's Seat, something it didn't have in the original movies in the '80s. How cool is that? Way cool. My daughter, Little Miss thought that the Gunner's Seat was a blast, as Mckenna Grace used it to blast the town the film takes place in to smithereens.
I don't know if the ECTO-1 is the same vehicle in Afterlife as was used in the original films, or a rebuild using the same (or similar) model. A little research can dig that out, however it probably is a rebuild. It is sure a cool vehicle, and memorable in many ways. Like the TARDIS or the Mystery Machine. If you see ECTO-1 cruising around your town you know that there must be something strange in the neighborhood, and if that Gunner's Seat pops out on the starboard side, you better duck for cover.
Ghostbusters, the original, the sequel from '89, and the follow-on Afterlife are fun films that I have been able to enjoy with both my Bonnie Bride and Little Miss, our moody teenager in the house.
Be sure to check out the CineTV site for more information on the contest - https://peakd.com/hive-121744/@cinetv/cine-tv-contest-38-favorite-movie-vehicle.
Thanks for stopping by, and if there is something strange in the neighborhood, you know who to call.
---
---