Daredevil Volume 7, #1 Review
I pulled up Daredevil Volume 7, Number 1 (aka #649) and gave it a read and thought I would give it a bit of a review. Not having read Daredevil since my time in Spain (mid '80s), I am a bit out of the loop on Daredevil's story line, however it is interesting to pick up on it at a new point as it enters a new story arc. Also, back in those days, and earlier, I wasn't a regular reader of Daredevil, unlike some of my favorites at that time, like The X-Men and Doctor Strange.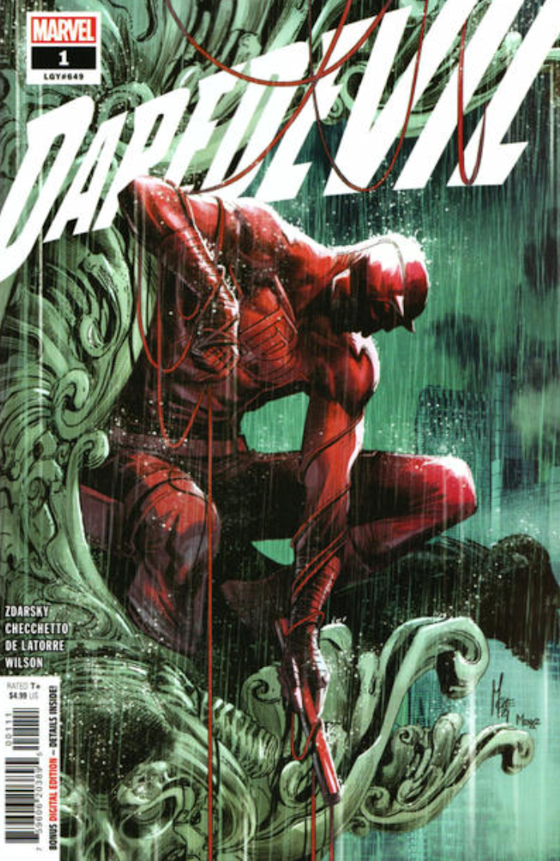 cover scan from Grand Comics Database
The story is, well, a bit weird at first, but I think that is a function of my not having read Daredevil in so many years, and yet also very well written. The darn thing kept me interested and turning digital pages (reading it on my iPad via Marvel Unlimited). I am not familiar with Chip Zdarsky, who wrote both stories in this issue, and I have to admit, he seems to have a darn good grasp of the characters and where he is taking this current story arc. Not wanting to give away too much if, like me, you haven't read DD in awhile, apparently Matt Murdoch somehow managed to fake his own death so as to conceal his true identity, and is doing a bit of work with Spiderman dealing with a local mob boss, Butch Pharris (the original Kingpin's son).
Comic Book Info


Series: Daredevil                 Issue: Volume 7, #1 (#649)
Publisher: Marvel Comics          Release Date:  July 2022   
Editor: Devin Lewis               Cover Artist: Marco Chechetto/Marcio Menyz
Story The Red Fist Saga: Part 1
Writer: Chip Zdarsky              Letters: Clayton Cowles
Pencils/Inks: Marco Chechetto     Colors: Matthew Wilson
Story The Island
Writer: Chip Zdarsky              Letters: Clayton Cowles  
Pencils/Inks: Rafael de Latorre   Colors: Matthew Wilson

The second part of the book covers Elektra and her arrival on a remote island where she meets up with Stick, and we get a little more information as to where this story line is going. Overall good stuff. I don't know much about stick as I don't recall him in any of my previous reading from all those years back, however, he is quite capable in a fight, as you'll see in this story.
The pencils and pens for the bulk of this issue was done by Marco Chechetto, and are excellent, with the colors by Matthew Wilson enhancing the art even more. It is a bit dark, and ominous in places, which does a good job of setting the stage for the action that takes place. In the second part of the book, the pencils and inks were done by Rafaelle de Latorre, with colors, again, by Wilson, creating a seamless transition from the first part of the book to the second part. The art in this book is top notch; sharp and clean. Daredevil looks a lot like the character I remember reading back in the day. Between the art and the writing, the creative team has me wanting to continue with this series.
If the subsequent issues prove to be as good as this first one, then it looks like we're going to be into a bit of a weird ride, and it should be fun to see where it takes us.
In closing, I want to give a shout-out to @domgreg for posting his first look at issue #7 (aka DD #656) as it sparked my interest, and, having access to the first one in this series via Marvel Unlimited (MU), I was able to get get my hands on it without running off to my dealer in a snowstorm. Upside, I am having the shop I go to add Daredevil to my pull list. Meanwhile, I can continue reading through #4 on the MU app.
Hopefully my take will be enough to spark your interest in checking out Daredevil. If not, feel free to let me know what you are reading.
---
After writing the above, I finished reading issues 2-4 (#650-#653 – what happened to #652?). Pretty much the same creative team contributing with #2 having a variety of guest contributors providing some different pieces.
Overall these next three issues continue to build on the story, including revealing aka of the Hand and the involvement of the Stromwyns; I am not familiar with the Stromwyns, nor what their motivation is. They do seem to be megalomaniacs, though.
It is going to be interesting to see how this story continues to unfold, and I should be caught up in the next week or so. Fun stuff!
Thanks for stopping by.
---
---