Sgt. Rock versus Zombies #1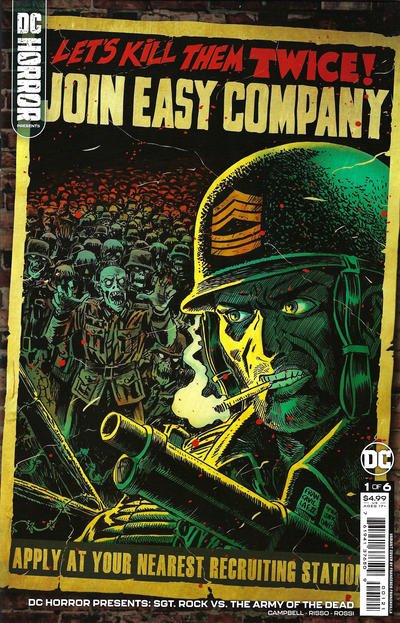 Cover scan from Grand Comics Database

Recently DC Comics released a bit of a reboot of Sgt. Rock, this time as DC Horror Presents: Sgt. Rock vs. The Army of the Dead. First of, this ain't Joe Kubert's Sgt. Rock. In fact, the story telling style is quite different as Sgt. Rock always narrated this stories. Also, of the few members of Easy company we've seen thus far in this first issue, they sure don't look like the guys I am familiar with from when I read Sgt. Rock as a kid, and more recently as I started to enjoy those classics again.
Comic Book Info


Series:  DC Horror Presents: Sgt. Rock vs. The Army of the Dead    
Isssue:  1   
Publisher:  DC Comics    Release Date:  Sept. 2022 
Writer: Bruce Campbell   Editor: Katie Kubert
Art: Eduardo Risso       Colors: Kristian Rossi
Letters: Rob Leigh       Cover Artist: Francesco Francavilla (cardstock variant)

Bruce Campbell wrote the story for this first issue, and, not having read the following issues, I am guessing the mini-series as a whole, which explains why it is heavy on the zombies. Although the writing style is not in the same vein as the original Sgt. Rock, readers not familiar with the classics won't know the difference. As for me, I like the first person narration of the original series.
The interior art is very gritty looking, dark, and a bit ominous. Not surprising as this is a horror comic, rather than a straight up war comic. Although the characters thus far from the original run, Sgt. Rock, Bulldozer, Long Round and Short Round do not look like the guys from back in the Silver and Bronze age of comics, only long time collectors like me will notice the difference. Plus, this mini-series is catering to a different audience. Otherwise, the interior art by Eduardo Risso is fine, done with a contemporary hand. Colors, by Kristian Rossi, adds to the grittiness of the issue, and gives it a kind of wartime feel in some panels.
Some of the art in a few panels is a bit over the top with graphic violence, which is not something I care for, however it is just in a couple of panels and helps in setting up the beginning of the story.
Although it is fairly well done, I am not sure if this particular min-series is my cup of tea. I do have issues 2 and 3, and will give them a read, but I am not sure if I will read the whole series. This should not be construed to mean I have a completely negative view of it, as I think it is an okay story. Quite frankly, though, I think people who really enjoy horror comics, and dig Bruce Campbell, should give it a look and form your own opinion.
In closing I want to point out something that did catch my eye. The Editor, Katie Kubert, is Joe Kubert's granddaughter. This is really cool, and I think she is a good choice to be the editor of this series.
Thanks for stopping by.
---
---