Bear attachment blanket // Manta de apego Osito
Attachment blankets are the best way for a baby to gradually become independent from his mother.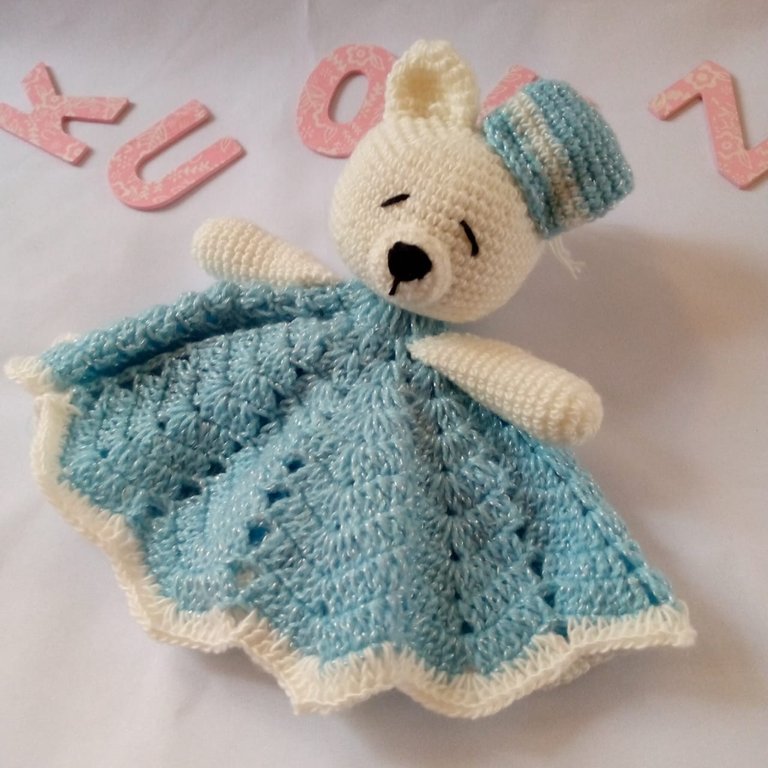 An attachment blanket with mom's scent represents a safe way to gradually leave baby alone while she is doing other activities. Be it: washing the teats, doing the laundry, making the baby's food, etc.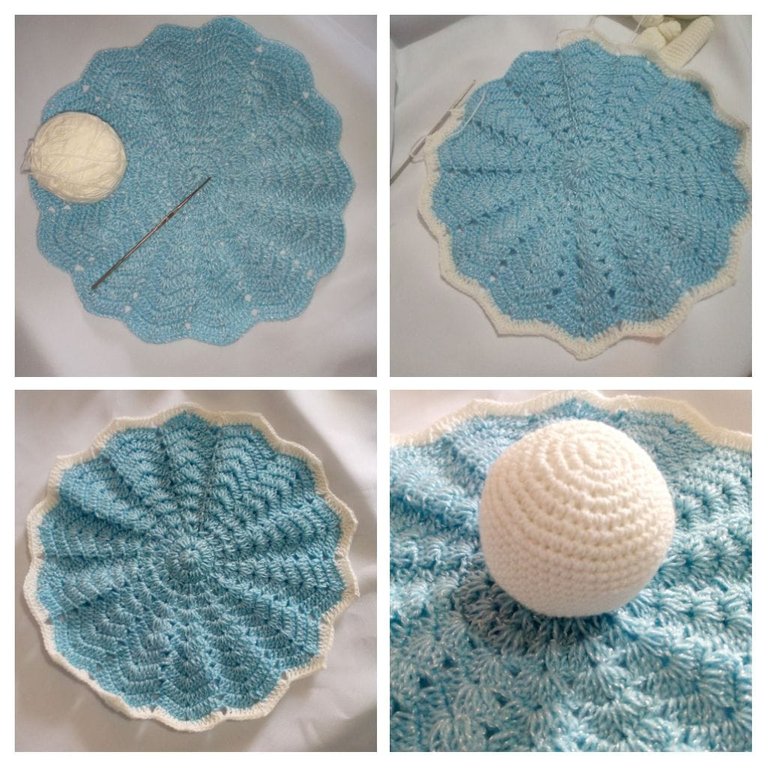 In the meantime the baby feels safe having her attachment blanket close by, because the smell gives her security, that security she needs in life. Without realizing it, the mother can leave the baby more time, without the baby crying inconsolably when feeling alone.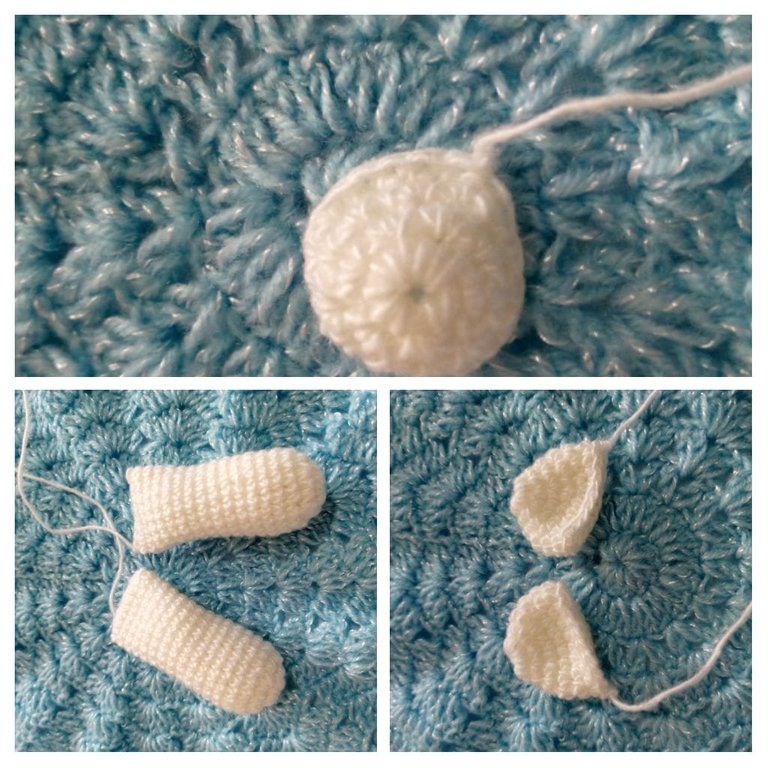 I love to make this kind of projects because of the tenderness they represent. And this blanket was no exception. I made it at the request of a friend who became a happy grandmother this Saturday. Her first grandson was born.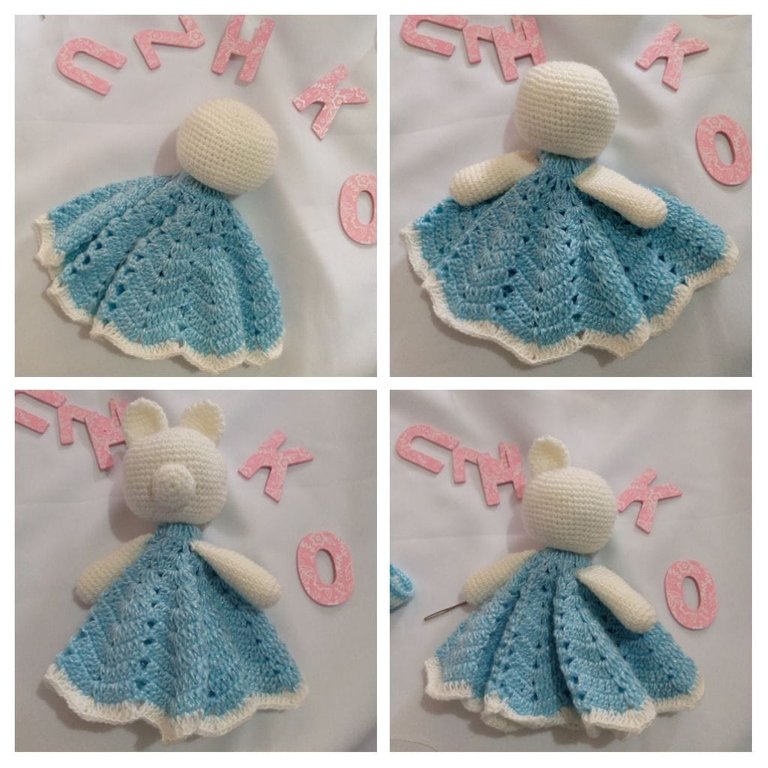 She made the order two months ago, but with all her busy schedule, she had not been able to finish it before. Thank goodness the baby became my secret friend and was born on Saturday. I finished the project yesterday, Sunday. Whew what a relief.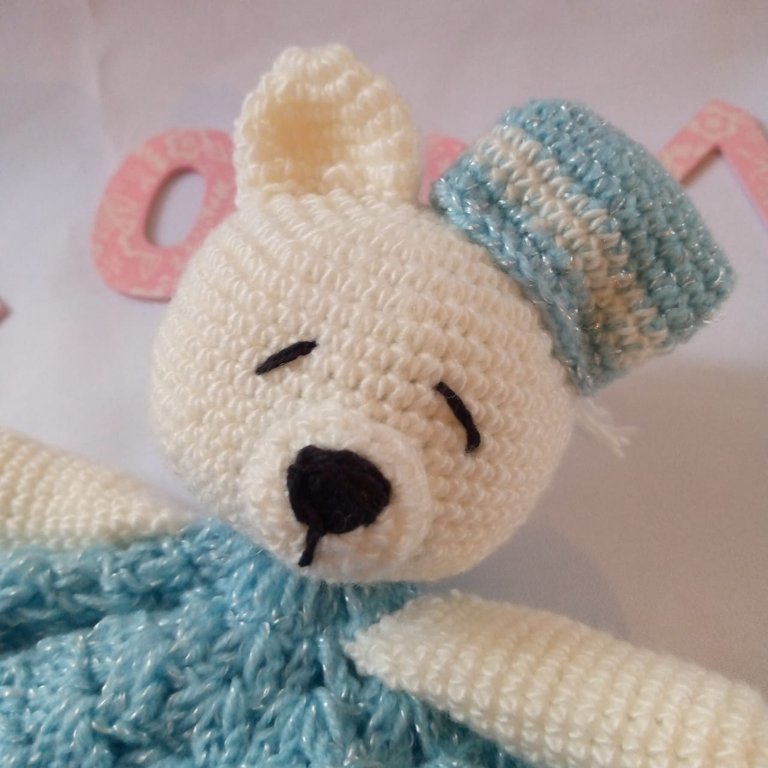 As you can see I made it in the shape of a sleepy teddy bear. I knitted the blanket in blue wool with fans in garter stitch and finished it off in white. I didn't make it so big because the intention is to be an amigurumi, that is, the blanket is the bear's body. So I made it in 10 rows including the white row to give the contrast.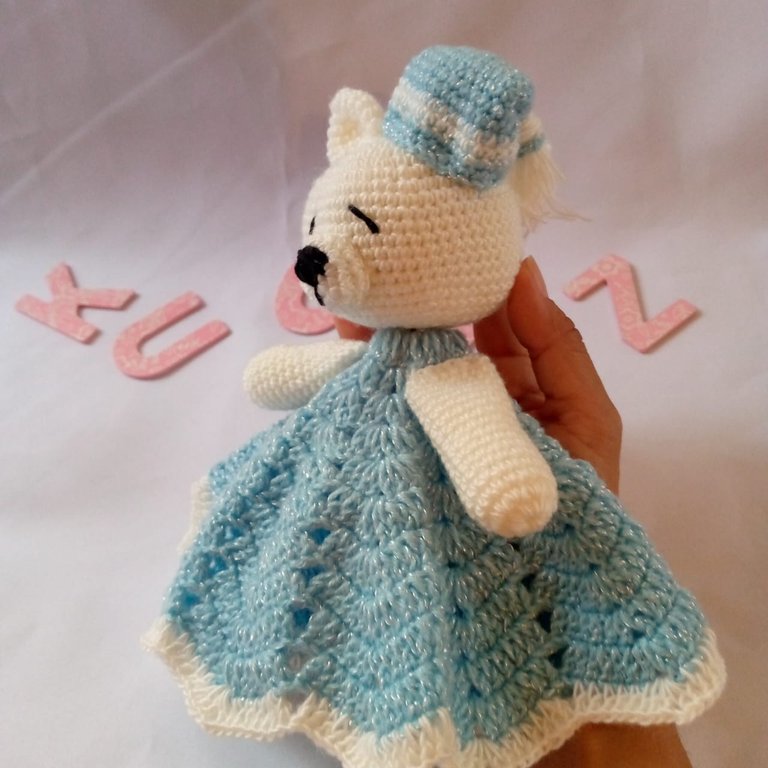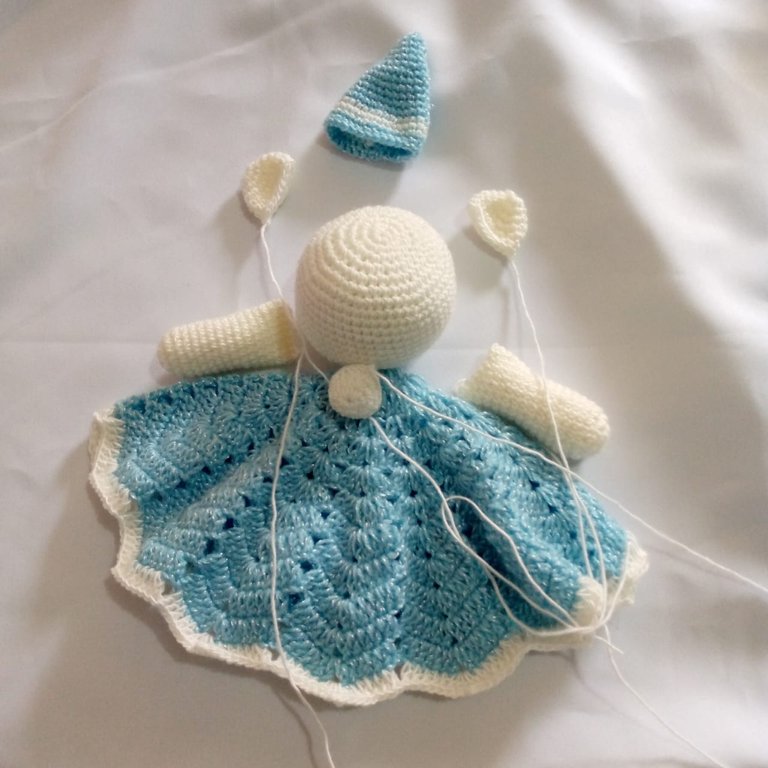 I knitted the arms, head, ears and nose in white wool in half stitch. I started all the pieces with a magic ring of 5 chains and then made loops of increases and decreases until I reached the desired size. I filled with anti-allergic material and joined all the pieces with a wool needle.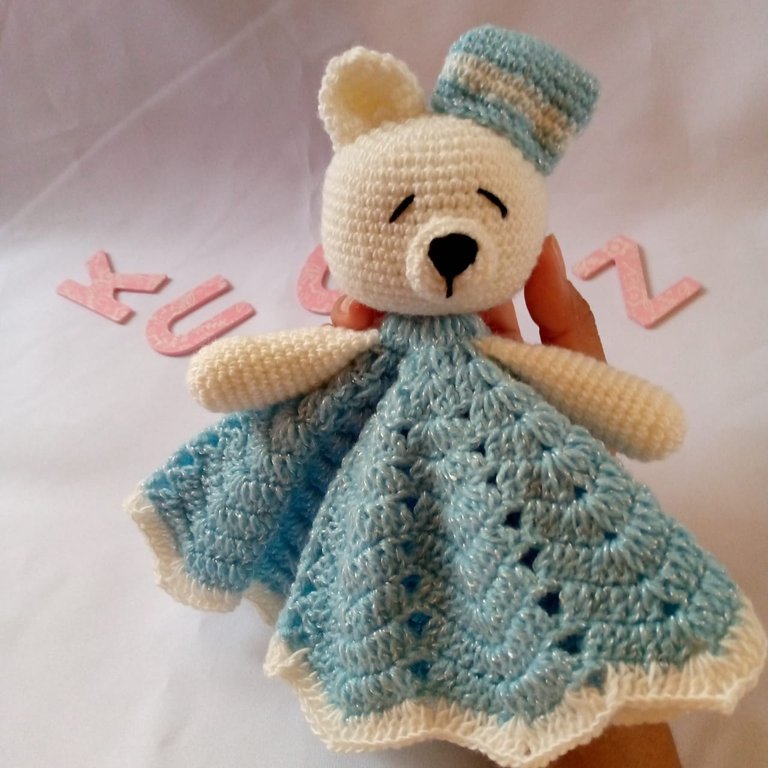 With black thread I embroidered the eyes and nose and to give it the special touch I knitted a little hat that I placed over one of the ears and sewed with a wool needle.
If you made it this far, thank you very much for your interest in my project and for reading me!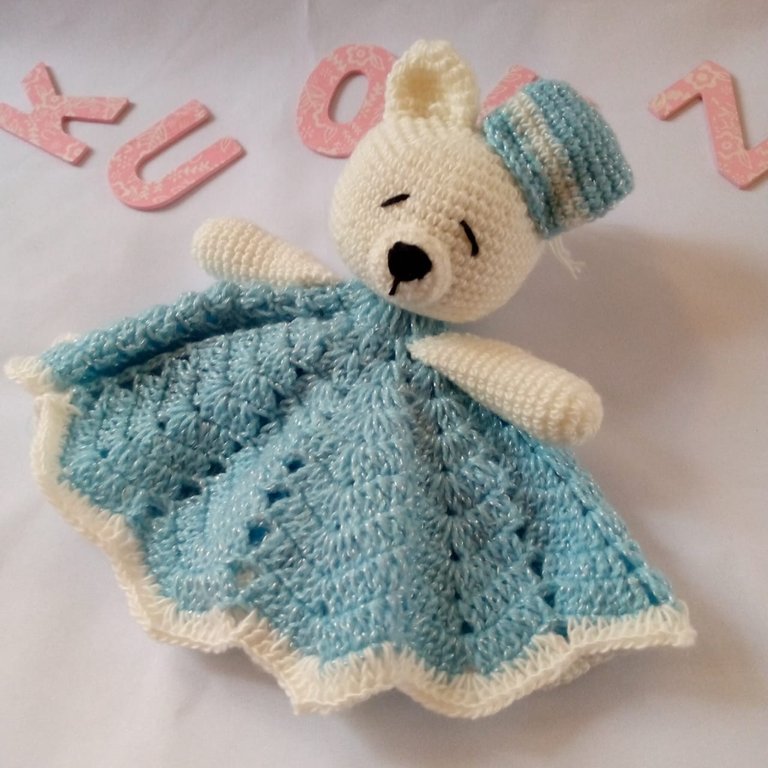 My own photos taken with my Tecno Spark cell phone. //
I used the free version of Deepl.com as a translator.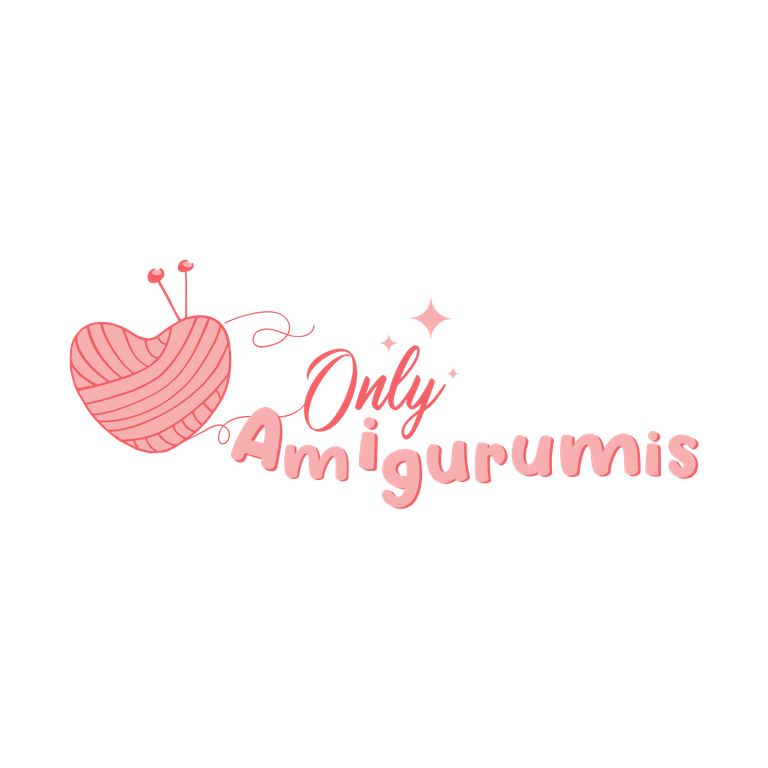 ---
---
AHORA EN ESPAÑOL
Las mantas de apego son la mejor forma de que el bebé se vuelva poco a poco independiente de su madre.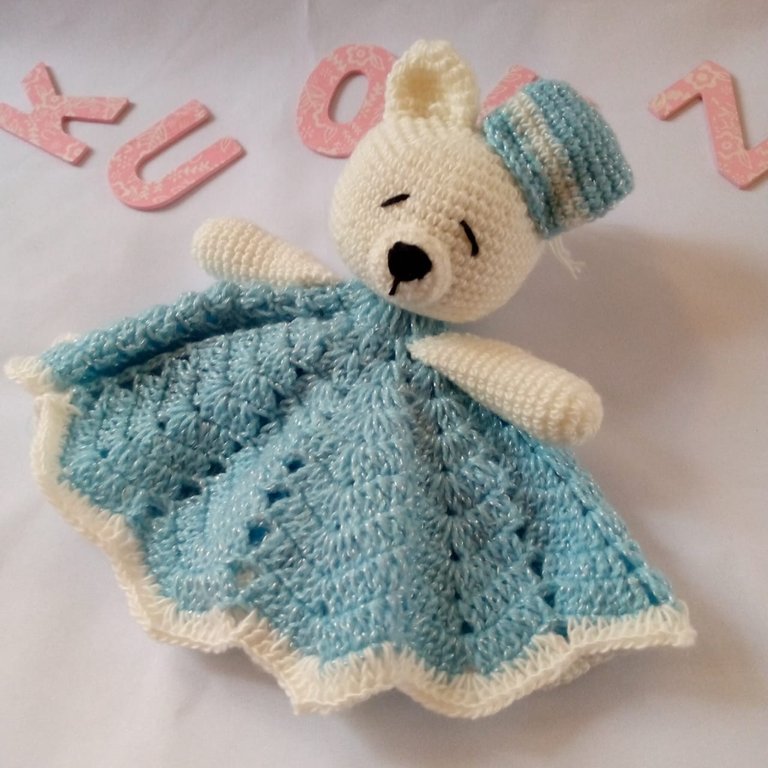 Una manta de apego con el olor de la mamá representa una forma segura de dejar al bebé poco a poco solo, mientras ella está haciendo otras actividades. Ya sea: lavar los teteros, lavar la ropa, hacer la comida del bebé, etc.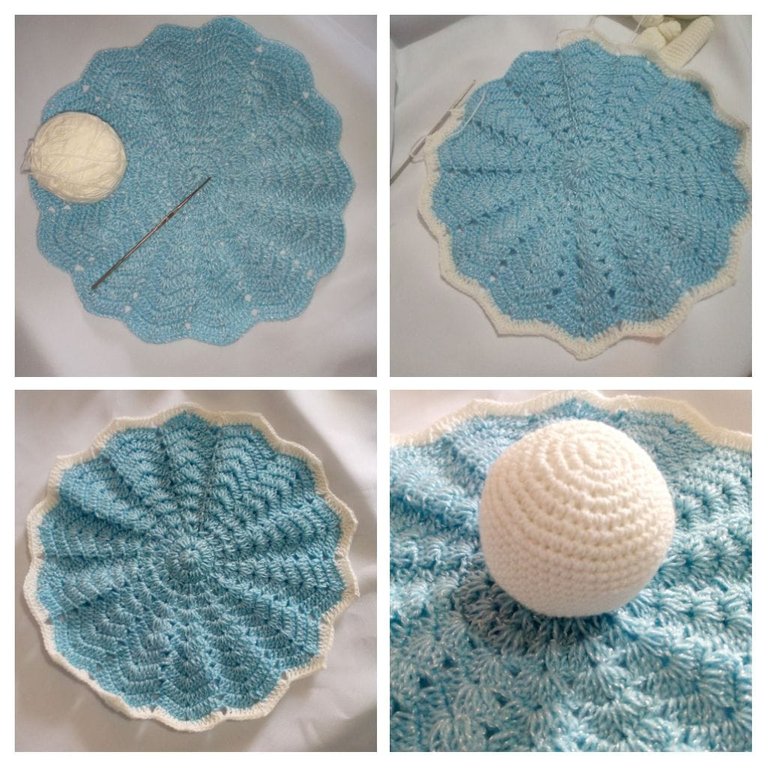 Mientras tanto el bebé se siente seguro al tener cerca su manta de apego, pues el olor le da seguridad, esa seguridad que necesita en la vida. Sin darse cuenta la mamá puede dejar más tiempo al bebé, sin que este llore desconsolado al sentirse solo.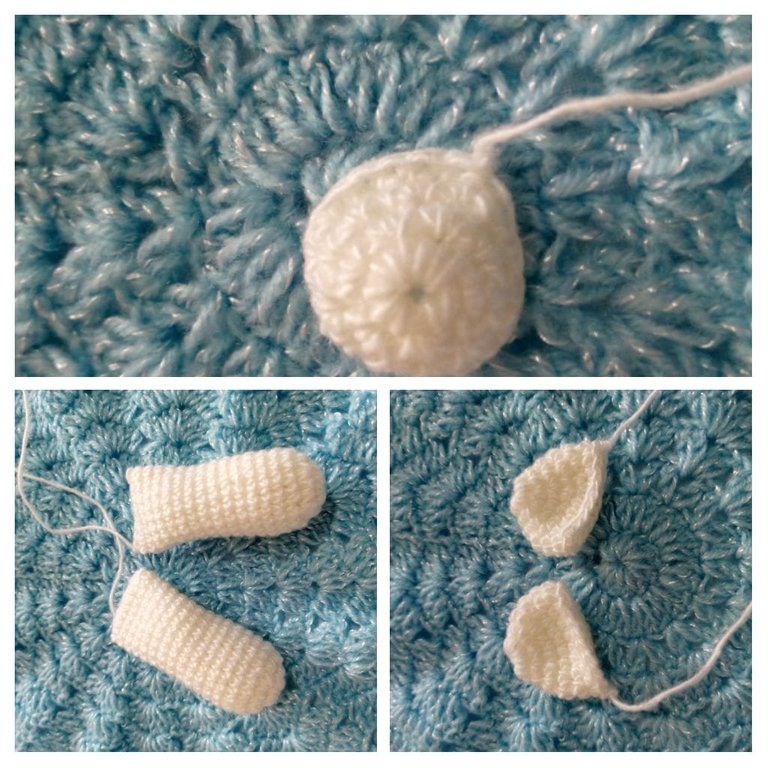 Amo hacer este tipo de proyectos por la ternura que representan. Y esta manta no ha sido la excepción. La hice a petición de una amiga quien este sábado se convirtió en una abuela feliz. Nació su primer nieto varón.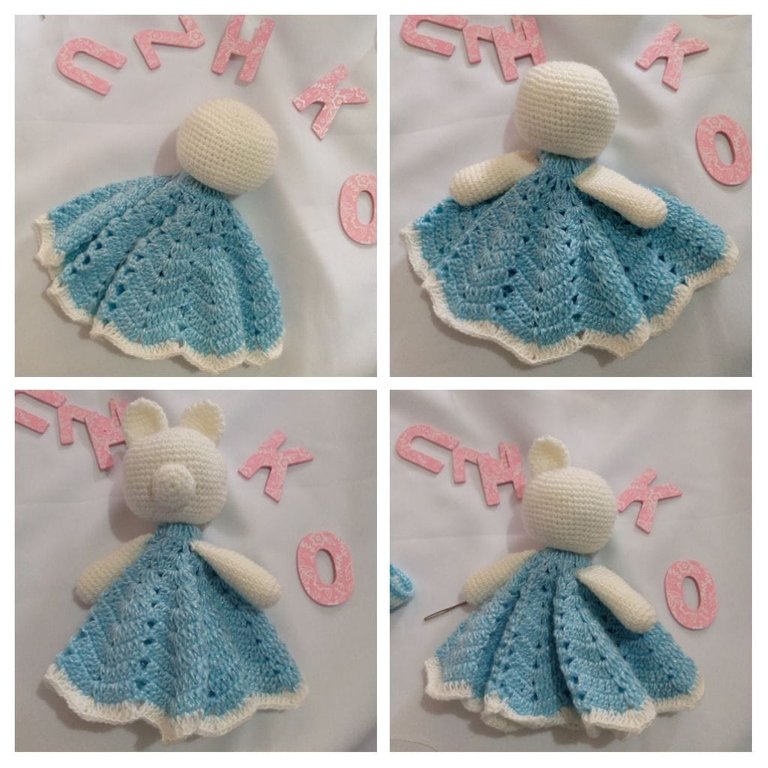 El encargo lo hizo hace dos meses, pero con la cantidad de ocupaciones que tenía, no había podido terminarlo antes. Menos mal que el bebé se convirtió en mi amigo secreto y nació el sábado. Yo terminé el proyecto ayer domingo. Uffff que alivio.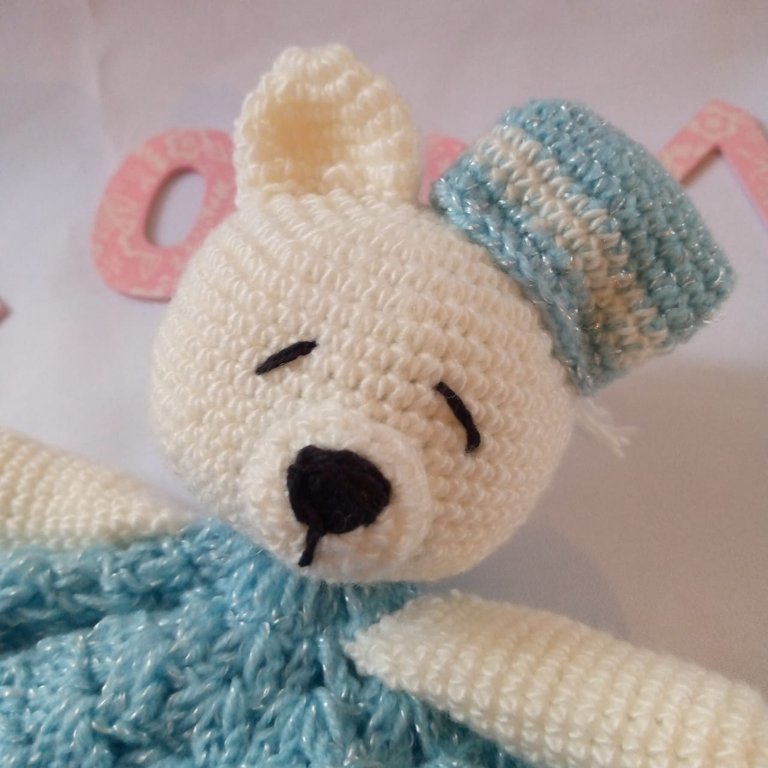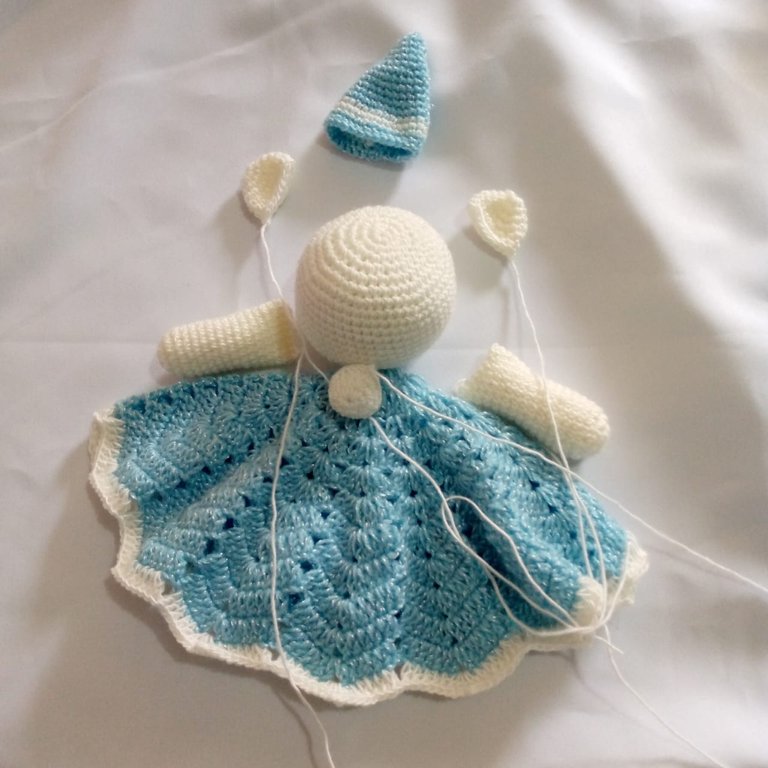 Como ves lo hice en forma de osito dormilón. La manta la tejí en lana azul con abanicos en punto vareta y rematé en color blanco. No lo hice tan grande pues la intención es que sea un amigurumi, es decir, la manta es el cuerpo del oso. Así que lo hice de 10 vueltas incluyendo la vuelta en color blanco para dar el contraste.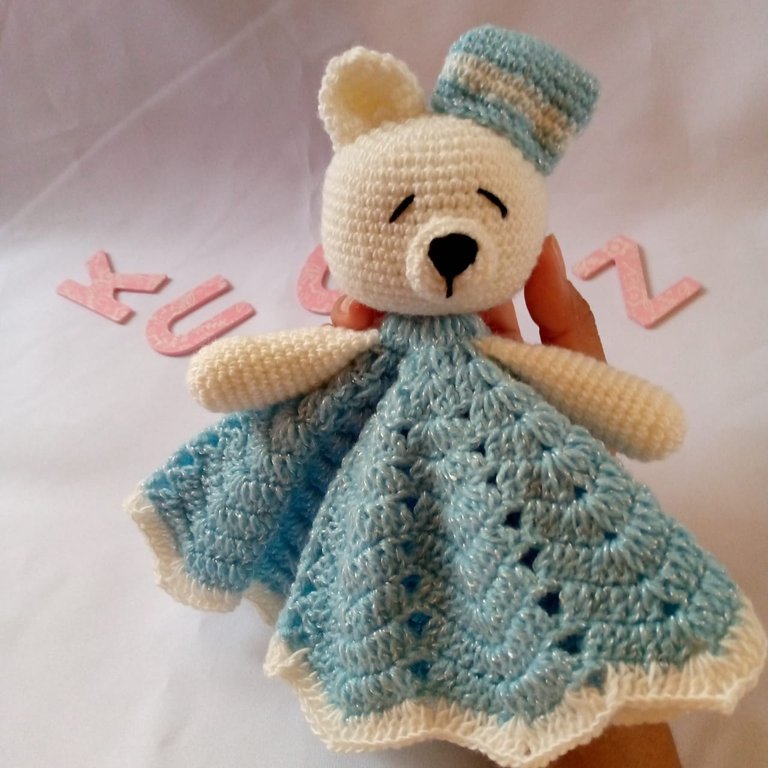 Los brazos, cabeza, orejas y nariz las tejí en lana blanca en medio punto. Todas las piezas las inicié con un anillo mágico de 5 cadenetas y luego hice vueltas de aumentos y disminuciones hasta alcanzar el tamaño deseado. Rellene con material antialérgico y uní con una aguja lanera todas las piezas.
Con hilo color negro bordé los ojos y la nariz y para darle el toque especial tejí un gorrito que coloqué sobre una de las orejas y cosí con una aguja lanera.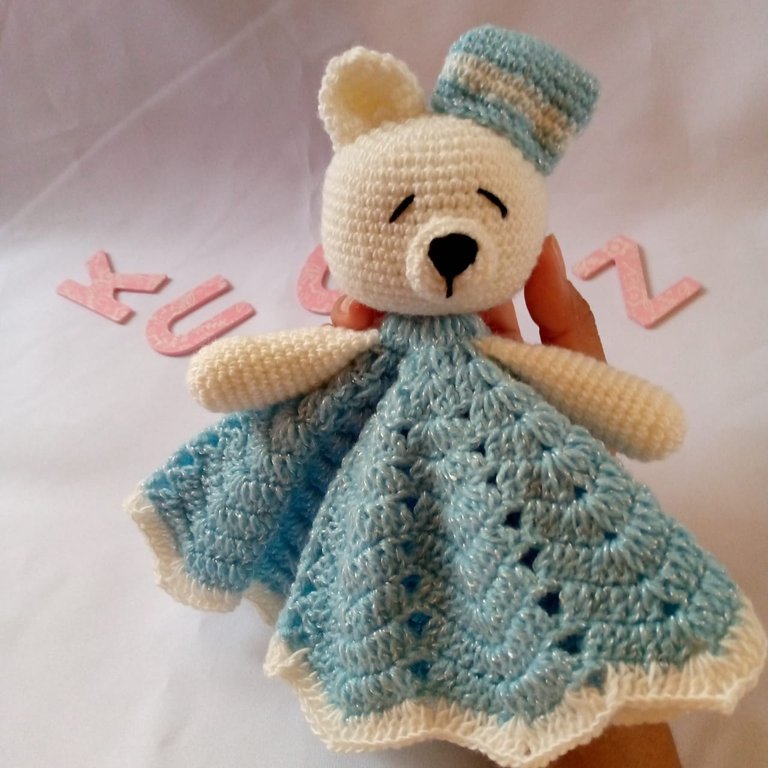 Si llegaste hasta aquí, muchas gracias por interesarte en mi proyecto y leerme!
Fotos propias tomadas con mi celular Tecno Spark. //
Utilicé la versión gratuita de Deepl.com como traductor.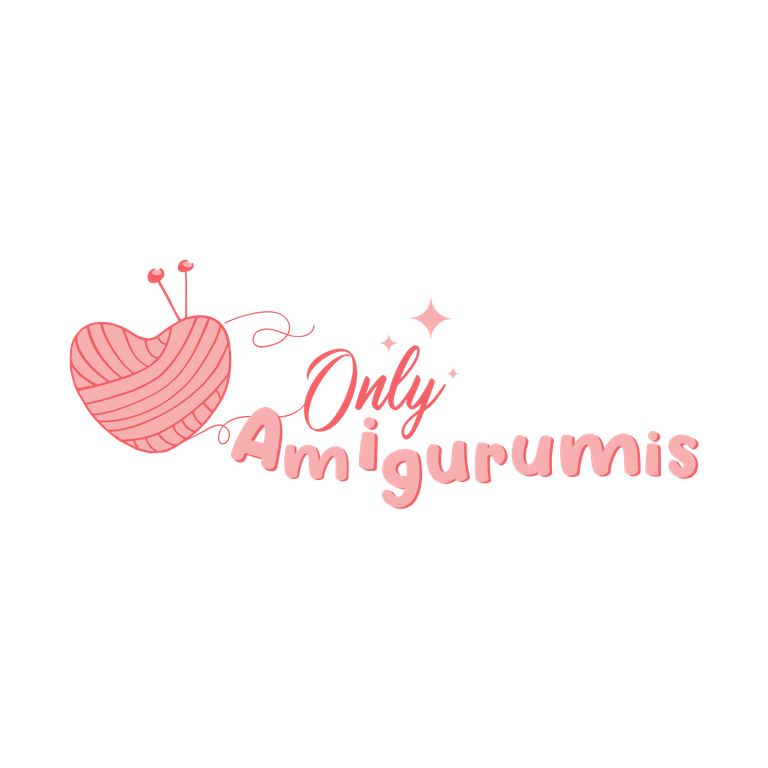 ---
---