[ESP-ENG] SHARE YOUR BATTLE Weekly Challenge! MAGI NECROSI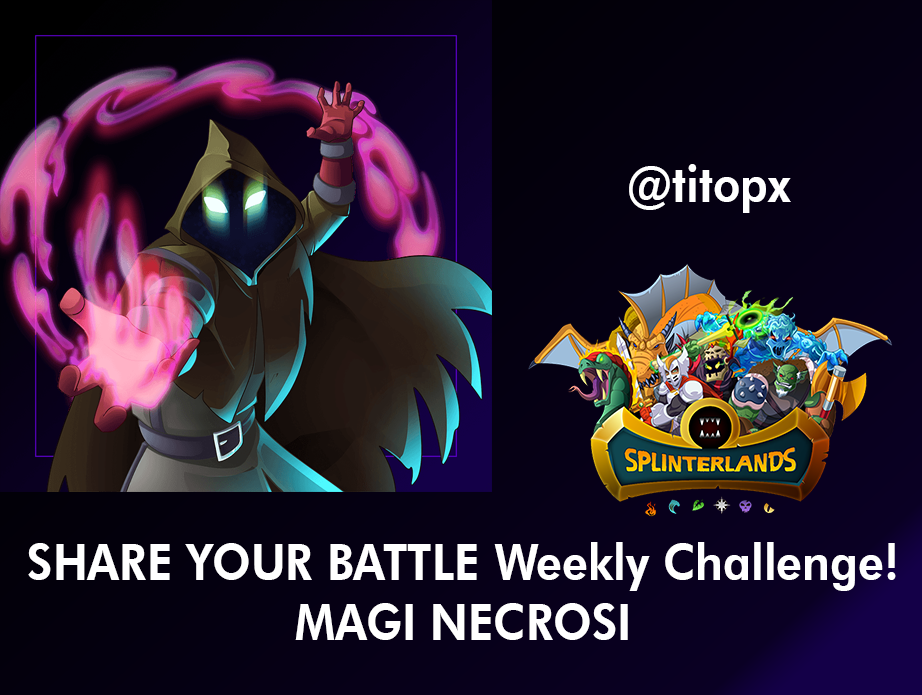 ESPAÑOL
Siempre me ha parecido que la habilidad camuflaje dependiendo del monstruo que la tenga puede ser muy poderosa, sobre todo cuando es de las que suelen recolectar vida, como las que se combinan con "vampirismo" o "carroñero".
En este caso nuestra carta del reto "Magi Necrosi" lo combina con la habilidad "Snipe" lo que ayudaría a "limpiar" la segunda línea de ataque del enemigo, antes de que siquiera llegue a primera posición.
ENGLISH
It has always seemed to me that the camouflage ability depending on the monster that has it can be very powerful, especially when it is one of those that usually collect life, such as those that are combined with "vampirism" or "scavenger".
In this case our challenge card "Magi Necrosi" combines it with the ability "Snipe" which would help to "clean" the second line of attack of the enemy, before it even reaches the first position.


Reglas de la batalla // Rules of Battle
En las reglas a pesar de que esta neutral, solo permiten utilizar tanto vida como muerte, esto hace que sea muy probable la utilización de monstruos de segunda línea tanto mágicos como de distancia dejando a los que tengan ataque cuerpo a cuerpo con "Sneak o "Opportunity" sin utilizar. Basándome en eso arme mi alineación con la ayuda de nuestra amiga.
In the rules even though it is neutral, they only allow to use both life and death, this makes it very likely to use second line monsters both magical and ranged leaving those with melee attack with "Sneak or "Opportunity" unused. Based on that I put together my lineup with the help of our friend.
Alineación / Alignment
THADDIUS BROOD (Invocador / Summoner)
CRUSED WINDEKU
LIFE SAPPER
VENARI BONESMITH
MAGI NECROSI
UNDEAD BADGER
"Thaddius Brood" es mi invocador seguro, por lo mencionado anteriormente, donde seguro nos encontraremos rivales con ataque mágico, y si lo disminuimos lo mayor posible estaremos mejor posicionados en la batalla.
De tanque coloco a "Crused Windeku" para que mientras logra hacer daño, aprovecha su habilidad espinas con el primer monstruo de enemigo, que seguro tiene ataque cuerpo a cuerpo.
De segundo "Life Sapper" para aprovechar la habilidad vampirismo mientras el tanque siga en pie.
Al igual que la posición anterior "Venari Bonesmith" seguirá aumentando su vida con el vampirismo mientras que llega a 1era posición.
Luego la carta del reto, que bien estará cuidando a sus compañeros mientras esta oculto con la habilidad camuflaje, mientras que con el vampirismo de sus primeras 2 posiciones, hace que dure mucho más tiempo en llegar a 1era posición donde puede empezar a recibir daño.
Por ultimo una carta muy económica pero útil, "Undead Badger" que con su habilidad de escabullirse me permite hacer daño desde atrás por si el Snipe de "Magi Necrosi" no es suficiente.
"Thaddius Brood" is my safe summoner, as mentioned above, where we will surely find opponents with magic attack, and if we decrease it as much as possible we will be better positioned in the battle.
As a tank I place "Crused Windeku" so that while he can do damage, he can take advantage of his thorns ability with the first enemy monster, which surely has melee attack.
As a second "Life Sapper" to take advantage of the vampirism ability while the tank is still standing.
Like the previous position "Venari Bonesmith" will continue to increase its life with vampirism while it reaches 1st position.
Then the challenge card, which will be looking after his teammates while he is hidden with the camouflage ability, while with the vampirism of his first 2 positions, makes him last much longer to reach 1st position where he can start taking damage.
Finally a very cheap but useful card, "Undead Badger" that with its ability to sneak allows me to do damage from behind in case the Snipe of "Magi Necrosi" is not enough.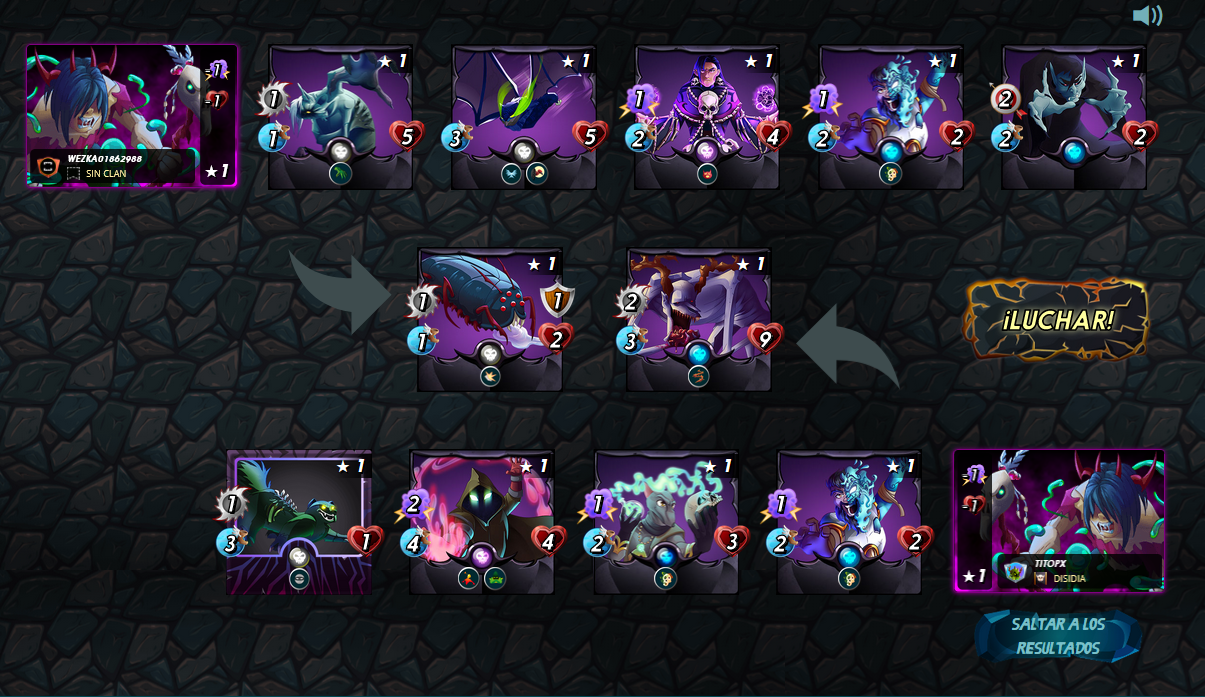 Capture de pantalla propio / Own screenshot

Desde el principio veo que nuestro amigo toma una decisión extraña al no colocar a un monstruos con suficiente vida como tanque y en lugar de eso uno que es muy vulnerable al poder mágico, es por ello que a pesar de que utilice el invocador que reduce mi ataque mágico y deja a "Magi Necrosi" con solo 1 de poder de ataque, logro sin mayores problemas eliminar a su tanque y también a una de sus últimas cartas de apoyo en apenas la primera ronda.
From the beginning I see that our friend makes a strange decision by not placing a monster with enough life as a tank and instead one that is very vulnerable to magic power, which is why even though I use the summoner that reduces my magic attack and leaves "Magi Necrosi" with only 1 attack power, I manage to eliminate his tank and also one of his last support cards in just the first round.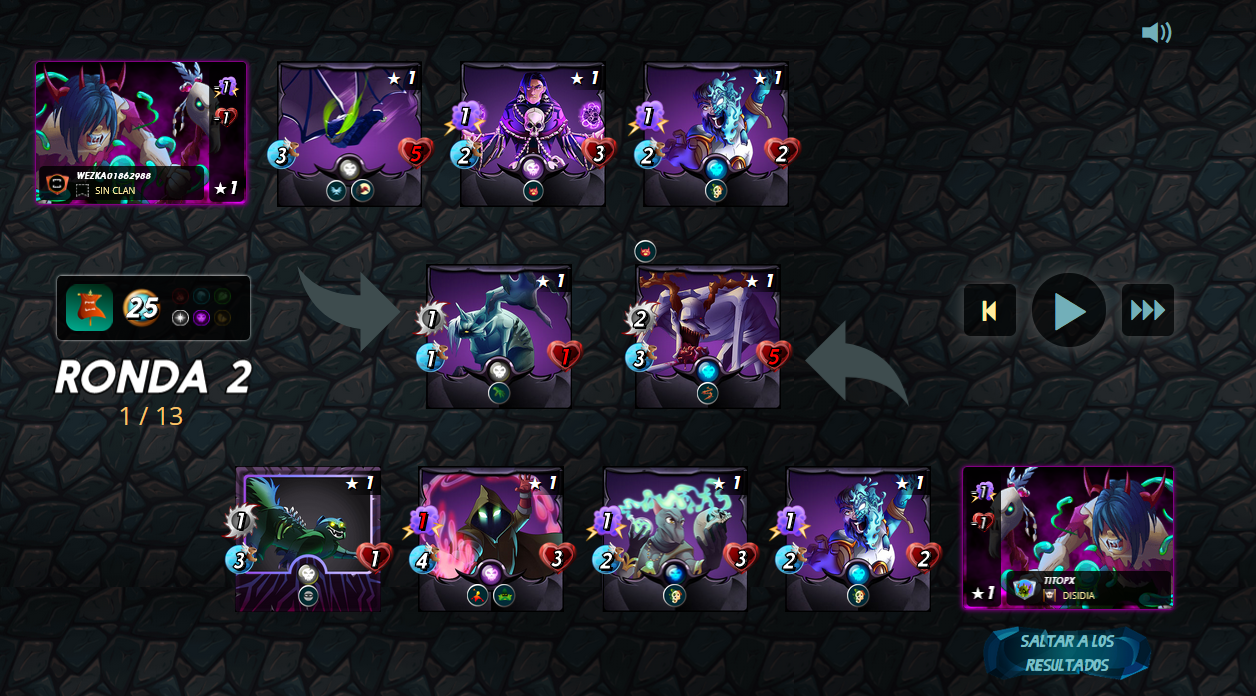 Capture de pantalla propio / Own screenshot

Para la ronda 2 con su segunda carta prácticamente muerta, le reduzco mucho la vida a su 3era, pero también le hago mucho daño a la que quedaba de ultima sin dejar que aproveche su vampirismo, esto deja casi toda la batalla balanceada hacia mí, ya que solo le quedan 2 cartas con ataque mientras que todos mis monstruos siguen en pie.
For round 2 with his second card practically dead, I reduce a lot of life to his 3rd card, but I also do a lot of damage to the last card without letting him take advantage of his vampirism, this leaves almost all the battle balanced towards me, since he only has 2 cards left with attack while all my monsters are still standing.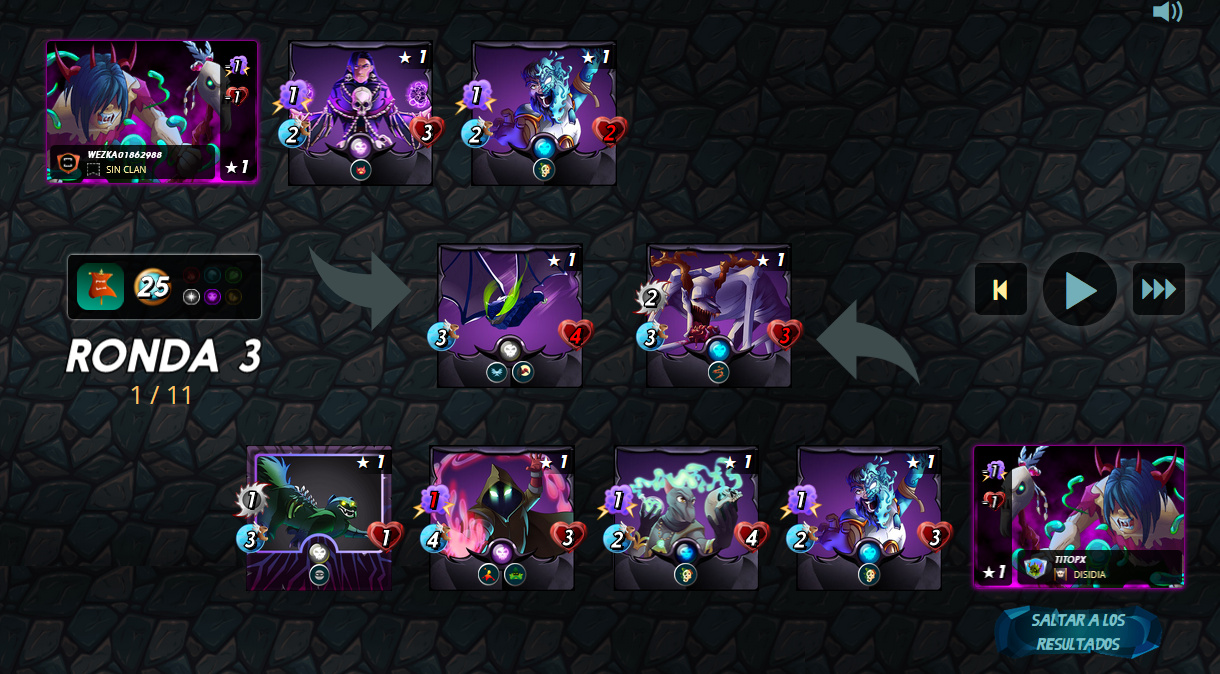 Capture de pantalla propio / Own screenshot

En la 3era ronda destruyo a su carta voladora que no tiene ataque para dejar sin protección a ninguna de sus 2 ultimas cartas de peligro, además de dejarlas tocadas a ambas, lo que significaría que sin que caiga ninguna de mis cartas derrotadas, obtengo la victoria fácilmente sin despeinarme en la 4ta y última ronda.
In the 3rd round I destroy his flying card that has no attack to leave none of his last 2 danger cards unprotected, in addition to leaving them both touched, which would mean that without any of my defeated cards falling, I get the victory easily without a mess in the 4th and last round.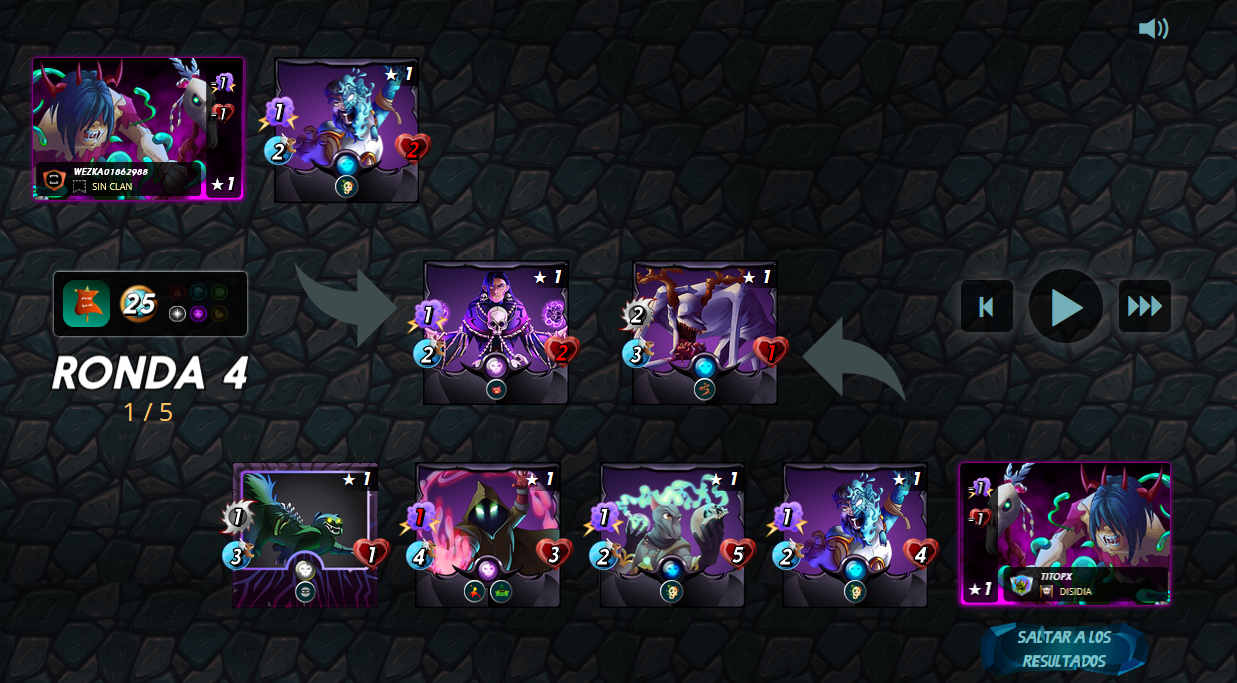 Capture de pantalla propio / Own screenshot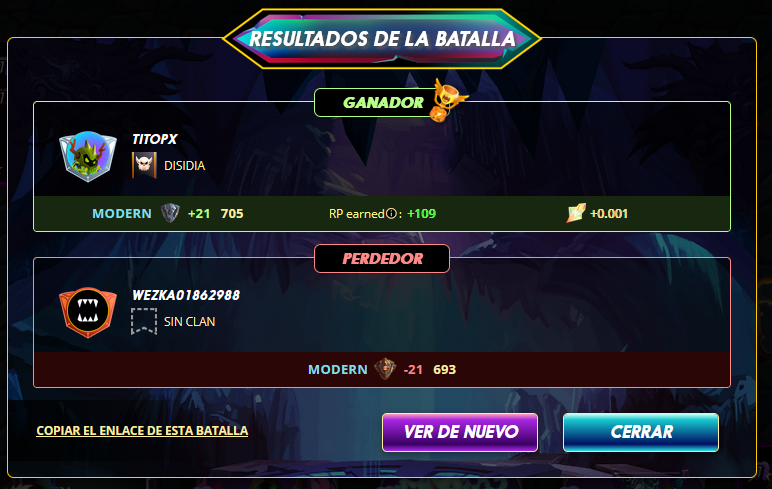 Capture de pantalla propio / Own screenshot
LINK DE LA BATALLA / LINK TO THE BATTLE

¿La estrategia funciono?
Es difícil decir que la estrategia no funciono si ninguna de tus cartas fue eliminada en toda la partida, mi estrategia de protección hacia la carta del reto funciono a la perfección, a pesar de que hubiera sido diferente si me enfrentaba a una carta tanque diferente a la que coloco mi rival de turno.
¿Qué intentarás diferente la próxima vez?
De haber sabido que mi rival colocaría esa alineación hubiera ahorrado mana en el tanque y reforzaría mas el ataque a distancia para prevenir una muy probable reducción de poder mágico, cosa que termino sucediendo.
¿Te gusta MAGI NECROSI?
Pienso que, por su costo de mana, es buena carta para apoyar en batallas de liga plata o más altas, donde la cantidad de mana por partida es mayor y con la habilidad de camuflaje puede ser bastante fastidiosa dentro de la partida, normalmente es el tipo de cartas que te vuelve loco cuando te enfrentas a ella.
Personalmente me gusta mucho, pero en el elemento vida hay que saber manejar muy bien tu mana, porque todo depende de la necesidad en la batalla para poder utilizarla o decantarte por otra opción.
Este es un reto que organiza Splinterland semanalmente, si quiere unirse aquí les dejo el LINK DEL RETO
Did the strategy work?
It is difficult to say that the strategy did not work if none of your cards were eliminated in the whole game, my strategy of protection towards the challenge card worked perfectly, even though it would have been different if I was facing a different tank card than the one placed by my turn opponent.
What will you try differently next time?
Had I known that my opponent would place that lineup I would have saved mana in the tank and reinforced the ranged attack more to prevent a very likely reduction of magic power, which ended up happening.
Do you like MAGI NECROSI?
I think that, for its mana cost, it is a good card to support in silver league battles or higher, where the amount of mana per game is higher and with the ability of camouflage can be quite annoying in the game, it is usually the kind of card that drives you crazy when you face it.
Personally I like it a lot, but in the life element you have to know how to manage your mana very well, because it all depends on the need in battle to use it or opt for another option.
This is a challenge that Splinterland organizes weekly, if you want to join here is the CHALLENGE LINK

Gran saludo a todos los jugadores de Splinterland.
Por aquí les dejo mi link de referido para los que aún no empiezan a jugar y les llama la atención el juego: https://splinterlands.com?ref=titopx
Todos los Captures fueron hechos desde la página de splinterlands.com y editados en Photoshop.
Great greetings to all Splinterland players.
Here is my referral link for those who have not yet started to play and are interested in the game: https://splinterlands.com?ref=titopx
All the Captures were made from the splinterlands.com website and edited in Photoshop.
---
---