[ESP-ENG] Social Media Challenge! - Martyr's resurrection
ESPAÑOL
Desde que la habilidad Martyr llego al juego me ha encantado en todos los sentidos, si bien puede ser tomada como una pequeña desventaja cuando se utiliza mal, por el hecho de no colocar en buena posición o también de no obtener un buen rendimiento antes de morir.
Esto último me parece que en pocas ocasiones se vuelve desventajoso si lo usas bien, imagínate lo que se me ocurrió esta misma semana que es utilizar también la habilidad "Revivir" para invocar a un poderoso monstruo en la batalla.
Si bien debemos elegir muy correctamente que monstruo tiene las condiciones perfectas para recibir un doble martyr, yo quise probar con 2 específicamente.
ENGLISH
Since the Martyr skill came to the game I have loved it in every way, although it can be taken as a small disadvantage when it is used wrongly, by the fact of not placing in a good position or not getting a good performance before dying.
The latter seems to me that in few occasions it becomes disadvantageous if you use it well, imagine what occurred to me just this week which is to also use the ability "Revive" to summon a powerful monster in battle.
While we must choose very correctly which monster has the perfect conditions to receive a double martyr, I wanted to try with 2 specifically.

- 1 - Quora Towershead (Spirit Druid Grog + Fungus Flinger)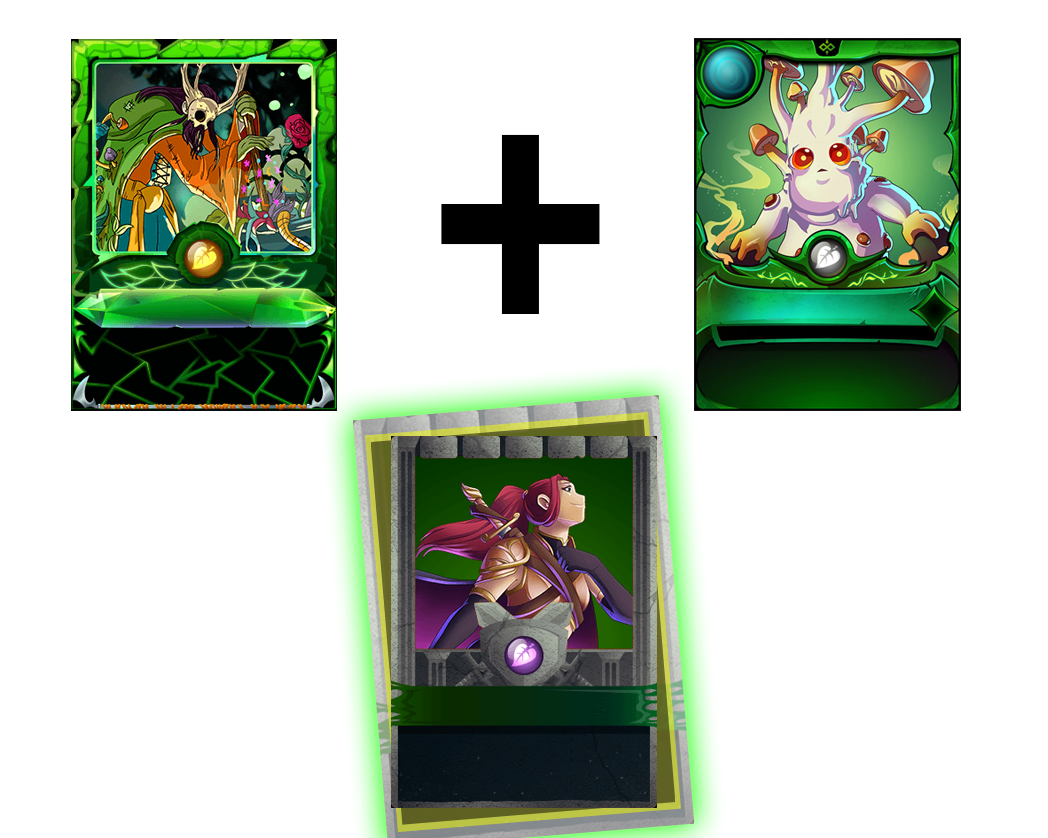 own design
Quora es una carta muy poderosa que ya su presencia puede ser bastante dominante y aterradora dentro de la batalla de ranking, y si bien sabemos que con la habilidad sed de Sangre puede aumentar sus características a unos niveles increíbles, lo más complicado de hacer es siempre esa primera muerte con la que empieza el aumento de habilidades, y con esta estrategia podemos empezar a subirlas desde el principio.
Como ejemplo les dejo esta batalla donde desde el inicio tomé ventaja y obtuve la victoria fácilmente:
Quora is a very powerful card that its presence can be quite dominant and terrifying in the ranking battle, and while we know that with the Bloodlust ability can increase its characteristics to incredible levels, the most complicated thing to do is always that first death with which the increase of skills begins, and with this strategy we can start to raise them from the beginning.
As an example I leave you this battle where from the beginning I took advantage and got the victory easily: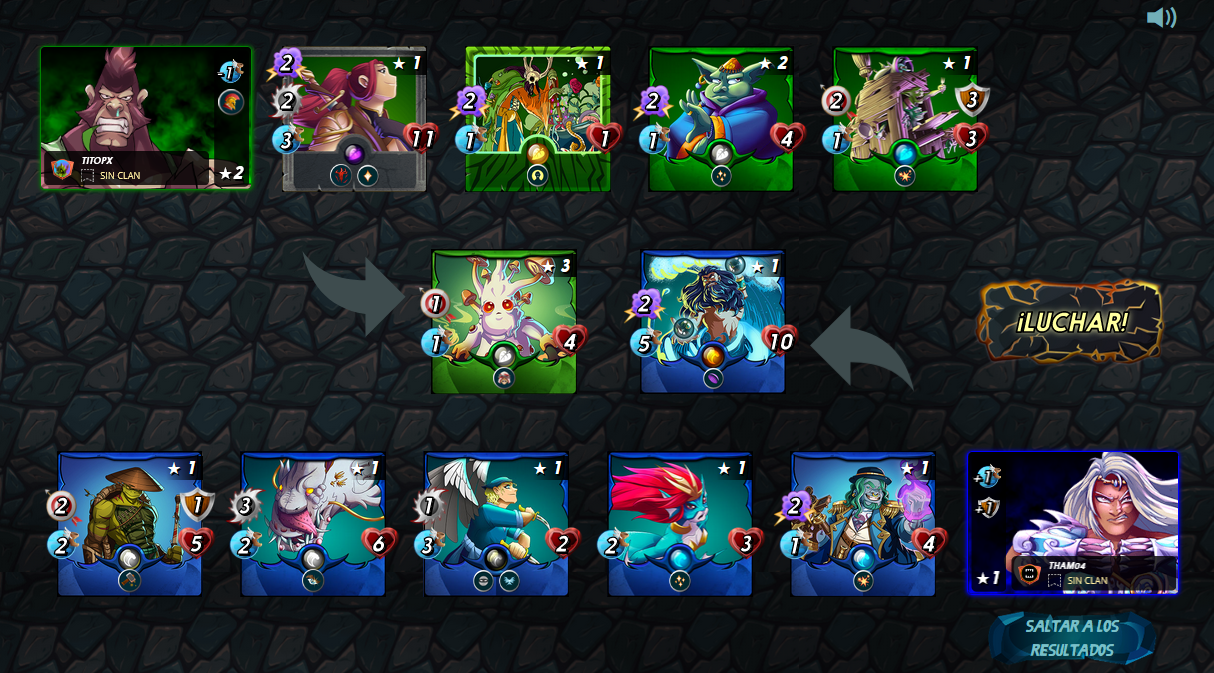 Capture de pantalla propio / Own screenshot
LINK DE LA BATALLA / LINK TO THE BATTLE

- 2 - Phantom of the Abyss (River Hellondale + Venari Marksrat)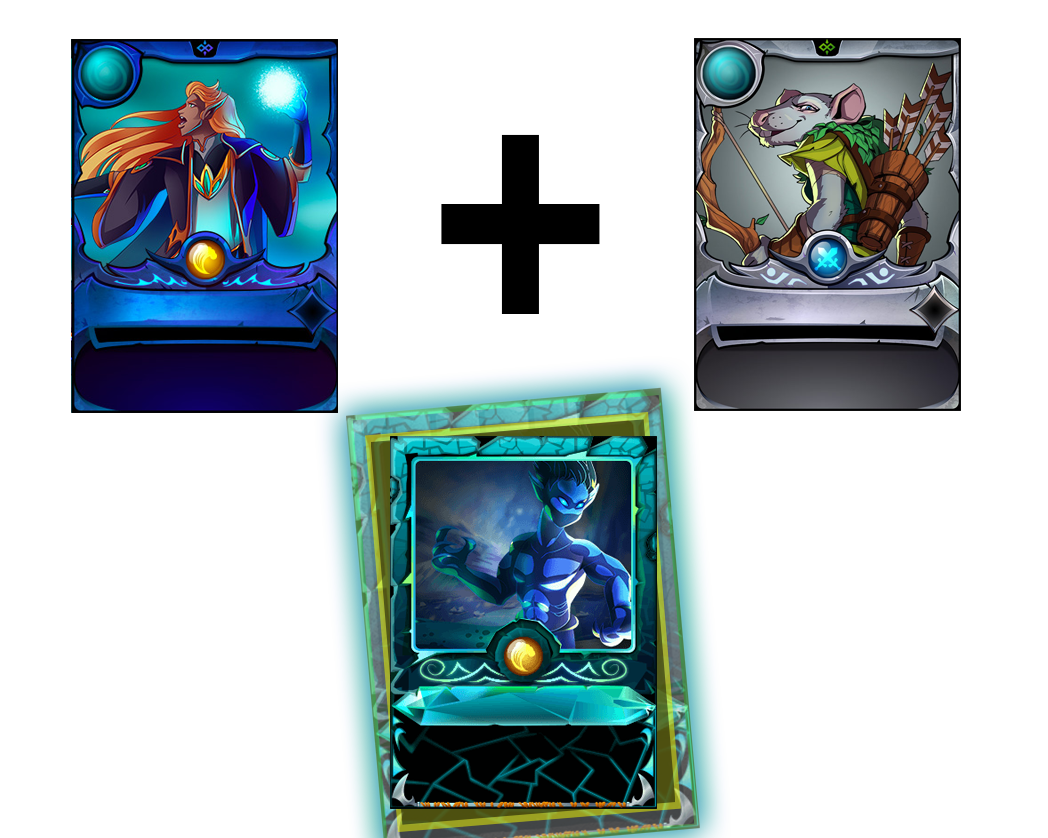 own design
Otro monstruo muy temible y poderoso por sí solo que podía aprovechar muy bien la habilidad del doble Martyr era Phantom Of The Abyss sabiendo que tiene una gran velocidad podemos aumentarla aun mas para hacerlo prácticamente intocable ante los demás rivales, causando muchos esquives de batalla dentro de la ronda.
En esta batalla demuestro de que hablo con una velocidad casi de 10:
Another very fearsome and powerful monster by itself that could take advantage of the ability of the double Martyr was Phantom Of The Abyss knowing that it has a great speed we can increase it even more to make it virtually untouchable to other opponents, causing many battle dodges within the round.
In this battle I show what I'm talking about with a speed of almost 10: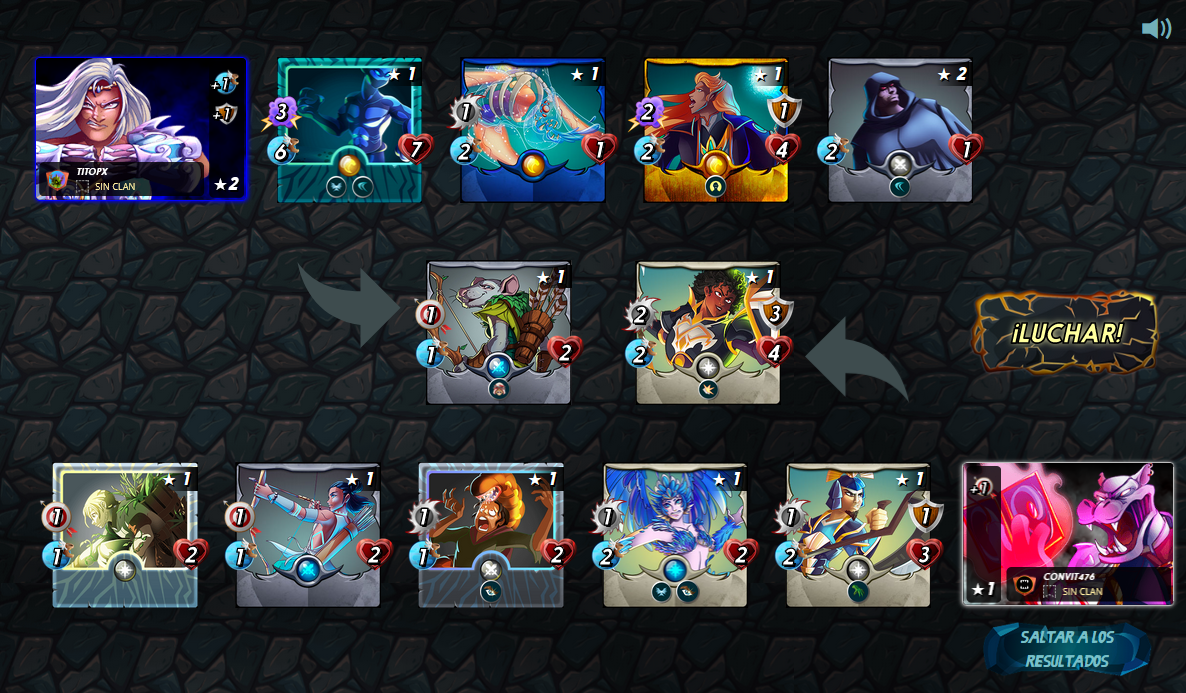 Capture de pantalla propio / Own screenshot
LINK DE LA BATALLA / LINK TO THE BATTLE

Comentarios Finales:
Son muchas las combinaciones que se pueden hacer con esta estrategia, puede parecer que no hay tantas pero si se logra identificar podemos formar buenas alineaciones que nos ayuden en ciertas batallas que pueden complicarse, sin embargo parece ser una estrategia tomada solo en Bronce y Plata.
Incluso puedes utilizarlo con invocadores como Chanseus The Great del elemento vida, o también con la regla de batalla "Born Again" que prácticamente es la misma función de una carta que ya te ahorrarías para darle mayor ventaja con otras cartas de apoyo.
Tómense un tiempo para pensar ¿En qué usaría esta estrategia? Y ¿Qué carta merecería un doble Martyr? Cuando te respondas a ti mismo solo quedara armar tu propia alineación casi invencible.
Final Comments:
There are many combinations that can be made with this strategy, it may seem that there are not so many but if you can identify them we can form good alignments that help us in certain battles that can be complicated, however it seems to be a strategy taken only in Bronze and Silver.
You can even use it with summoners like Chanseus The Great of the life element, or also with the battle rule "Born Again" which is practically the same function of a card that you would save to give it more advantage with other support cards.
Take some time to think about what you would use this strategy for? And what card would merit a double Martyr? When you answer yourself, all that's left is to put together your own near-invincible lineup.

Gran saludo a todos los jugadores de Splinterland.
Por aquí les dejo mi link de referido para los que aún no empiezan a jugar y les llama la atención el juego: https://splinterlands.com?ref=titopx
Todos los Captures fueron hechos desde la página de splinterlands.com y editados en Photoshop.
Great greetings to all Splinterland players.
Here is my referral link for those who have not yet started to play and are interested in the game: https://splinterlands.com?ref=titopx
All the Captures were made from the splinterlands.com website and edited in Photoshop.
---
---