HIVE MUSIC FESTIVAL WEEK 30,ROUND 3- STAY WITH ME BY SAM SMITH COVER BY @tobbysax.

---
Whats up beautiful people...
How are we all doing??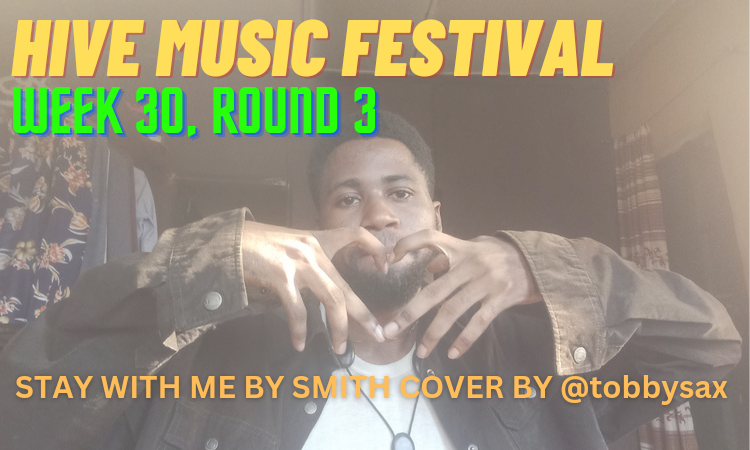 This is another wonderful week of the HIVE MUSIC FESTIVAL, week 30 , round 3 and i am most delighted to be a part of this prestigious community and its events. It feels great to finally be back after a while .
Before I proceed ,I would love to appreciate everyone who had taken out of their precious time to wish and gift me on my birthday....it really meant alot to me and I do not take this generous act for granted. I was amazed by the massive love I got from this big family of mine on the hive platform generally and that really did make me feel special. Thank you all once again.
Today, I'm going to be presenting a popularly known song titled "stay with me by the phenomenal English musician and singer , Sam Smith. He is a British soul singer with a mellifluous voice who was noted for lyrics that subverted the notions of romantic love that defined popular soul music. This song has deeper interpretations based on how well one can relate to the his situation that he clearly depicted in his lyrics.
His controversial state couldn't make him aware if he was in love or just needed someone by his side( from my simple view of it's lyrics).
I would be playing a cover with my saxophone. Conclusively, I would love to put out this "very simple" ,yet tasking challenge to all my other saxophonist friends 🎷. If you observed, you'd realise that I maintained the lower octave (note) althrough the song with might seem simple but requires more breath and momentum .
Try playing on the lower octave althrough a particular song and maintain the songs melody....it helps to build our breath and durability when sustaining our notes.
This is a tip that has helped my breath building and control and I thought to share with you all. I hope you (saxophonists) pick up this challenge and that you find this helpful.
I hope you enjoy my entry for this week and that you have a great time doing so.
THANKS FOR STOPPING BY!!!
ESPANOL 🇪🇸🇪🇸
Que tal gente linda...
como estamos todos??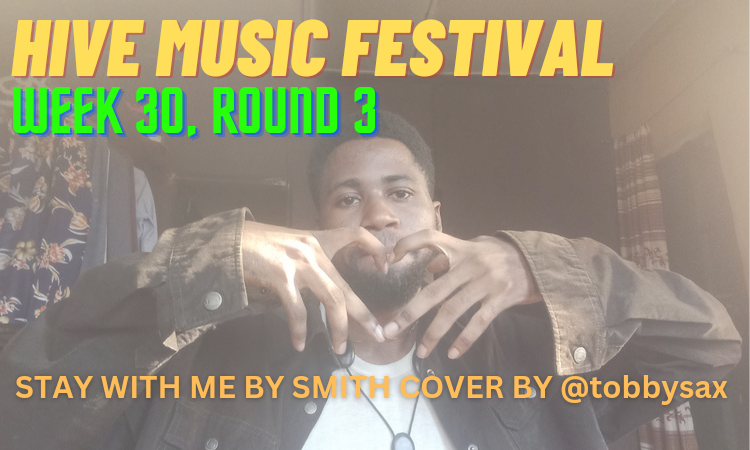 Esta es otra maravillosa semana del HIVE MUSIC FESTIVAL, la semana 30, ronda 3 y estoy encantado de ser parte de esta prestigiosa comunidad y sus eventos. Se siente genial finalmente estar de vuelta después de un tiempo.
Antes de continuar, me encantaría agradecer a todos los que dedicaron su precioso tiempo a desearme y regalarme en mi cumpleaños... realmente significó mucho para mí y no doy por sentado este generoso acto. Me sorprendió el enorme amor que recibí de esta gran familia mía en la plataforma de la colmena en general y eso realmente me hizo sentir especial. Gracias a todos de nuevo.
Hoy voy a presentar una canción popularmente conocida titulada "Stay with me" del fenomenal músico y cantante inglés Sam Smith. Es un cantante de soul británico con una voz meliflua que se destacó por letras que subvirtieron las nociones de romanticismo. amor que definió la música soul popular. Esta canción tiene interpretaciones más profundas basadas en qué tan bien uno puede relacionarse con su situación que claramente describió en sus letras.
Su estado controvertido no podía hacerle saber si estaba enamorado o simplemente necesitaba a alguien a su lado (desde mi simple vista de la letra).
Estaría tocando una versión con mi saxofón. En conclusión, me encantaría lanzar este desafío "muy simple" pero exigente para todos mis otros amigos saxofonistas 🎷. Si observas, te darás cuenta de que mantuve la octava más baja (nota) a lo largo de la canción que puede parecer simple pero requiere más aliento e impulso.
Intente tocar en la octava más baja a lo largo de una canción en particular y mantenga la melodía de la canción... ayuda a desarrollar nuestra respiración y durabilidad al sostener nuestras notas.
Este es un consejo que me ha ayudado a desarrollar y controlar mi respiración y pensé en compartirlo con todos ustedes. Espero que ustedes (saxofonistas) acepten este desafío y que lo encuentren útil.
Espero que disfrutéis de mi entrada de esta semana y que os lo paséis muy bien haciéndola.
¡¡¡GRACIAS POR PASAR!!!
---
▶️ 3Speak
---
---