Crypto Analysis | BTC Break Out to 35k?
Good day Hiveians!
Join me in analyzing the crypto markets!
The best advice for TA is that you go with the chart and don't stick to your ideas! With that said, the BTC chart is currently defying the expectations of the majority it would seem as many called for a correction down to perhaps 21k (myself included) before seeing a continued rise. For me this had to do with the "BTC-Moon" connection which suggested a decline for the 12th of August. As esoteric as that may sound I have shown that it has at least in the last year been a very reliable indicator. For the last cycle from July 28th to yesterday BTC very narrowly missed its target of 24 206 (being just a couple of $$$ above that close). Yet I'll still classify that as a miss: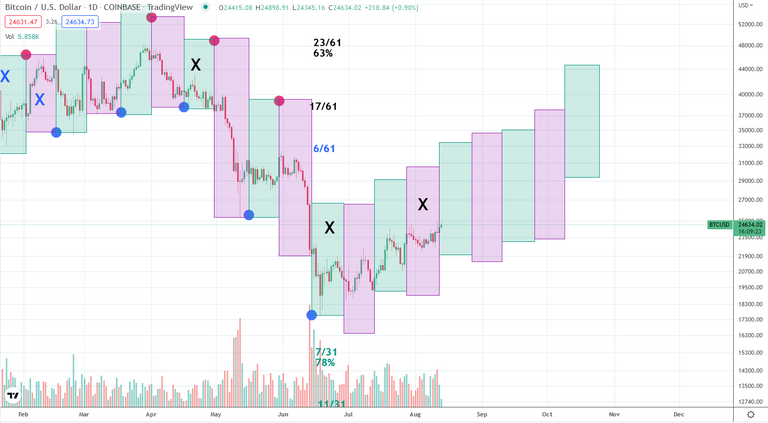 There is still a chance that we could see the expected correction in 1-2 days as it sometimes takes 1-3 days for the move to happen.
Drawing the usual trend lines we get this picture: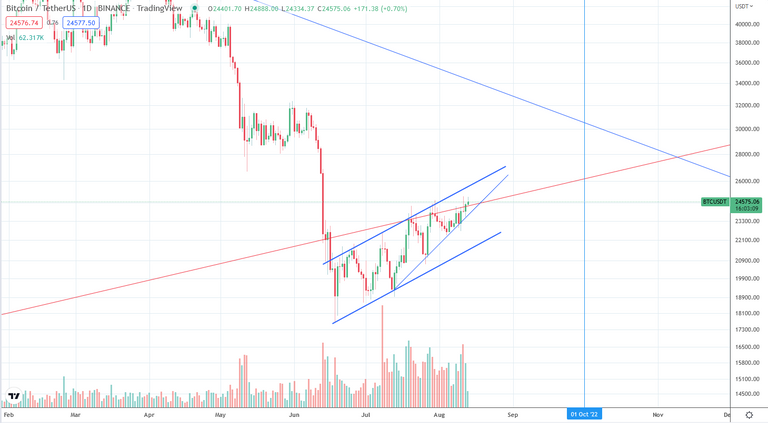 In other words, there is a parallel ascending channel in which price is currently moving. There is also a finer trend line that has been established which shows price moving in a wedge. There is obviously more room to the downside currently as shown here: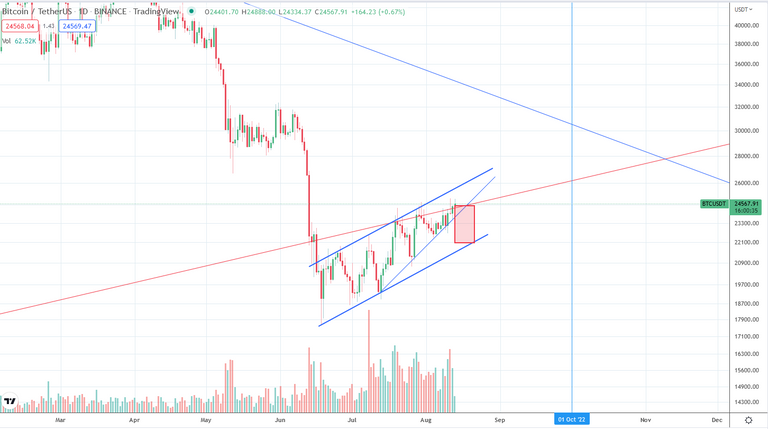 The safe bet would be to wait and see if price goes back to the 21-22k area. But this is only so looking at this chart with this scale. If we "zoom out" we see that there is another picture. First the weekly chart: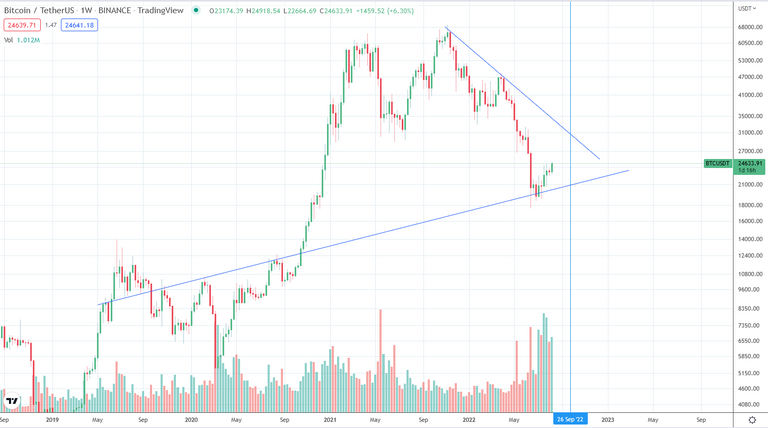 Here we see that there is a resistance trend line coming from the previous highs as well as a supporting trend line from past price movement. It would seem to me that price is now reaching for that resistance trend line and wants to push higher to about 35k. The support is not so clear/strong in this chart, but this changes when we look at the monthly chart: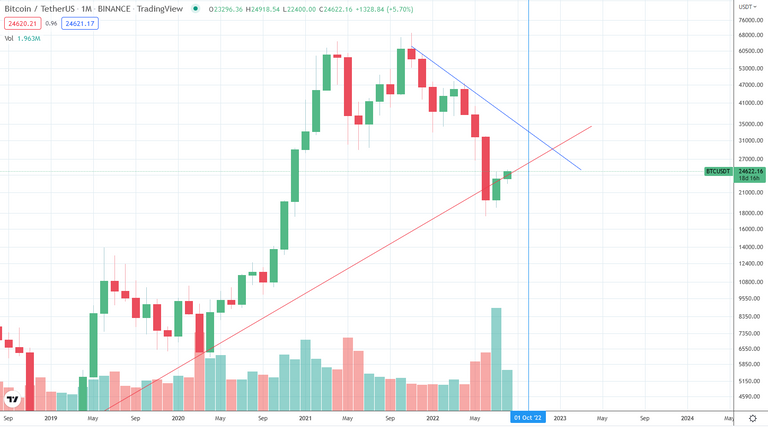 Here we see the orange trend line forming a support from the lows. This is a strong support and is the reason why price has not gone under it. Currently price is still above it which suggests that it will likely hold (it would also be the second green monthly candle). The resistance trend line to the top is shifted a bit to the upside on this scale. Hence, the 35k target.
At the end of the day, it all depends on the scale you are looking at. We might briefly revisit the 21-22k area before heading higher. If you look at the bigger picture these smaller price movements become less important. So far it seems we are on track to higher highs again. But be careful - as I think the bear market is not over yet and we could likely revisit 17k after hitting 35k.
---
As a general reminder: Please keep in mind that none of this is official investment advice! Crypto trading entails a great deal of risk; never spend money that you can't afford to lose!

⛅🌦🌧🌦🌧🌨☁🌩🌦⛅🌧☁🌤🌥🌪🌧🌨🌩⛅🌦☁🌤🌥🌤⛅🌤⛅🌦⛅

⛅🌦🌧🌦🌧🌨☁🌩🌦⛅🌧☁🌤🌥🌪🌧🌨🌩⛅🌦☁🌤🌥🌤⛅🌤⛅🌦⛅

---
---