Crypto Analysis | Let's have a Look at Hive Pump & Dumps
Good day Hiveians!
Join me in analyzing the crypto markets!
But you might be surprised why price has just given all its gains again. In other words, why the dump after the pump?
This pump&dump scheme is very much imprinted in Hive's fractals. While it is common to see in all coins, Hive is special in this regard. It can pump in a red market by over 100% in a matter of hours. Not many coins do that. While I guess nobody can say for sure why this is happening for Hive (my guess would be a small group of people trying to profit from it), we have to live with it for now. If Hive gets more adoption and circulation, it should, however, also become somewhat more stable.
Let's have a look at past pump & dumps in Hive. The most telling signal in this is volume: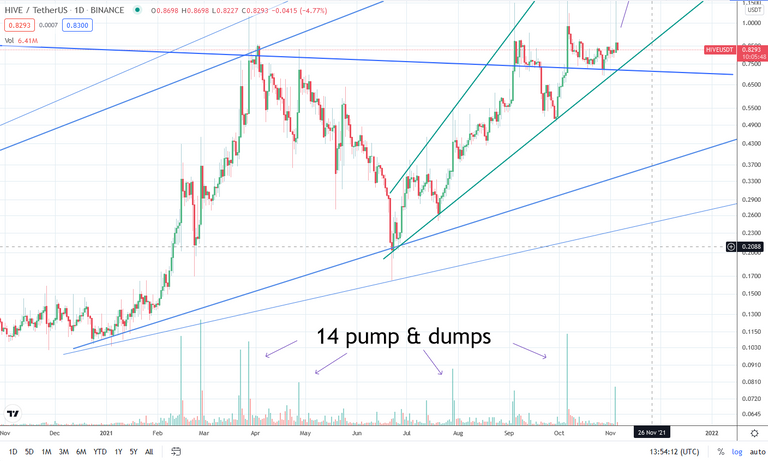 If you look closely, you can see that literally every single pump has been followed by a dump. But while this is so, have a look at the larger picture: price has gone from 10 cents to now 80 cents in just a matter of a year, so about 800%. Not too bad...
So far, Hive has been trading within an ascending channel for which we can very easily calculate an average price movement. The red thick trend line here is that average price increase. If we look at its slope we can see that there is an increase of about 30% for every 2 months, or to break it down: 15%/month. This is the average price increase for Hive over the last year! This makes clear, that one once again has to look at the larger picture: hodling Hive seems to be a really good long term investment currently.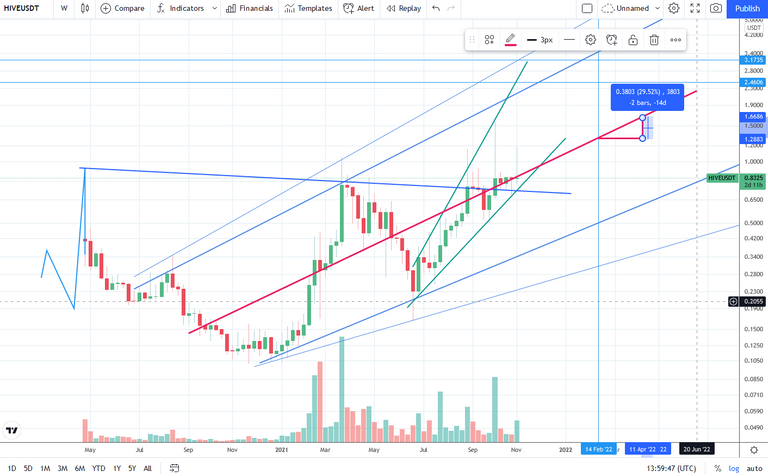 I am trying to buy and sell the larger, more predictable price swings. I think it could look something like this: There is a really good chance that we will see 2-3$ soon and I would expect a rather larger correction after that, perhaps to 1$. But you can always hodl as well, as the bull market top is probably still off for at least 4-6 months.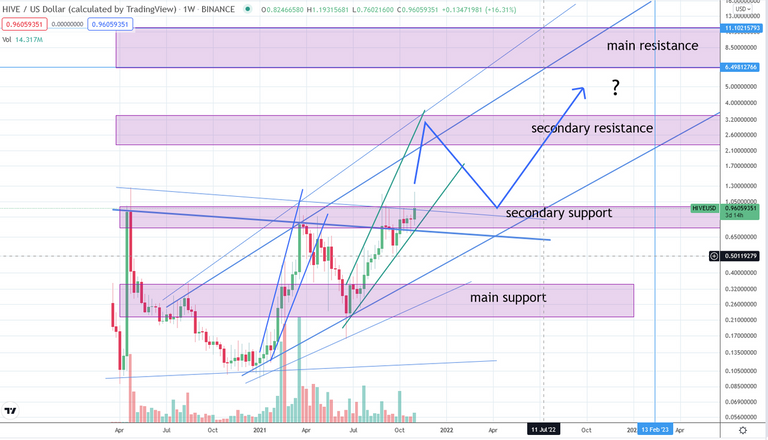 ---
As a general reminder: Please keep in mind that none of this is official investment advice! Crypto trading entails a great deal of risk; never spend money that you can't afford to lose!

⛅🌦🌧🌦🌧🌨☁🌩🌦⛅🌧☁🌤🌥🌪🌧🌨🌩⛅🌦☁🌤🌥🌤⛅🌤⛅🌦⛅

⛅🌦🌧🌦🌧🌨☁🌩🌦⛅🌧☁🌤🌥🌪🌧🌨🌩⛅🌦☁🌤🌥🌤⛅🌤⛅🌦⛅

---
---