Crypto Analysis | The Ultimate Bear Scenario For Hive
Good day Hiveians!
Join me in analyzing the crypto markets!
The markets have been red for many weeks
So are we in a bear market? As laid out in my previous post I think there is still a chance for one more push upwards. But it is also clear that Bitcoin will with almost absolute certainty revisit the ~22k area if we are to believe this chart. So the question is rather at what scale are you looking at the market? On the daily chart there is a chance for another push upwards, but on the monthly chart we have basically already entered the bear market. But as already mentioned this means that we are already at least half way through the bear market! Touching the orange line in the chart would mark the conclusion of the bear market and the start of another bull market. But keep in mind that the market swings are getting less extreme, so we won't have any 100x rallies anymore (at least for Bitcoin).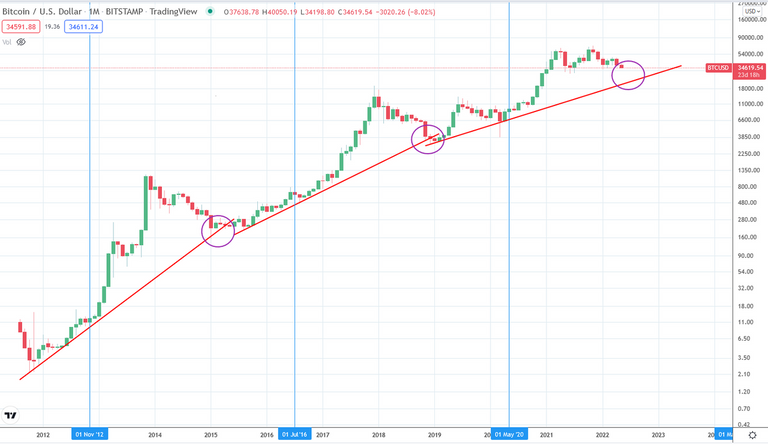 So in the worst case scenario, what could happen with Hive?
In the last post "50 cents and a bullish reversal" I basically argued that we would see a drop to ~50 cents and then the start of a next rally. With the price now down to 68 cents it's not long before we reach that target. You can see both scenarios here with the purple one still seeing a continuation of the long term upward movement (which means that we would remain in the ascending channel). But there is no guarantee that this will happen. For this reason we also have to look at the worst case scenario.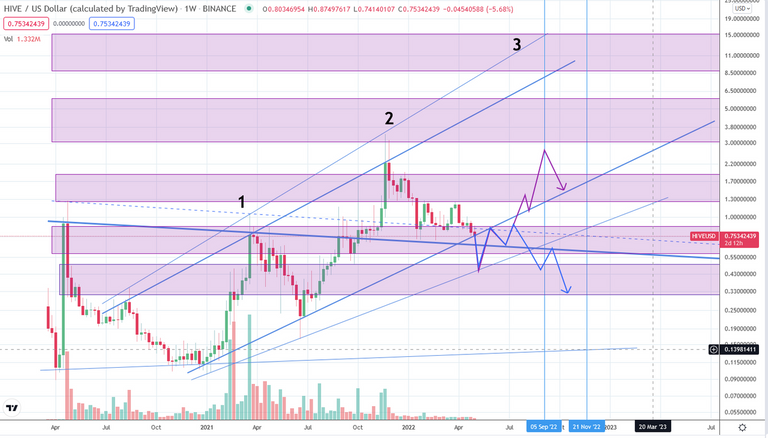 And that scenario does look pretty bleak! But before we go there, there is another one which is in the middle. With the channel on the weekly chart now broken (chart above) we have to rethink our scenarios. If we look at the macro monthly chart a somewhat different picture emerges. We still have an ascending channel, but the support is much lower than in the weekly chart (which was about 75 cents). Rather it is at around 45 cents.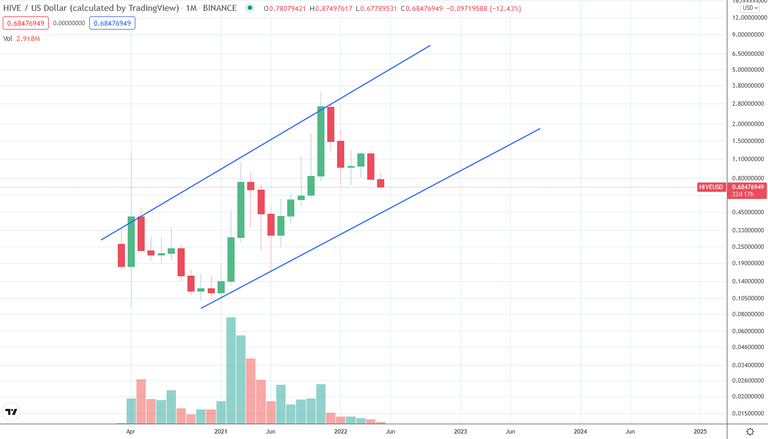 On the weekly chart we get a more detailed picture. Here we see the top resistance trend lines with a less steep slope. But the support lines are more unclear. We can draw them so they connect with the candle bars and the one wick to 16 cents, or by connecting only the wicks. We then get one support line which converges with the before mentioned 45 cents support (for the current time). But the other one goes even lower to about 31 cents (for the current time). But we can also draw the before mentioned horizontal division with the trend line in the middle which still acts as a support. The problem is that it has now been tested several times which should make it in theory weaker. Heading to 45-50 cents therefore seems quite plausible.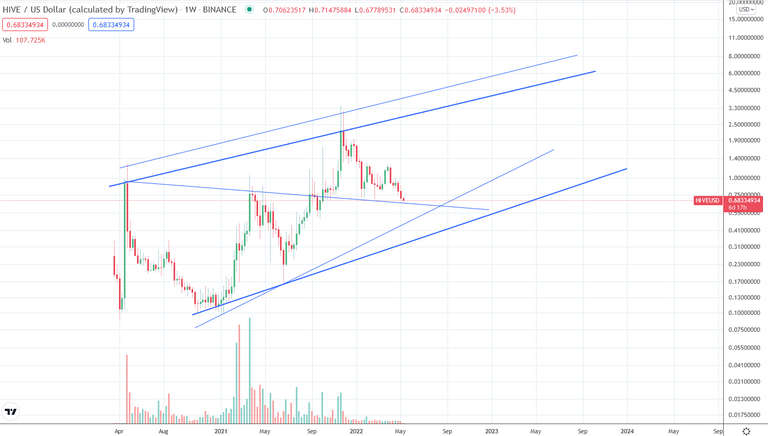 If we remain in this new channel we could see something like this. The higher support line looks very weak actually and I don't think this will be very likely (purple scenario). It almost seems more reasonable that Hive would drop to ~35 cents (blue scenario), but could it then regain higher highs or drop even further (green scenario)?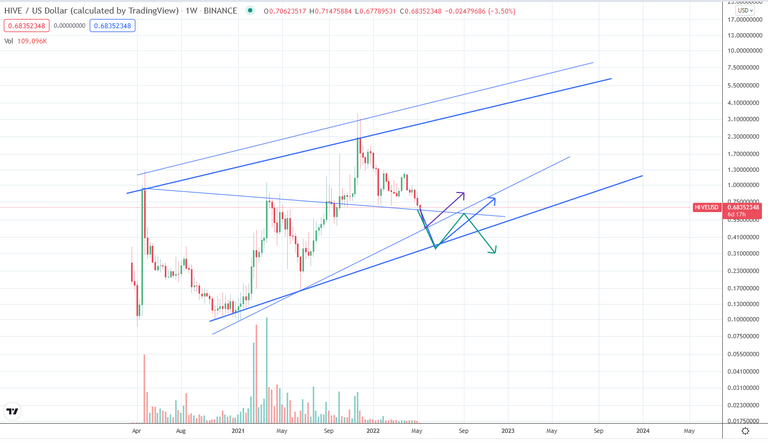 But what would happen if we would actually enter this green scenario? How far could Hive drop?
Well, the answer is pretty bad. We could revisit the dreaded 15 cents price range. This would constitute a 95% drop from the ATH... pretty bleak! This would be the ultimate bear scenario and we'd probably reach that price range in about half a year.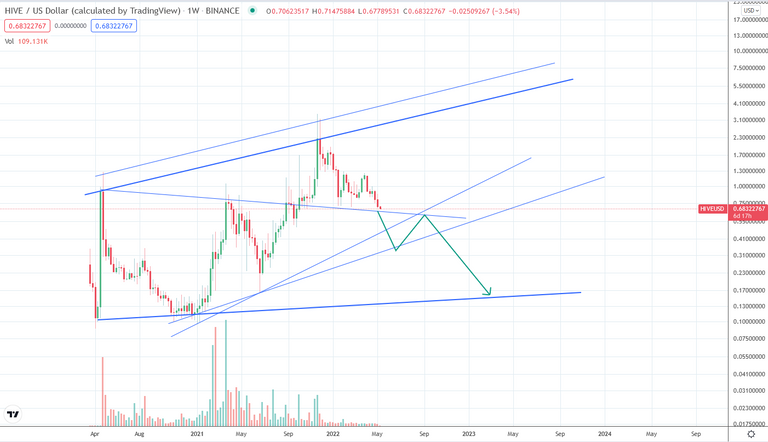 Conclusion
I wish I had better news, but we'd need a news event (Hive mentioned in the mainstream, breakthrough achievement etc.) for Hive to hold current levels (the horizontal line). It seems more likely that we will see a further drop to 45-50 cents and perhaps even 35 cents. However, the worst case scenario (15 cents) does not necessarily have to follow such a drop. We could stay in the new ascending channel.
Bear markets are not all bad though. It's the time when you can accumulate the coins that you really believe in. And for Hive I am still hopeful that we will have a bright future. There is so much still in the pipeline coming soon with HF 26 just right around the corner and Ragnarok and PsyberX launching soon. Will you stay committed?
---
As a general reminder: Please keep in mind that none of this is official investment advice! Crypto trading entails a great deal of risk; never spend money that you can't afford to lose!

⛅🌦🌧🌦🌧🌨☁🌩🌦⛅🌧☁🌤🌥🌪🌧🌨🌩⛅🌦☁🌤🌥🌤⛅🌤⛅🌦⛅

⛅🌦🌧🌦🌧🌨☁🌩🌦⛅🌧☁🌤🌥🌪🌧🌨🌩⛅🌦☁🌤🌥🌤⛅🌤⛅🌦⛅

---
---