Crypto Analysis | What's Up With ETH?
Good day Hiveians!
Join me in analyzing the crypto markets!
It's been a really long time since we looked at ETH
In the last post I gave somewhat of an outlook which I want to review again. The idea of course is to look at the last bull cycle and see what we can learn from it. The first chart is the peak of the cycle in 2017/8: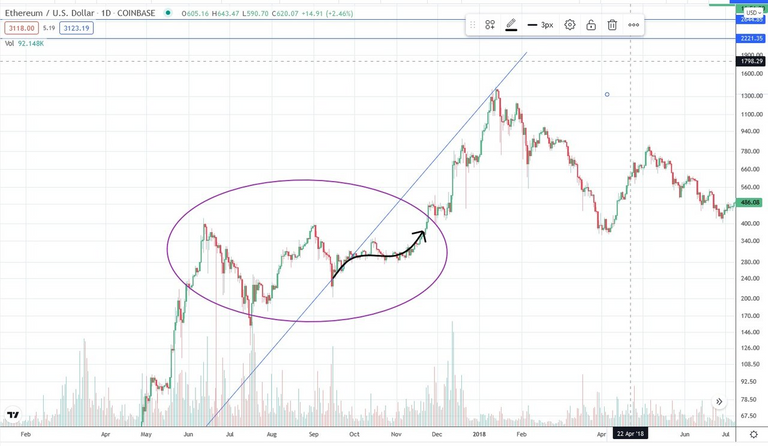 This second chart was the outlook I gave back in September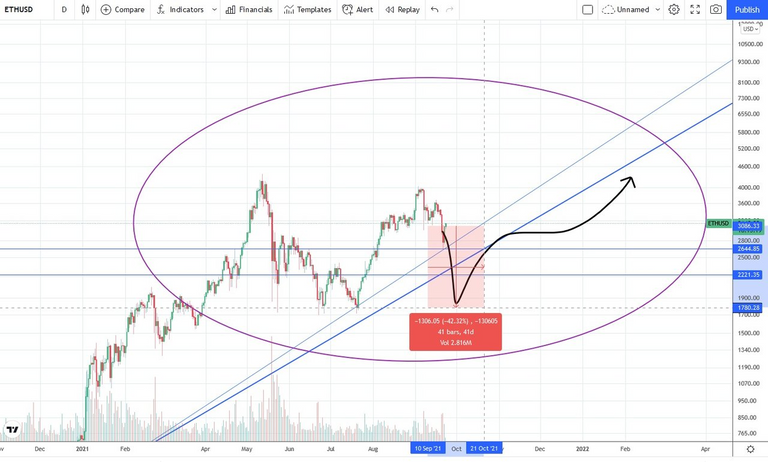 Roughly speaking, we should expect a crescendo to the top in the next ~3-6 months, similarly to what you can see in the first chart. However, the peak will not be quite as steep; the blue trend line for the peak is much less inclined as you can see in the second chart.
Now let's look at a current chart; it's for the weekly chart and shows both bull markets: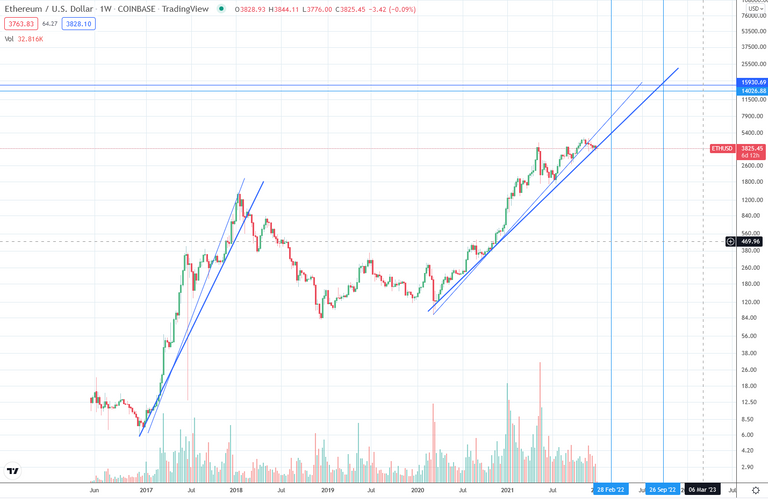 If you look at the end of the chart movement and compare it with the outlook I gave you can see some similarities. We had a correction and a continuation of the upside. But with one major difference: ETH stayed above the thick blue trend line whereas I thought we would dive under it.
The similarities to 2017/8 are very strong and if we are to continue on this track I would expect a gradual (although with 20-40% corrections) increase to about summer 2022. This just so happens to be when I think the whole crypto market will peak. You can see this date range in the two vertical lines on the right side of the chart. The expected range for that time would be about $13-15k which also corresponds with the fib retracement of former market movements.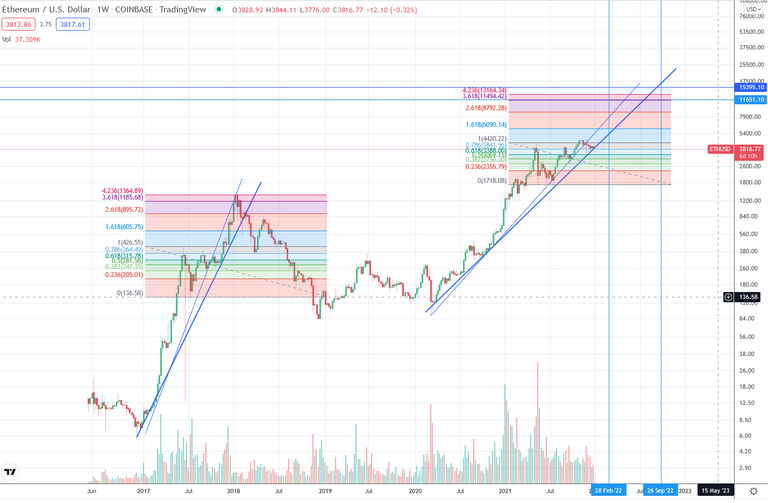 The fib retracement exactly called the 2017/8 peak and I think it should hold good predictive power for 2022.
---
As a general reminder: Please keep in mind that none of this is official investment advice! Crypto trading entails a great deal of risk; never spend money that you can't afford to lose!

⛅🌦🌧🌦🌧🌨☁🌩🌦⛅🌧☁🌤🌥🌪🌧🌨🌩⛅🌦☁🌤🌥🌤⛅🌤⛅🌦⛅

⛅🌦🌧🌦🌧🌨☁🌩🌦⛅🌧☁🌤🌥🌪🌧🌨🌩⛅🌦☁🌤🌥🌤⛅🌤⛅🌦⛅

---
---