Crypto Analysis | What's Up With XRP?
Good day Hiveians!
Join me in analyzing the crypto markets!
Ripple (XRP) has been often in the news lately
The most obvious reason is the lawsuit against the SEC which has proven to be a very long legal battle. Many have stated the obvious therein: should Ripple win, it would surely send the coin to the moon (probably an easy 10x). And then there is Coinbase which just days ago decided to delist XRP which is still in the top 10 in terms of market cap. I think the motivation for doing so is somewhat unclear. The coin itself is also heavily premined which raises questions about how decentralized the network can become; although it is clear that the coin has an active community behind it. But it seems that it mostly consists of "moonboys".
TA
The fractal for XRP is quite distinct and the pattern over the last years seem to show a larger pattern as well. But first the raw chart: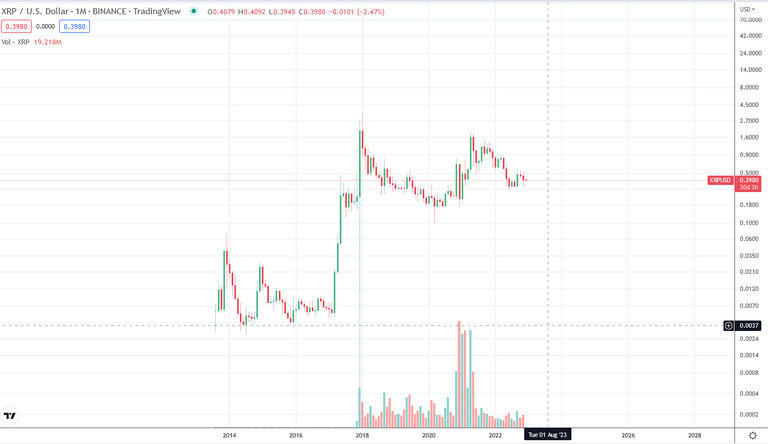 The price itself has seen some crazy swings: from sub 1 cent to over $3. That is a 100,000%+ increase!
When I look at the chart, I see a pattern which seems to be a repeating fractal. There are several scales of course, but on the macro one, this seems to be the most obvious one: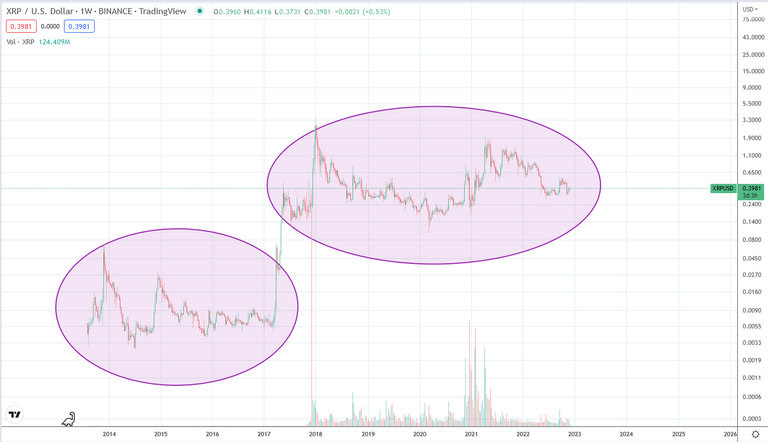 The biggest difference seems to be that the second and more recent one is more extended. But both have the two distinct peaks. Also, the second peak for the more recent one is higher than for the first fractal. This means that the top and bottom trend lines converge differently: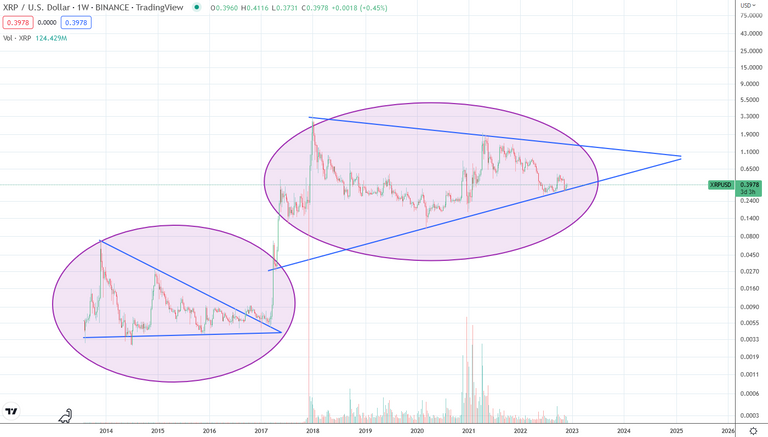 If the patterns repeats, then it seems that price will first continue to run in this triangle a bit longer: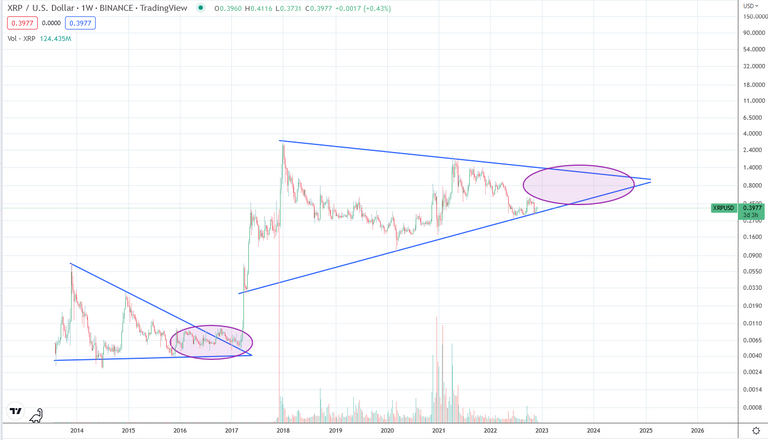 I guess the obvious question is whether price could once again breakout like it did in 2017 when it went to $3+. We could then expect price to continue sideways for several years, before it could potentially jump upwards.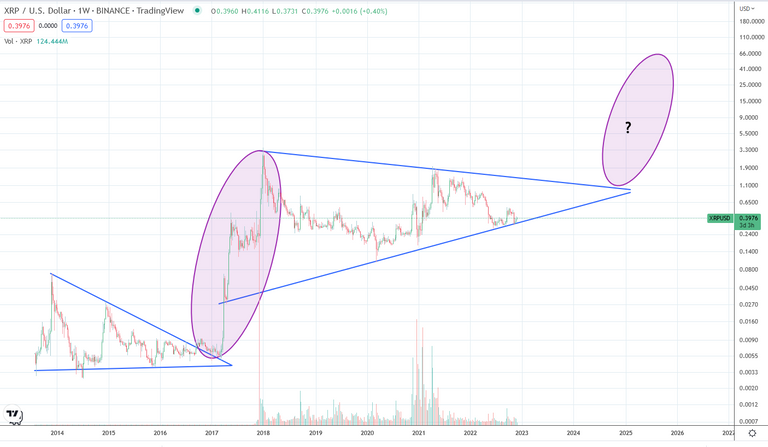 Interestingly, as mentioned in my previous posts, the next expected bull cycle top will be at the end of 2025 which very nicely fits into this chart. Using the fib retracement tool, we can see that the top could be between $20-$120 (which is a big range):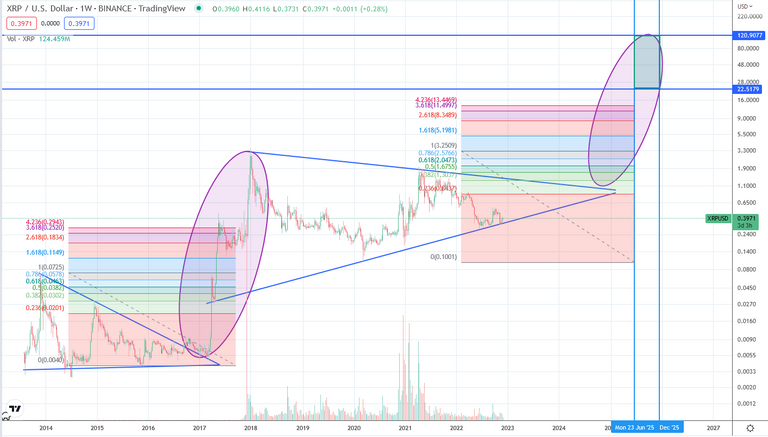 This is an average price potential of about 15,000% or a 150x. This projection is obviously dependent on a lot of factors which are impossible to predict. However, it does give an idea oh where price could potentially be heading for the next bull cycle top.
---
As a general reminder: Please keep in mind that none of this is official investment advice! Crypto trading entails a great deal of risk; never spend money that you can't afford to lose!

⛅🌦🌧🌦🌧🌨☁🌩🌦⛅🌧☁🌤🌥🌪🌧🌨🌩⛅🌦☁🌤🌥🌤⛅🌤⛅🌦⛅

⛅🌦🌧🌦🌧🌨☁🌩🌦⛅🌧☁🌤🌥🌪🌧🌨🌩⛅🌦☁🌤🌥🌤⛅🌤⛅🌦⛅

---
---