Where Can I Buy Hive? (Pros & Cons)
After some macro shifts it's time to ask: Where Can I buy Hive?
After Mandala has disconnected from the Binance cloud, Hive might not get relisted there. It was a great place since it needed no KYC, had good liquidity from Binance and low fees. So what places actually remain for trading Hive? I want to give a brief overview here (notify me if I missed some!) and rate the places according to these three criteria.
PeakD gives us some clues
We get this overview when we click on "exchanges" in the wallet: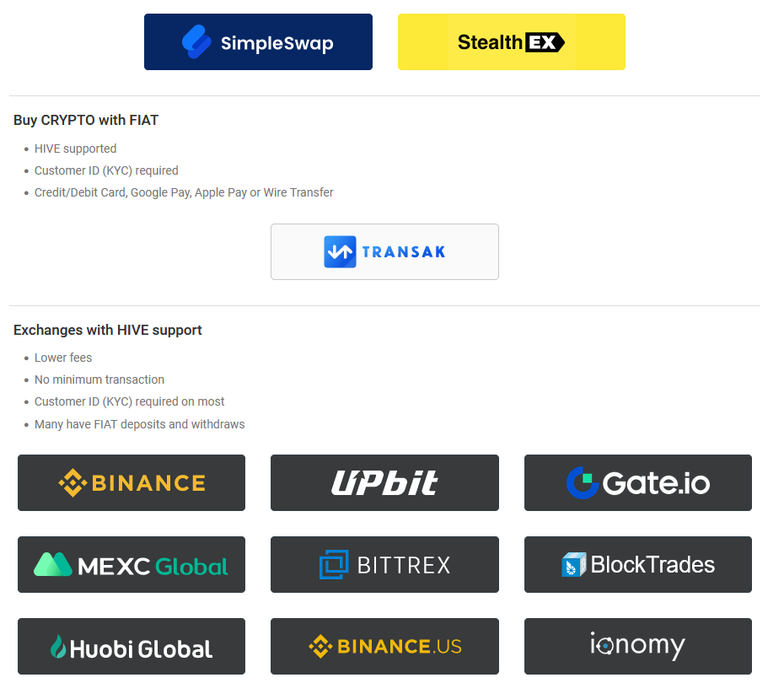 The first two places are Swaps where you can create a deposit address and send Hive there and receive the desired coins or vice versa. It's relatively fast, does not require KYC, but is quite expensive having a fee of around 4-5%.
We also have some defi solutions from the @leofinance team where you can buy e.g. HBD or HIVE on the Polygon network, but I'll focus on the other CEXs in this post (if you are interested in them check out the LEO community).
So... we have Binance and Upbit as the two CEXs with the most liquidity by far (Upbit is another 10x or so more than Binance!). Btw @dalz just yesterday released a post where you can see the amount of Hive stored on CEXs. In that post we also see another CEX not listed here: Bithump, another South Korean exchange. This brings up the question why so much Hive is stored on South Korean exchanges. Together they account for around 70% (!) of Hive stored on exchanges globally. If you know, let me know!
The Cons for all of these 3 exchanges are: exclusivity; Bithumb and Upbit are only open to South Koreans... and KYC is required
The biggest Pro by far is liquidity: you can trade large amounts of Hive there and it is relatively cheap.
We don't have to talk about Blocktrades since it stopped operating this year unfortunately.
Then there is Huobi, Ionomy and Bittrex. They are all terrible for one major reason: liquidity. They don't really have any. Trading there would be a nightmare due to high slippage, so I would avoid them. The only Pro I believe is that the first two do not require KYC, while Bittrex I believe does.
This leaves us with MEXC and Gate.io. While they both have "okay" liquidity and are relatively cheap, MEXC does not require KYC.
Conclusion
The best place to trade HIVE atm by far (imo) is MEXC. Liquidity is not the worst, it is cheap and does not require KYC. While there are quite a few places that accept and have listed Hive, we can also see that liquidity is only really good on rather exclusive platforms and/or require KYC. I do hope that we will be getting the HIVE/BTC pair (or was it wrapped?) on Hive soon. Once we have that pair and we can trade Hive with relative ease and bridge it to the larger crypto and fiat world, we have the basics to expand our network far and beyond.

⛅🌦🌧🌦🌧🌨☁🌩🌦⛅🌧☁🌤🌥🌪🌧🌨🌩⛅🌦☁🌤🌥🌤⛅🌤⛅🌦⛅

⛅🌦🌧🌦🌧🌨☁🌩🌦⛅🌧☁🌤🌥🌪🌧🌨🌩⛅🌦☁🌤🌥🌤⛅🌤⛅🌦⛅

---
---