Ask Leo :could ability to resist pressure of selling crypto during this bearish market Lead to profit maximization when the Bull market arrives?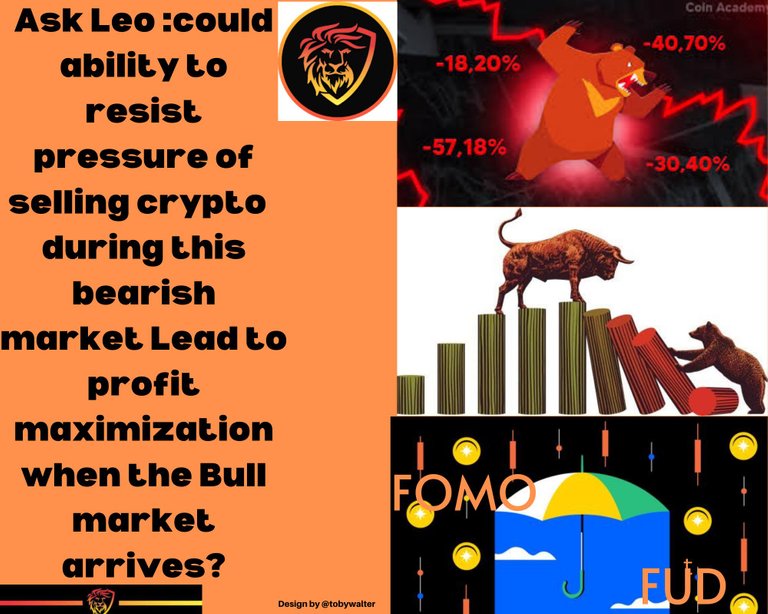 The bear market situation is hitting every investors hard and it seems the situation is not getting closer to its end as we are looking at it .
Many investors have invested so much into their cryptocurrency investment and have been waiting for the bull market in other for them to sell and make better profits but it seems the day is not near at all. Anyways, cryptocurrency investment is a long term investment plan and one must exercise patience in other to make profit .
Ability to resist the pressure of selling your crypto during this bearish market will also be an additional advantage for those that can hold on to their crypto and are not ready to sell anytime soon until the crypto market turns to bull
Many investors will not be able to wait this long and if the market improves a little, some of them will decide to sell with little profits on their accumulated cryptocurrency some are afraid of the unknown and think it will be safer for them to sell now that it will be dipping the more but will that be good enough ?" That's a "CAPITAL NO "like an adage that says the patient dog eat the fattest bone 🦴 it is a smart move for every investor that will continue to accumulate and hold unto their cryptocurrency for the better days ahead. However no one knows the time or day that the market will improve but this bear market gives investors the opportunity to save more crypto and allow to them gather more token by holding and buying more of the dip .
What a blessing in disguise for the smart investors who will utilize the bearish market situation as an opportunity to maximize profits when the bear market is over .
Thanks for visiting my blog @tobywalter cares 💕💞💞💕💕💞💞💕💕💞💞💕💞💞💕💕💞
Posted Using LeoFinance Beta
---
---