Ask leo: why are some investors skeptical about crypto currency?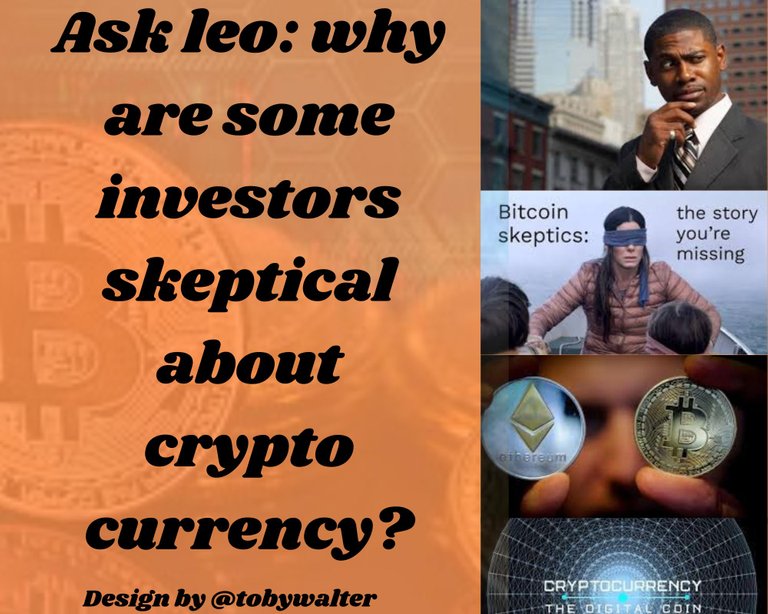 Investment is very good as it helps in building wealth and no multiply your income. At the same time investing in the wrong business could cause financial bankruptcy and put you in debt.
Despite all the benefits crypto currency trading can bring, some people are still skeptical about Investing in it. Infact many people have yet to embrace it. Here are some reasons for investors skepticism.
Lack of adequate knowledge and poor research; one of the Paramount thing to do as an investor is to do personal research on what soever investment you are interested in . Don't rely on general opinion of people and give up. There always two sides to a coin. Then the way we think out of the box individually is different. So do your own personal research before drawing conclusion. This is one of the reasons why some people refuse to invest in crypto currency. They only dwell on what they heard from friends, family associates, social media. Etc
Crypto currency volatility; having be done research and discovered that crypto currency is highly volatile and can easily depreciate in value, some people ran away for the risk . But there's always a risk to take in life. Life itself is a risk. Taking risk is part of growth. All you need to do while investing is to be risk conscious and manage it effectively. Crypto currency is not an investment that can be done in a hurry or within a short space of time. Invest the money you willing to risk as you invest. An amount that won't affect your savings and put you in a mess in case its value depreciate drastically.
Crypto currency is not yet globally accepted and its usage is limited in some cases. This is why some people are yet to embrace crypto currency. Many people want to be part of a system that is generally accepted by all because they don't like being awkward.
Bottom line; skepticism is a powerful tool in managing risk but it should be done wisely. You shouldn't be skeptical or doubtful blindly without adequate knowledge of the investment because crypto currency value can also skyrocket drastically just like its volatility. It would be a be loss too if you refuse to invest. The crypto market can't be predicted but needs to be prepared for. Invest part of your savings to prepare for any worst case scenario.
Thanks for visiting my blog @tobywalter cares 💞💞💕💕💞💕💞💞💕💞💞💕💞💞💕💕💕💞💞💕💞
Posted Using LeoFinance Beta
---
---