Decision making: Process x Outcomes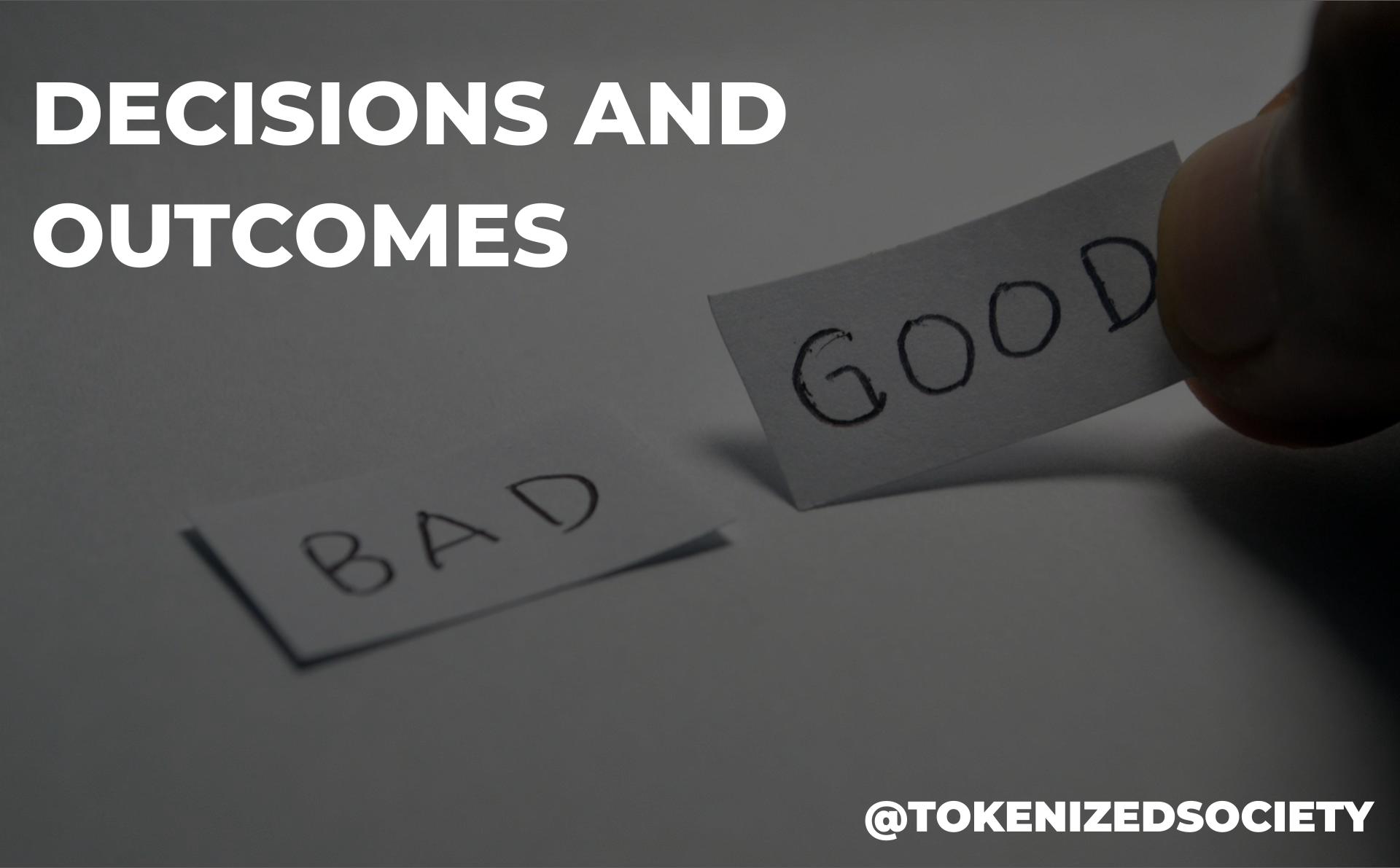 Bad outcomes don't necessarily mean bad decisions. Good decisions are those made through a good process
Victor Cheng has been a career mentor of mine for many years now. I learned about his work over 5 years ago when I started my strategic consulting career.
As a former McKinsey consultant, Victor offers coaching services focused mainly, but not exclusively, on people who want to pursue the high-paying strategy consultant career path.
Even though I have moved away from that path and decided to do something else with my life, I'm still a member of Victor's Inner Circle and read his articles and publications regularly as they apply to many areas of my life, regardless of my career choice.
His articles are always quality content, but one of his more recent ones really stood out. Titled "Bad Decisions x Bad Outcomes", the article talks about how a lot of people tend to judge the quality of a decision based on the outcome of that decision rather than the process used to make it.
He uses an interesting example to illustrate this notion, but before we get to it, I think it's good to introduce what is, according to him, the definition of good and bad decisions:
a good decision should ideally be a decision that should be repeated (even if you get a bad outcome occasionally). A bad decision is one that should never be repeated (even if you get lucky and get a good outcome).
Now, here is one of the examples he uses to illustrate how people judge decisions based on outcomes:
I walked across the highway blindfolded during rush hour and made it across without getting injured. Because I got the outcome I wanted, this was a good decision… (and I should repeat the decision every day for the rest of my life).
It may sound silly, but if you take the time to look around, you will most likely notice that people around you - and maybe even yourself - are victim to that kind of behaviour all the time.
The world of crypto
Judging decisions based on the outcomes is especially present in crypto. I believe it's one of the reasons why people panic sell at the first sign of price decrease, only to buy again when the price is much higher, losing money in the process. It's also why they invest in meme coins with no fundamentals trying to chase astronomical gains.
It's not easy to break that cycle because, as humans, we are all heavily biased and even those who claim to be more rational than emotional act heavily influenced by emotion.
In my opinion, the only "way out" is trying to develop a solid decision-making process that can be replicated over and over. That involves something often preached in the world of cryptocurrency but not always practiced: Do Your Own Research (DYOR).
That doesn't mean you should ignore what other people are doing. By all means, do that. It's important to stay current on what is happening in this fast-paced universe. But remember that things change very fast in crypto, so if you only go by the outcomes (especially short-term outcomes), you may find yourself jumping from one project to another and not really getting anywhere.
Some things to keep in mind
Having a structured decision-making process that can be repeated is easier said than done when it comes to crypto. Investors have to deal with things like uncertainty, manipulation, FOMO, and all sorts of scams and attacks, to name a few.
That being said, there are a couple of things that I personally use to make my decisions: reputation and utility.
That's why I focus so much of my attention on Hive and more specifically, Leofinance.
I admire the efforts of the Leofinance team and especially their founder, @khaleelkazi. They are always out there through thick and thin, trying to build a solid project by adding more utility to the LEO token.
Earlier this year, I decided to make LEO my priority on Hive. If I were to judge this decision based purely on the outcome, my conclusion would be that it was a bad decision because price-wise, LEO has seen better days.
However, that's precisely the point I'm trying to convey with this article. We must see the bigger picture before drawing any conclusions.
Cryptocurrencies all across the board are taking a heavy hit during this bear market, and while that is not what most people want to see, times like these are full of opportunities. It is the perfect moment for builders, so I'm sticking to my guns.
Instead of looking at the price (outcome), I'm trying to create a process that can be repeated with minor adjustments hoping that, in the long run, I'll get it right more often than I'll get it wrong (but I will get it wrong sometimes, and I have to live with that).
For now, my process involves asking mainly two things:
Who are the people that are behind this project/token/idea?
What is the use of this project/token/idea? What problem does it solve?
Will it make me rich? Time will tell. But at least this is something that makes sense to me, and I'll keep replicating it over and over.
Final thoughts
Bad outcomes are not always the result of poor decision-making, the same as good outcomes are not always the result of good decision-making. Many factors beyond our control may impact the results of our decisions and strategies, and that's why we can't judge them based purely on the outcome.
I'm not saying that results don't matter, but they shouldn't be the only indicator. Focus on the things you know and adapt as you see fit but don't scratch all your plans after you hit the first bump on the road.
Do your own research and learn what works for you and what doesn't.
P.S.: Before publishing this article, I checked my inbox and noticed that Victor had posted a new article. In this one, he said:
I don't praise my kids for getting 100% on an exam. I praise them for doing their homework and studying… the grades will take care of themselves.
I just thought it fit this post nicely
Posted Using LeoFinance Beta
---
---