Let's talk about the Champions League Final: Manchester City or Chelsea?
Are you prepared to watch the final battle that will decide the 2020/2021 UEFA Champions League winner? Let's say you are set for the game, who do hope should lift the trophy? Well, on my part, I am so ready for the game and I hope nothing makes me miss watching the game. I won't say who I would love to win in this paragraph but as we proceed, you will know. A little suspense is healthy, I think😀.
---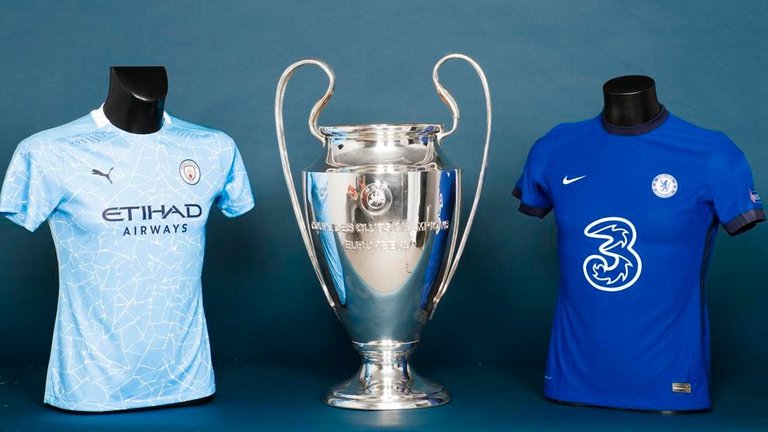 source
---
The 2020/2021 UEFA Champions League finals is slated to hold on Saturday, 29th May 2021 at the Estádio do Dragão, which happens to be the home ground of FC Porto with kick-off time being 21:00 CET. Originally, the game was supposed to be staged at Istanbul's Atatürk Olympic Stadium but had to be moved due COVID-19 concerns. It promises to be an interesting game and more exciting is the fact that it involves two English sides. Yeah! A replay of 2019 Champions League finals.
---
Gone are days when Spanish sides used to dominate the Champions League. If you ask me, it surprises me that both Paris St Germain and Bayern Munich were being eliminated from the race. I mean, this two sides we're exceptional but I don't know what went wrong though. I won't mention FC Barcelona and Real Madrid because the days of their glory is slowly extinguishing. It was crystal clear that both of these later teams lacked class and what it took to be champions.
---
This brings us to those who will be playing the UEFA Champions League finals come Saturday, May 29th. Worthy of note is that this finals is the 66th European Cup final and it involves Pep Guardiola's Manchester City and Thomas Tuchel's Chelsea FC. It might also interest you to know that this outing will be Manchester City's first-ever Champions League Final although it is not new to manager Pep Guardiola, who happens to have clinched the trophy many times in the past. For Chelsea FC, this will be their third time playing the finals having lifted the trophy once, in 2012 when they defeated Bayern Munich.
---
As such, we are not expecting a dull and uninteresting game as both sides have a point to prove. There's a record that no first timer has ever lifted the trophy and Manchester City are poised to break such record. On the other hand, Chelsea have had a poor season and this is their last chance of redeeming themselves this football season. In the Premier League, Chelsea narrowly made it to the top four after losing to Leicester City in the FA Cup final. Whereas Manchester City were the champions for the third time in five years.
---
For me, I would love Manchester City to clinch the trophy this year as they are most deserving. As for Chelsea, they can wait till next time. The odds are already in favour of Pep Guardiola's men as they have a more stable team whereas Chelsea is still shaking. However, football is better played than talked. So, we just wait, watch and see who will take the silverware home.
---
---