Players Behind the Shirt - Liverpool No. 9

Like I said in the first post for this topic series, there are certain field (playing) positions and shirt numbers that are more outstanding in every football team. This is so because of the pioneer wearers of these shirt numbers did some excellent job while also creating depth of impacts and legacies. Some of these shirt numbers are: the number 9, number 7, number 10 etc.
Here, I discussed in details the players who wore the Manchester United number 7 shirt and their contributions to the club/ team during their stay. We saw how Eric Cantona, David Beckham and Christiano Ronaldo made great impacts in the team. We equally saw how the number 7 in the Manchester United's squad appeared cursed after Christiano Ronaldo vacated the team. Cursed in the sense that, all other heirs after Christiano Ronaldo have been flopping.
---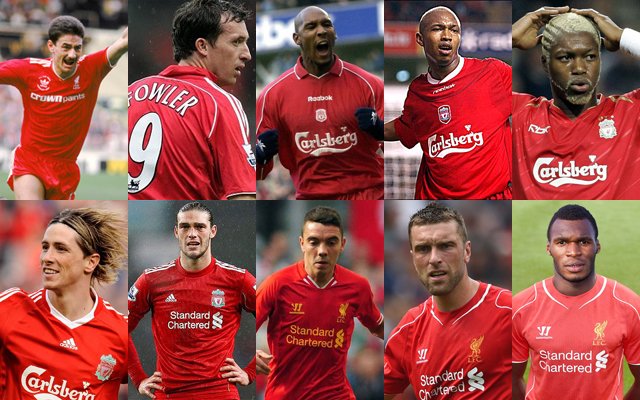 source
---
However, in this other post, I will be analyzing closely the players who have ever won the Liverpool FC number 9 shirt. The number 9 players are also known as strikers; this position is very vital in the success of every team. The responsibility and tasks of scoring goals are first for the number 9 players. In other words, these players have the obligation of striking and scoring goals. Where they are not performing optimally, the team suffers.
This doesn't mean that strikers should not fall back to defend when the opponents are attacking because I see some strikers only remain in the front and do not also take tackling seriously. The duty of defending or tackling is for every player; this is what is referred to as team work. Back to the gist, a whole lot of persons have won the Liverpool number 9 shirt. For few of them, I have been around to watch them in action whereas a good number of them I was not even born when they started playing. For this sect, I will be saying things in part about them.
Below are the all-time Liverpool Number 9 shirt wearers as at 2021;
Roberto Firmino - 2016/ 2017 season till date
Christian Benteke - 2015/ 2016
Rickie Lambert - 2014/ 2015
Iago Aspas - 2013/ 2014
Andy Carroll - 2010 to 2013
Fernando Torres - 2007 to 2011
Robbie Fowler - 1995 - 2007
Djibril Cissé - 2004 to 2006
El-Hadji Diouf - 2002 to 2004
Nicolas Anelka - 2001/2002
Michael Thomas - 1991 to 1996
Ian Rush - 1980 - 1996
Don Hutchison - 1992/ 1993
Ronny Rosenthal - 1989/1990 & 1992/1993
Paul Stewart - 1992/ 1993
Jamie Redknapp - 1991/ 1992
Steve McManaman - 1991/ 1992
Mark Walters - 1991/ 1992
Mike Marsh - 1991/ 1992
Barry Venison - 1990/ 1991
Steve Staunton - 1988 to 1990
Ray Houghton - 1987- 1989
Nigel Spackman - 1987/ 1988 season
Craig Johnston - 1982 to 1988
Mark Lawrenson - 1987/ 1988
Sammy Lee - 1985/ 1986
Paul Walsh - 1984 to 1986)
Ronnie Whelan - 1984/ 1985
David Hodgson - 1982 to 1984
Michael Robinson - 1983/ 1984
Terry McDermott - 1974 to 1983
David Fairclough - 1975 to 1983
David Johnson - 1976 to 1982
Steve Heighway - 1970 to 1981
Jimmy Case - 1974 to 1979
Phil Boersma - 1972 to 1976
Ian Callaghan - 1974/ 1975
Ray Kennedy - 1974/ 1975
John Toshack - 1972 to 1974
Alan Waddle - 1973/ 1974
Phil Thompson - 1972/ 1973
Brian Hall - 1972/1973 season
Bobby Graham - 1964 to 1972
Peter Thompson - 1969 to 1972
Alun Evans - 1968 to 1972
Jack Whitham - 1970 - 1972
Ian Ross - 1970/ 1971
Tommy Smith - 1964 to 1970
Ian St. John - 1961 - 1970
Emlyn Hughes - 1969/ 1970
Alec Lindsay - 1969/ 1970
Tony Hateley - 1967 - 1969
Alf Arrowsmith - 1963 - 1968
Geoff Strong - 1967/ 1968
Phil Chisnall - 1964/ 1965
---
That was a hell of a list. From the above, we see that 56 players have won the number 9 shirt in the Liverpool squad. Out of this 56 players, I have only been around in the football space long enough to watch six (6) of these strikers play live and these six players are:
Roberto Firmino
Christian Benteke
Rickie Lambert
Iago Aspas
Andy Carroll
Fernando Torres
---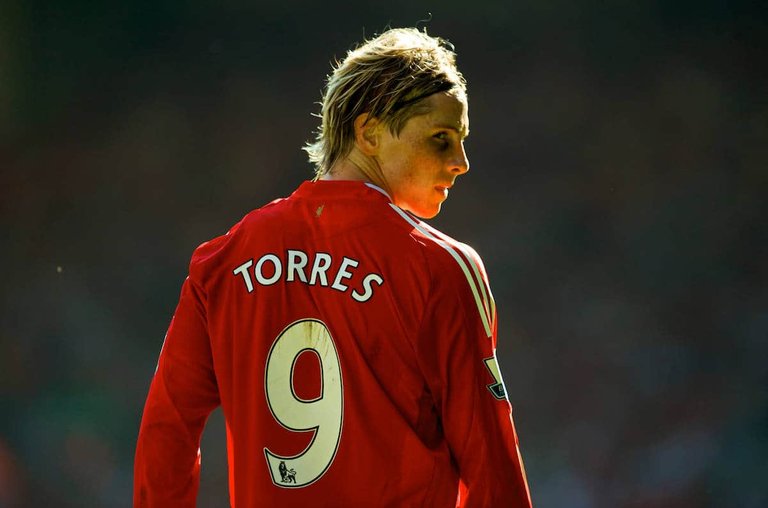 Source - Fernando Torres
Speaking of these six, Fernando Torres happens to top my favourite list because of his personality. He joined the Liverpool team in 2007 from his boyhood clubside - Atletico Madrid for a fee of £20.2m and has since played for the club till 2011 before parting ways. Torres made lots of contribution to the team especially in the days of Rafael Benitex. In the four years period, Fernando Torres made 142 appearances for Liverpool and he scored a total of 81 goals in all club competitions. I particularly admired his style of play and because of this, I usually wore a jersey with his name when playing in my locality and some people nicknamed me after him. Fernando Torres is currently retired and he hung his boot in August, 2019. It is rather sad to note that Fernando Torres never won a trophy while at Liverpool FC.
---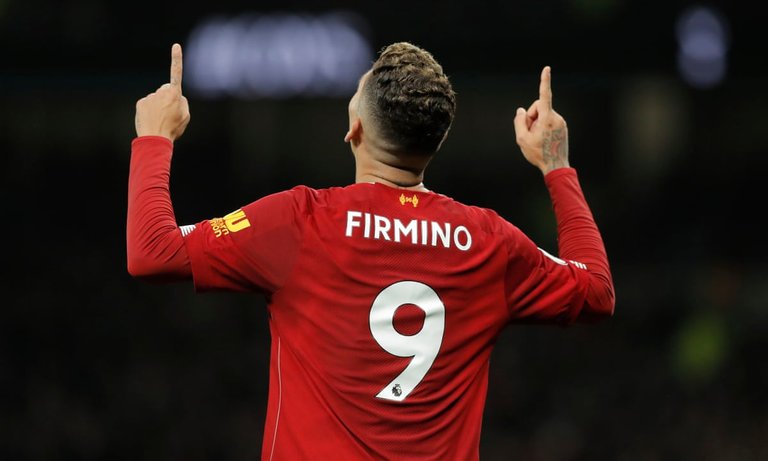 source
Next is Roberto Firmino, although unlucky when it comes to scoring goals, he is a great team player as he always contributes massively in every game. His skillful ball handling makes me admire him the more. He joined Liverpool in 2015 from Hoffeinhem for a fee of £29m and has been playing with the number 9 shirt till date. So far, he has made 281 appearances for the club and has scored only 84 goals as well as having made 61 assists. One of his goals I will not forget in a hurry is the FIFA Club World Cup winning goal he scored against Tigres in 2019 to give the REDS the trophy for the first time.
---
More so, Roberto Firmino has the following honours with in his stay so far in Liverpool FC: One Champions League trophy (2019), One European Super Cup (2019), One FIFA Club World Cup (2019), One Premier League (2019/20). With this, I won't be wrong to say that 2019 was his best year in Liverpool as most of honours came that football year. However, Firmino faces many criticisms because he has not been scoring as expected but I refuse to join the bandwagon. Maybe I would have joined in criticizing him if he had no area he was good at all. But, I hope that he gets more luck around the goal area.
Moving on to Andy Carroll, he was a very good pair with Daniel Sturridge but he was not privileged to stay for so long in the team. Carroll was bought from Newcastle United for a fee of £35m in 2011 and he stayed till 2014 when his contract expired. He wasn't that spectacular but was quite notable for his good delivery with areal balls (crosses). He made a total of 58 appearances for the club, scored 11 goals and made only 4 assists. In 2012, he won the League Cup as his only honours with the REDS.
---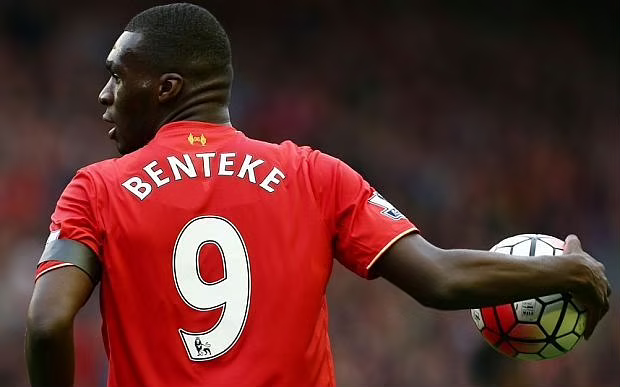 source - Christian Benteke
Christian Benteke was another unstable number 9 Liverpool had; some days he was good and some days he was not delivering. Benteke just like Firmino was always unlucky when it came to scoring of goals. Liverpool was faced with a striker-problem after Luiz Suarez departed from the club so, they settled for the Belgian and paid £32.5m to Aston Villa for him. He joined the squad in 2015 and lasted for only one year as he parted ways in 2016 having made only 42 appearances, scored 10 goals and 5 assists for the team.
---
Iago Aspas was another one-year plan for Liverpool being that there were some injury problems with Luiz Suarez. He joined Liverpool from Celta Vigo for a fee of £7m only in 2013 and left in 2014. He made only 15 appearances while scoring only one goal and one assist. Similarly, Rickie Lambert stayed at Liverpool for only one year. He was signed from Southampton for a fee of £4.5m in 2014 on a one-year contract. Lambert made only 36 appearances for Liverpool, scored three goals and had two assists before he left in 2015.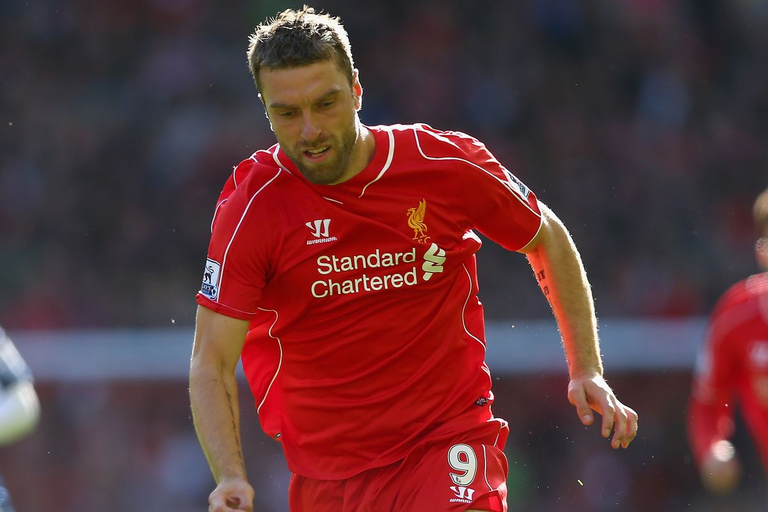 source - Rickie Lambert
---
Out of this six players, only few performed outstandingly but there were other great number 9 for Liverpool although I didn't get to watch them play in the likes of Robbie Fowler, Ian Rush, Cisse etc. And this is where I draw the curtain...
---
---