Challenging: Based on a True Story (Film Review) [ENG/SPA]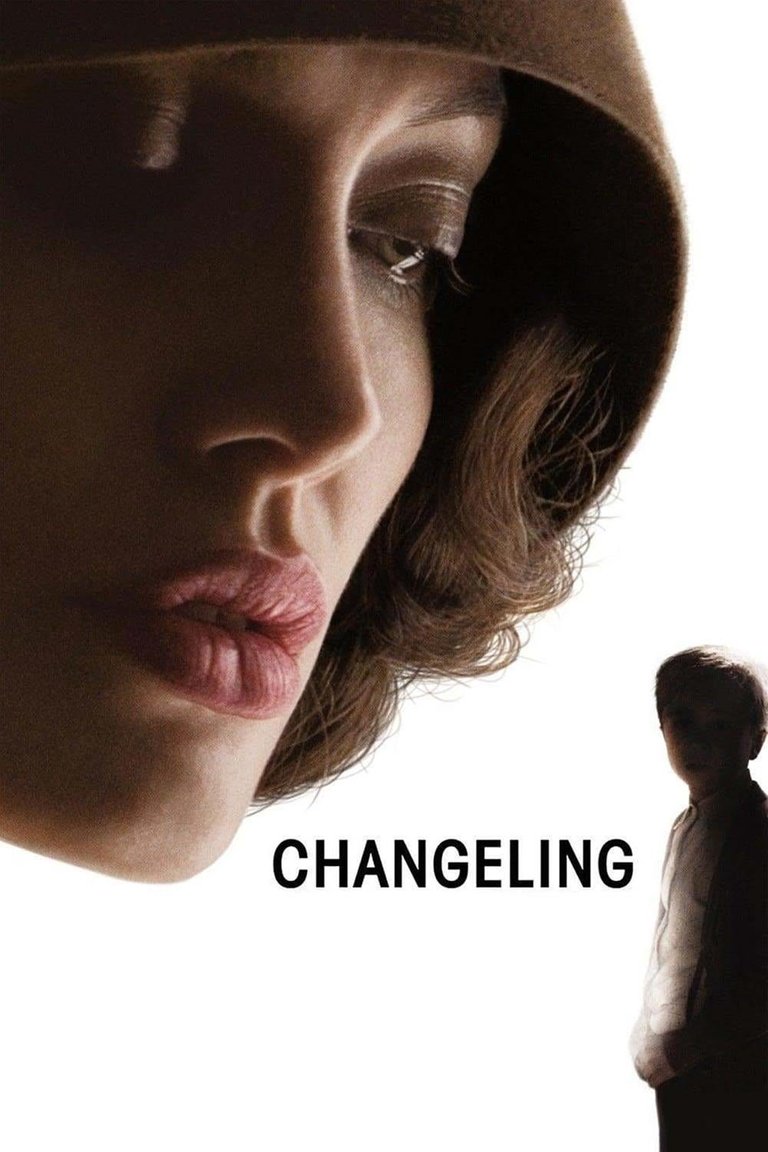 El Sustituto | El Intercambio
This story is based on a real-life events that happened in 1928 in Mira Loma, California. It stars Angelina Jolie as Christine Collins, a woman who is reunited with a child they say is her missing son Walter, but it turns out he isn't. She goes to great lengths to let the police know they were in error, the police in response call her a "bad mother", treat her like a woman who is out of her mind and even commit her to an asylum against her will, but it doesn't end there, there are many deaths and many unfortunate events. Will justice be served and will Walter's whereabouts be known or will corruption win at the end of the day?
Esta historia esta basada en un suceso de la vida real que sucedió en 1928 en Mira Loma, California. Protagonizada por Angelina Jolie como Christine Collins, una mujer a la que reunieron con un niño afirmando que es su hijo perdido Walter, pero resulta que no lo es. Ella hace hasta lo imposible para hacerle saber a la policía que estaban en un error, estos en respuesta la tildan de "mala madre", la tratan como a una mujer que esta fuera de sus facultades y hasta la internan en un manicomio en contra de su voluntad, pero no todo termina allí, hay muchas muertes y muchos eventos desafortunados. ¿Se hará justicia y se conocerá el paradero de Walter o por el contrario la corrupción ganará?
Christine as a woman was aware that she couldn't do much, yet her determination, fortitude and strong desire to find her true son were the driving force to carry out and resist all that she was forced to go through, for the simple fact of trusting her son and having committed an oversight, an oversight that would haunt her forever, for which she had to give up so many things and a lifelong lesson with which she could gain many things she did not expect.
Christine como mujer era conciente de que no podía hacer mucho, aun así su determinación, fortaleza y sus fuertes deseos por dar con su verdadero hijo fueron el motor para poder llevar a cabo y a la vez resistir todo lo que fue forzada a pasar, por el simple hecho de confiar en su hijo y haber cometido un descuido, descuido que la perseguiría por siempre, por el que tuvo que renunciar a tantas cosas y una lección de por vida con la que pudo ganar muchas cosas que no esperaba.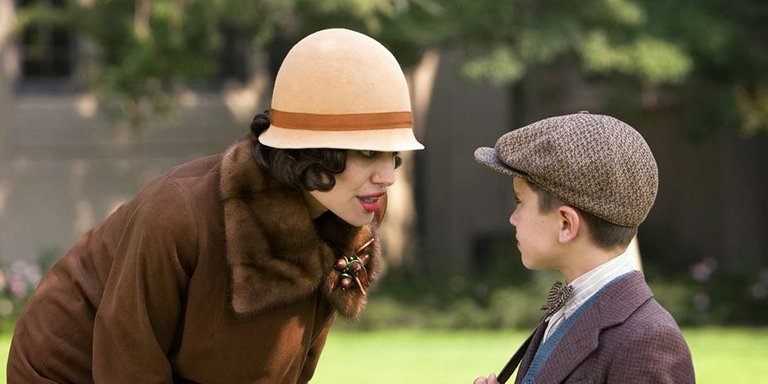 src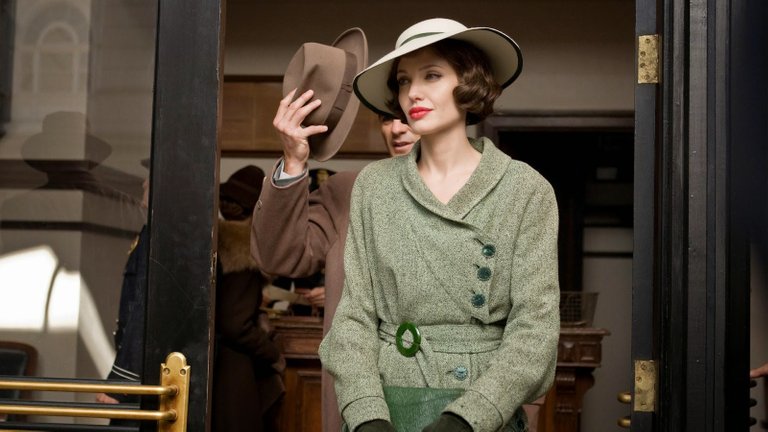 src
This is a story full of injustice, drama, corruption, murder and at the same time exposes how little a woman's word was worth back them. There are some strong themes present in this film, such as the mistreatment of patients in psychiatric institutions, plus the many people who are locked up in this institutions to silence them, police corruption in order to make themselves look good, endangering the lives of children, and how easy it could be in certain places to commit murder on a large scale.
Esta es una historia cargada de injusticias, drama, corrupción, asesinatos y a la vez deja al descubierto lo poco que valía la palabra de una mujer en esos tiempos. Hay temas bastante fuertes presentes en esta película, como el maltrato de los pacientes en los psiquiátricos, más el montón de personas que son recluidas en el mismo para silenciarlos, la corrupción policial con el fin de tener buena publicidad, poner en peligro la vida de niños, y lo fácil que podía ser en ciertos lugares cometer asesinatos a gran escala.
One of the wretches in this story is Captain Jones, the head of Los Angeles Police Department (LAPD) Juvenile Division, who put Ms. Collins through so much misery in order to silence her indefinitely. First he declared publicly that a stranger was her son, with this false claim and a lot of pressure Christine had no choice but to take him home, after so many failed attempts to prove the boy wasn't her missed son Walter, Captain Jones declares her incompetent and locks her up in a mental hospital that was a living hell.
Uno de los miserables en esta historia es el capitán Jones el cabeza de la División Juvenil del Departamente de Policía de Los Angeles (DPLA) que hizo pasar a la señora Collins por tantas desgracias con el fin de silenciarla indefinidamente. Primero declaró públicamente que un extraño era su hijo, con esta falsa afirmación y mucha presión Christine no tuvo otra opción que llevarlo a su casa, luego de tantos intentos fallidos por demostrar que el niño no era su hijo Walter, el Capitán Jones la declara incompetente y la encierra en un hospital mental que fue todo un infierno.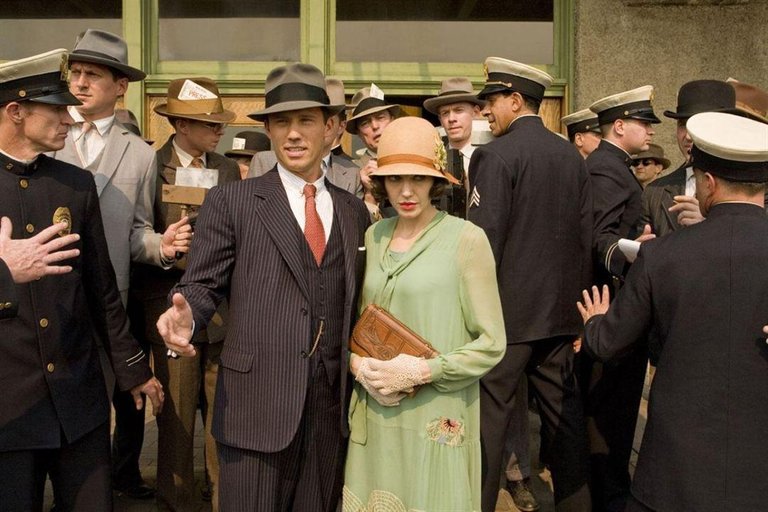 src
The scenes in the asylum are very disturbing to say the least, they were used to receive "patients" especially women who had confronted the police in the past. The mistreatment there is too much, the level of corruption is sky high, the patients are treated worse than animals and the guards do whatever they want. Christine isn't the only one confined unnecessarily, many other women are also confined for the same reason, in order to hide the truth as I mention before. Each one has her own story but most of the women there were called "crazy" by a man, once again touching on the issue of abuse of power and gender.
Las escenas del manicomio son muy inquietantes por decir lo menos, ellos acostumbraban a recibir a pacientes especialmente mujeres que se habían enfrentado a la policia en el pasado. El maltrato allí es demasiado, el nivel de corrupción esta por los cielos, los pacientes son tratados peor que a los animales y los guardias hacen de las suyas cada vez que quieren. Christine no es la única recluida sin necesitarlo, muchas otras mujeres también y por el mismo motivo, con el fin de ocultar la verdad. Cada una tiene su historia pero la mayoría de las mujeres allí presentes fueron tildadas de "locas" por un hombre, tocando una vez más el tema del abuso de poder y género.
Thank God amongst all the rottenness there is one man who can be considered the hero of this story, a lawyer considered an eminence in his profession mr. Hahn, he takes on the task of making Miss Collins' case his pro bono. This man basically gives Ms. Collins the weapons to destroy and disprove the police, because more than being moved by Christine's case, the lawyer is outraged by the incompetence of the police, who just to fix their bad reputation at the moment, they used a woman and her child in order to make themselves look competent.
Gracias a Dios entre tanta podredumbre hay un hombre que se puede considerar el héroe de esta historia, un abogado considerado una eminencia en su profesión el sr. Hahn, este se da a la tarea de hacer el caso de la señorita Collins su pro bono de ese año. Ese hombre básicamente le da las armas a la señora Collins para destruir y desmentir a la policia, porque más que conmivido por el caso de Christine el abogado estaba indignado con la incompetencia de la policia, que tan solo para arreglar un poco su mala fama para el momento, usan a una mujer y a su hijo con el fin de quedar bien.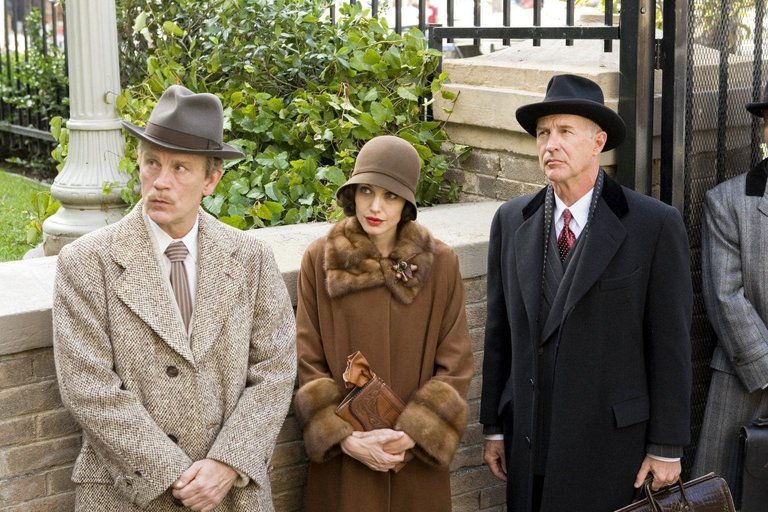 src
One of the things I really liked about Angelina's role is that she shows a totally different side to the usual, there is a lot of drama which she handles perfectly, plus the exaggerated fragility and powerlessness of her character Christine, the complete opposite of what Angelina represents, was something I really enjoyed watching. This film is also special 'cause it was the last film I saw in the cinema with my old friends from high school, so it's also unforgettable thanks to that.
Una de las cosas que me gusto mucho en este papel que interpreta Angelina, es que muestra un lado totalmente diferente al usual, hay muchísimo drama el cual maneja a la perfección, además de lo exageramente frágil y falta de poder que es su personaje Christine, todo lo opuesto a lo que Angelina representa, fue algo que disfrute mucho ver. Esta película también es especial porque fue la última que vi en el cine con mis viejos amigos de la secundaria, por eso también es inolvidable.
Despite being a story from another time, I have always found the recreation of how everything looked in the past fascinating, I'm also a fan of Angelina Jolie, her roles are never boring, the films she has been in always have something especial and I enjoy them very much, this one was no exception. At any point did I feel like things were getting slow and they made use of all those injustices appropriately in the sense that it's hard not to get involved and feel very personal about everything, even if you're not a woman these are issues that never go out of fashion 'cause of their controversy, and we all have a mom.
A pesar de tratarse de una historia de otros tiempos, siempre he encontrado fascinante la recreación de como lucia todo en el pasado, además soy un fan de Angelina Jolie, sus papeles nunca son aburridos, las películas en las que ha participado siempre tienen algo y las disfruto muchísimo, esta no fue la excepción. En ningún momento sentí que las cosas se desarrollaron lento e hicieron uso de todas esas injusticia apropiadamente, en el sentido que resulta verdaderamente difícil no involucrarse y sentir de forma muy personal todo, aun si no eres una mujer son temas que nunca pasan de moda por su controversia.
Trailer
---
Should you watch it? | ¿Deberías verla?
Definitely yes, it's an excellent story based on a real one, played by a woman who was born to act, and if we add to that all the issues that are presented in a very raw way, then I can't find a reason why you shouldn't watch it. It's a story that invites you to fight for what's right no matter how impossible it seems and without paying attention to all the obstacles you'll have to go through. It's a story that starts very well, develops very smoothly and has an ending that won't disappoint.
Definitivamente sí, es una historia excelente basada en una real, interpretada por una mujer que nació para actuar, y si le añadimos a eso todos los temas que se prentan de una manera muy cruda, entonces no encruentro un motivo por el que no deberías verla. Es una historia que te invita a luchar por lo que es correcto sin importar lo imposible que parezca y sin prestarle atención a todos los obstáculos por los que deberás pasar. Es una historia que empieza muy bien, se desarrolla de forma muy fluida y tiene un final que no te decepcionará.
⭐⭐⭐⭐⭐
---
---