Forever My Girl (Film Review) [ENG/SPA]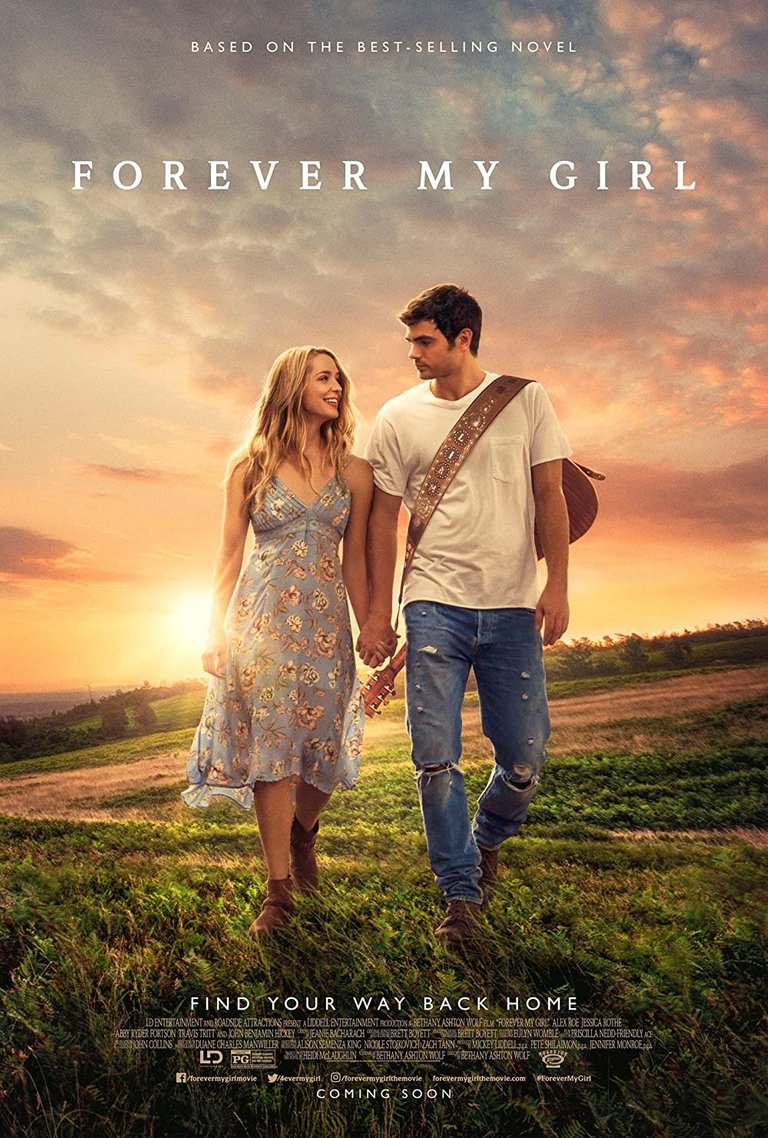 Por Siempre mi Chica
This is the story of Liam Page (Alex Roe) a very successful country music singer who despite being very famous, his personal life is a mess, or his life in general. He lost contact with all his family and old friends for 8 years, after on his wedding day he left his girlfriend Josie Swan (Jessica Rothe) at the altar. In the 8 years of his career he hadn't returned to his hometown, he was totally dedicated to his music, composing his songs and always touring, but after a concert he was watching the news and found out that Mason a childhood friend of him had died in a car accident, so he decides to return to attend the funeral. He tried to be as discreet as possible but his ex girlfriend recognizes him, he notices she is with a little 7 year old girl Billy Swan (Abby Ryder Fortson) who happens to be his daughter. Will the resentment be stronger than the strong feeling of first love?
Esta es la historia de Liam Page (Alex Roe) un cantante de música country muy exitoso que a pesar de ser muy famoso, su vida personal es un desastre, o su vida en general. El perdió contacto con todos sus familiares y viejos amigos por 8 años, después que el día de su boda dejara a su novia Josie Swan (Jessica Rothe) en el altar. En los 8 años que llevaba de carrera no había vuelto a su pueblo natal, estaba totalmente dedicado a su música, componiendo sus canciones y siempre de gira, pero después de un concierto estaba viendo las noticias y se enteró que Mason un amigo de su infancia había muerto en un accidente de automóvil, por lo que decide volver para asistir al funeral. Intentó ser lo más discreto posible pero su ex novia lo reconoce, él nota que esta con una niña pequeña de 7 años Billy Swan (Abby Ryder Fortson) que resulta ser su hija. ¿Será más fuerte el resentimiento que el fuerte sentimiento del primer amor?
I've said this before but romantic stories are not my thing, but this particular one I saw it on the recommendation of a very dear aunt, she spoke so highly of this story and when she told me it was music related, I really got interested, as a singer I'm clearly interested in all things music related and this time was no exception. To my surprise the story was VERY good, even though this romantic movie has a plot that is nothing new and even trite, it was great the way the events unfolded and the selection of the actors was correct.
Ya he mencionado esto antes pero las historias románticas no son lo mío, pero ésta en particular la vi por recomendación de una tía muy querida, ella habló tan bien de esta historia y cuando me comentó que estaba relacionada con la música, realmente me interesé, ya que, como cantante está claro que me interesa todo lo relacionado a la música y esta vez no fue la excepción. Para mi sorpresa la historia estuvo MUY buena, aunque esta película romántica tiene una trama que no es nada nueva que hasta se puede decir trillada, fue genial la manera en la que se desarrollaron los eventos y la selección de los actores fue correcta.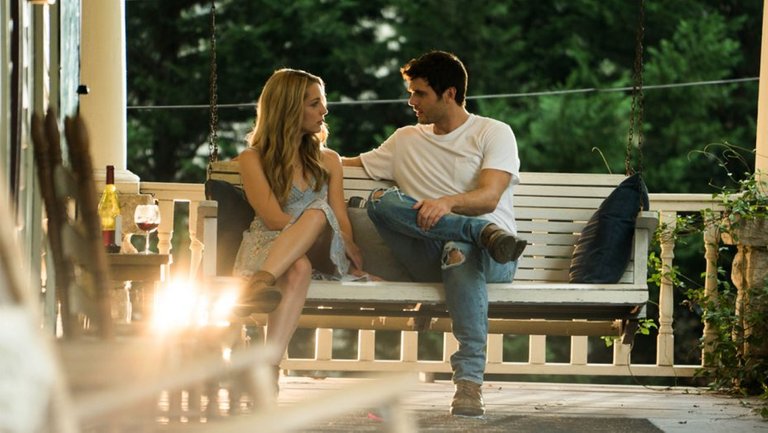 src
I had honestly never seen any of the main leads acting before, and I found the acting of each one of them to be very convincing, especially little Billy. Her character is what gives life to all this story, her dialogues are the best, her scenes are the most unpredictable because she says everything that goes through her mind, she is too mature and perceptive for her age. All this makes her someone very unpredictable, besides the little actress is beautiful and from my point of view her performance was the one that made me forget I was watching a movie, that's how good I thought her performance was, it was really excellent, and to top it off, she sings beautifully.
Honestamente nunca había visto actuando a ninguno de los protagonistas principales, y me pareció que la actuación de cada uno de ellos fue muy convincente, en especial la pequeña Billy. Su personaje es lo que le da vida a toda esta historia, sus diálogos son los mejores sus escenas son las más impredecibles, pues ella dice todo lo que pasa por su mente, es demasiado madura y perceptiva para su edad, todo esto la convierte en alguien muy impredecible. Además la pequeña actriz es preciosa y desde mi punto de vista su actuación fue la que me hizo olvidar que veía una película, así de buena me pareció su actuación, fue realmente excelente, y por si fuera poco, ella canta muy bonito.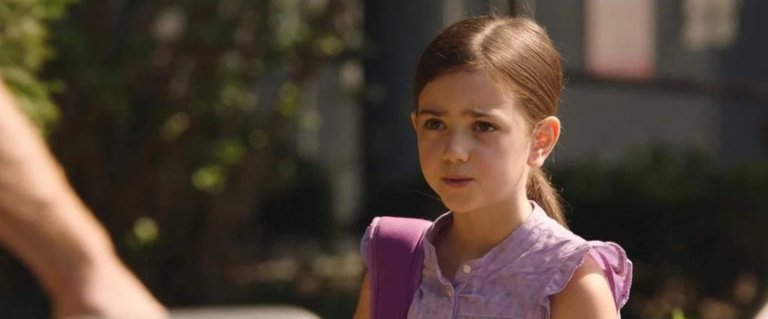 src
As for the main character Liam I was in a kind of love hate during the whole movie, his character is one of those who are simply quite idiots and who hurt those he loves without noticing it, but everything is because of the death of his mother. For him, his mother was everything and witnessing how she died was too hard, something changed, it made him close his heart and somehow (to avoid experiencing the pain that leaves a loss again) when something mattered too much to him, he had the tendency to disappear or simply because he knows he isn't living his life the right way, he felt he didn't deserve the good things in life. And although it's true that everything was his fault, the truth is that he doesn't know how to forgive himself.
En cuanto al protagonista Liam me encontraba en una especie de amor odio durante TODA la película, su personaje es de esos que simplemente son bastante idiotas y que hacen daño a los que ama sin notarlo, pero todo es a raíz de la muerte de su madre. Para él, su madre lo era todo y presenciar como murió fue demasiado duro, eso hizo que algo cambiara, que cerrara su corazón y que de alguna forma (para evitar experimentar el dolor que deja una pérdida una vez más) cuando algo le importaba demasiado tenía la tendencia de desaparecer o simplemente por saber que no está viviendo su vida de la forma correcta, sentía que no merecía las cosas buenas de la vida. Y aunque es cierto que todo es su culpa, la verdad es que no sabe como perdonarse a si mismo.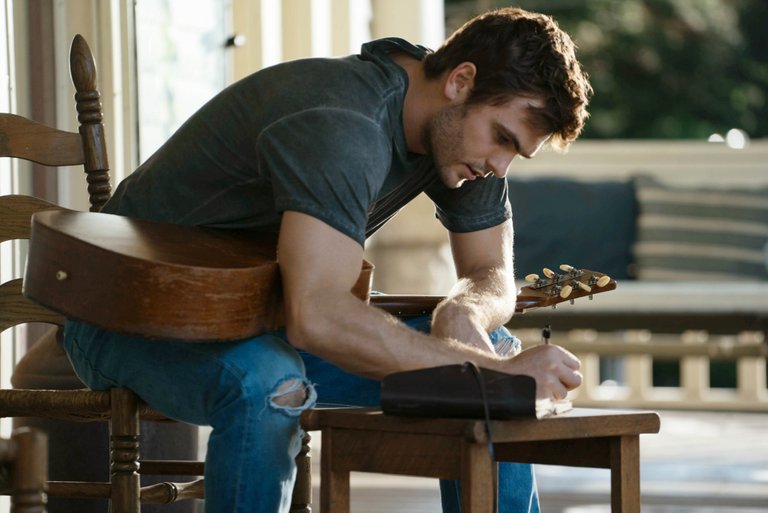 src
The female lead on the other hand is a strong, beautiful, determined woman, willing to help and no matter what happened always open to things, in other words, a great girl who is seriously so great that she makes you hate Liam for abandoning her at the altar and suddenly breaking off communication with her just like that. Actress Jessica Rothe really played her role to perfection, the truth is that the performances so well achieved, were what made me enjoy this film beyond knowing how it would end, because it's certainly quite predictable, the twists that give the typical romantic stories.
La protagonista femenina por otro lado es una chica fuerte, hermosa, decidida, dispuesta a ayudar y sin importar lo que suceda siempre abierta a las cosas, en otras palabras una chica grandiosa que es en serio tan genial que hace que odies a Liam por haberla abandonado en el altar y romper de golpe la comunicación con ella así sin más. La actriz Jessica Rothe realmente interpretó su papel a la perfección, la verdad es que las actuaciones tan bien logradas, fueron lo que hicieron que disfrutara de este filme más allá de saber cómo terminaría, porque ciertamente es bastante predecible, los giros que dan las típicas historias románticas.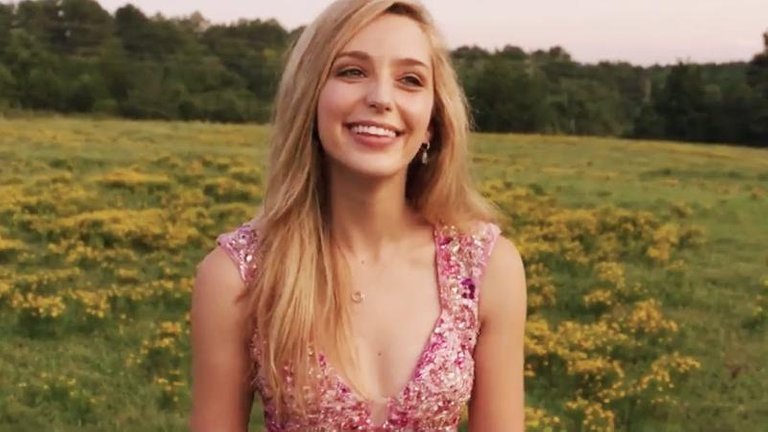 src
This story is based on a novel written by Heidi McLaughlin with the same name. The truth is that I have not had the opportunity to read it and as much as I liked the movie I would not read a romance story, even less if I already have the movie of the book as a reference, because regardless of whether the adaptation was good or bad, it is like knowing in advance what will happen besides being a genre that I personally do not find exciting because of how easy it is to predict a romantic drama. Of course everything has its exceptions, but there are many factors against to consider reading the novel.
Esta historia está basada en una novela escrita por Heidi McLaughlin que lleva el mismo nombre. La verdad es que no he tenido la oportunidad de leerla y por más que me haya gustado la película no leería una historia de romance, menos si ya tengo como referencia la película del libro, porque sin importar si la adaptación fue buena o mala, es como saber por adelantado lo que sucederá además de ser un género que personalmente no encuentro emocionante por lo fácil que suele ser predecir un drama romántico. Por supuesto que todo tiene sus excepciones, pero son muchos factores en contra como para considerar leer la novela.
One of the things I enjoyed most was Liam's relationship with his father Pastor Brian (John Benjamin Hickey). I thought he was a very well done character, his dialogue and scenes were logical and even funny. This actor was the only one I recognized from this feature film. He has a facility to convey understanding, affection, love, tenderness and at the same time he can become indifferent and hard when someone deserves it, I found him to be a very real and complete character. The only scene that really moved me was one of him apologizing to his son and showing him how much he loved him. I really liked this character.
Una de las cosas que más disfrute fue la relación de Liam con su padre el Pastor Brian (John Benjamin Hickey). Me pareció que fue un personaje muy bien hecho, sus diálogos y escenas fueron lógicas y hasta divertidas. Este actor fue al único que reconocí de este largometraje. Tiene una facilidad para transmitir comprensión, cariño, amor, ternura y a la vez puede llegar a ser indiferente y duro cuando alguien se lo merece, me pareció un personaje bastante real y completo. La única escena que realmente me conmovió fue una de él donde se disculpaba con su hijo y le demostraba cuanto lo amaba. Me gustó muchísimo este personaje.
Trailer
---
Should you watch it? | ¿Deberías verla?
Of course you should, especially if this genre is your thing, I'm sure you'll enjoy this story much more than I did. It's a movie that can frustrate you because of how stupid the main character can be, but at the same time you'll want everything to work out because you can tell he's not a bad guy. Plus the main character really deserves to be happy and little Billy will definitely be better off if her parents get along. It's a trite but cute story, and let's be honest who doesn't like trite stories? I know most of you do, I trust you'll enjoy it.
Por supuesto que deberías, sobre todo si este género es lo tuyo, estoy seguro que disfrutarás esta historia mucho más que yo. Es una película que te puede llegar a frustrar por lo estúpido que puede llegar a ser el protagonista, pero a su vez querrás que todo resulte porque se nota que no es un mal tipo, además la protagonista de verdad merece ser feliz y la pequeña Billy definitivamente estará mejor si sus padres se llevan bien. Es una historia trillada pero muy bonita, y seamos honestos ¿a quién no le gustan las historias trilladas? Sé que a la mayoría, confío en que la disfrutaras.
⭐⭐⭐☆☆
---
---