Lights Out: Are you Afraid of Darkness? (Film Review) [ENG/SPA]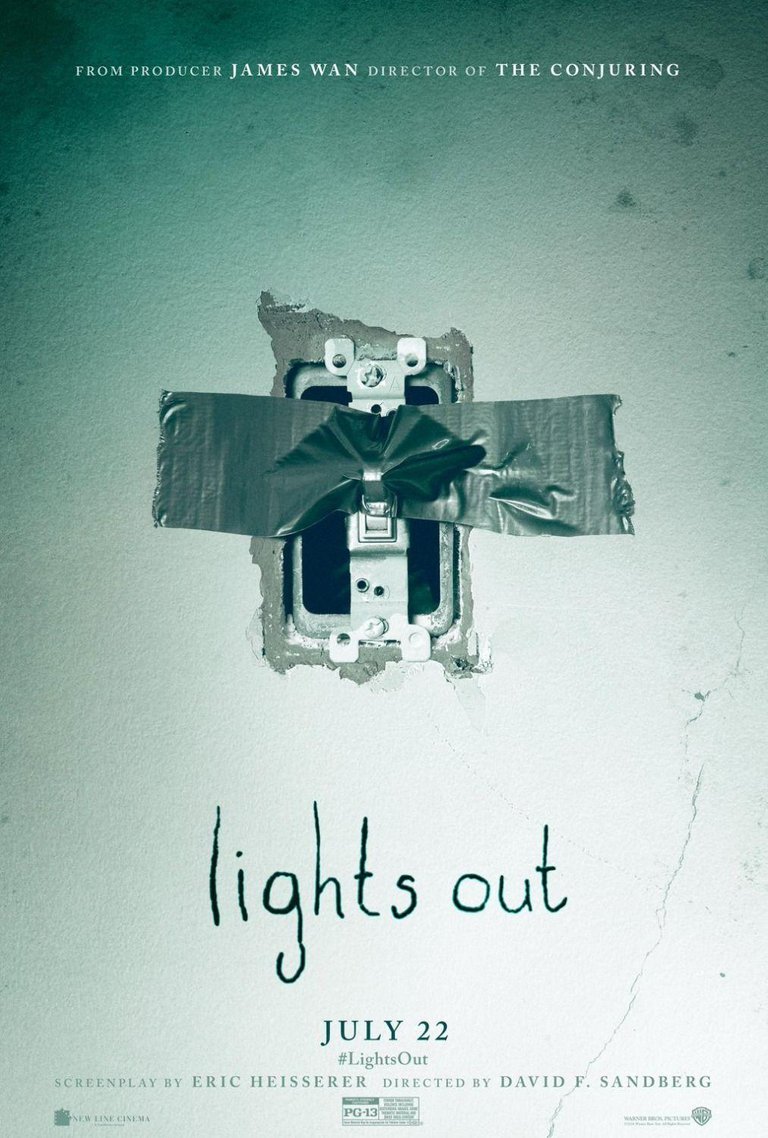 Cuando las Luces se Apagan
This is the story of Rebecca (Teresa Palmer) a girl who is forced to dust off the ghosts of her past in order to help her little half-brother Martin (Gabriel Bateman) who because of his mother was also beginning to experience the same unnerving situations that were jeopardizing his safety and mental stability. Sophie (Maria Bello) who is Beca and Martin's mother doesn't have a mental state that is considered very stable. She hasn't been feeling very well lately and after the unexpected death of Martin's father everything gets worse. When Sophie goes off her meds she talks to someone she calls Diana (Alicia Bela-Bailey,)a sort of specter that lives in her mind. Diana is attached to Sophie and manifests only in the dark. She is a kind of disturbed soul who goes to extreme lengths to isolate Sophie from others. What will happen to this dysfunctional family? Will Beca be able to face her fears to save her brother and come out on top? Or, on the contrary, will Diana achieve her goal?
Esta es la historia de Rebecca (Teresa Palmer) una chica que se ve forzada a desempolvar los fantasmas de su pasado con el fin de ayudar a su pequeño medio hermano Martin (Gabriel Bateman) que debido a su madre también estaba empezando a experimentar las mismas situaciones desconcertantes que ponían en peligro su seguridad y su estabilidad mental. Sophie (María Bello) quien es la madre de Beca y Martin no tiene un estado mental que se considere muy estable. Ella no se encontraba muy bien últimamente y después de la inesperada muerte del padre de Martin todo empeora. Cuando Sophie deja de medicarse habla con alguien a quien llama Diana (Alicia Bela-Bailey), una especie de espectro que vive en su mente. Diana está atada a Sophie y se manifiesta solo en la oscuridad. Es una especie de alma perturbada que llega e extremos para aislar a Sophie de los demás. ¿Qué sucederá con esta disfuncional familia? ¿Será Beca capaz de enfrentar a sus miedos para salvar a su hermano y salir airosa? O por el contrario, ¿Diana logrará su objetivo?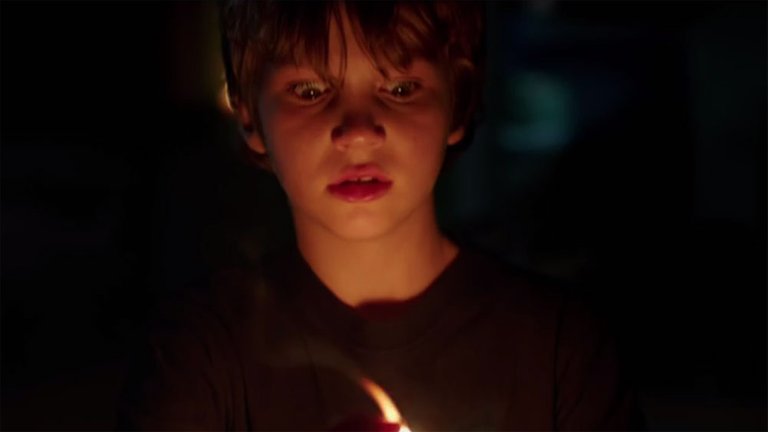 src
This suspenseful supernatural horror film comes with a rather unique and original story, which I found extremely interesting. It's one of those movies with one of the classic ideas of the horror genre, which is none other than the fear of the dark, but with a great twist that makes this story a very peculiar, mysterious and at the same time exciting one. Horror is always accompanied with some suspense, but I would say that this film leans more towards suspense than horror as such, they feed off each other in a great way, with just the right amount of each.
Esta película sobrenatural de terror y llena de suspenso viene con una historia bastante única y original, que encontré extremadamente interesante. Es una de esas películas con una de las clásicas ideas del género de terror, que no es otra cosa que el miedo a la oscuridad, pero con un gran giro que hace de esta historia una muy peculiar, misteriosa y a la vez excitante. El terror siempre va acompañado con algo de suspenso, pero diría que esta película se inclina más al suspenso que al terror como tal, se alimentan el uno del otro de una manera grandiosa, con la cantidad exacta de cada uno.
It's hard for a horror movie to become good without overdoing the story or going off the deep end, but this story in particular makes a lot of sense. It's true that a horror movie doesn't have to be logical, it's usually focused on fear complemented with a terrible story of the past, rumors or legends that honestly tend to be quite similar and with this film they managed to break that mold. As you get to know the past of the specter Diana (who was once human,) you understand why she does what she does and why she hates so much, you even understand perfectly why she only shows up in places with little light or totally dark.
Es difícil que una película de terror llegue a ser buena sin exagerar demasiado la historia o sin irse por las ramas, pero esta historia en especial tiene mucha lógica. Es cierto que una película de terror no tiene porque ser lógica, por lo general está enfocada en el miedo complementada con una historia terrible del pasado, rumores o leyendas que honestamente suelen ser bastante similares y con este film lograron romper ese molde. A medida que se va conociendo el pasado del espectro Diana (que alguna vez fue humana), se va entendiendo porque hace lo que hace y el por qué de tanto odio, hasta se entiende perfecto porque solo se muestra en lugares con poca luz o totalmente oscuros.
Rebeca is a somewhat dark girl with a taste for rock who has a boyfriend named Bret (Alexander DiPersia) who she doesn't consider her boyfriend or rather, hasn't given her the title despite being in a relationship with him for almost a year. They have a good relationship, he seems to love her very much even though he really knows almost nothing about her. Bret also gets dragged into the chaos which at first doesn't make much sense from his perspective, all this happened after Martin contacts Beca because he needs her help. Bret is always very open, gives her space and is always supportive without asking too many questions, he's really a pretty cool guy.
Rebeca es una chica algo oscura con gustos por el rock que tiene un novio llamado Bret (Alexander DiPersia) el cual no considera su novio o más bien, no le ha dado el título a pesar de estar en una relación con él por casi un año. Tienen una buena relación, él parece quererla mucho aun cuando realmente no sabe casi nada de ella. Bret también se ve arrastrado al caos que en un principio no tiene mucha lógica desde su perspectiva, cuando Martin se pone en contacto con Beca porque necesita su ayuda. Él siempre se muestra muy abierto, le da su espacio y la apoya siempre sin hacer muchas preguntas, es realmente un chico bastante genial.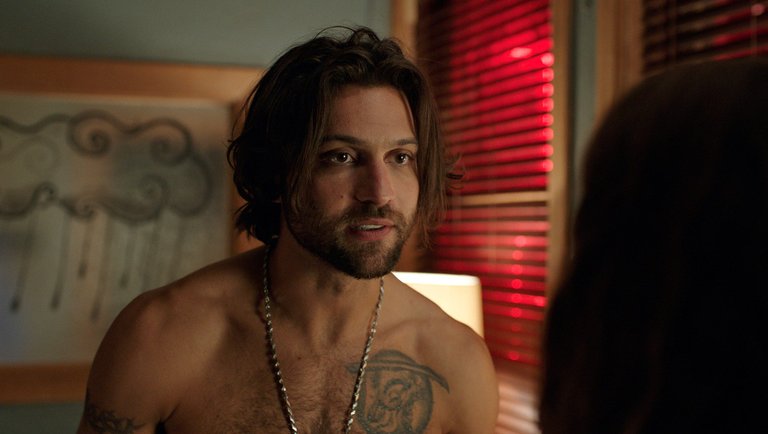 src
Beca is a girl who it isn't very affectionate or doesn't want to be committed to anything, despite loving her half-brother very much, they imply that because of her damaged relationship with her mother she doesn't spend much with him or see him often, yet you can see that they really love each other. From what Martin tells her so similar to what she had experienced, she deduces that what happened to her when she was young with Diana was real and not nightmares as she always believed all this time. I guess it was the most logical thing to keep some of her sanity.
Beca es una chica que no es muy afectiva o que no quiere estar comprometida con nada, a pesar de querer mucho a su medio hermano, dan a entender que por la relación tan dañada con su madre ella no comparte mucho con él ni lo ve a menudo, aun así se ve que realmente se quieren. Por lo que le cuenta Martin a ella tan similar a lo que ella había experimentado, ella deduce que lo que le pasó cuando era joven con Diana fue real y no pesadillas como siempre creyó todo ese tiempo. Supongo que era lo más lógico para mantener algo de su cordura.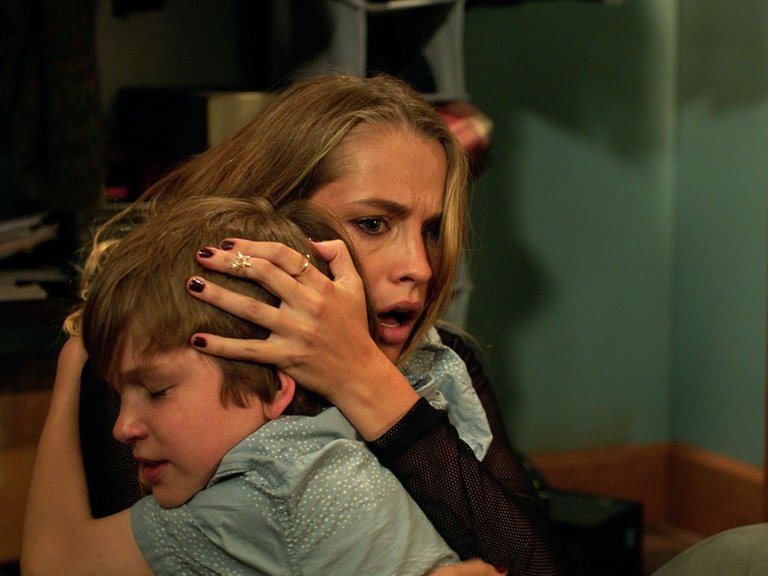 src
Something peculiar about this movie is that it was directed by David F. Sandberg a director who was making his debut, which I consider was excellent, and it's not a surprise because one of the producer of this movie it's actually James Wan the director of the film The Conjuring. The story is in constant movement, I consider this is the right thing to do in this kind of movies to keep the relevant events in a progressive way, and not spend too much time with quiet scenes that don't contribute much, so as to keep fresh the feeling of uncertainty and be in a constant state of alert, waiting for the next appearance of the disturbed Diana.
Algo peculiar de esta película es que fue dirigida por David F. Sandberg un director que estaba haciendo su debut, el cual considero que estuvo excelente, y no es una sorpresa pues uno de los productores de esta película es de hecho James Wan el director del filme El Conjuro. La historia está en constante movimiento, considero que esto es lo correcto en este tipo de películas mantener los eventos relevantes de forma progresiva, y no pasar demasiado tiempo con escenas pacíficas que no aportan mucho, para así mantener fresco el sentimiento de incertidumbre y estar en constante estado de alerta, esperando a la siguiente aparición de la perturbada Diana.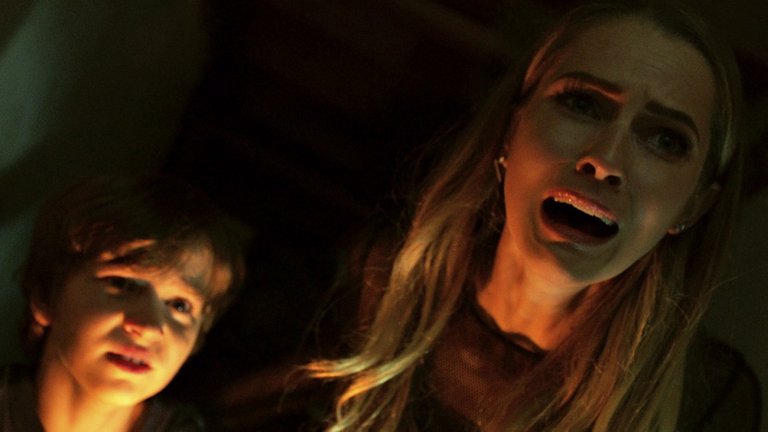 src
What I really liked was that this movie was loaded with classic horror scenes which were totally reinforced by the constant suspense. I feel they took full advantage of the fact that Diana manifested herself in the dark and not only limited themselves to showing her at night, but also managed to keep the terror during the day. Another thing that I thought was very clever was that Diana (because of her particular connection with Sophie) could manifest herself to anyone related to her, she didn't just appear in her house and it wasn't necessary for Sophie to be present for her to do her thing, I loved that.
Lo que me gustó mucho fue que esta película estuvo cargada de escenas de terror clásico los cuales fueron totalmente reforzados por el constante suspenso, siento que aprovecharon al máximo el hecho de que Diana se manifestaba en la oscuridad y no solo se limitaron a mostrarla en las noches, sino que también se las ingeniaron para mantener el terror durante el día. Otra cosa que me pareció muy inteligente fue que Diana (por su particular conexión con Sophie) podía manifestarse ante cualquiera relacionado con ella, no solo se aparecía en su casa y tampoco era necesario que estuviera Sophie presente para que ella hiciera de las suyas, eso me encantó.
Trailer
---
Should you watch it? | ¿Deberías verla?
I know not everyone enjoys this genre, but it's a resounding yes just the same. It's a fascinating story, with a lot of suspense, with some originality while still being classic. The truth is that it's a film that everyone should see, I think that even if you do not like this genre it's possible that this story will catch you, because it escapes from the conventional but remains faithful to horror and it's something that is not seen very often.
Sé que no todos disfrutan de este género, pero es un rotundo sí de igual manera. Es una historia fascinante, con muchísimo suspenso, con algo de originalidad sin dejar de ser clásico. La verdad es que es una película que todos deben ver, considero que incluso si no te gusta este género es posible que esta historia te atrape, porque escapa de lo convencional pero se mantiene fiel al terror y es algo que no se ve muy seguido.
I think it's the only horror movie that I would qualify it that way, I thought it was great and totally enjoyable. Personally, I don't usually get scared easily and at the same time I have seen a lot of horror movies (since it's my favorite genre), this movie always kept me very excited and in expectation all the time. And the icing on the cake is that I can say that my favorite part was the ending, definitely one of my favorite movies of this genre. Are you going to miss it?
Creo que es a la única película de terror que la calificaría de esa manera, me pareció grandiosa y totalmente disfrutable. En lo personal que me cuesta mucho asustarme y a la vez que he visto muchas películas de terror (ya que es mi género favorito), esta película me mantuvo siempre muy emocionada y a la expectativa. Y la cereza del pastel es que puedo decir que mi parte favorita fue el final, definitivamente de mis películas favoritas de este género. ¿Te la piensas perder?
⭐⭐⭐⭐⭐
---
---