The Impossible: Based on a True Story (Film Review) [ENG/SPA]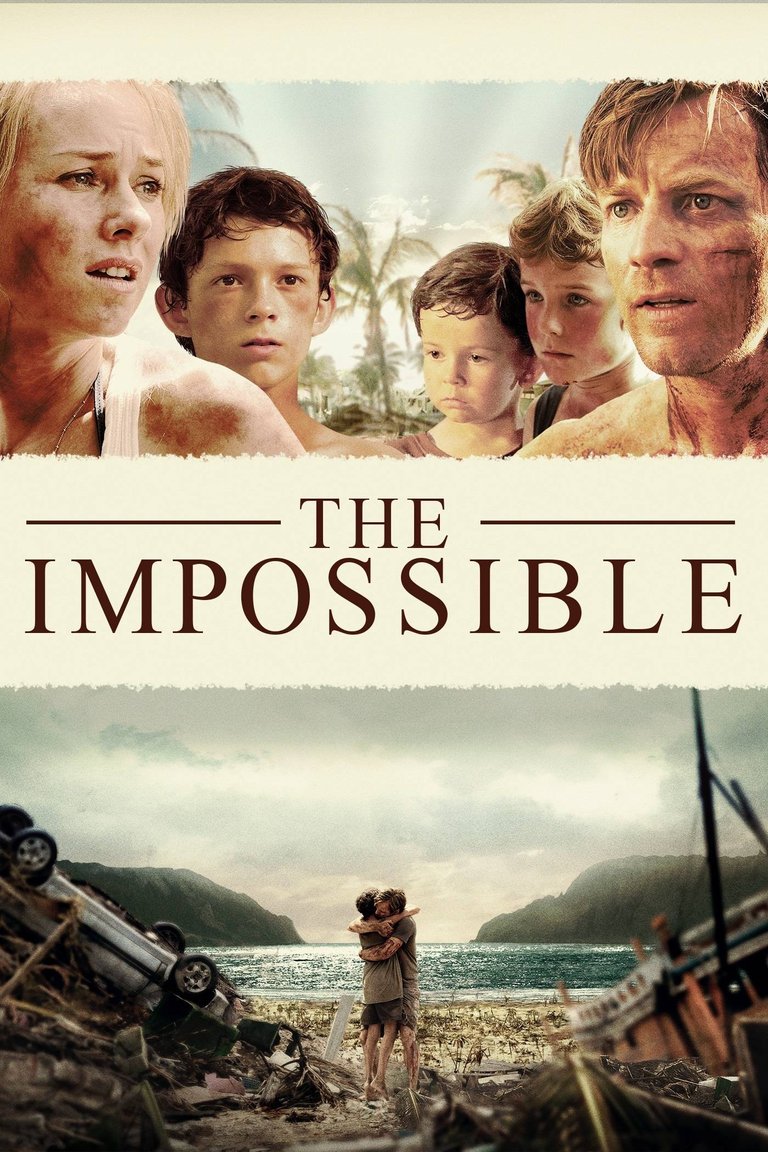 The Impossible
The Impossible tells the story of a real-life Spanish family who survived a natural disaster in 2004 in India. The director Spanish of this film, J.A. Bayona, never thought he would make a film about a Tsunami, but after learning what Maria Belon and her family had to go through, he felt the need to bring their story to the big screen and make it known to everyone. A film with a huge emotional charge, full of action, unexpected twists and turns, with many life lessons and top quality acting, as well as based on a truly inspirational story.
Lo Imposible cuenta la historia de una familia española de la vida real que sobrevivió a un desastre natural el año 2004 en la India. El director español de esta película J.A Bayona, jamás pensó que haría un film sobre un Tsunami, pero al conocer lo que tuvo que pasar María Belón y su familia, sintió la necesidad de llevar su historia hasta la pantalla grande y darla a conocer a todos. Un filme con una carga emocional enorme, llena de acción, giros inesperados, de muchas lecciones de vida y una calidad actoral de primera, además de estar basada en una historia realmente inspiradora.
Our protagonist Maria is a dedicated doctor played by Naomi Watts, her husband Henry (Greg McGregor), her son Lucas (Tom Holland) and her two younger brothers Simon and Thomas, take a trip from Japan to Thailand for Christmas. They are staying at a beautiful resort overlooking the sea, all together they go to play in the pool and hang out, suddenly a huge wave sweeps everything in its path, the next thing you see is Maria and her eldest son Lucas emerge from the depths. Maria trying to reach her son suffers severe injuries, and with no trace of the whereabouts of her husband and two young children, they will face endless trials. Will they survive such atrocity?
Nuestra protagonista María es una doctora dedicada a sus hijos interpretada por Naomi Watts, su esposo Henry (Greg McGregor), su hijo Lucas (Tom Holland) y sus dos hermanos pequeños Simón Y Tomás, hacen un viaje de Japón a Tailandia para pasar allí la navidad. Se hospedan en un resort muy hermoso con vista al mar, todos juntos van a jugar en la alberca y pasar el rato, de pronto una ola gigantesca arrasa con todo a su paso, acto siguiente se ve como María y su hijo mayor Lucas emergen de las profundidades. María intentando llegar a su hijo sufre severas lesiones, y ni un rastro del paradero de su esposo y sus dos pequeños, se enfrentarán a un sin fin de pruebas. ¿Sobrevivirán a tal atrocidad?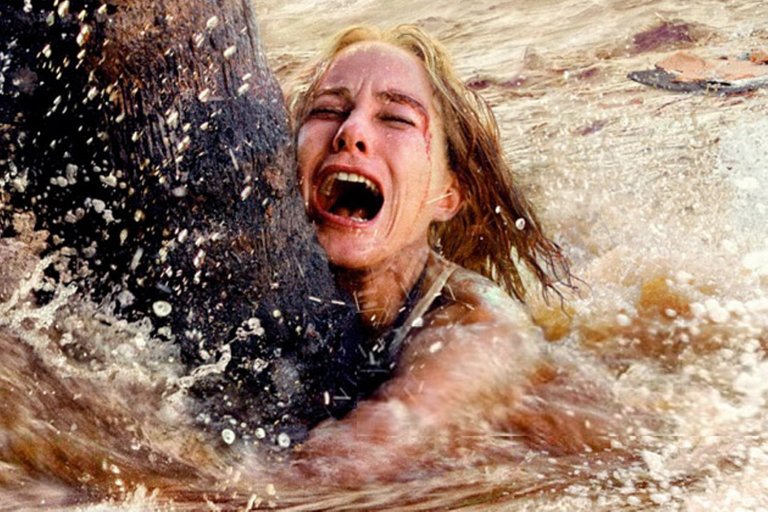 src
One of my favourite disaster stories, I think my favourite. I watched this film by accident in the cinema with a friend, we went to see this film because it was the only show that worked for us because of the time, so I didn't expect anything from this film tbh, I just wanted to get into the cinema, I hadn't been there in a long time and I convinced my friend who has never been a fan of films. It turns out that he was the one who cried for most of the screening, the film does have a lot of scenes that can evoke feelings in anyone, but I still found it very funny that after so much denial he liked the film THAT much, which made it even more memorable.
Una de mis historias favoritas de desastre, creo que mi favorita. Vi esta película por accidente en el cine con un amigo, entramos a ver dicha película porque era la única función que nos funcionaba por la hora, así que yo no esperaba nada de este filme, yo solo quería entrar al cine, hacía mucho que no iba y convencí a mi amigo que nunca ha sido un fan de las películas. Resulta que el que lloró casi toda la función fue él, la película si tiene muchas escenas que pueden evocar sentimientos en cualquiera, pero aun así me pareció muy gracioso qie después de tanto negarse le gustara tanto la película, lo que hizo a esta aún más memorable.
At first I thought it was going to be a simple film, without any extraordinary scenes, in other words, I thought it was going to be a normal film with a normal story, what I did like from the beginning were the actors, both really excellent, but I was taken by surprise how incredible the story was, so full of lessons, with so many deaths, and some disturbing ones, but without leaving aside what they always tell us not to lose, hope.
Al principio pensé que se trataría de una película simple, sin ninguna escena extraordinaria, en otras palabras, pensé que iba a ser una película normal con una historia normal, lo que si me gustó desde el principio fueron los actores, ambos realmente excelentes, pero me tomó por sorpresa lo increíble que fue la historia, tan llena de lecciones, con tantas muertes, y otras algo perturbadoras, pero sin dejar a un lado lo que siempre nos dicen que no debemos perder, la esperanza.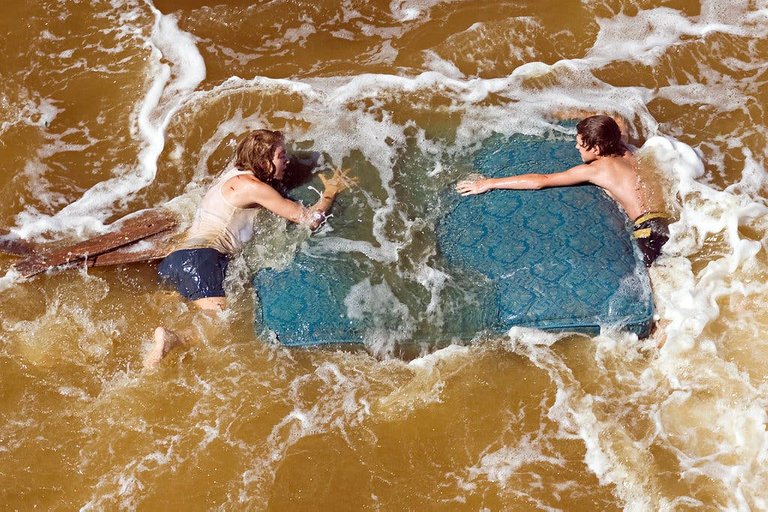 src
In this story you are not given time to recover, every scene is charged with strong emotions that are always accompanied by despair and the inevitable uncertainty. The way in which the film was directed was exceptional, the whole story develops in a fluid way, they left no room for boredom, in the moments where it seems that the film has all the signs that it is going to stagnate, it takes a turn and from that turn comes another one, that's why I say that the film keeps you concentrated and interested at all times.
En esta historia no te dan tiempo de reponerte, cada escena esta cargada de emociones fuertes que siempre están acompañadas por la desesperación y la inevitable incertidumbre. La forma en la que la película fue dirigida fue excepcional, toda la historia se desarrolla de una manera fluida, no dejaron espacio para el aburrimiento, en los momentos donde parece que la película tiene todos los indicios que se va a estancar, da un giro y de ese giro viene otro, por eso mismo digo que la película te mantiene en todo momento concentrado e interesado.
One of the things I enjoyed the most about this film, is how the character of Lucas was developed, Tom Holland's work here is key to this exciting story, just like Maria her scenes were so well acted that it's hard to believe that it wasn't really happening, it was so good that Naomi was nominated as the best actress thanks to this role, even this film was nominated for best film of that year, but without a doubt without all those titles this is a film that you must watch.
Una de las cosas que más disfruté de este filme, es como se desarrollo el personaje de Lucas, el trabajo de Tom Holland acá es clave para de este emocionante historia, al igual que María sus escenas estuvieron tan bien actuadas que es difícil creer que no estaba sucediendo realmente, tanto así que Naomi fue nominda como mejor actriz gracias a este papel, incluso esta película fue nominada a la mejor película de ese año, pero sin dudas sin todos esos títulos es un filme que se debe ver.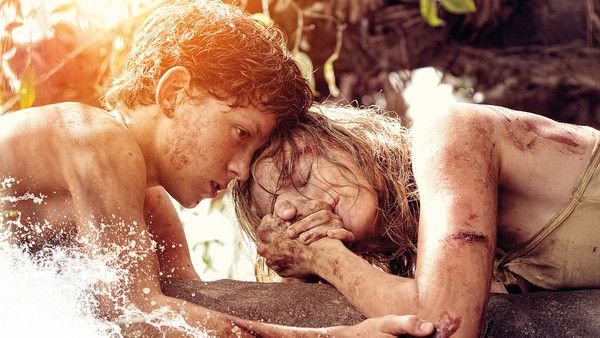 src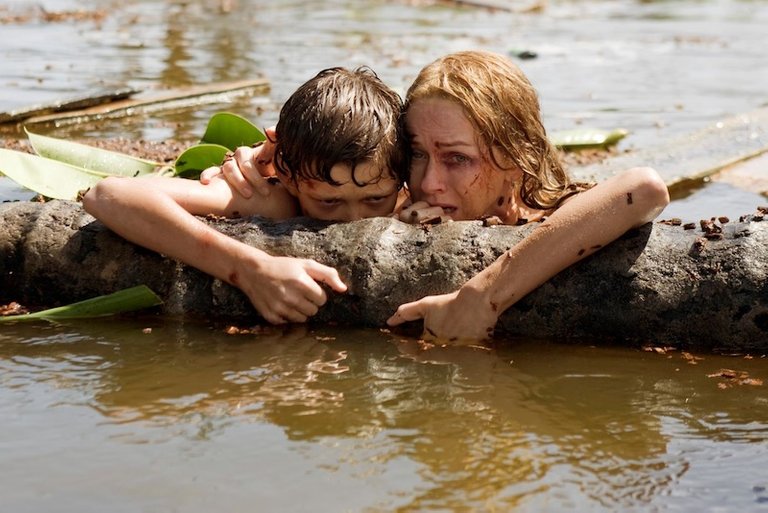 src
The direction of this film was exceptional, how it starts, how it develops and the ending, everything was very well planned and executed, the scenes of massive destruction after the tsunami was excellent, even the tsunami itself looked amazing (no matter that it's a 2012 film,) much better than effects in current films, everything is perceived in a good way, the shots from above showing all the damage, as well as the underwater shots (which must have been very difficult,) were successfully achieved, it's almost impossible for me to praise a film so much, but this is one of the few exceptions.
La dirección de esta película estuvo excepcional, como inicia, como se desarrolla y el final, todo estuvo muy bien planeado y ejecutado, las escenas de destrucción masiva después del tsunami fue excelente, hasta el propio tsunami como tal se vio increíble (sin importar que es una película del año 2012), mucho mejor que efectos en películas actuales, todo se percibe de buena manera, las tomas desde arriba que muestran todo el daño, así como las tomas bajo el agua (que debieron ser muy difíciles), se lograron con éxito, es casi imposible halagar tanto una película, pero esta es una de las pocas excepciones.
I have seen this film several times, and even when I know it's going to happen there are scenes that make me cry, and others that make me wanna close my eyes. This story shows the resilience that a human being can have, many say that we are fragile and yes, life seems to be very fragile, but it's true that it isn't so easy for a human being to die, this film made me think a lot about it, I also liked the fact that with so many people in need, the protagonist Maria and her son Lucas, make it clear that there is always more that can be done.
He visto esta película varias veces, y aún cuando sé que va a suceder hay escenas que me hacen llorar y otras donde me provoca cerrar los ojos. Esta historia muestra la resistencia que que puede tener un ser humano, muchos dicen que somos frágiles y sí, la vida parece ser muy frágil, pero es cierto que no es tan fácil que un humano muera, esta película me hizo pensar mucho en ello, además me gustó el hecho de que habiendo tantas personas necesitadas, la protagonista María y su hijo Lucas, dejan claro que siempre se puede hacer más.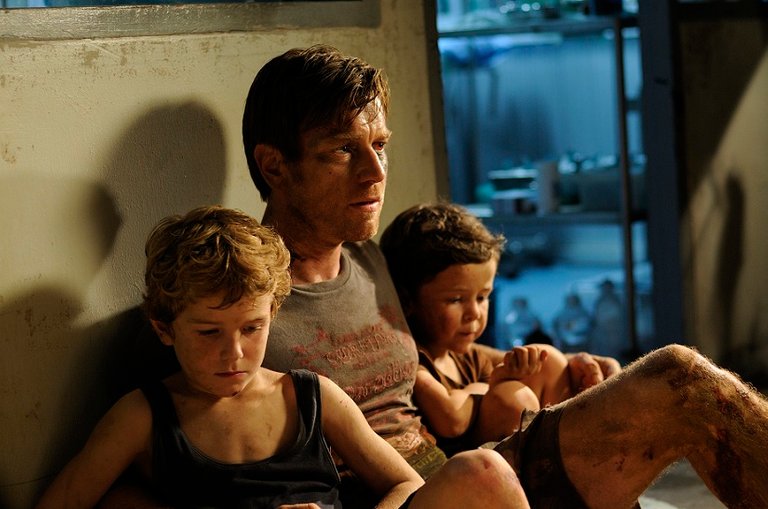 src
There are so many things I want to talk about and I could highlight from this film, like the character Simon one of the little ones, or how kind people are when such unfortunate things happen, as well as how they show that not everything is what it seems, everything connects, everyone comes together in misfortune and there are people who use the word "lucky" very lightly, this film shows why.
Hay muchísimas cosas de las que quiero hanlar y podría resaltar de esta película, como el personaje Simón uno de los pequeños, o lo amables que son las personas cuando ocurren este tipo de cosas tan desafortunadas, al igual que como muestran que no todo es lo que parece, todo se conecta, todos se unen en las desgracias y hay personas que utilizan la palabra "afortunado" muy a la ligera, esta película muestra el por qué de ello.
Trailer
---
Should you watch it? | ¿Deberías verla?
🎬
Of course you should, even after reading this very positive review and watching the trailer you don't feel like it, then there is definitely something wrong with you, seriously, the story is so good that I'm sure that no matter how high your expectations are, this story will exceed them, I have no doubt about it, and even though it's a strong film, I recommend it for everyone, even for children, you can learn a lot from little Simon and Thomas. I personally recommend it to you, you won't regret it, you will be on the edge of your seat at ALL times, you will surely enjoy it and if you have already seen it, then do it again, you will enjoy it in a different way.
Por su puesto que deberías, si aún después leer esta reseña tan positiva y ver el trailer no te dan ganas, entonces definitivamente algo anda mal contigo, es que en serio, es tan buena la historia que estoy seguro de que por más altas que sean tus espectativas, esta historia las va a superar y con creces, no me queda duda de ello, además aunque es un película algo fuerte, la recomiendo para todos, incluso para los niños, se puede aprender mucho de los pequeños Simón y Tomás. Te la recomiendo personalmente, no te arrepentirás, estarás al filo del sillón en TODO momento, seguro la disfrutarás y si ya la viste, pues vuelve a hacerlo, la disfrutaras de manera diferente.
⭐⭐⭐⭐⭐
---
---