BEAR Markets create BITCOINERS...
At this point in the film, the vast majority of us who have at least experienced or are experiencing their second Bear Market, if not the third, should all agree with the content that is expressed in the form of a #meme in this image.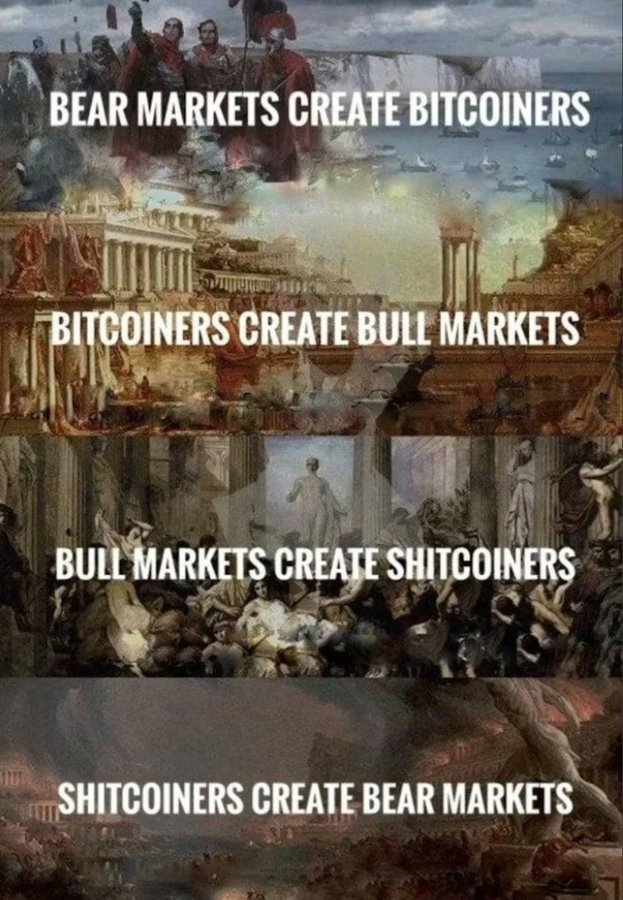 (Source)
And if they are still not clear about it, then they will have to live another Bear Market to realize that what is important is BITCOIN and that everything around it is a consequence of its performance.
Bitcoin is the discovery, blockchain is the invention, and everything else that is invented about the use of blockchain has not improved the discovery that BITCOIN offers.
Of course, we can continue speculating with other blockchain solutions and their future use but, still, the one that really has to be adopted is the invention of an alternative to the current fiducial system and, up to date, there does not seem to be a better system than the one that BITCOIN offers, regardless of its transactions per second or whether or not it consumes a lot of energy.
It is possible that the current global crisis or recession or whatever the centralizing technocrats want to call it, is putting the current FIAT system under the final stress test. However, in my opinion, we will get ahead with the years and the anti-inflationary measures that are being promoted, but even if some get ahead, many others will suffer tremendously from the consequences of having a dollar printing machine with infinite capacity.
The same applies to the EURO and the rest of the current currencies at the mercy of centralizing entities and "control" in favor of the big ones and against the majority.
BITCOIN is the solution, whether we like it or not...
---
*Disclaimer: This is just my personal point of view, please, do your own assessment and act consequently. Neither this post nor myself is responsible for any of your profit/losses obtained as a result of this information.
Posted Using LeoFinance Beta
---
---