Finally a breath...
Well, it seems that we have a small respite in relation to the total value of my "empire" in HIVE.
After hitting a bottom of $9,400, today the value of my HIVE portfolio, taking into account not only HIVE but HBD and HE tokens that I stake, is approaching $10,000 again...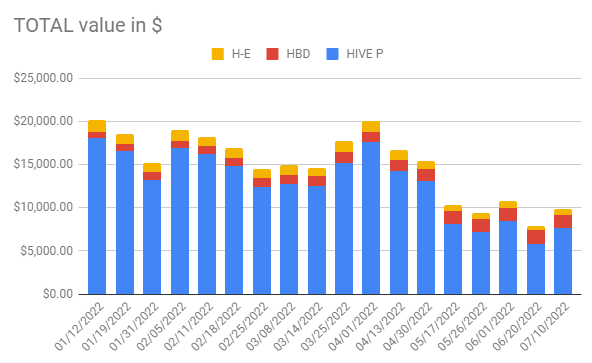 The most significant thing is not the value in dollars but the accumulation of HIVE, HBD and other tokens like LEO and CENT that I am doing... at some point or another the market will end up turning bullish again... at that moment the value in dollars it could easily triple if HIVE touches $1.5 again, which does not seem difficult.
We all know the game, in BEAR market we accumulate, in BULL market we have to be smart enough to collect some profits and put them in a safe place to be able to survive worse times, in this case, my safe place is HBD savings in this ecosystem but I also think CENT is a good alternative since it holds its peg to the cent of a dollar pretty well.
Posted Using LeoFinance Beta
---
---