Incredible but true
Incredible but true
I don't quite understand what's going through these freaks' heads.
LEDGER just announced a recovery feature that allows Ledger to back up seed phrases, read further here.
To do this you "only" have to give them your "Seed Phrase" and your Identity Card... the strange thing is that they don't ask for your ass too...
At the moment it is an optional feature only for LEDGER NANO X and citizens of the USA, EU, UK and Canada (LoL).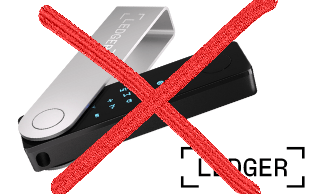 I understand that the regulators should be behind all this and blah, blah, blah... however, what's the point of having a HARDWARE WALLET if someone else guards your seed and your private data... even worse if the proposal comes from a company that is famous for its Data Breaches in the past.
Little by little we are losing the sense of why we are in crypto.
Ok, it's clear that the LEDGER drift is being counterproductive for any crypto user...I'm going to have to move my BTC to a more reliable hardware wallet...I'm thinking of BITBOX02 but I accept your suggestions if you have any better one.
---
---