Daily Rewards w/ Quest Potion 10 of 11 🎉 Cards , DEC, & Potions 🎉
The Penultimate Potion. I had another Sneak Quest last night. The battles were simple enough. The server wasn't. Hangups and loading times limited most of my battles to around 30 seconds left on the clock to choose a team, so I was throwing out teams of only 2 or 3 monsters making up half the mana limit. Lucky for me, there were a lot of poison rulesets so my Gelatinous Cube did most of the heavy lifting. On to the rewards!
The star this time is the Pelacor Bandit. This is the Water version of the Fire Splinter's Kobold Miner. It costs 1 more mana, but you also get the Flying ability which comes in handy during Earthquake Rulesets.
---
What do you think of Venari Heatsmith? I still haven't looked into it, but I've been hearing mixed reviews. Have you used it? What'd you think? Let me know!
---
Also be sure to check out my deep dive article on the new Reward Cards and whether or not you should be buying them!
---
---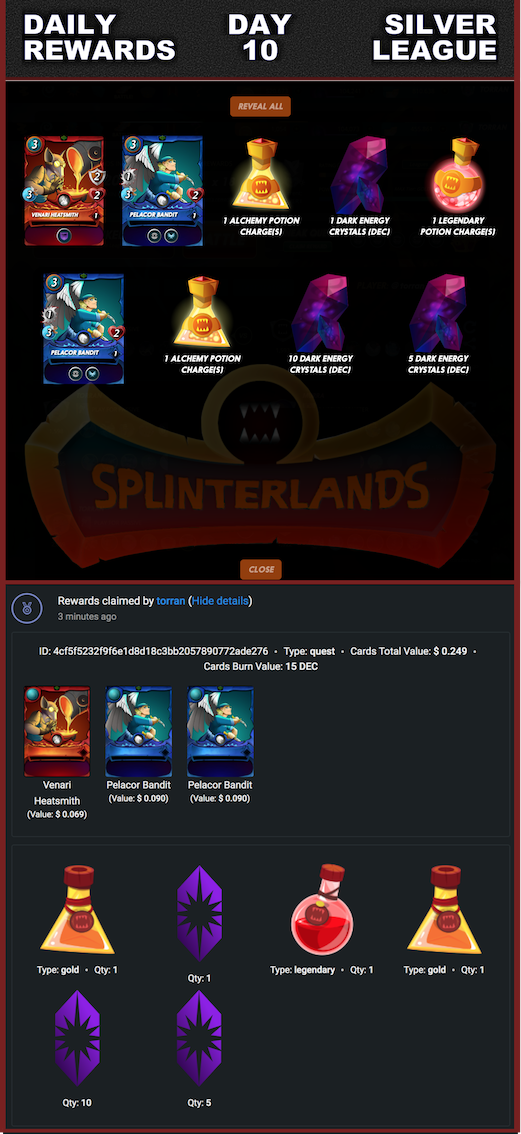 THANKS FOR READING!

Daily Rewards Primer HERE
---
League Limits Primer HERE
---
Updated Dec Burn/Power Chart HERE
Note: You can also type $dec in the discord server for the same chart
---
Still not signed up to play and EARN? Sign up HERE
Note: It's free to play but to earn you need to purchase The Summoner's Spellbook for $10
---
How To: Purchase The Summoner's Spellbook
---
How To: Unlocking Bronze League Beast Mode
---
For more articles like this, check out my blog HERE
---
---