Daily Rewards w/ Quest Potion 11 of 11 🏋️ Must Be LEG Day! 🏋️
Well, here it is. My last quest potion. I gotta admit, I'm gonna miss them. I'm already in-work on a detailed summary and wrap-up, so let's just get straight to the rewards.
I was reeeeally hoping for a legendary, but it just wasn't in the cards (pun intended). The Twilight Dragon is a new card to me, but I've been on a dragon kick lately thanks to the new Djinn Chwala card. Speaking of which, that brings me to my next pull: another Djinn Chwala! Score!!
I also pulled another Djinn Renova. I started playing the light splinter last night, but I haven't used this card yet. It looks good though. We'll see.
The rest of the loot was just your regular ol' cards and potions.
So what did I think? Were they worth it? It's hard to say for sure.
Check back later for a full report detailing all 11 days and breaking down the rewards dollar for dollar.
---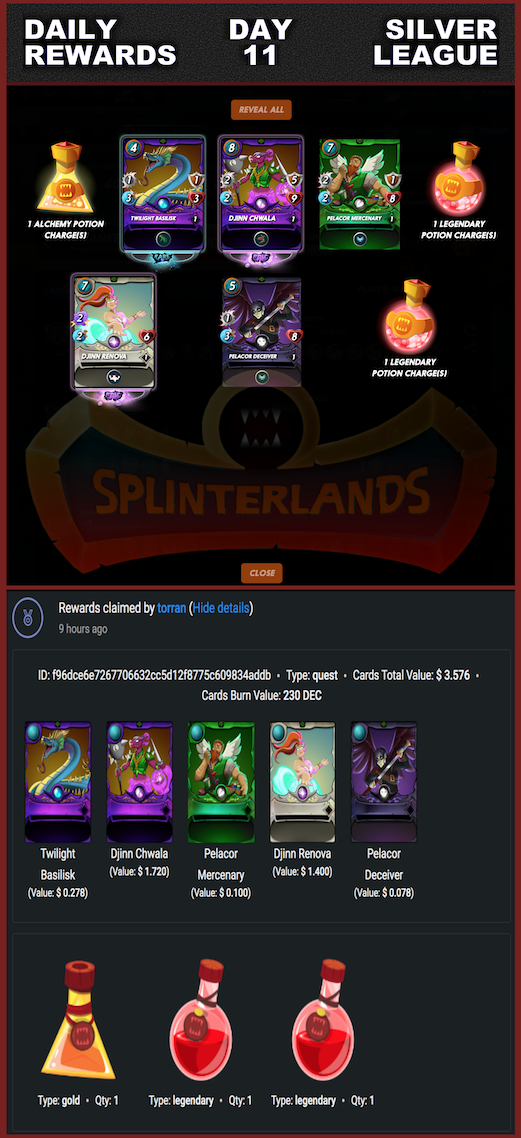 ---

THANKS FOR READING!

---
---
---
🔥 Updated Dec Burn/Power Chart 🔥
Note: You can also type $dec in the discord server for the same chart
---
💎 Still not signed up to play and EARN? Sign up HERE 💎
Note: It's free to play but to earn you need to purchase The Summoner's Spellbook for $10
---
📚 How To: Purchase The Summoner's Spellbook 📚
---
👹 How To: Unlocking Bronze League Beast Mode 👹
---
🌟 For more articles like this, check out my blog HERE 🌟
---
---
---