Camping in southeastern Crete. Summer still has a long way to go (or at least I hope so!)
It was about time and truth is that we really needed this trip!
People think that living in a place where many people dream to come for vacation instantly makes your daily life carefree and dreamy as the few days they spend here on holidays. Not exactly true. A better quality of life is for sure but worries unfortunately don't just disappear. Although it could be close to perfect, we are not there yet :)
We made a 5-days road trip in our region, southeastern Crete. It was supposed to be more like a test drive for our tiny camper van before we start a bigger trip, but it worked perfectly as decompression cause this is quite a hard period.
---
Voila! The mini camper. When I say mini, I mean it! Home of two people and a dog :)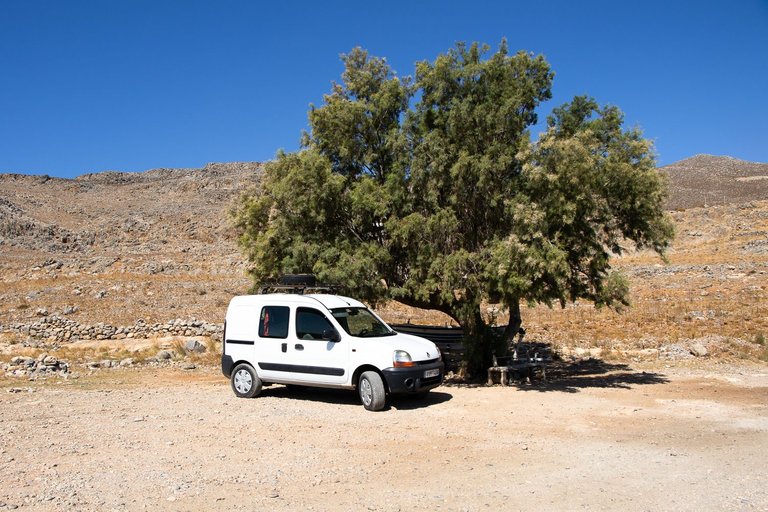 ---
This is not a travel post, it is more like sharing some moments and thoughts. I didn't even have my camera with me all the time. The goal was relaxation and this is not an easy goal.
@fotostef has more to share at his post as he managed to relax and take photos at the same time :))
We were so desperate to just leave that we did it even with the forecast and the signs screaming that we shouldn't. Very strong winds, but we had stronger will and we were determined to achieve the goal of the trip.
The place where we first went is a magic place called Xerokampos. We have an appointment every year with the sand lilies that thrive there. You can see more here.
The sand was whipping us without mercy, but you know what, we didn't care!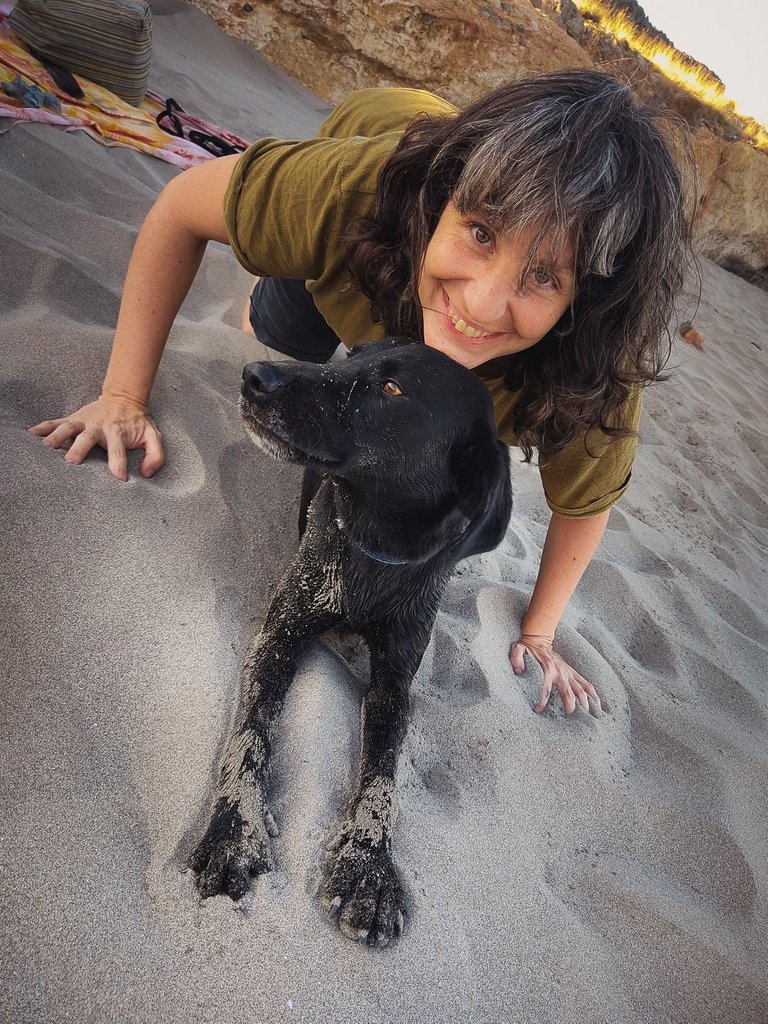 ---
Photos can be such an illusion. You see the photos below and you think this is paradise. Well, not that day :)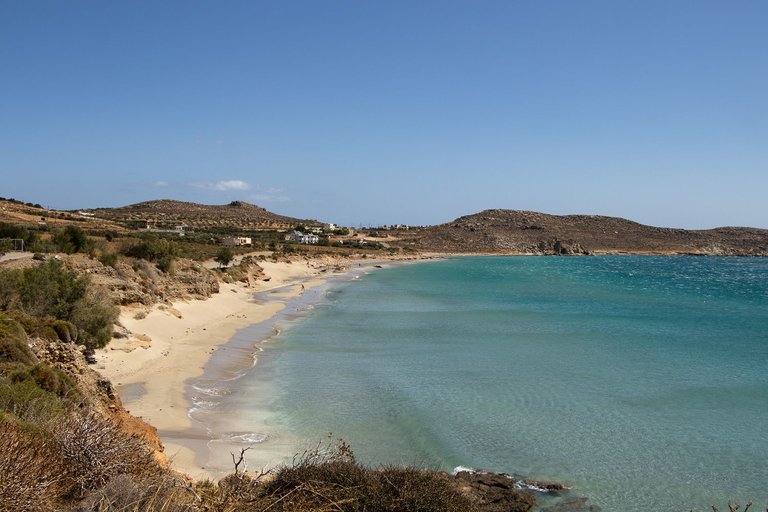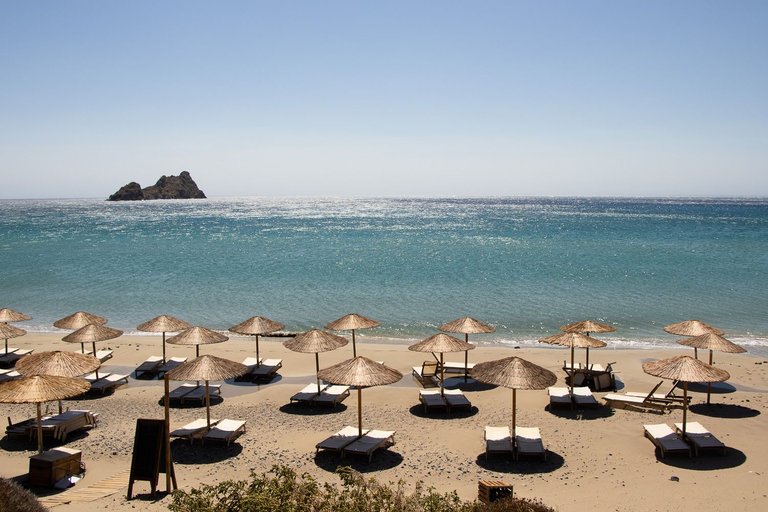 ---
Even under the most difficult circumstances, there is always a place of calmness.
We were lucky enough to find a calm spot behind these rocks in a more quiet rocky beach, not fans of sunbeds anyway. About 5 sq.m., quite a luxury for that day!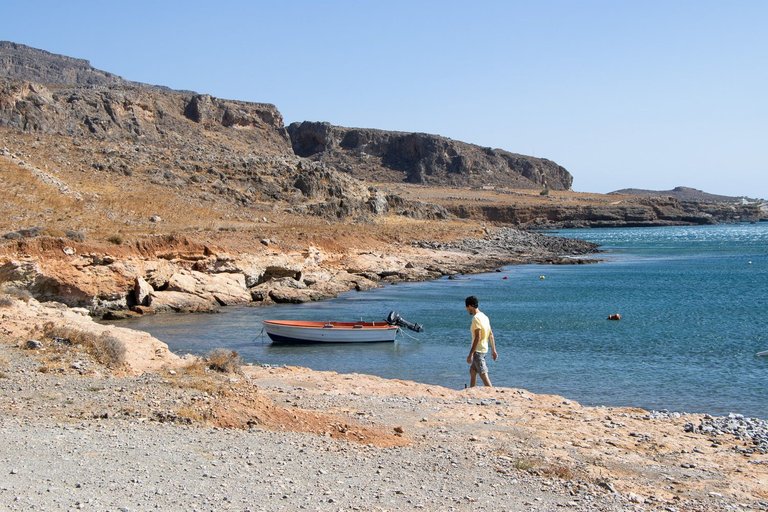 Looking at the sea, the view was like this... The wind was lifting the water in the air for several meters.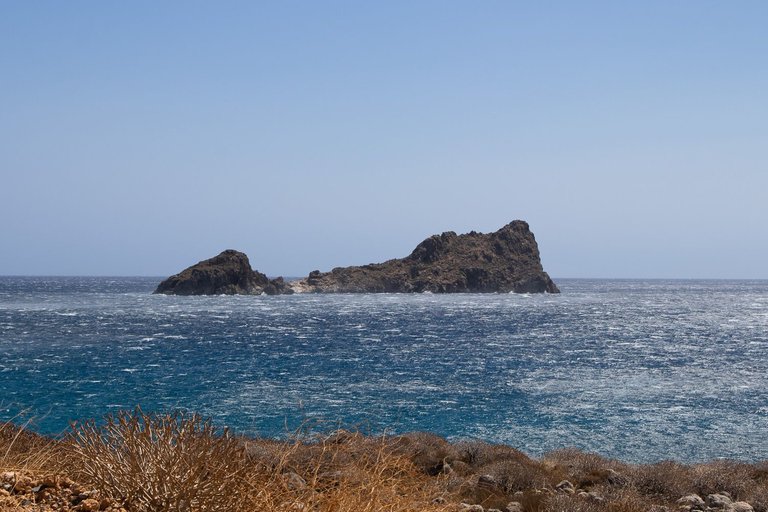 ---
This is still a road trip, so let's hit the road while talking! And what a route!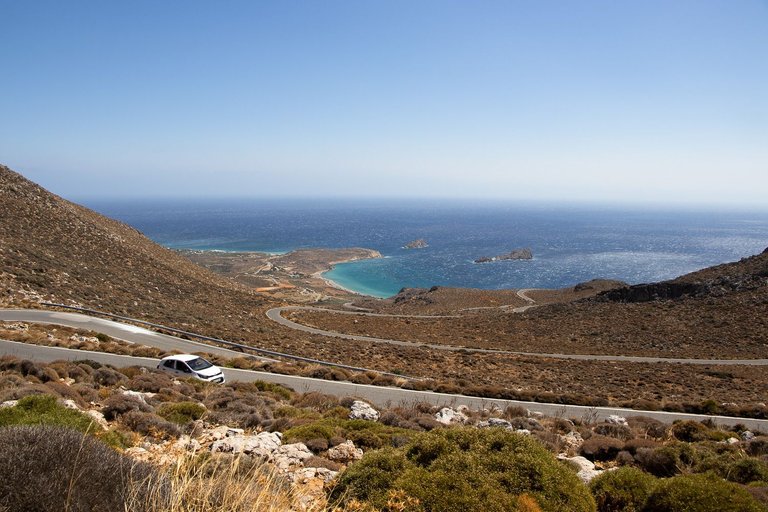 ---
We headed to the south, things are calmer here regarding the wind.
I looove tamarisk trees, forever grateful for the shadow and the great company they always offer us.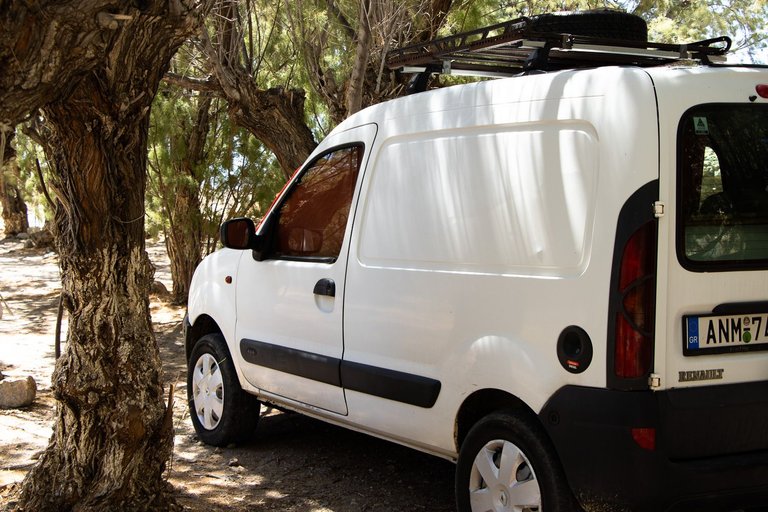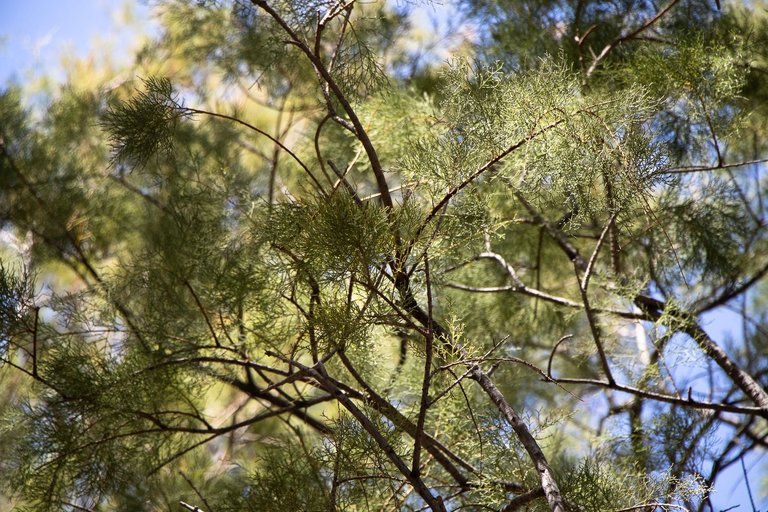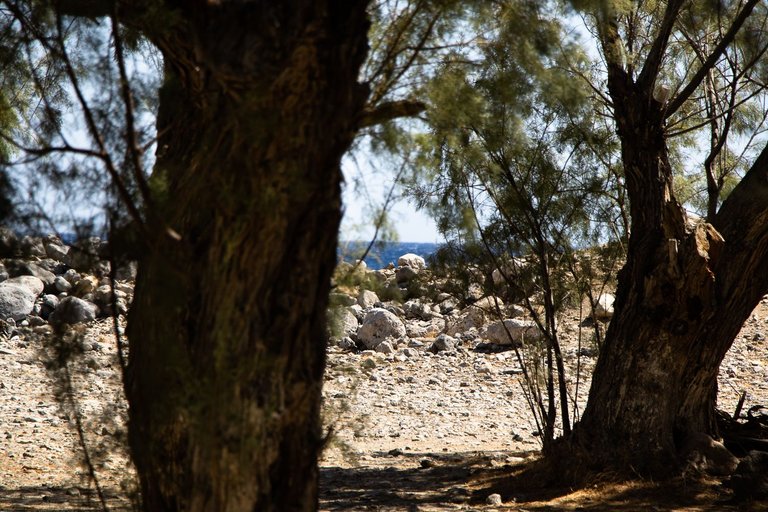 We spent a couple of nights right under this monastery...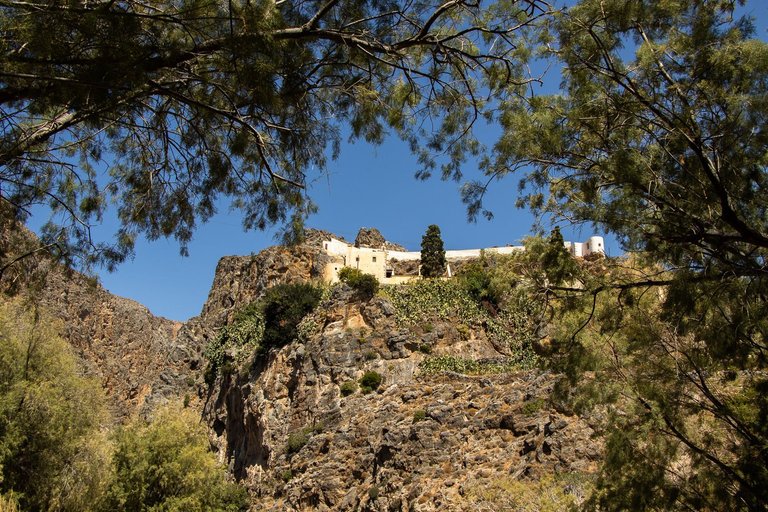 and in the end point of a beautiful gorge. Perfect start of the day for Markos, our canine companion, and us.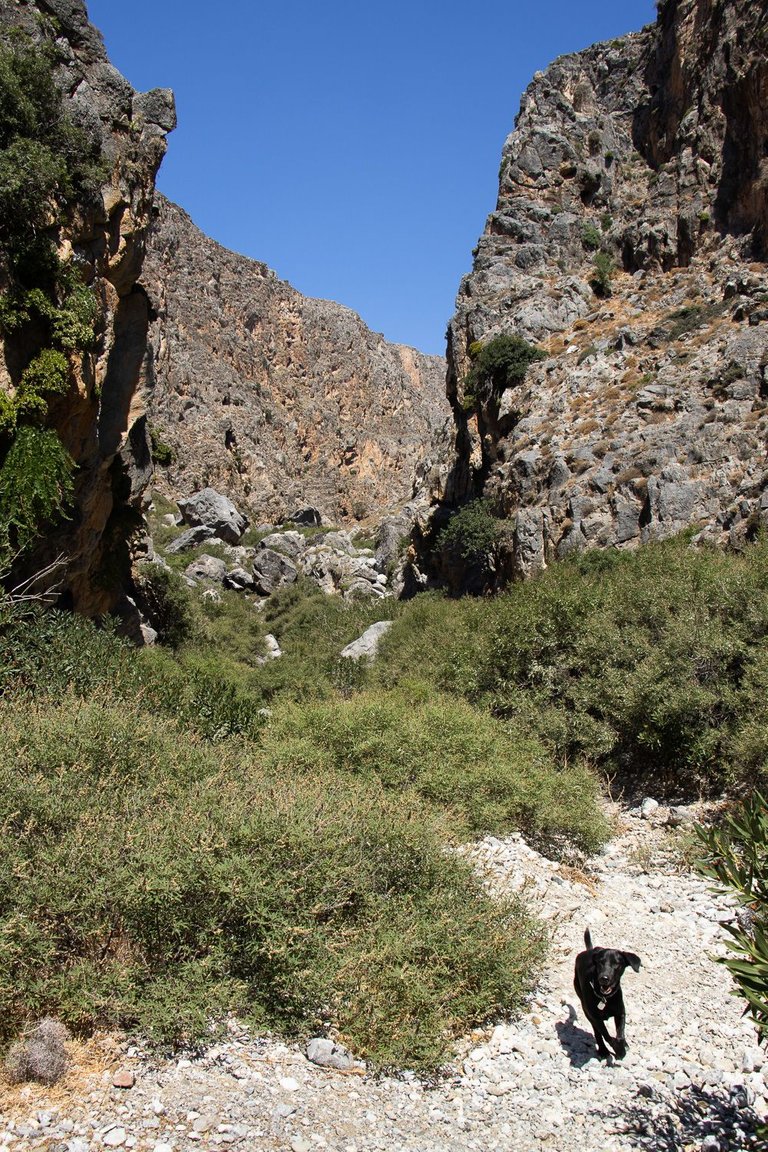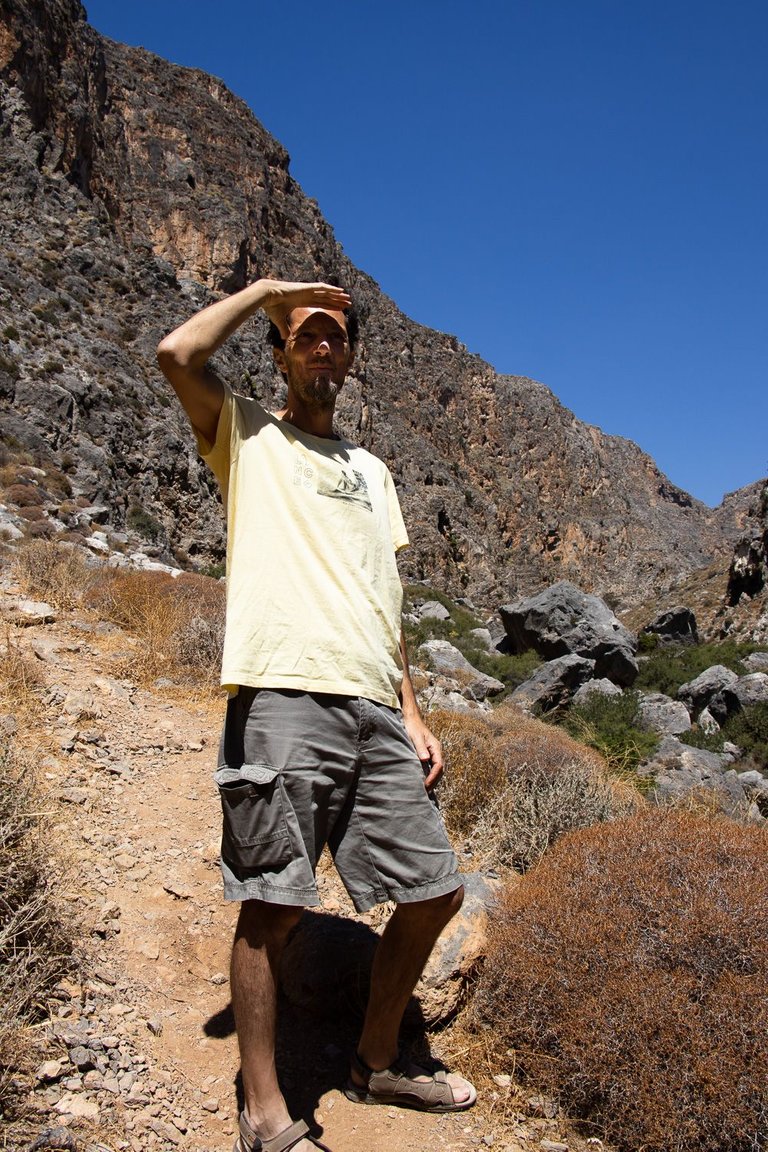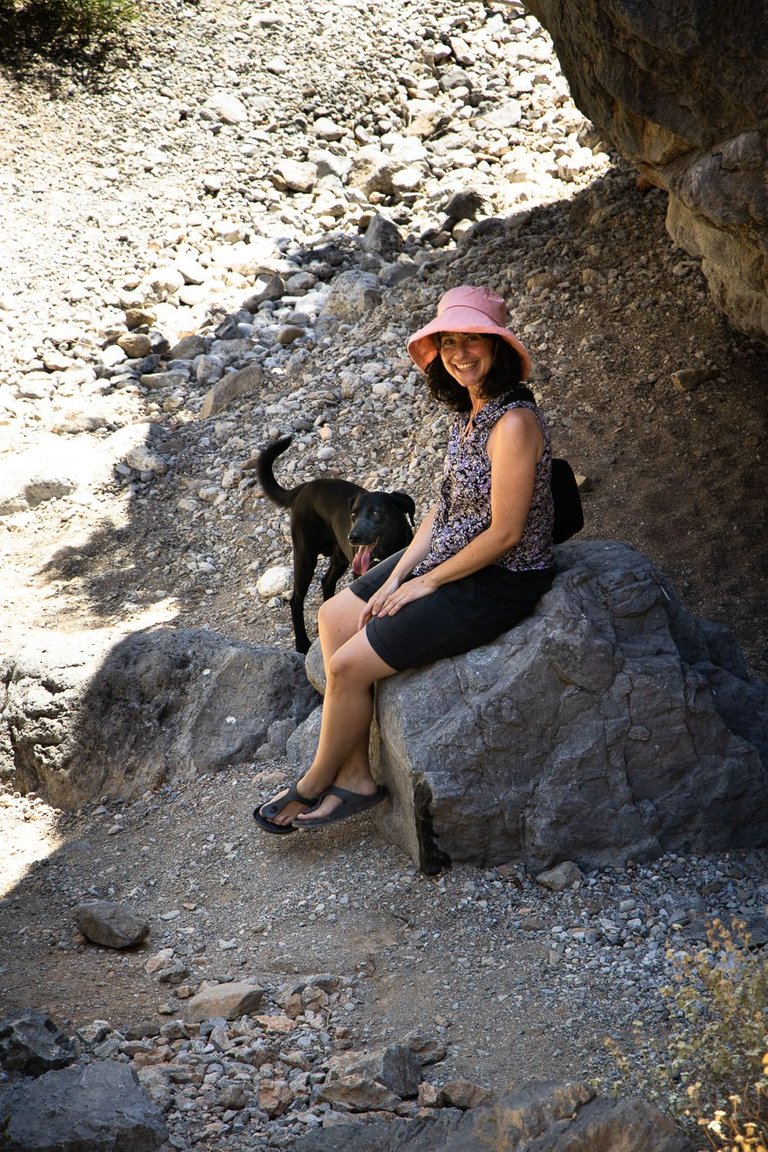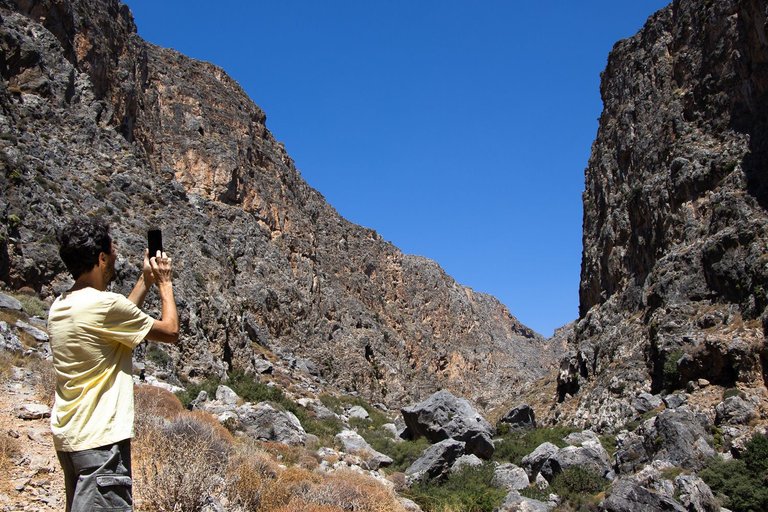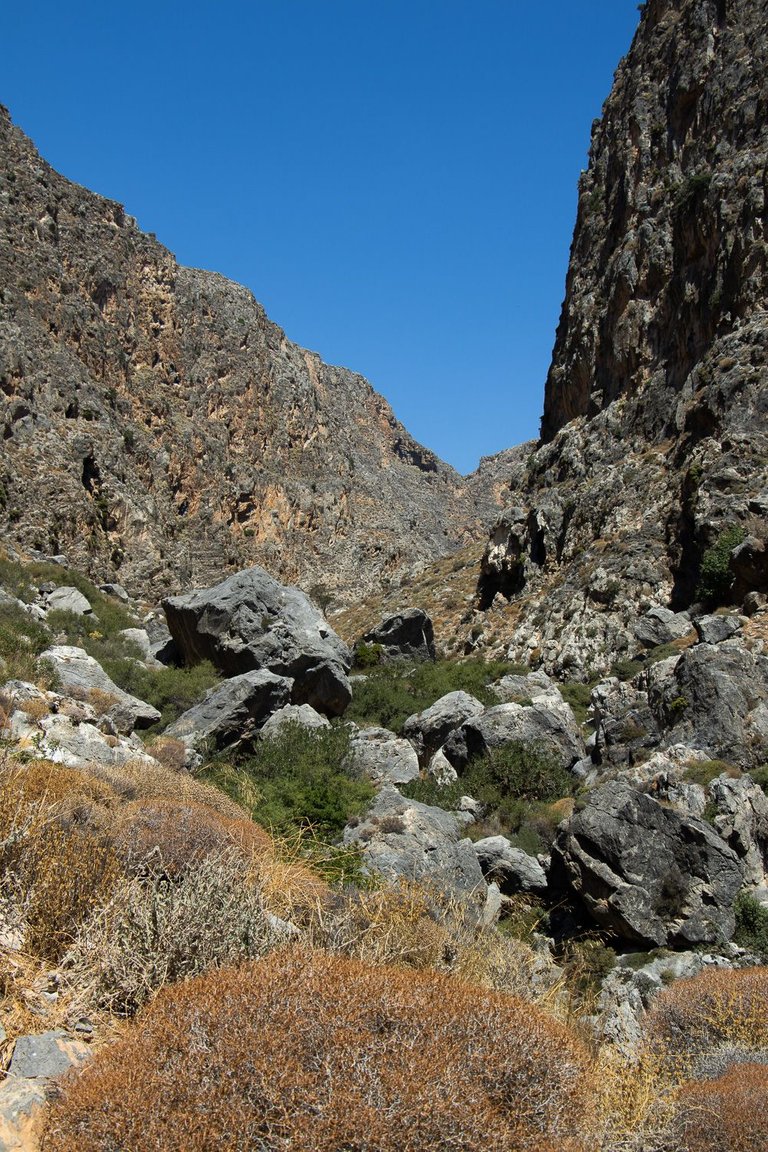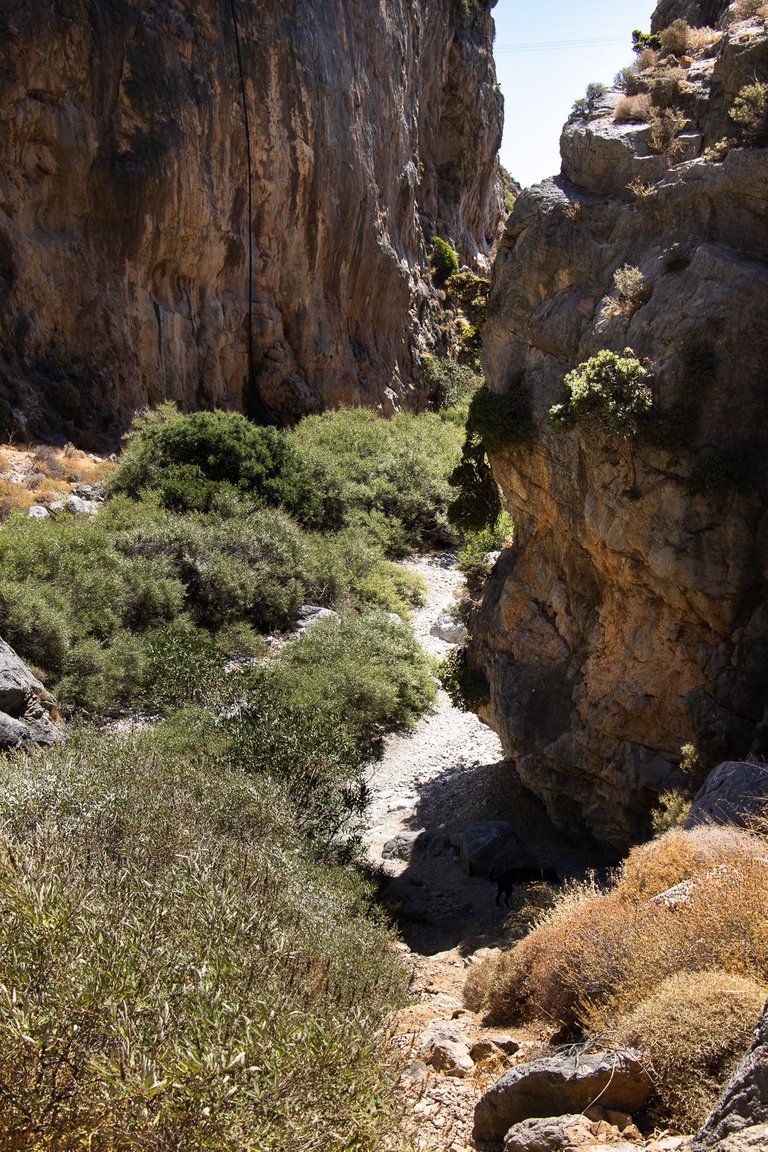 ---
Beautiful small beaches, crystal clear waters and most of the times it was just us!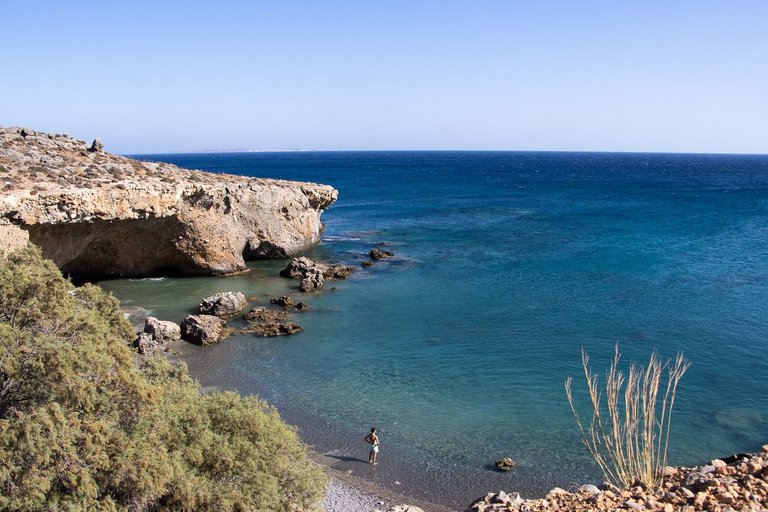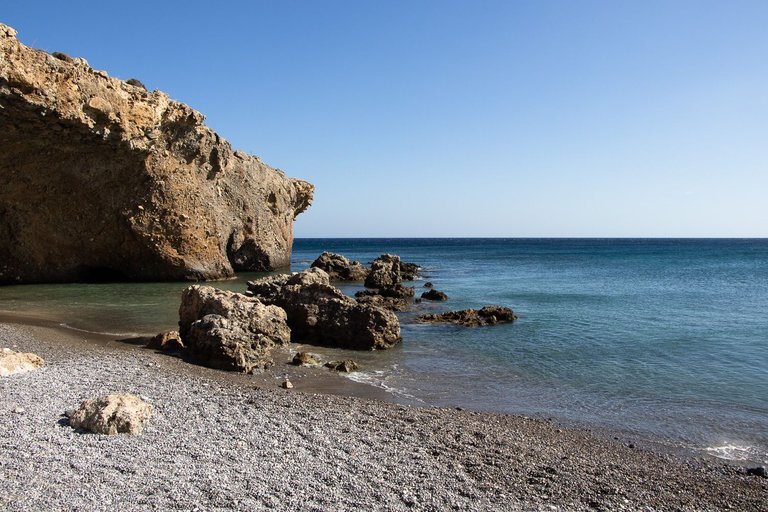 And another good tamarisk-friend to offer protection.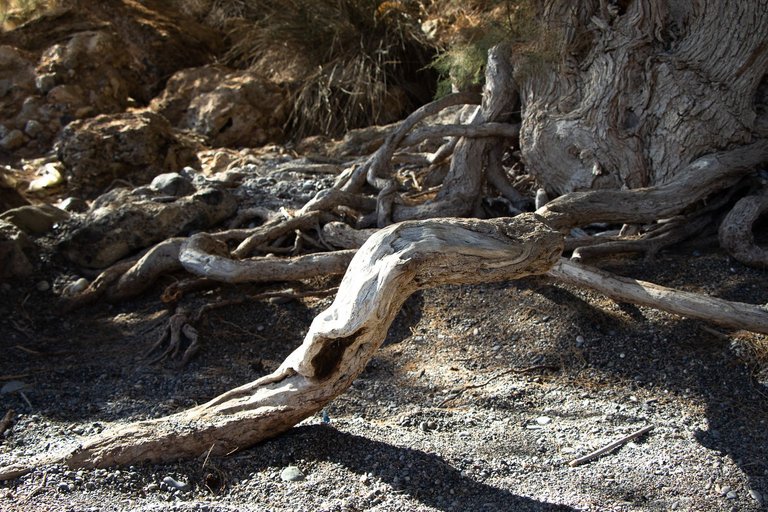 ---
This is how Markos looks when he is on the leash while we are swimming, grumpy face, haha!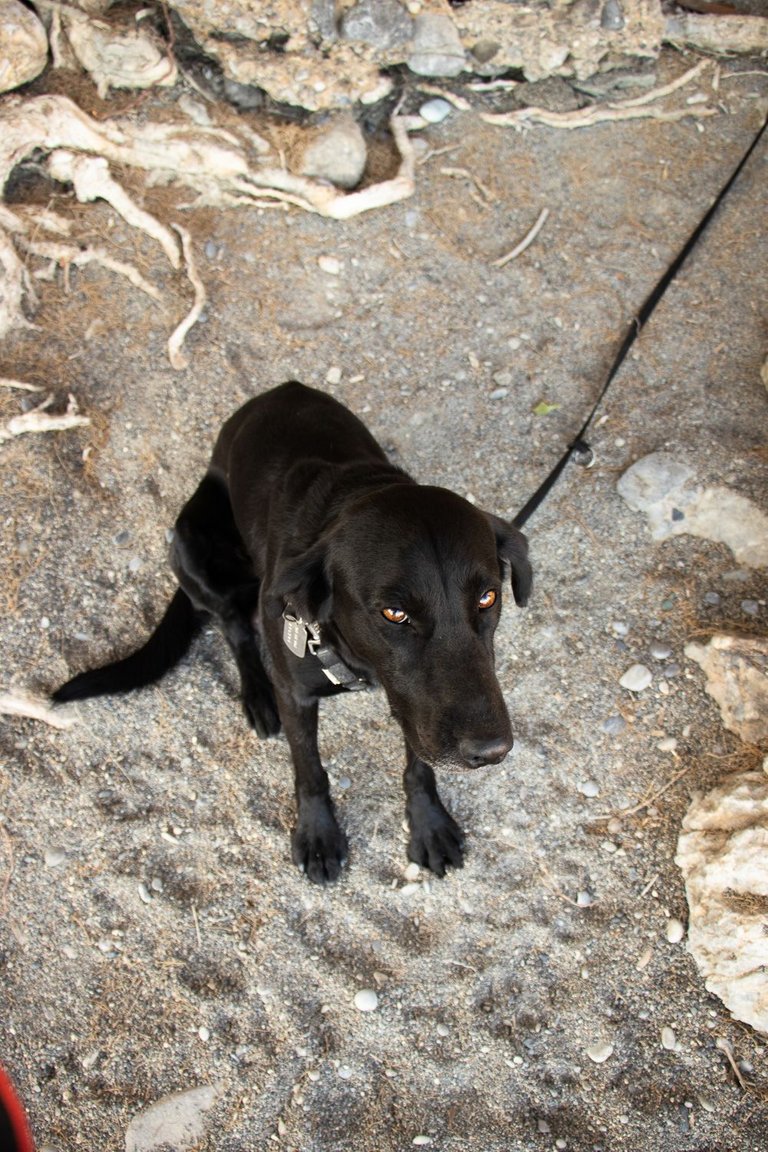 He can't really understand the joy of getting in there. That's as far as he goes in the sea :))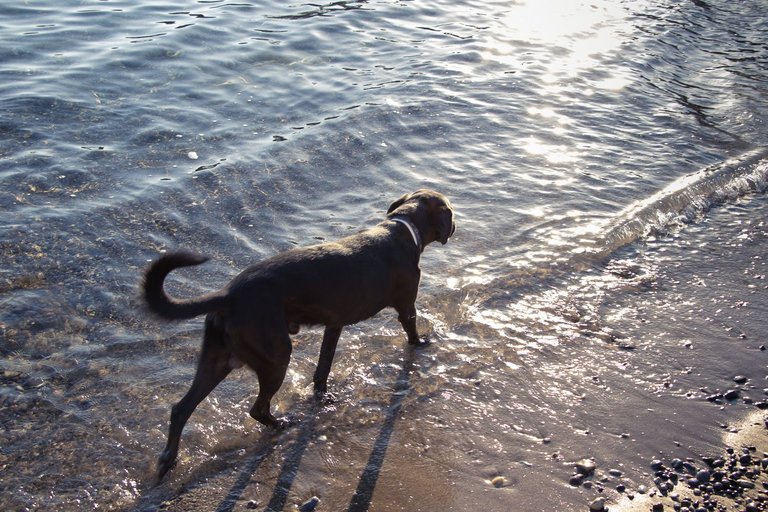 Rocky terrain is his place.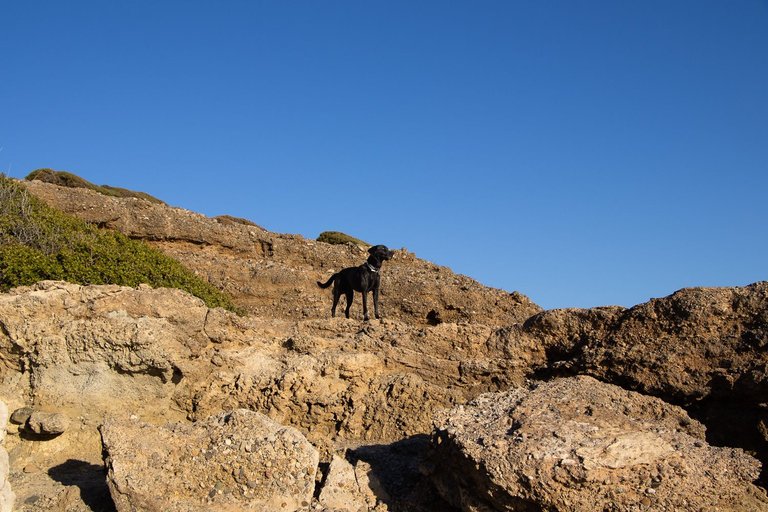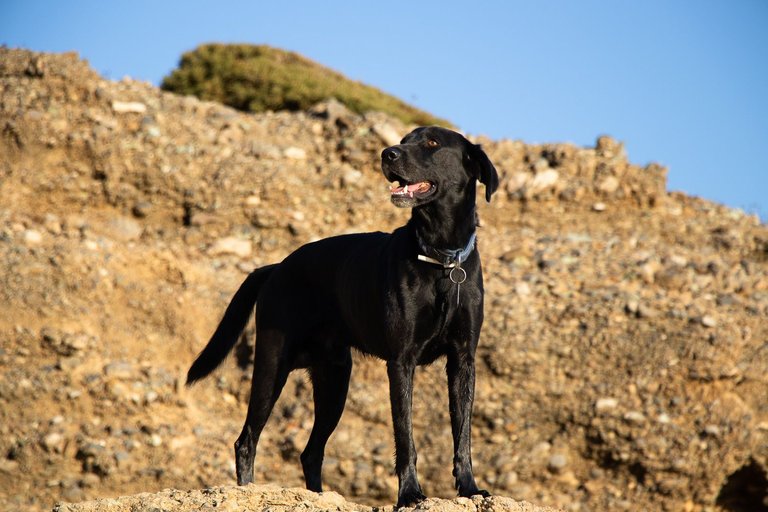 ---
In case you wonder where this beach is, I will tell you exactly. It is 2.188 km from Berlin and 11.511 km from L.A :)) I always find these signs cute!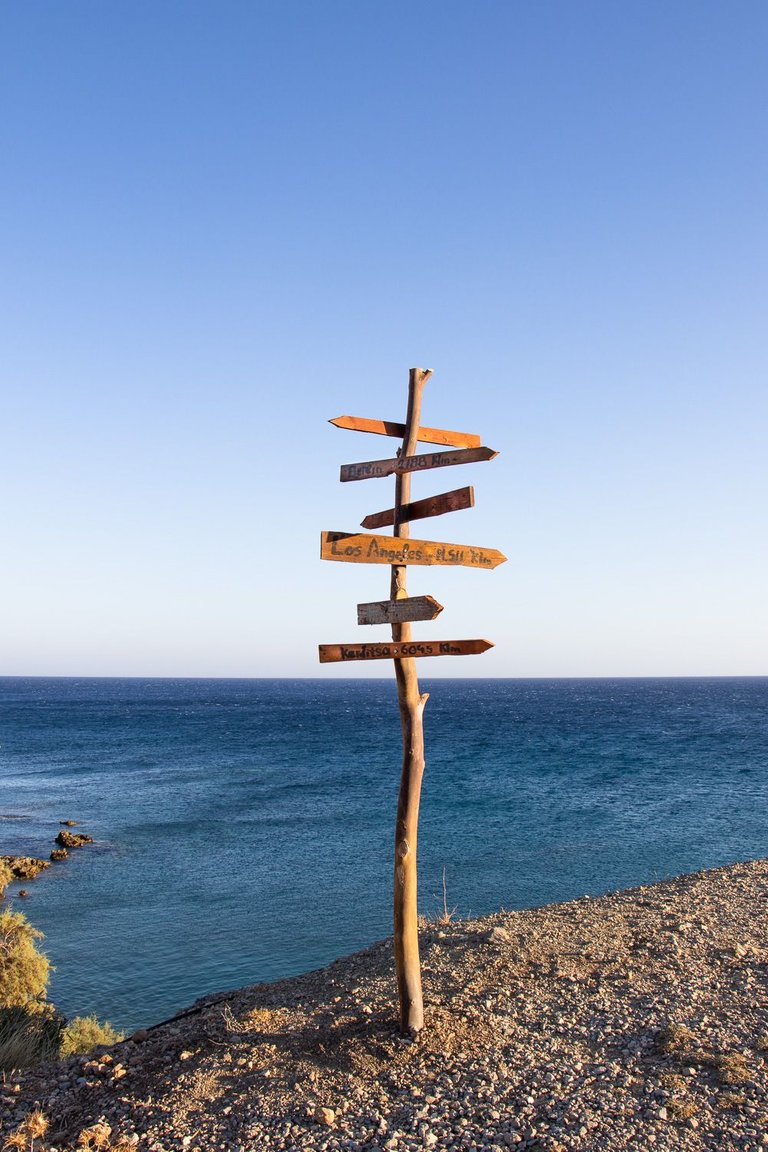 ---
We are made to spend time outdoors, this is our nature, being close to nature. That's where body and mind work in another mode. We don't really need much...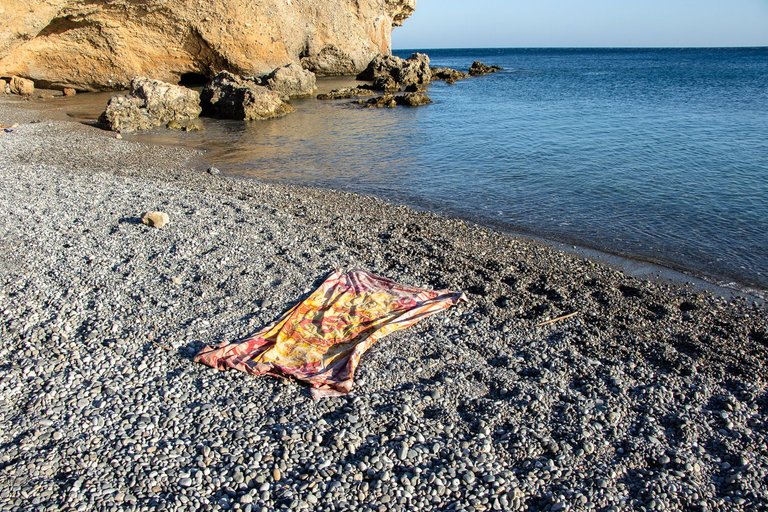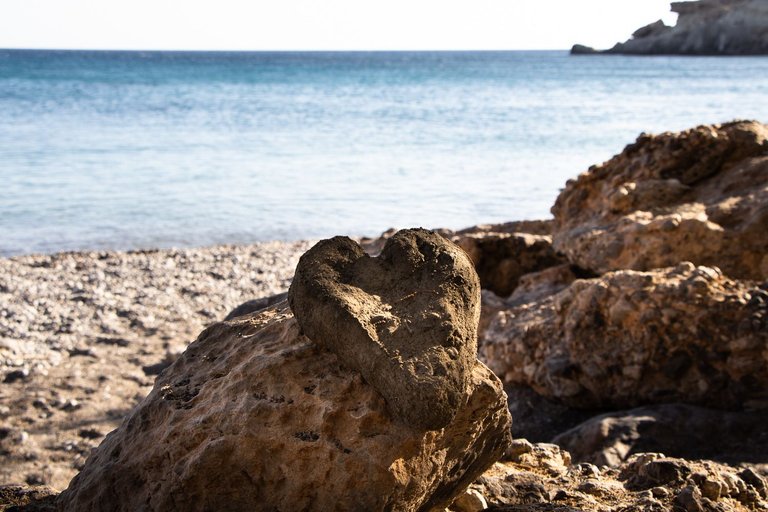 I know all I want is simplicity, I also know that everything can get complicated so easily and so quickly, it is a complicated world :)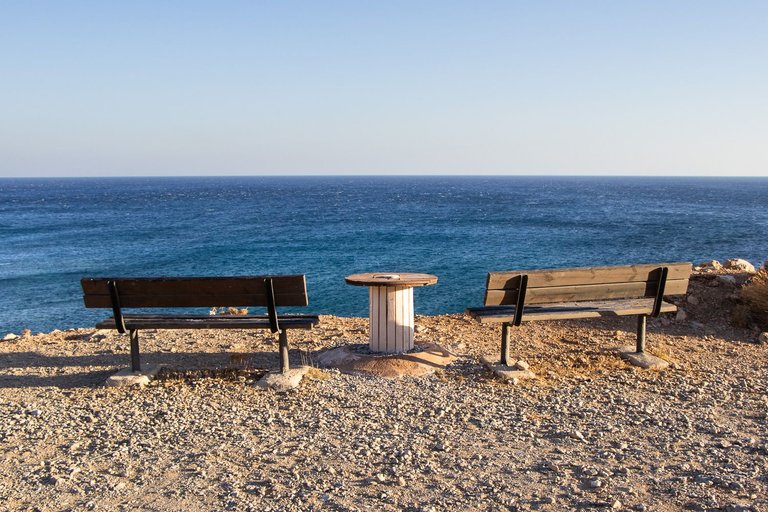 When we started getting ready for cooking the last night, we knew we were in a beautiful spot with great view, but we didn't expect it to be so magic...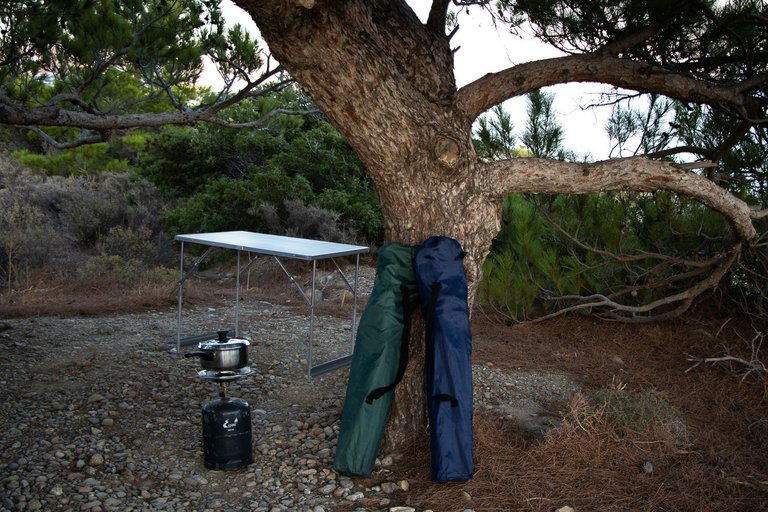 Full moon and just the sound of the sea, like a signal that every little thing is gonna be alright :)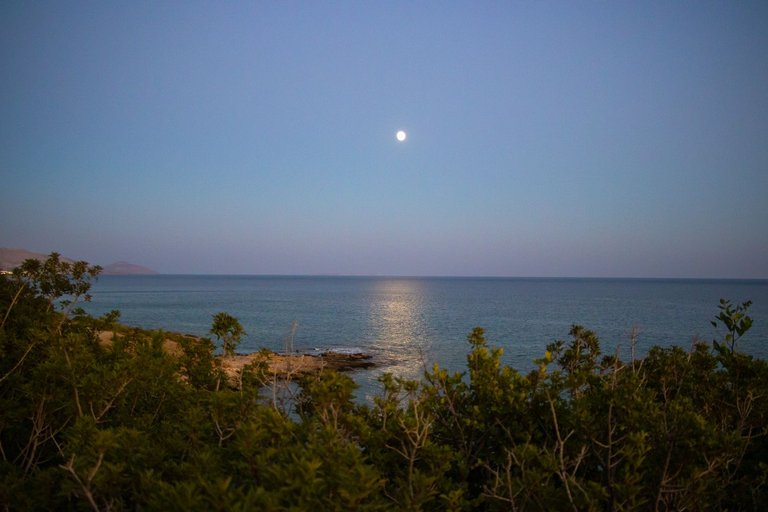 ---
---
All the pictures and the words are mine, except from the two pictures I am in and they are taken by @fotostef.

If you would like to know more about me this is my introduction post.
---
---