Lam Vien Square Dalat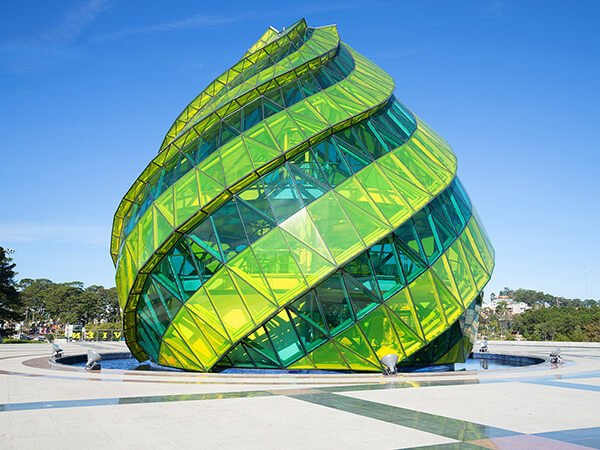 Photo credit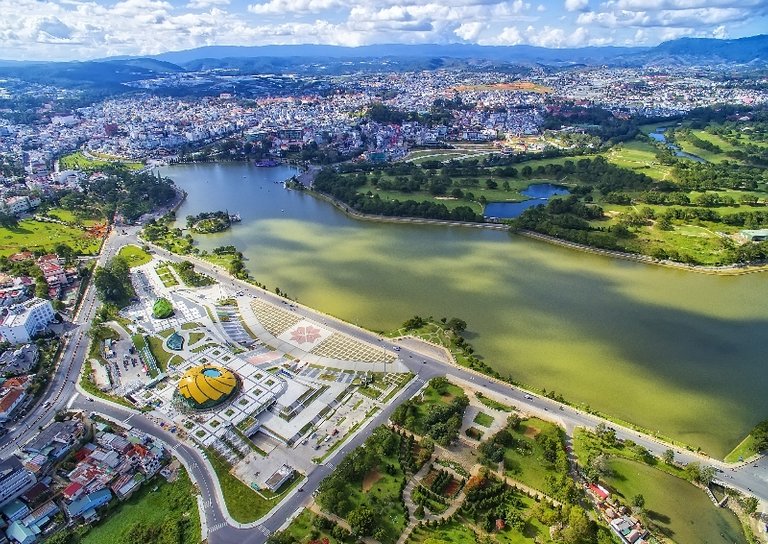 One of the places when going to Da Lat must definitely visit. Lam Vien Square is located at Tran Quoc Toan Street, Ward 1, City. Da Lat, T. Lam Dong. If you depart from Da Lat market by motorbike, less than 10 minutes, the square is opposite Xuan Huong Lake. From a distance, I saw a giant flower. This place is located in the city centre so it is easy to find and move. Walking around the square, I will see two outstanding architectural works of Da Lat which are wild sunflowers and artichoke buds made of glass with 2 colours yellow and green. These are the 2 hottest super virtual photography backgrounds that everyone who comes here wants to be in the photo album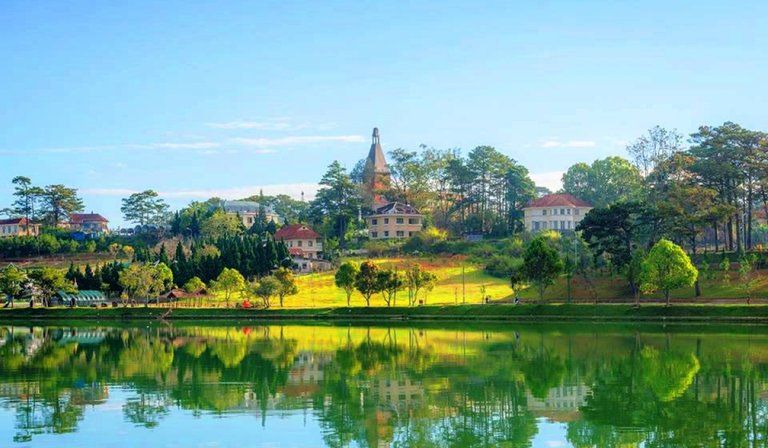 Photo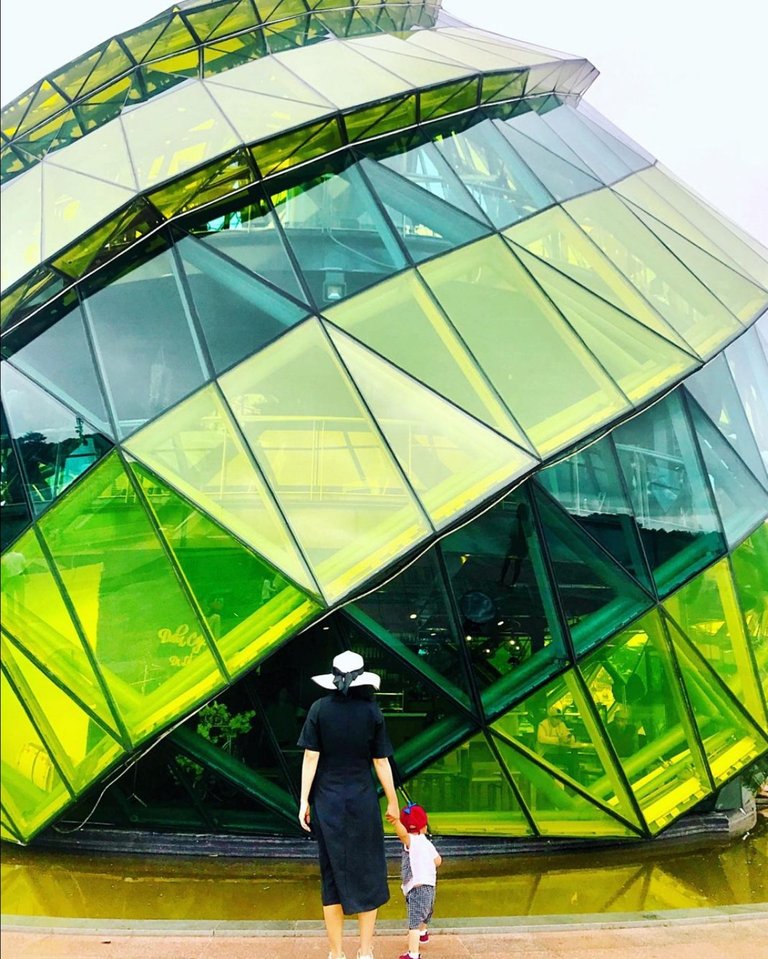 Lam Vien Square Da Lat is a free check-in place, a free place to visit, so no tickets will be sold. I only pay for shopping. Or drink coffee at the shops inside the buildings with operating hours from 5:00 to 23:00 every day. Inside the artichoke bud, there is also a coffee shop and Big C supermarket located in the basement of Lam Vien Square. The outside of Lam Vien Square also has a view towards Xuan Huong Lake, so when coming here, it is always very convenient to combine sightseeing and cooling off at Xuan Huong Lake.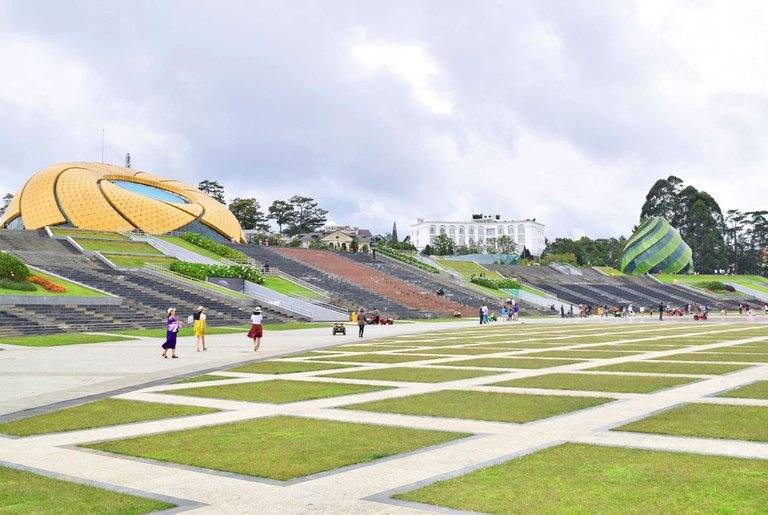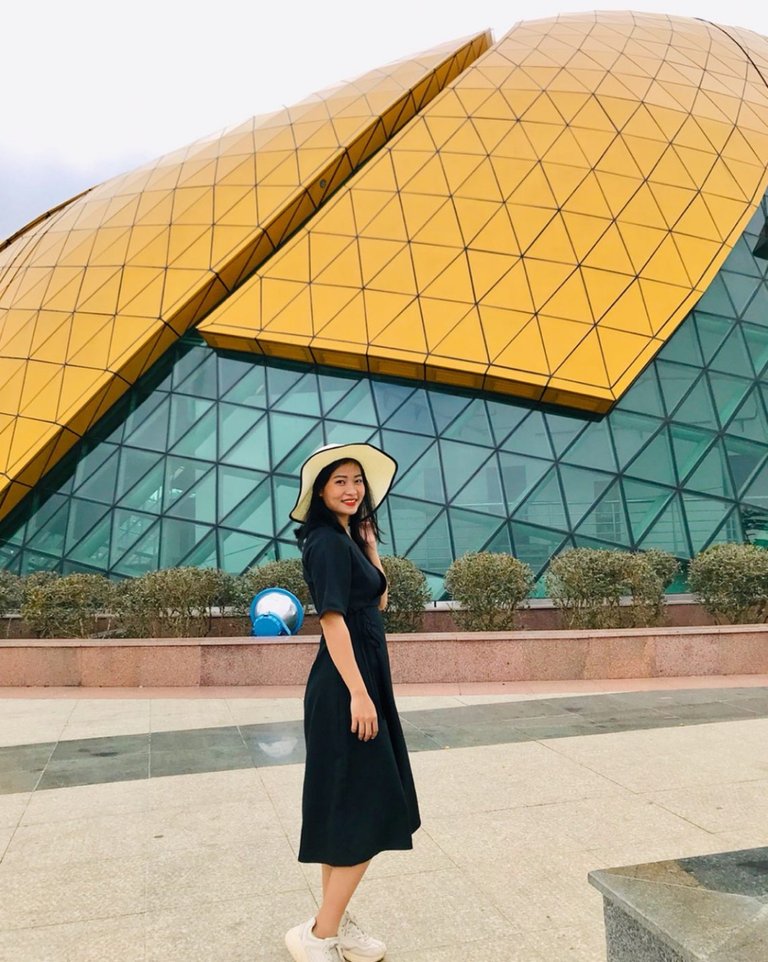 If you are a photography enthusiast like me, Lam Vien Square in Dalat is an ideal check-in point. Just take the background of artichoke flower buds or wild sunflowers to have a beautiful photo. I usually take pictures in the morning because, at this time, the sun is beautiful, the scenery will be clearer. Inside the giant artichoke is a cute cafe DOHA cafe restaurant & Bar with a simple, sophisticated design. The space of the restaurant is very spacious, with many floors. The main colour of Doha cafe is green, the staff is also very enthusiastic and cute, the menu is quite diverse.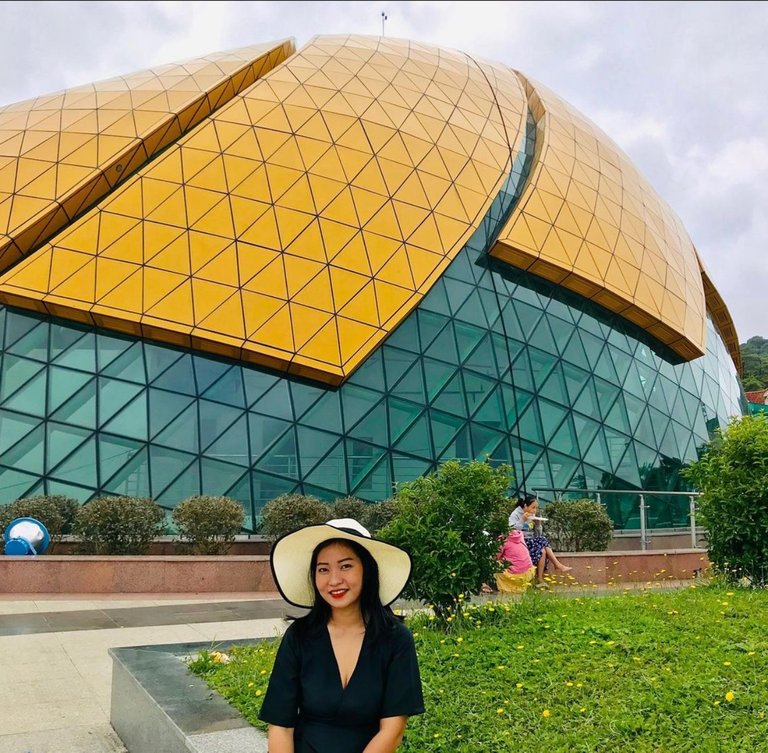 Lam Vien Square Da Lat has a very large space and is quite cool, so every afternoon, a square is a place where many young people gather to have fun, some come to Lam Vien Square to exercise and take their children. go out or go shopping…. I have participated in many games here such as balance tram, rollerblading...which is also very fun.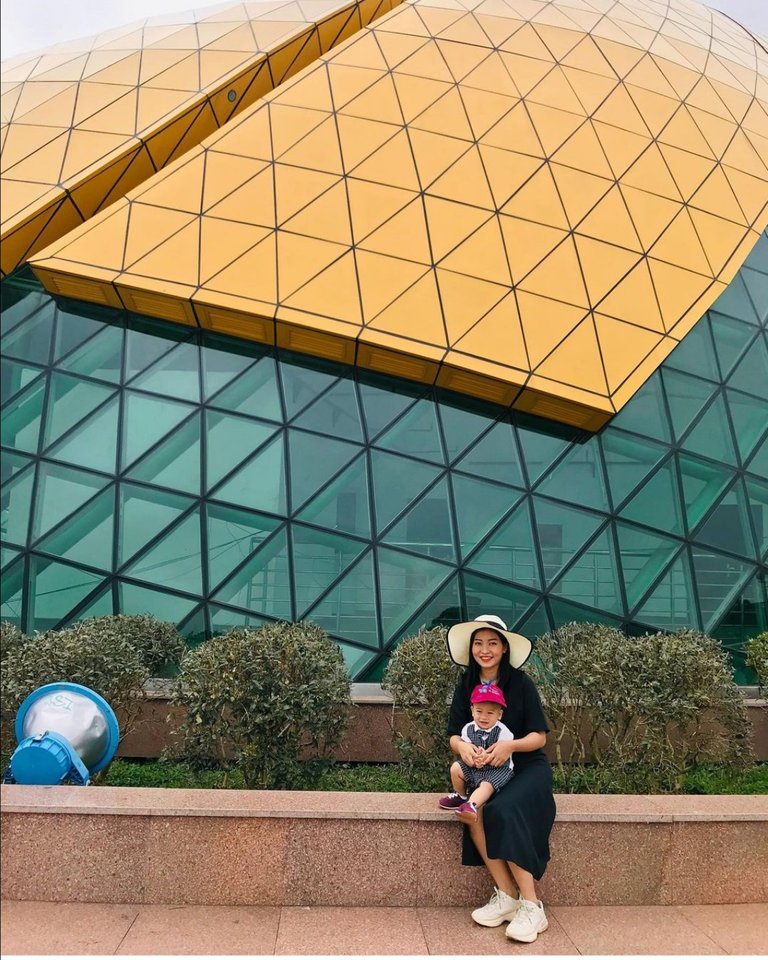 At night, the entire Lam Vien square is lit up with colorful lights, the light effect makes the whole square shimmering. Night is also an ideal time for me to walk around Lam Vien square. The square is most crowded on weekends. Couples, students, and students will come here to visit and have fun. Focus on singing, playing guitar, beatboxing, dancing together...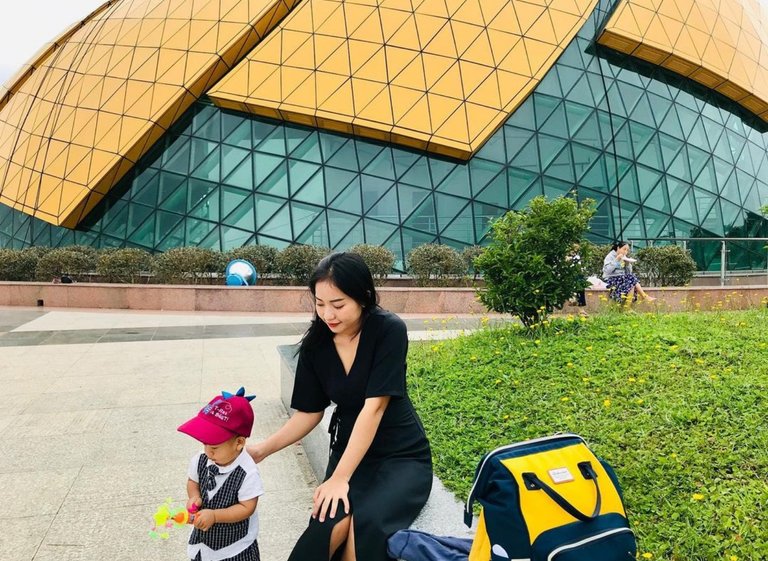 In the evening, there are also many dishes sold here such as grilled rice paper, strawberry shake, arranged ... I can buy and find a corner near Atiso to sit, in the middle of a chilly atmosphere like this. It's great to enjoy delicious food, specialties of Da Lat, enjoy a cup of hot soy milk and watch people pass by.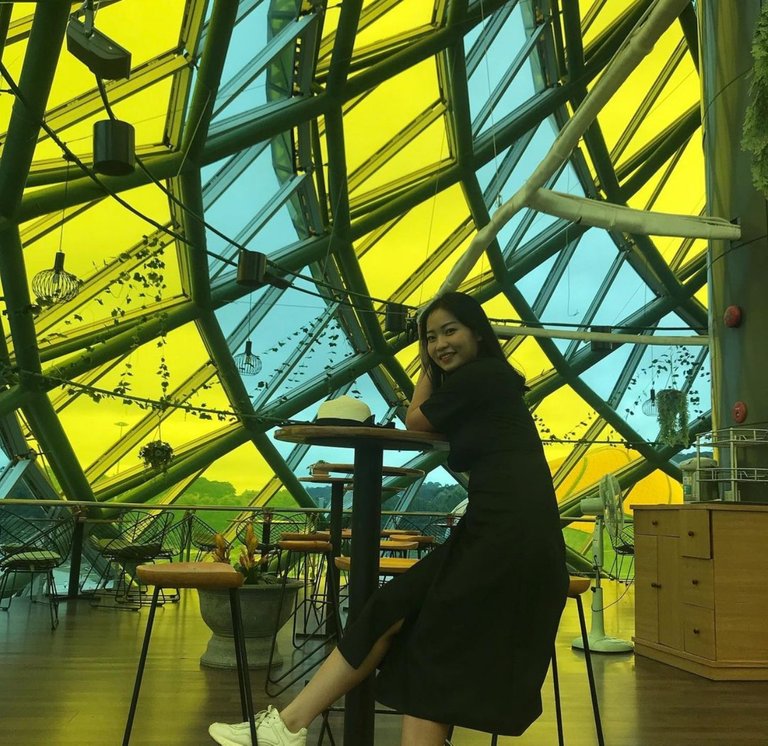 Right at Lam Vien square, there is a big C supermarket system with a variety of items, you can come here to look for Da Lat specialties to give as gifts or with friends, especially below the square there is a cinema. I can come here with my friends and relatives to choose the best movies to watch together.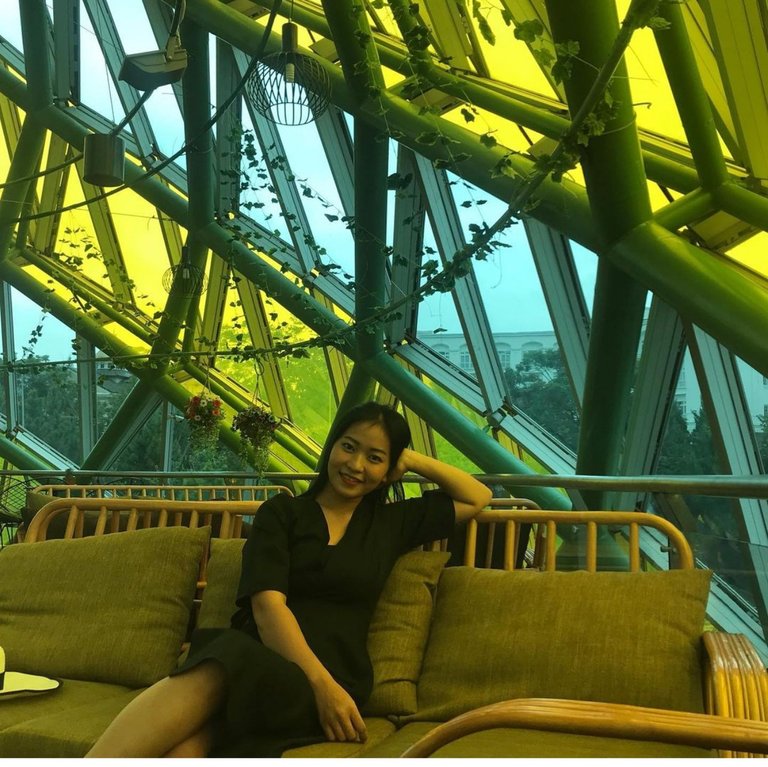 If you want to park your car at Lam Vien square again, go down to Big C in the basement and then walk up. It is not safe to park your car right below the square. Remember to fully charge the battery and wear beautiful furniture to take pictures of a lifetime
This virtual living place will be a place not to be missed when coming to Da Lat. It is considered the symbol of the city. Whenever mentioning this city of thousands of flowers, one cannot help but mention the square. Hopefully, from the above sharing, you will have a better understanding of this famous tourist destination on Lam Vien Square in Dalat. This place will mark so many beautiful memories of you when travelling to Dalat.
This post is 100% written by me, and the pictures are taken by me with my Camera Canon 200D II. Thank you for taking the time to read my post, I hope it helps you to relieve some stress at work and feel comfortable reading them. Wishing you a lot of health and joy in life. If you like you can reblog to let everyone know about this place. Thanks a lot.😊!
---
---