Organic Skateboard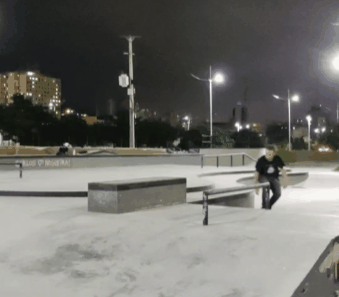 Since I grew up with skateboarding, I've always thought about how to reduce the impacts it causes to the environment.
Like, for example, the residue generated by the wheels on a slide or a blunt 🤣 (laughs)
We adapt to ecological changes between companies and associations, think green was a trend.
Another case is the unrestrained extraction of pine trees (Canadian maple) from places that need them to keep the temperature low, not only in the specific place but also for the entire planet.
Skateboard wheels are made from oil, the blood of the planet. We are vampires using any derivative and fraction of it.
The trucks are made of metals and these metals MAYBE responsible for the interplanetary magnetism of our solar system.
In other words, at any moment we can explode the world due to the excessive manufacture and disposal of skateboards and all other consumer goods that are made based on one of the aforementioned materials.
How can we improve this? I have some proposals and I would like to hear from you, what is the ecological destination of skateboarding?
Desde quando eu amadureci com o skate, sempre pensei em como diminuir os impactos que ele causa ao meio ambiente.
Como por exemplo o resíduo gerado pelas rodinhas em um slide ou um blunt 🤣 (risos)
Nos adaptamos as mudanças ecológicas entre empresas e associações, pense verde foi uma tendência.
Outro caso é a extração desenfreada de Pinheiros (maple canadense) de locais que necessitam deles para manter a temperatura baixa, não só do local especifico mas também para todo o planeta.
As rodinhas do skate são feitas de petróleo o sangue do planeta. Nós somos vampiros ao usar qualquer derivado e fração dele.
Os trucks são de metais e esses metais TALVEZ sejam responsáveis pelo magnetismo interplanetário do nosso sistema solar.
Ou seja a qualquer momento podemos explodir o mundo por conta da fabricação e descarte excessivo do skate e todos os outros bens de consumo que sejam feitos a base de um dos materiais citados.
Como podemos melhorar isso? Eu tenho algumas propostas e gostaria de saber de vocês, qual é o destino ecológico do skate?
---
(Unsupported https://odysee.com/$/embed/newigua/f33c9a337507f659117edc804a774c1a4de286bd?r=5zPBwLzsiYuH93sGRMExYEA7zcLBqzkk)
---
This includes harm reduction from alcohol and drugs.
In addition to other social diseases
Isso inclui a redução de danos causados por álcool e drogas.
Além de outras doenças sociais
---
---
---