My first solo travel: A week in Hanoi, Vietnam 🇻🇳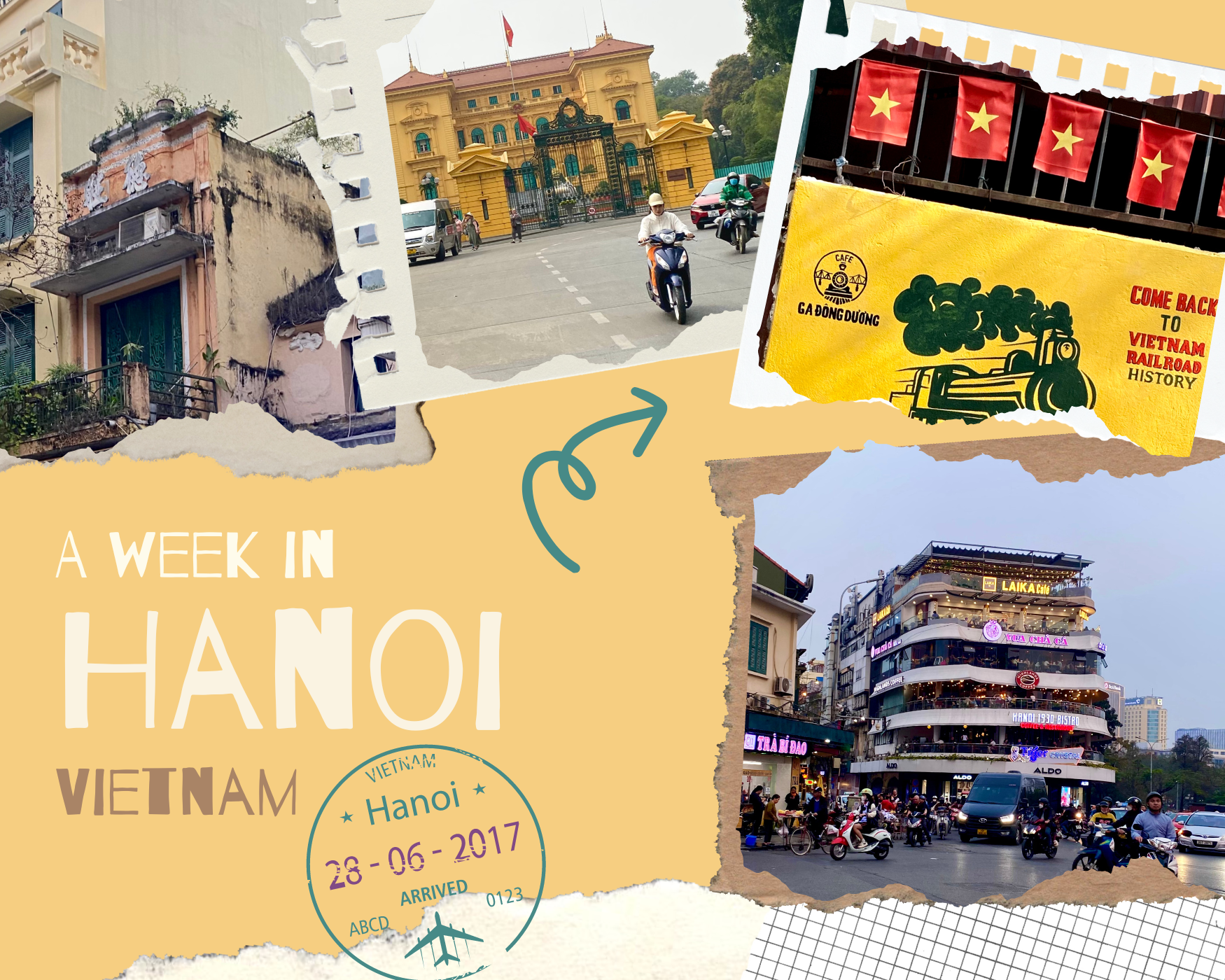 I have always loved traveling, I chose my handle travelingmercies for this reason —my hope is that wherever I go, may mercies be my company when I travel, even in far places. I enjoy traveling with my family and friends too, but busyness sometimes gets in the way of matching our schedules. As I was looking at the flight schedules, I realized that I just couldn't wait for other people anymore. Sometimes, I'll just have to do it my own else I'll always be waiting. Believe me, solo travel, despite the sudden visits of loneliness in a foreign land, will always be one of my fondest memories.
✴︎ a patchy itinerary ✴︎
One of the perks of solo travel is that I get to plan each day to my own liking. I was in Hanoi for 6 days, originally, I planned to go the nearby tourist destinations such as Ninh Binh and Halong Bay but unfortunately I was already stretched with my expenses for this trip. As a foodie, Vietnam is greatly known for its delicious food such as pho and spring rolls, and my main agenda for this trip is to really just enjoy their coffee! My itinerary only includes the coffee shops I wanted to visit. I made sure that in a day, I would drink atleast two cups of coffee.
I have never seen a place such as Hanoi, the place has its charms of welcoming you home. The streets and nooks I've walked along made me want more slow days and simple pleasures. The locals were so kind, I've received so much help from strangers. I watched my neighborhood and envied how people were not rushing to somewhere, it was an unlikely picture from where I live.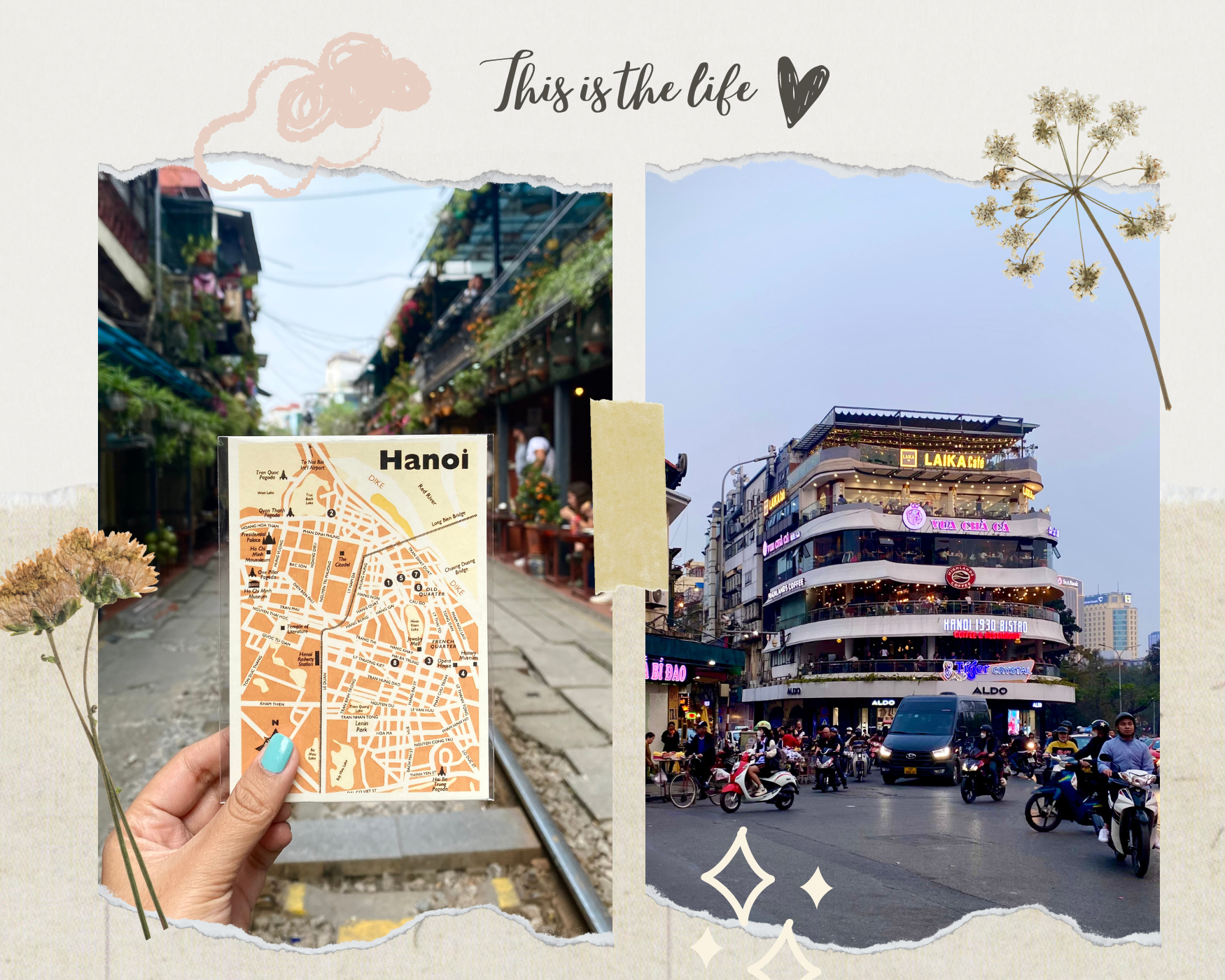 During my visit, I stayed in Truc Bach, which is 2-km away from the center. Most tourists book their stay near Hoàn Kiếm, but I wanted to stay away from the noise of the bustling Hanoi. From Truc Bach going to Hoàn Kiếm, I walked along Hùng Vương Street to visit Ho Chi Minh's Mausoleum (center) which is nearby the Presidential Palace (left) and the Vietnam National Assembly (right). Vietnam has a rich history, that I wish to know more about. Some of the streets reflect the French colonization as houses are painted yellow.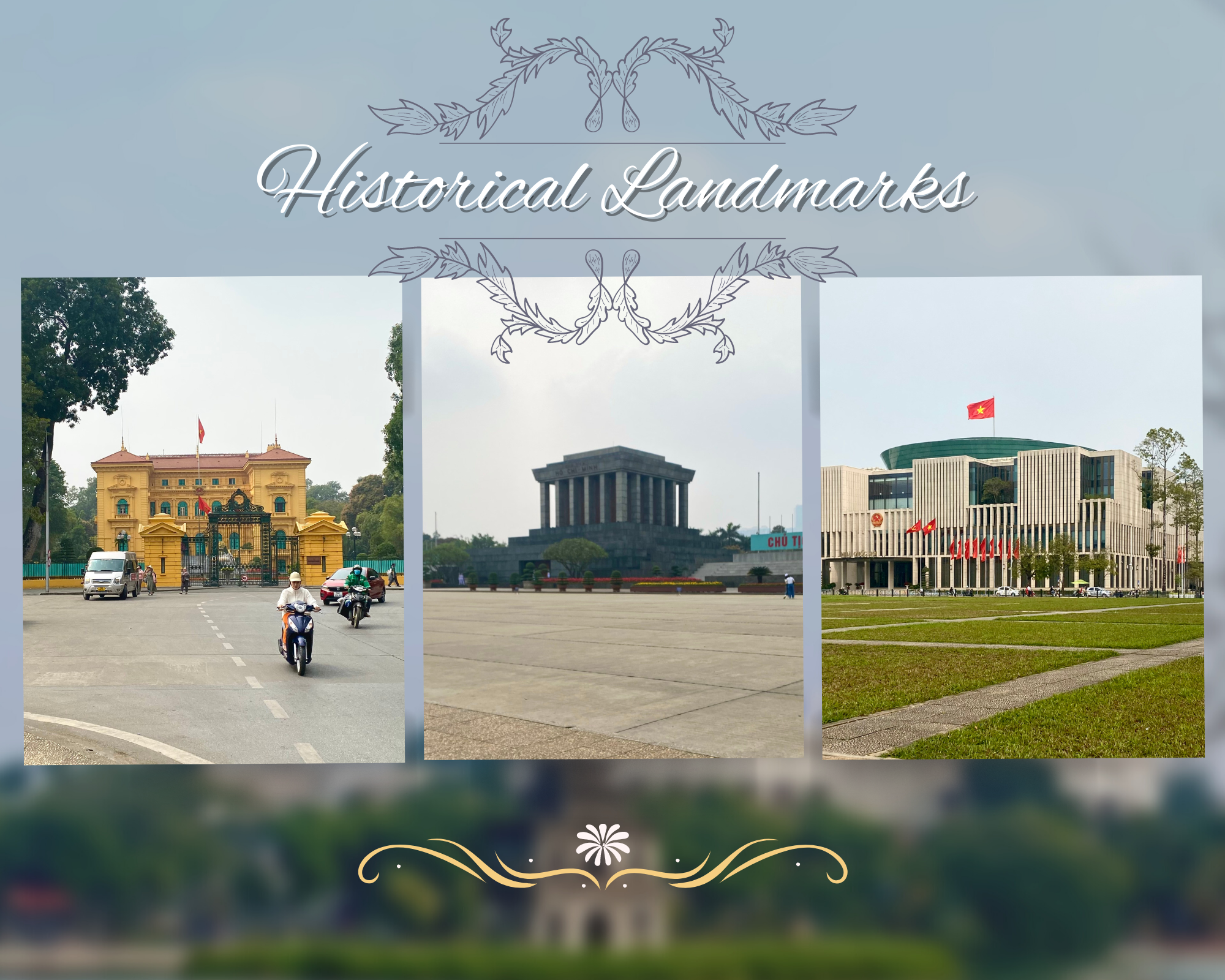 ✴︎ the serenity of Hoàn Kiếm lake ✴︎
If this trip has to be quantified, I'd say it would be with the number of steps I made! I was always walking and nothing beats this resting place. It was a little cold during my visit, which fell on the first week of March. It would be tolerable for others, but I came from a tropical country, so 18 deg C was already a challenge for me. The lake was just so beautiful, especially on this side where you can sit beneath the shade of the trees. One afternoon, I was able to just take in the beauty of Hanoi, admiring the Turtle Tower that sits in the center of Hoàn Kiếm lake.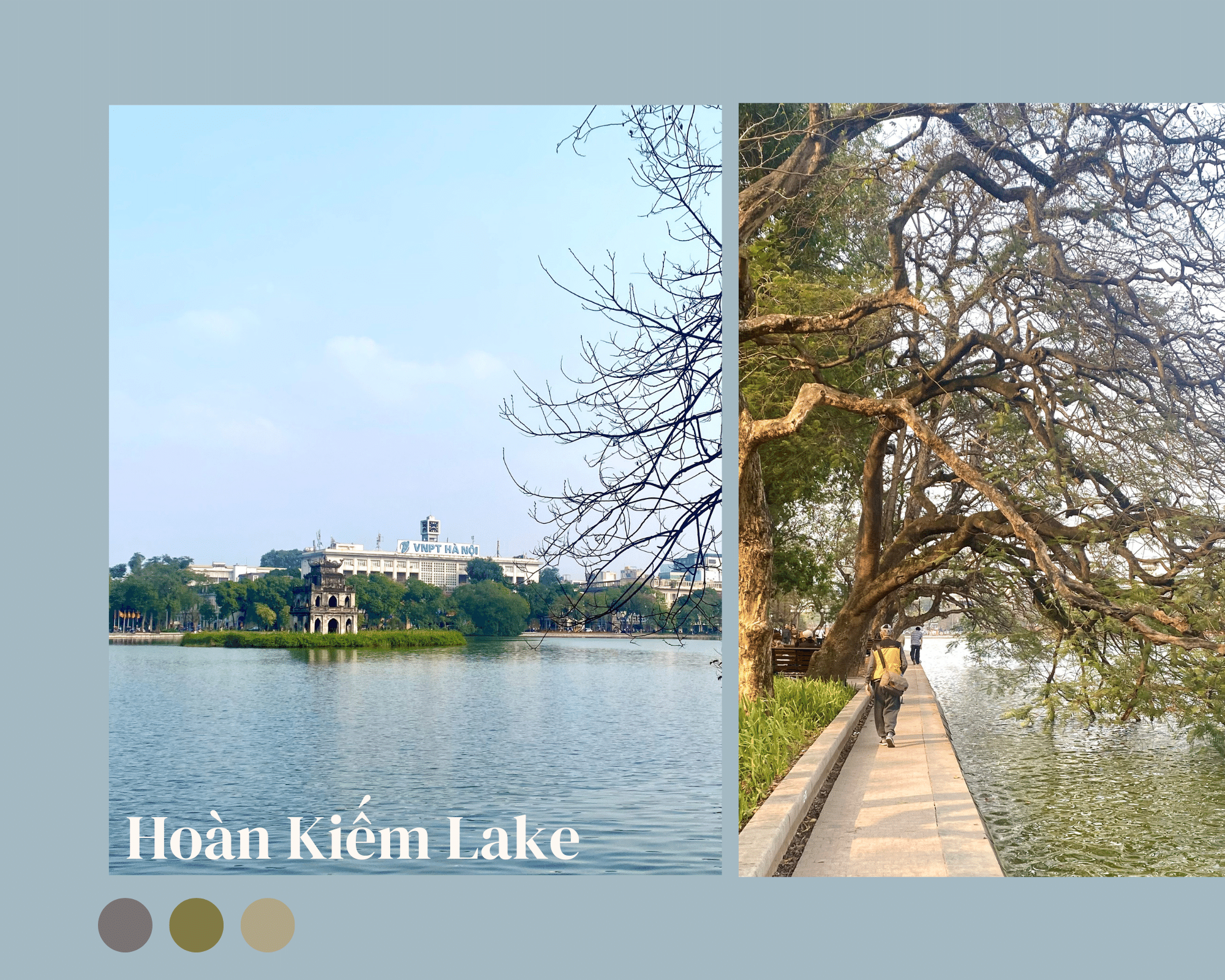 ✴︎ all the good food ✴︎
I don't usually eat Vietnamese food, not because I find it not delicious but more so it's rare back home. During my entire trip, I enjoyed so much of the food even though sometimes, I had no idea of what was served. There were also times when I don't know how I'm gonna eat it (especially the mountain of green leaves they serve with the meals). Although everything was quite unfamiliar, I became easily accustomed with all the flavors.
I was really lucky with the accomodation I booked, it's surrounded with lots of goods cafes and food places. Some instantly became my favorites like the Phở Chiên Phồng (or fried rice noodle with beef and vegetables) from Phở Cuốn Thanh Hằng (📍29b P. Ngũ Xã, Trúc Bạch, Ba Đình, Hà Nội, Vietnam) and the Crab thick rice noodles soup from Quán Bánh Canh Ghẹ Út Còi (📍2B P. Quang Trung, Hàng Trống, Hoàn Kiếm, Hà Nội, Vietnam). It was also my first time trying Banh Mi, I love sandwiches that are meaty and with vegetables, so I instantly loved it. Every street is filled with Banh Mi food carts, I would say it's good enough as a snack but it makes me full like I have eaten a whole meal. Haha.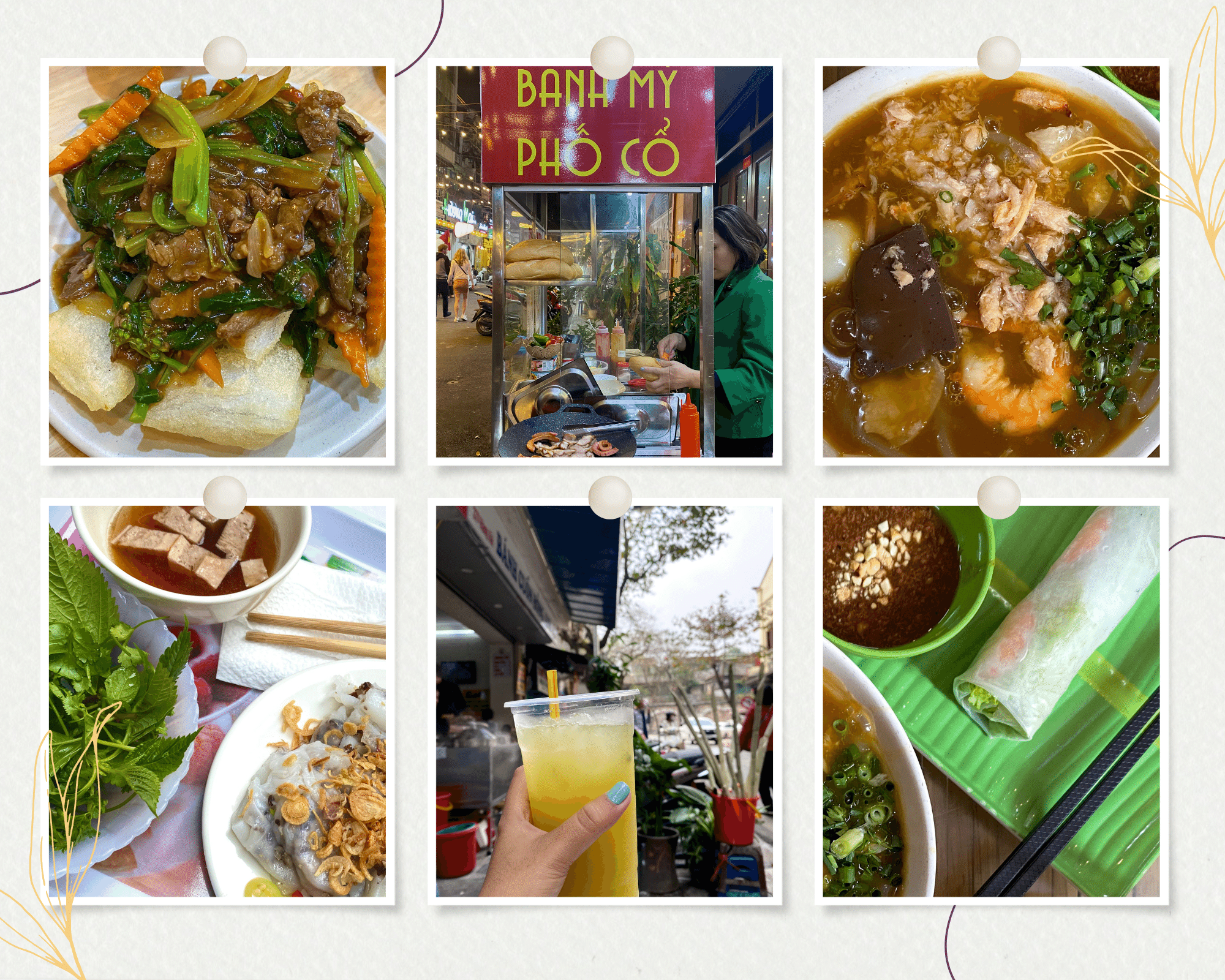 ✴︎ the famous old quarter ✴︎
I spent the last day exploring the Old Quarter in search for souvenirs and goods I can bring home. Once again, I was captivated by the charms of this place as there were so many stores that sell different kinds of products such as ceramics, silk, clothings, bags, coffee, and food to snack on! Of course, I had to find the best places to buy coffee beans. I was only able to get to two places: Trung Nguyên Legend Cafe (📍5 P. Lý Quốc Sư, Hàng Trống, Hoàn Kiếm, Hà Nội 100000, Vietnam) and Hue Cafe (📍103 P. Hàng Gai, Hàng Trống, Hoàn Kiếm, Hà Nội, Vietnam). I've learned a lot about coffee beans while I was buying from Hue Cafe, I was able to talk to the owner who inherited the shop from this grandfather.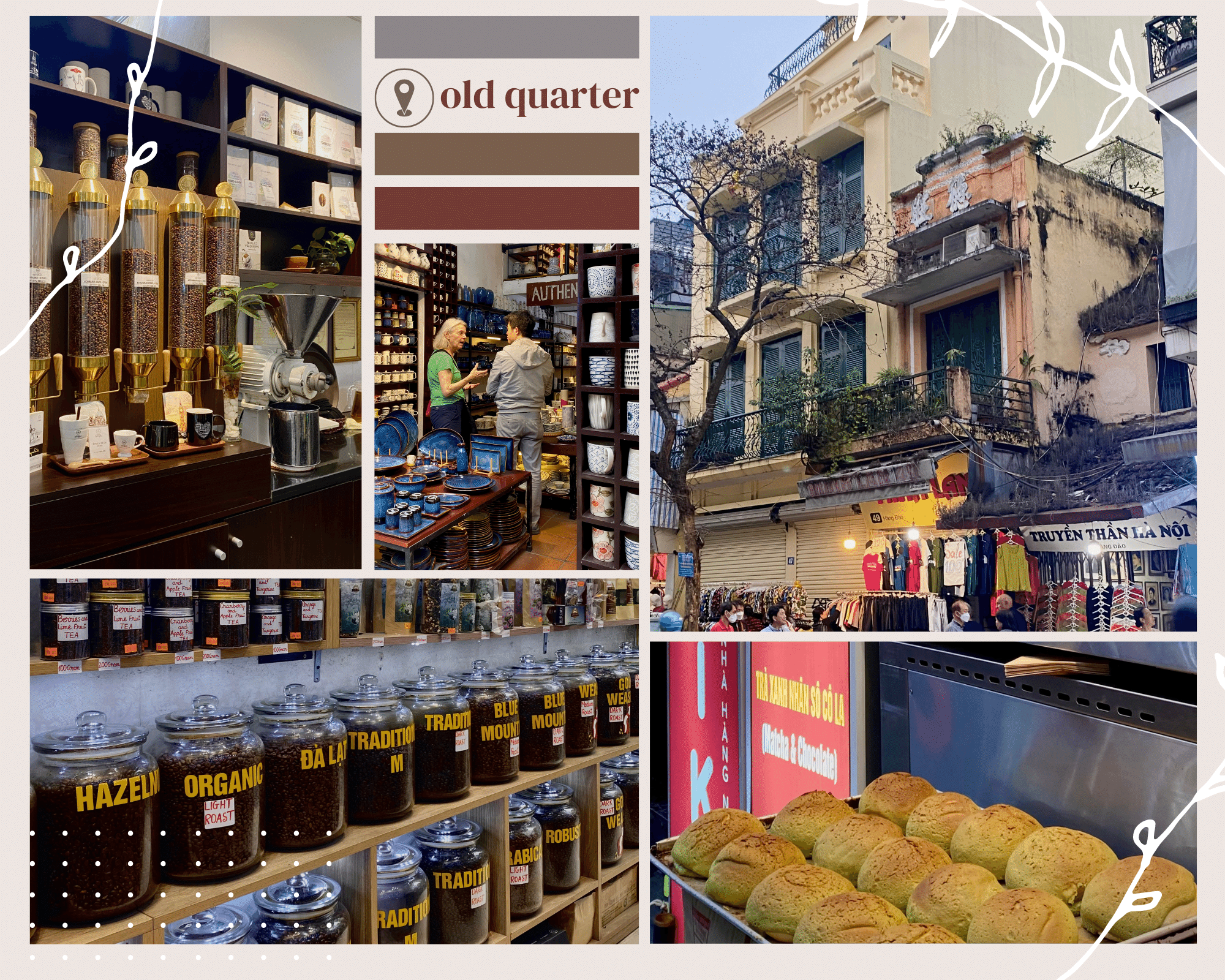 Looking back, the once I thought a very long stay in Hanoi was actually very short. There are still so many places I wanted to visit in that bustling city, so many cafes and food to still try. The place is just so packed with new experiences. It's been weeks, but I am most certainly sure that I'll go back to this charming and beautiful place. And when that happens, I'd love to have good company...the food and coffee will certainly taste better with good company. 🌞
---
---