The greatest heist in history.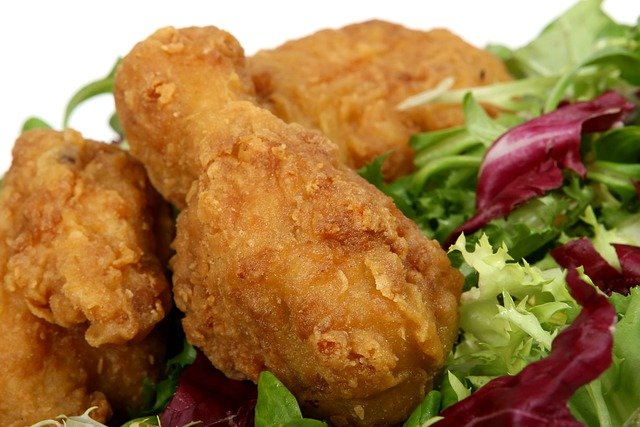 Source
Chicken, one of the greatest creation's of God after women, wouldn't you agree?
God bless God for creating chicken. For the vegetarians out there, I know you're not going to like this post at all😏. Who was the first person to look at a chicken and go, "I wondered what that'd taste like fried". The world would probably be a worse place if we didn't have chickens around. Most of our problems can be solved with chicken or at least mine can.
My sister is a vegetarian after she listened to a podcast of someone that didn't like meat. The person said they loved animals that's why they do not eat them. I say if you love something, you should eat it. This doesn't apply to everything though, I can't eat myself.
But in all seriousness, I really commend everybody who has chosen to be a vegetarian, it takes guts to see a delicious piece of meat and not eat it. I feel like those people should be in the army, their will power is off the roof. I've never been an army person, I've made that clear a couple of times in the past.
Another reason I can't join the army is because I can't live on a tight diet. Other soldiers would be fighting terrorists, I'll be fight my appetite, I love food. I love people who can cook too, I try to surround myself with as much of them as I can like @nelson-george, oh wait, wrong name. I meant to say @merit.ahama.
Don't get me wrong, @nelson-george is an awesome cook but I think his food would be the last thing I eat before I die because the meal would probably kill me, man couldn't cook to save his life.
Back to chicken, if I pull of this heist I'm about to tell you, I just might be eating chicken pepper soup tomorrow. There's a chicken that has been entering my compound for about a week now. I seen it on my street alot and nobody seems to care about it. I plan to lure it into my compound with rice grains tomorrow and catch it. What could go wrong?
I here stolen chicken taste the best and I want to try it out. Only one other person knows of this plan, my crazy friend bringing the rice grain tomorrow. I'm happy to get caught as long as I have a partner in crime they can beat too, I won't suffer along.
If you're interested in stolen chicken, ask me for my address after you read it. The chicken might come with a little beating but it would be worth it right?
I'm starting to feel bad already, mostly about the rice we would waste to lure the chicken in. Once we pull off the heist, that's when you'll hear people coming out looking for it.
If you don't hear from me my Wednesday, know that the heist didn't go as planned. Is chicken pepper soup really worth all these thinking and stress? Yes, definitely yes.
---
---