Happy New Year WAX Giveaway!
He streams Marbles (with NFTs and tokens for prizes) and sometimes Stream Raiders, and also tries out games new and old. One of the things that makes this stream special is that he reads what people type in chat, and replies to it. He cares. Every stream is a discussion, and no one gets silenced. Sometimes the discussion manages to stick to one topic, and sometimes five people want to talk about five different things. MJDoja somehow manages to collect us all and make us be a group, regardless of our various backgrounds and opinions. And he's got the Most Soothing Voice on Twitch, too!
Since his stream is such a friendly place, I want to invite more people to come watch and join the fun, so I'm giving away a 1 month Membership NFT.
This is in no way needed to watch the stream or take part in the races, it just gives you an entry into the Member's Marble Race which happens on every stream. If you don't have one, you can still take part in all the other Marble races. There's no requirement to join the Discord either, but you can if you want to. You'll find the results of all the Marble races there, and some people who are very good at finding other competitions and giveaways and post them there for us all to join. The link is on the Twitch page.
---
Rules:
Reply to this post before payout (around midnight CET New Year's Eve) with your wax wallet, and something good you wishes to happen to a fellow Hiver during 2023.
For example
I wish more people will discover the wonderful drawings @pegarissimo keeps posting - fzyr.wam
Prizes:
1st place: January Membership NFT for the MJDoja stream
2-3 place: 8 WAX and 150 ecency points each
4-6 place: 3 WAX and 50 ecency points each
Some examples of Membership NFTs from 2022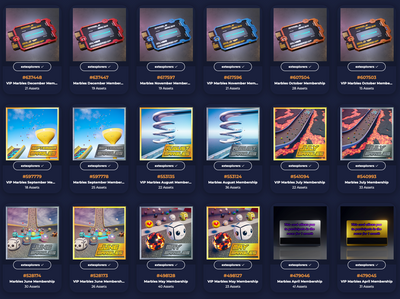 I'll put all entries on the Wheel of Names or use https://hivetools.up.railway.app/picker/, and post the results sometime on the 1st of January. Prizes will be sent as soon as the Membership NFT is available to buy.
---
What, you don't have a wax wallet yet? That's easy to fix!
Go to https://www.wax.io/get-a-wallet and click the Get Started button
Sign up with your email address and create a password
Solve the captcha, if you get one
Check your mail, and click the Activate account link
Transfer at least 5 WAX to newuser.wax with your address in the memo, but any . replaced with DOT. (abc.de.wam would be abcDOTdeDOTwam) They'll keep 5, and send the rest to your newly created wallet.
Login to your wallet at wallet.wax.io
As long as you are logged in at wax.io, you'll be able to login to other sites too, such as the neftyblocks.com or atomichub.io marketplaces, a whole slew of WAX games, exchanges and even websites built by various collections.
---
Where to get WAX before you have a wallet?
Turn some SWAP.HIVE into SWAP.WAX using your favourite exchange - hive.engine, tribaldex, beeswap... 5 WAX equalled just over 0.785 Hive when I typed this. Then simply withdraw it to newuser.wax. Don't forget the memo!
(Screenshots taken by me, from MJDoja's stream)
---
---